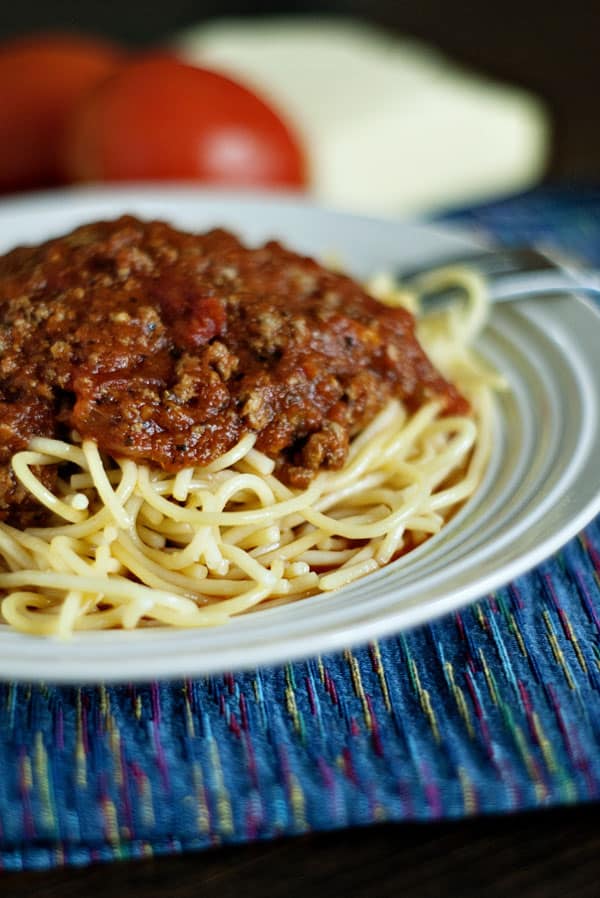 Is there anything better than a nice, thick, flavorful spaghetti sauce ladled over a heap of steaming pasta? Probably not.
Unless that plate is set right next to a chunk of buttery garlic bread and a bowl of Caesar salad.
But really, let's be honest. If the sauce isn't up to par you might as well push that plate aside and save the calories for an extra piece or 3 of garlic bread. It's just not worth it.
But this sauce, this sauce IS quality. Thick and rich, brimming with tomatoes, herbs, and meat. So good you almost don't miss the garlic bread.
Almost.
This is a recipe I adapted from Mel's Kitchen Cafe that I've been making for the past few years. Besides the fact that this sauce is delicious, I love that this recipe makes a TON. We generally eat it for dinner once, spoon enough of it into a freezer bag for another meal somewhere down the road, and save a few cups of it in the fridge for easy leftovers or other kitchen endeavors. Next week I'll be sharing a completely spaghetti-unrelated recipe that uses this sauce as a base. It's double-duty recipes like these that I love to keep on hand for busy school nights and whenever my motivation to cook dinner runs dry.
See you next week!
Homemade Spaghetti Sauce
Ingredients
3 tablespoons olive oil
2 cups onion, chopped and divided
1 red pepper, coarsely chopped
1 pound ground beef
1 pound italian sausage
5 cloves garlic, finely chopped
1 12 oz. can tomato paste
2 teaspoons kosher salt
1 teaspoons black pepper
3 teaspoons dried oregano
3 teaspoons dried basil
1½ teaspoons dried thyme
1 pinch red pepper flakes
2 14-oz. cans Italian-style stewed tomatoes
2 28-oz. cans crushed tomatoes
8 oz fresh mushrooms, sliced
2 cups beef broth
¼ C brown sugar
2 bay leaves
2 tablespoons balsamic vinegar
Instructions
Heat olive oil over medium high heat. Add ½ of the onions and saute until translucent and slightly browned. Add garlic and stir constantly for 1 minute. Add beef and sausage and cook until no red remains. Drain excess fat off of the cooked meat and return to the pan
Place the remaining onions and red pepper in a blender or food processor and blend until mostly smooth. Add mixture to the garlic, onions and beef and stir to combine, cooking for another minute. Add tomato paste and spices and cook for 1 minute, stirring until combined. Add tomatoes, beef broth, sugar and mushrooms. Stir until combined and add the bay leaves and balsamic vinegar.
Bring to a boil and then reduce to low and simmer for 1 hour up to 3-4. The longer it simmers, the more flavorful it will get. The sauce will seem watery at first, but as it simmers it will thicken.