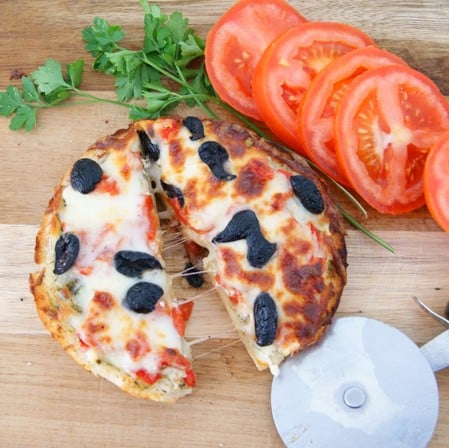 This Post might revoke my rights of being a self-proclaimed foodie, but hear me out.  Some days I have zero motivation to cook , days where I truly believe Taco Bell was put on earth for me and me alone.  Sadly, these days come more often than I would like and I can't justify depriving my daughters of a college education because I gave it all to Taco Bell. So, next best thing? Bagel Pizzas. Yes, they take more work than ordering a crunch wrap, but they're quick and easy and taste nothing like their frozen counter-part. Promise.
This is more of a how-to than an actual recipe.  The beauty of these is that you can use up what you have in your fridge and make as many or as few as you need. Maybe the whole world already knows how to make these, and really they aren't quantum physics, but just in case- here you go!
Base:
I really like to use the big Asiago or Parmesan cheese bagels from the bakery section of the grocery store. Just cut them in half and you're good to go. The cheese cooks up all crispy and adds lots of flavor, but any bagel will work. You also don't have to limit it to bagels, cut french bread and pitas make great pizzas too!
Sauce:
Marinara/Pizza Sauce ( My favorite quick recipe is below)
Alfredo
Pesto
Cream Cheese
BBQ sauce
Garlic Olive oil or Garlic Butter (like what you put on garlic bread)
Cheese:
Mozzarella
Monterrey Jack
 Cheddar Jack
Toppings:
Veggies (Peppers, onion, mushrooms, zucchini, spinach, tomatoes, etc.)
Canned Diced Tomatoes
  Grilled Chicken
 Pepperoni/Salami
 Sausage
 Olives
Go Wild!
Bake at 425 for 15-20 minutes or until the cheese is melted and the sides are browned and crispy!
Don't be afraid to mix sauces or cheeses with one another. For the pizzas I made the other night, I used a cheese bagel as a base, a thin layer of  both pesto and cream cheese for the sauce,  then I topped it with canned, diced tomatoes, mozzarella cheese and black olives.  They were divine and totally cured my craving for take out.