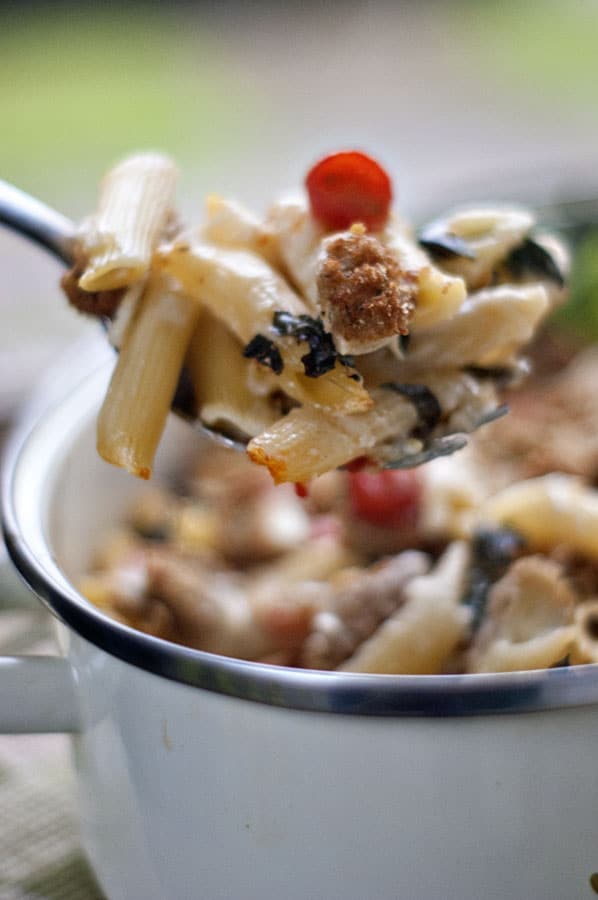 The moment that I conjured this recipe in my head I knew it was meant to be.
While tossing fresh tomatoes, mozzarella, basil, and a creamy garlic sauce together isn't exactly an original idea, its the topping that is the real deal-breaker. Are you ready for it?
Drum roll please…. Mozzarella sticks! We top our pasta with bread crumbs, right? We top our pasta with cheese, right? Why not do it all in one fell swoop….. right?!
Did you hear that pop? Yup. That was your mind being blown. Read on.
These crispy, cheesy little bites are the perfect addition to a big pan of creamy pasta. I purposefully made the sauce as guilt-free as possible (without sacrificing taste) as to keep the remorse levels low and enjoyment levels high. Plus if you consider all the tomatoes in it, you're basically eating a salad.
The first step towards caprese pasta perfection is to make the sauce. You'll start by adding a few cloves of garlic to a couple tablespoons of melted butter in a sauce pan.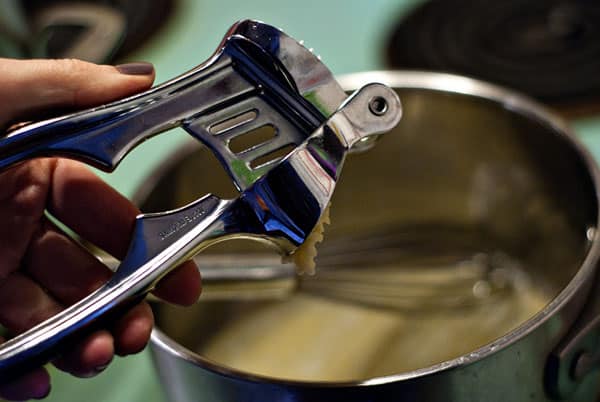 Stir in a few tablespoons of flour and let it simmer for just a minute to cook off the flour taste.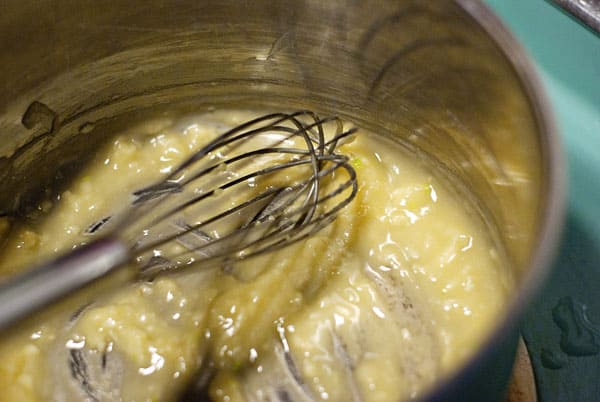 Slowly whisk in some chicken or veggie broth and milk (I don't recommend going any lower than 1%) and continue to stir until it comes back up to a simmer and is thickened enough to coat the back of a spoon. Stir in some salt and just a pinch of red pepper flakes and you're ready to move on.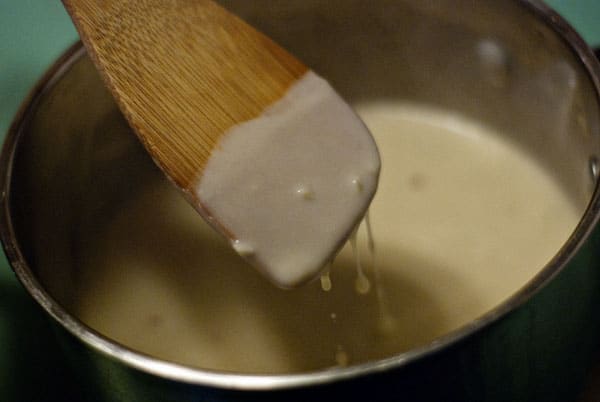 Halve or quarter some grape tomatoes, chop up a nice handful of fresh basil, and cube about 1/3 of a cup of mozzarella.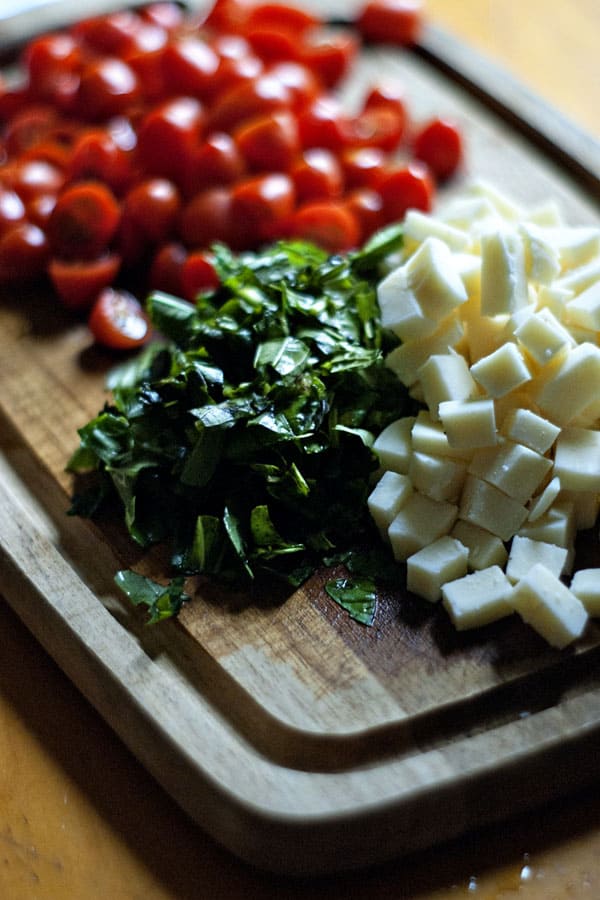 Place 1/2 of the cooked pasta into the bottom of a 9×13″ casserole dish and top with 1/2 of the tomatoes, 1/2 of the basil, and all of the mozzarella.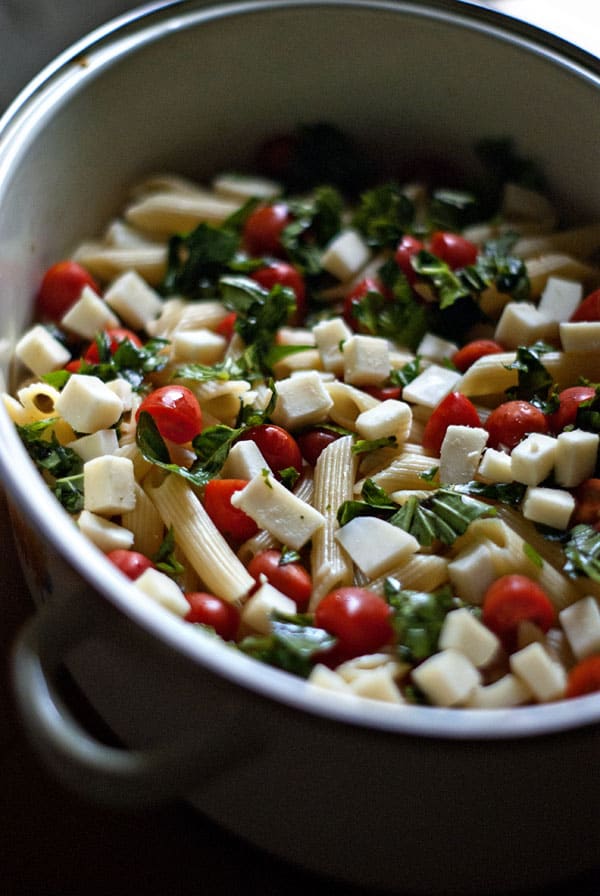 It just hit me as I'm typing this that I'm posting two recipes about mozzarella sticks back-to-back. Hmmm, I bet you can guess where my mind's been lately… or where it always is.
Cheese.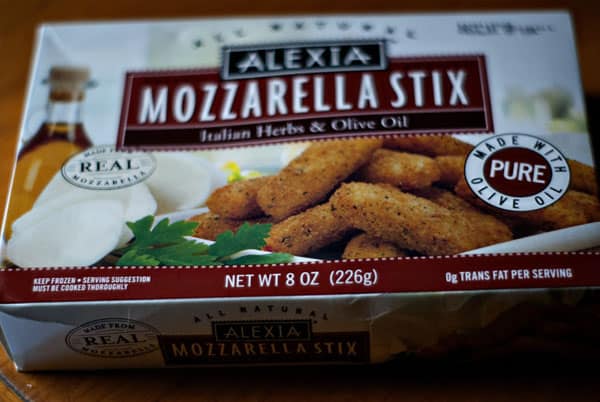 You might remember me mentioning a few months back that I've partnered with Alexia Foods. Well we're a few months in and I haven't tried one of their products that I haven't liked. It's pretty hard to mess up a mozzarella stick if you ask me, but these bake up crispy and are perfectly seasoned. To top the pasta, you'll want to cut each stick into about 6 or 7 pieces.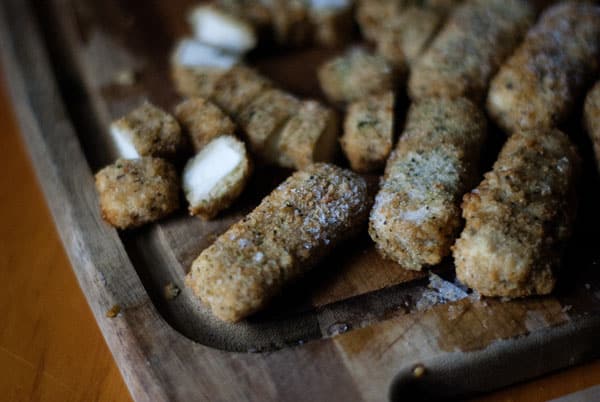 Place the remaining pasta, tomatoes and basil over the first layer, pour that beautiful garlic sauce over the entire thing and spread the mozzarella stick pieces evenly over the pan.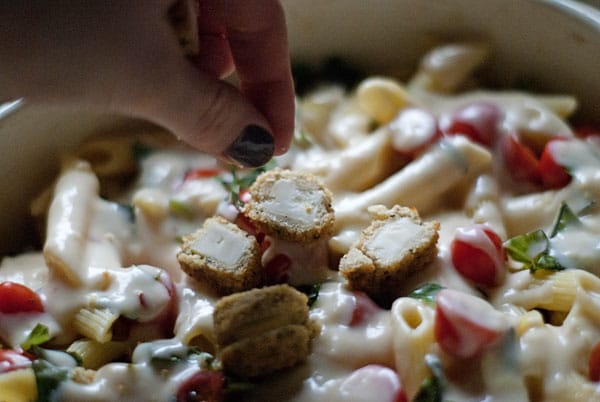 Cover the pan with foil and bake at 375 degrees for 20 minutes. Uncover the pan and cook for an additional 10-15 minutes or until the mozzarella sticks are melted and crisp and the sauce is bubbling.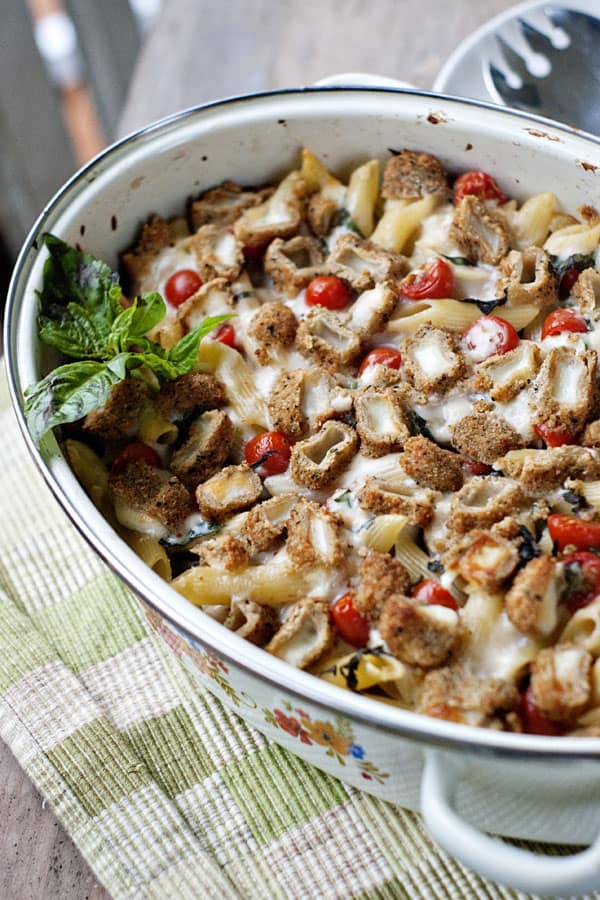 If you'd like your blown mind back, you'll have to try this caprese pasta. I make no guarantees that you'll get it back in one piece.
Ingredients
3

tbsp butter

2

cloves garlic, minced

3

tbsp flour

1 1/4

C chicken broth

1 1/2

C milk (Fat content lower than 1% not recommended)

1/8

tsp red pepper flakes

1/3

tsp kosher salt

1

lb penne pasta, cooked

1

pint grape tomatoes, halved

1/3

C mozzarella, cubed

1/2

C fresh basil, chopped

1

(8 oz) box Mozzarella Sticks
Instructions
Preheat oven to 375 degrees.
Melt butter in a medium-sized sauce pan and add garlic. Let cook until fragrant, about 1 minute and stir in flour, cooking an additional minute.
Whisk in broth and milk, stirring constantly until thickened enough to coat the back of a spoon. Remove from heat and stir in salt and red pepper.
In a 9x13" casserole dish, place ½ of the pasta into the bottom and top with ½ of the tomatoes, and basil, and all of the mozzarella. Repeat with the remaining pasta, tomatoes and basil.
Pour garlic sauce evenly over the pasta.
Cut each mozzarella stick into a several pieces and place across the pasta in an even layer. Cover with foil.
Bake for 20 minutes, uncover, and bake for an additional 10-15 minutes or until the mozzarella sticks are melted and crisp and the sauce is bubbling.

Made this recipe?
I'd love to see how you rocked it! Share your photo on Instagram with the hashtag
#heatherlikesfood  --
It will totally make my day to see it!