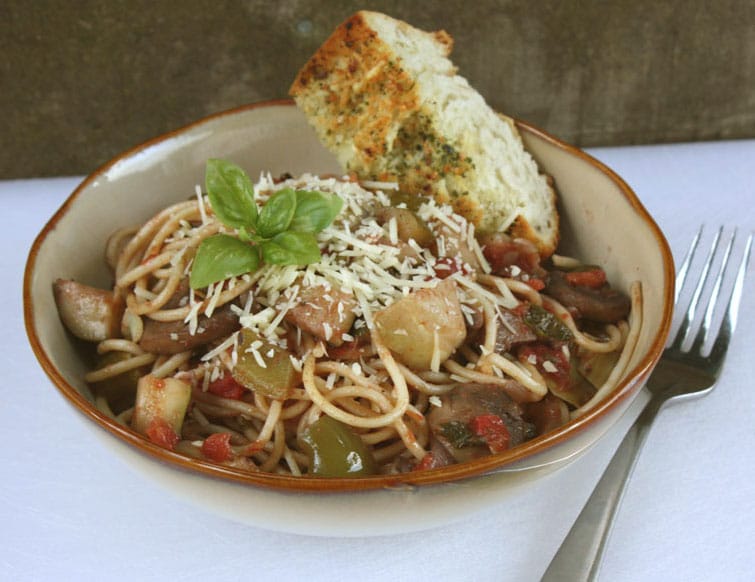 I made this meal and took pictures  months ago. MONTHS ago when I was still all fat and pregnant.   And it's no secret, I like to eat.  I just generally really love food, but when I'm pregnant it's another story –I REALLY like to eat. So I have to try really hard to make things that seem more sinful than they really are and this recipe is a good example.
I actually thought I had lost this recipe– read: illegible scribbles on a post-it note– and I was really heartbroken because I couldn't remember what I had done. But alas, it was just in the bottom of my recipe file.  I'm so 'cited.
MY LATEST VIDEOS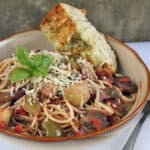 Balsamic Vegetable Ragout
Ingredients
1

C

diced zucchini

1

C

diced onion

1

C

diced green bell pepper

1/2

lb

sliced mushrooms

2

cloves

minced garlic

1

C

diced marinated artichoke hearts

2

cans petite diced tomatoes

1/2

cup

red wine

1 1/2

tsp

balsamic vinegar

1 1/2

tsp

sugar

1 1/2

tsp

salt

pepper to taste

1 /4

cup

chopped fresh basil

or 1 tbsp dried basil

1

tsp

dried oregano

parmesan cheese

2

tbsp

olive oil
Instructions
Heat the olive oil in a large skillet on medium high heat until the oil shimmers, but is not smoking. Add in the onion, peppers, mushrooms, garlic and saute until softened, about 3-4 minutes. Add in the zucchini, artichoke hearts and diced tomatoes. Cover the pan and let simmer for 10-15 mins. Remove cover and add the wine, vinegar, salt, sugar, pepper and simmer uncovered for an additional 15 minutes or until slightly thickened. Stir in the herbs and top with parmesan cheese. Serve over cooked noodles and top with more cheese and a good helping of garlic bread!