Biscuit Topped Chicken Pot Pies – Well, hello world. So it turns out that growing a baby is pretty exhausting.
Even though this is baby #3 for me, I think a good amount of "pregnancy amnesia" works it's magic on me every time I decide I want to get pregnant again. Either that or the thought of squishy cheek kisses and new baby smell trumps all the discomfort.
But really, I'm done.
DONE.
Four weeks– I. CAN. DO. THIS.
I've always thought it was a good thing that the tail-end of pregnancy is miserable because it means that I am willing to do just about anything to get the baby out. Otherwise I wouldn't be so willing to set my lady parts on fire. Just sayin'.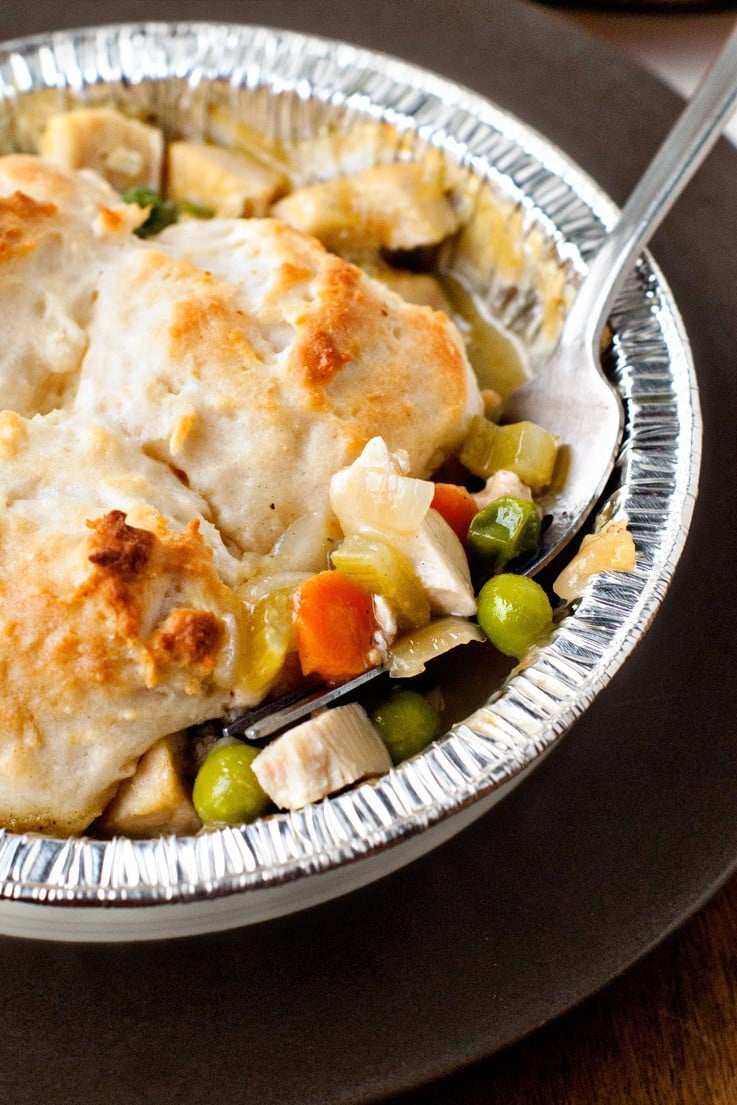 How to Make Biscuit Topped Chicken Pot Pies
Oh, so you want to talk about the Biscuit Topped Chicken Pot Pies recipe now? I guess we can do that.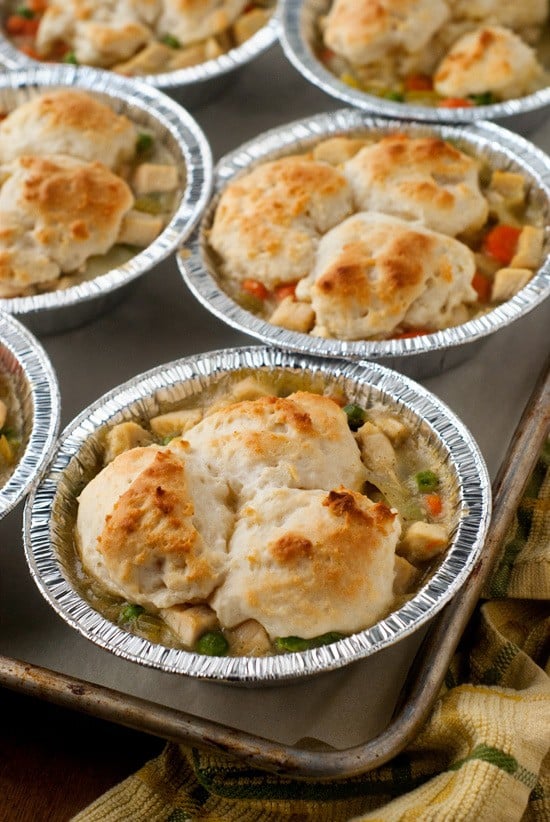 I've always been a big fan of chicken pot pies– I love the chicken gravy and the contrast of the the flaky, buttery pie crust. But I'm not always in the mood to mix up a pie crust, roll it out, top and crimp so it's not something I make very often.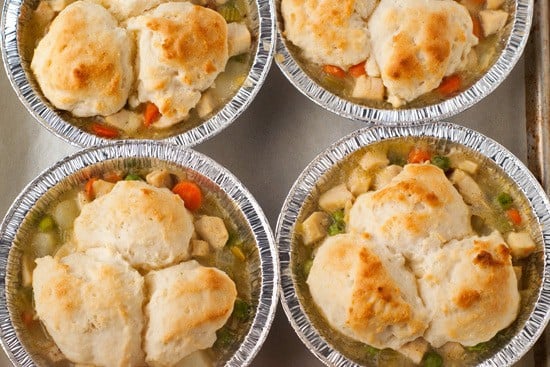 BUT, when you top it with the world's simplest biscuit recipe it turns into a meal that can be whipped up in under an hour and totally hits the comfort food button in your soul. Behold Biscuit Topped Chicken Pot Pies!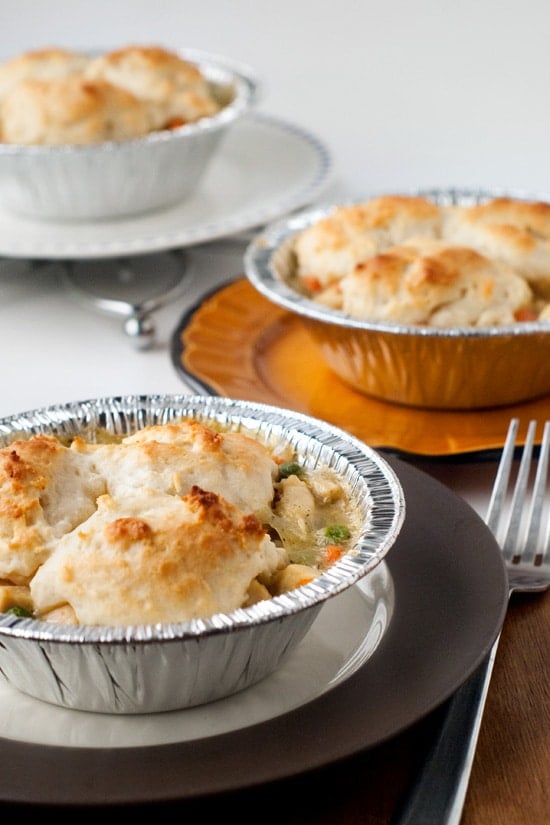 So next time you're like, "I could really go for a pot pie right now" (let's just confess that this happens more often than you'd like to admit), you have my permission to make these. I promise it will be a gagillion times better than anything you can get from the freezer section and a bazookazillion times better than the bowl of cereal you'll just want to settle on eating. Don't do it… make these Biscuit Topped Chicken Pot Pies!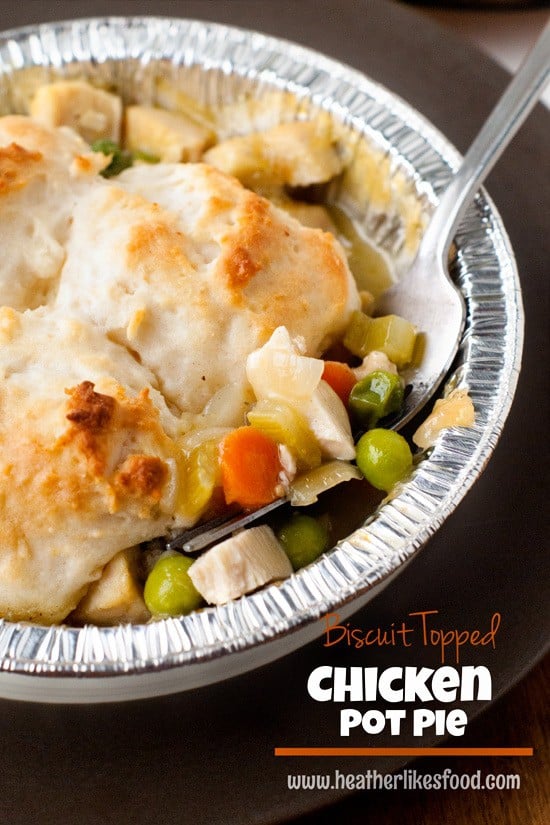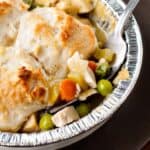 Biscuit Topped Chicken Pot Pies
Ingredients
1/4

C

butter

1/2

medium onion

chopped

3

ribs celery

chopped

3/4

C

carrots

chopped

1/4

tsp

poultry seasoning

1/2

tsp

garlic salt

1/4

tsp

ground black pepper

3

tbsp

flour

3/4

C

frozen peas

1

medium potato

peeled and chopped

2

C

chicken broth

2

boneless skinless chicken breasts

cooked and chopped
Instructions
In a large skillet melt butter and saute onions, celery and carrots over medium heat until just barely tender. Stir in poultry seasoning, garlic salt, pepper and flour and cook for 1 minute while stirring.

Add peas, potatoes, and chicken broth. Continue to stir until it comes to a simmer, reduce heat to low, cover and cook an additional 6-8 minutes or until the veggies are tender. Remove from heat.

Stir in cooked chicken breast and divide among 6 individual pot pie pans-- about ¾-1 C per pan.

Top with small spoonfuls of the biscuit dough, dividing the dough among the six pies.

Bake at 450 degrees for 12-15 minutes or until the biscuits are golden and no longer doughy on the bottoms. Serve hot.