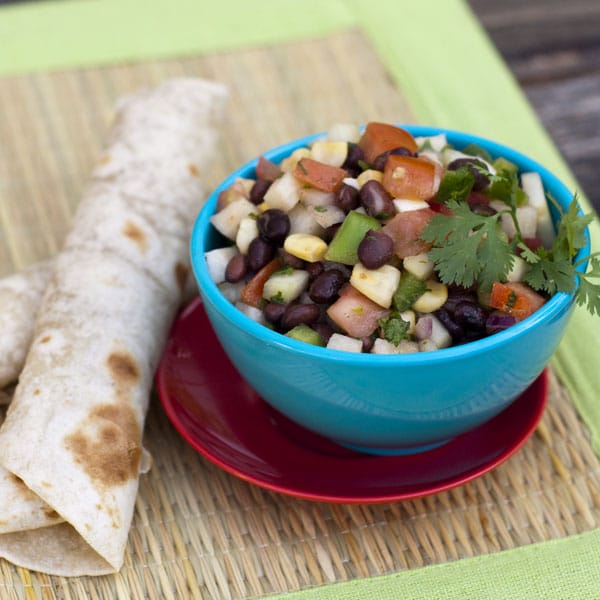 I truly love salad, but try as I may, a big bowl of greens and veggies just doesn't fill me up. Oh, how easy dieting would be if only this wasn't true! So when I plan on a salad being a main dish for a meal I often try to add beans or grains to give it some bulk and to hopefully satisfy my unruly gut. I won't say that it always works, but I think it's worth the effort if the cinnamon toast crunch stays hidden in the pantry at least once after eating salad for dinner.
I love this confetti salad because for one, it's pretty and just screams "eat me!" and then there's the fact that it's filled will crunchy, juicy vegetables and beans. What's not to love? And while it makes a great salad all by its lonesome, we like to eat it piled high on top of cheese quesadillas. Delish!
It's the perfect fresh, easy and quick salad for summer, especially if you have some mad knife skills or minions that do all of your prep-work for you (aka, kids).
Ingredients
2 (14.5 oz.) cans black beans, drained
1 bell pepper, chopped
1/2 C red onion, chopped
1 tomato, chopped
1 cucumber, chopped
1/2 of a medium jicima, chopped
1 1/2 C corn kernels
1/4 C fresh cilantro, chopped
2 tbsp fresh lime juice
1/4 C olive oil
1/4 tsp kosher salt
1/4 tsp chipotle chile powder
Directions
Combine all ingredients in a large bowl and toss. For best flavor let sit for 30 minutes before serving.

Made this recipe?
I'd love to see how you rocked it! Share your photo on Instagram with the hashtag
#heatherlikesfood  --
It will totally make my day to see it!