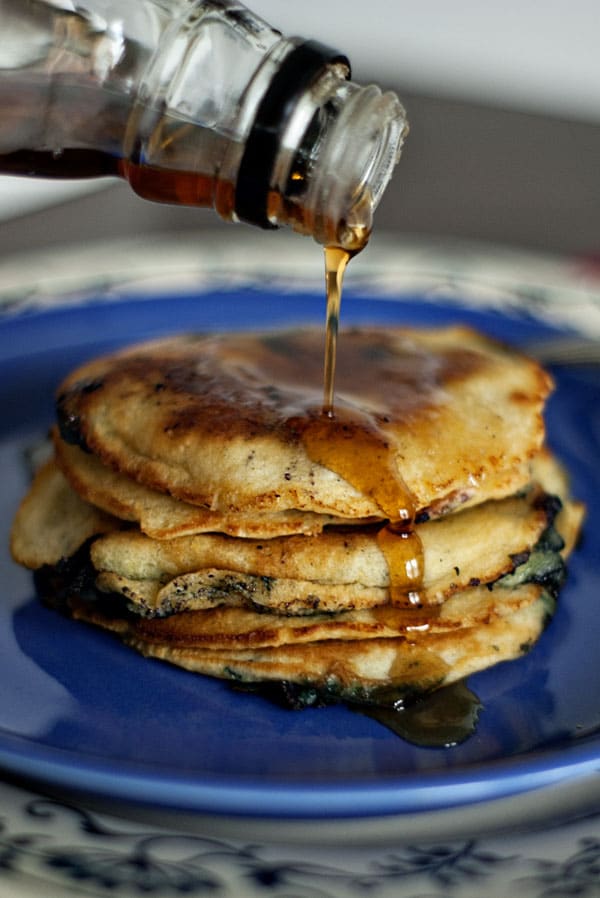 Yesterday morning we woke up to snow! Living in the pacific northwest means that we see a lot of rain but the white stuff is rare, at least in the valleys. It was already a particularly difficult morning to wake-up (okay, it's always hard), but there I was with my 6 yr. old going through our get-ready-for-school-routine, and I walked past the window. At first glance it looked like there was a enough snow for school to be cancelled (3 or more inches usually does the trick here. I know, we're lightweights) and I got really excited as I heard my warm bed beckoning me to return. With a quick look at the school website, dissapointment settled in and I was off again to make breakfast and brush hair. Once goodbyes were said and she was off to another day at school, I sat with my toddler and knew that blueberry pancakes were in our future that morning.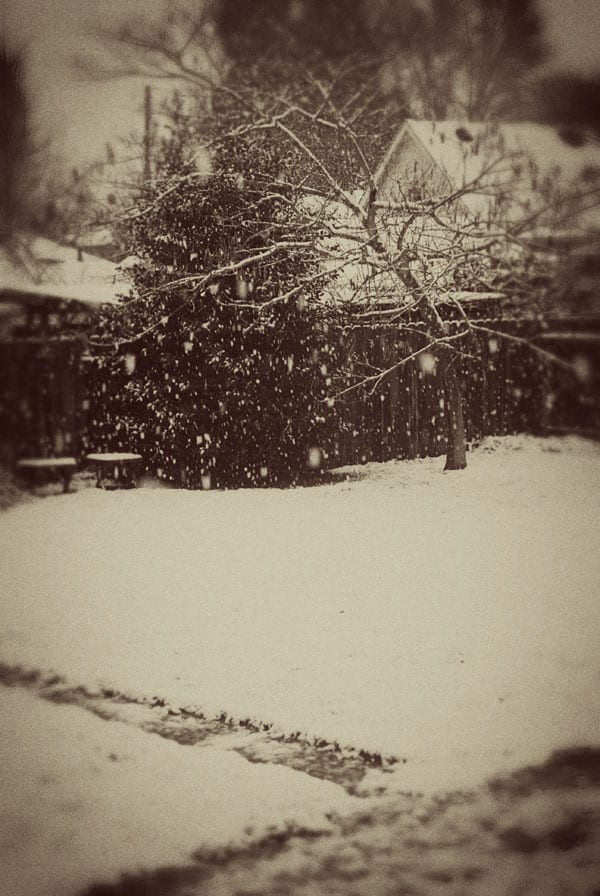 This is the scene outside my kitchen window that I enjoyed yesterday as I measured, beat, and flipped pancakes. I like to shoot my pictures in natural light so my kitchen was dark with only the overcast sky illuminating my actions. The house was quiet with the exception of Caillou playing faintly in the front room and the occasional boom from tumbling Lego towers. It was perfect- the moment. the over-sized knit sweater that kept falling down my arm into the batter. the smells. the crispness in the air. the pancakes.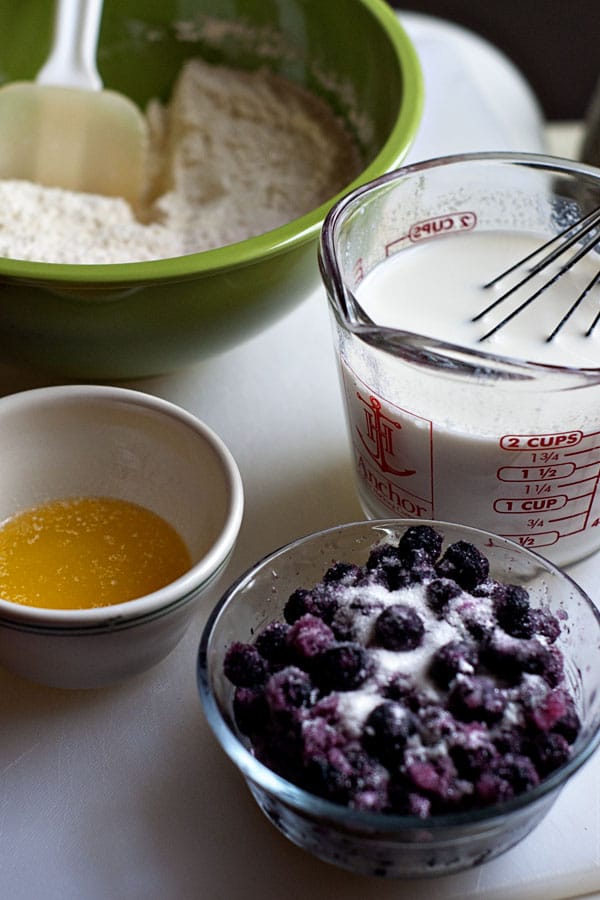 This is a Martha Stewart recipe I've been itching to try for a while now and I'm so glad I finally did. The cornmeal gives the fluffy pancakes a little bite and texture, and the sweet blueberries offset the savory undertones. I actually read the recipe wrong and ended up using a bit more sugar (about 2 teaspoons total) then it called for, but I'll do it the same way next time I make these. Also, the original recipe mentions that the batter will be thick but I found it to actually be quite thin, as did many of the other commenters. Again, I'll make them the same exact way because they were wonderful.
You'll start by combining the cornmeal with flour, sugar, kosher salt, baking soda and powder in one bowl and combining the milks and egg in another. Pour the wet into the dry…
Add in your melted and cooled butter…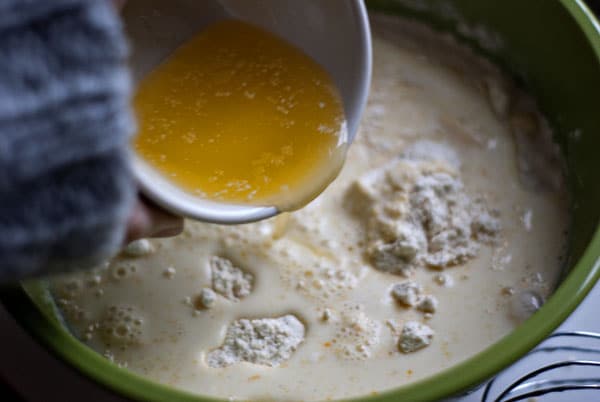 And give it a quick stir, mixing just until combined and not completely lump-free.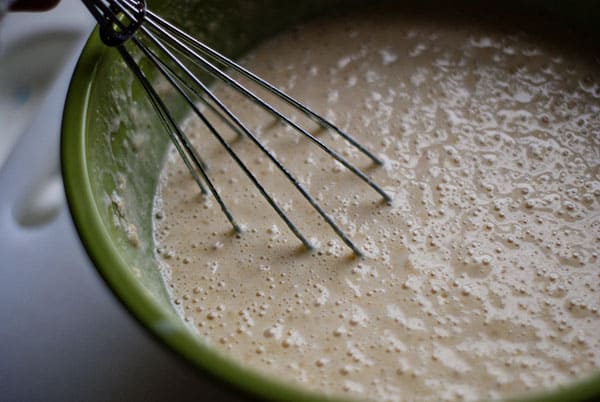 Heat up your griddle and run a stick of melted butter over the surface, repeating as necessary during cooking.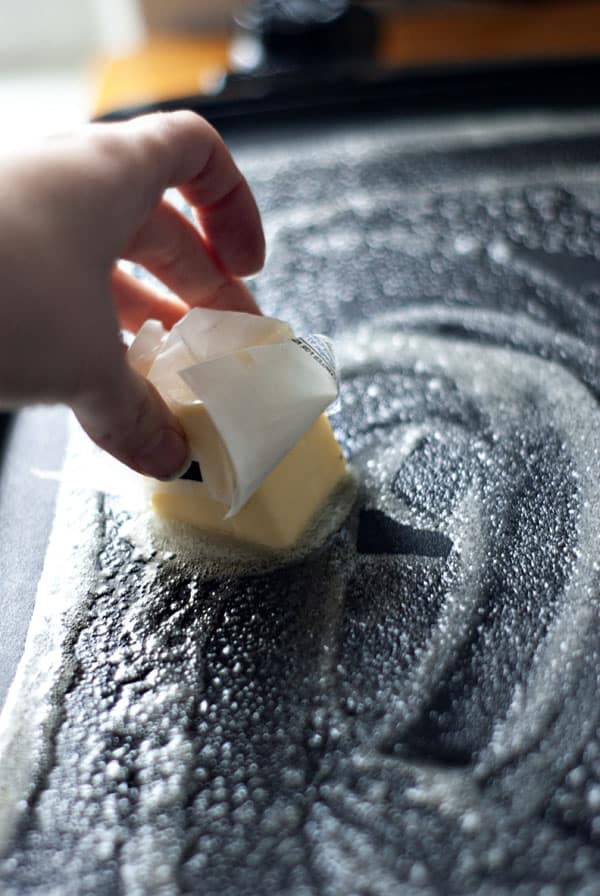 At first the batter will look limp and dead on the griddle, but as soon as those leavening agents feel that heat they'll puff up slightly and be ready for studding with some lightly sweetened blueberries. I used frozen this time, but you bet your sweet bippy I'll be using fresh come next summer.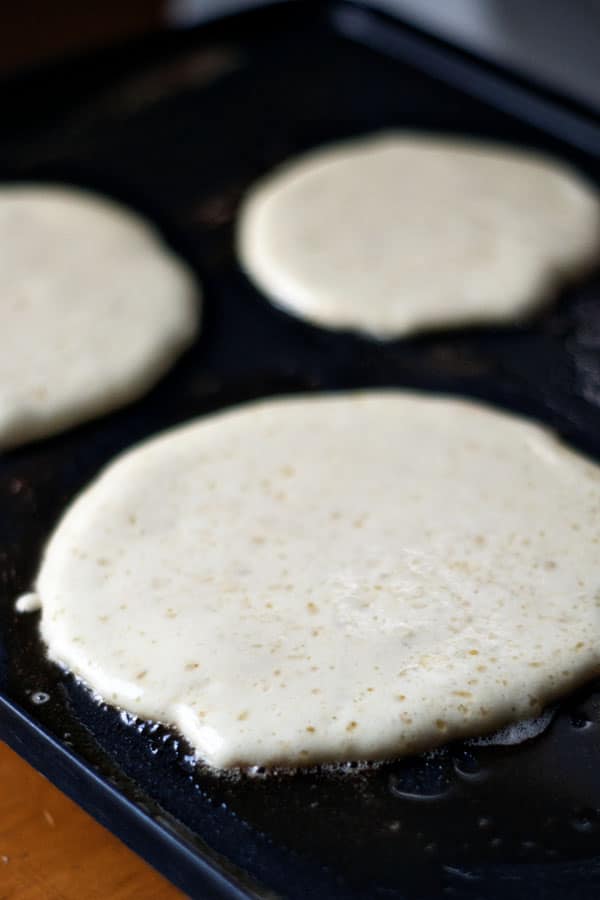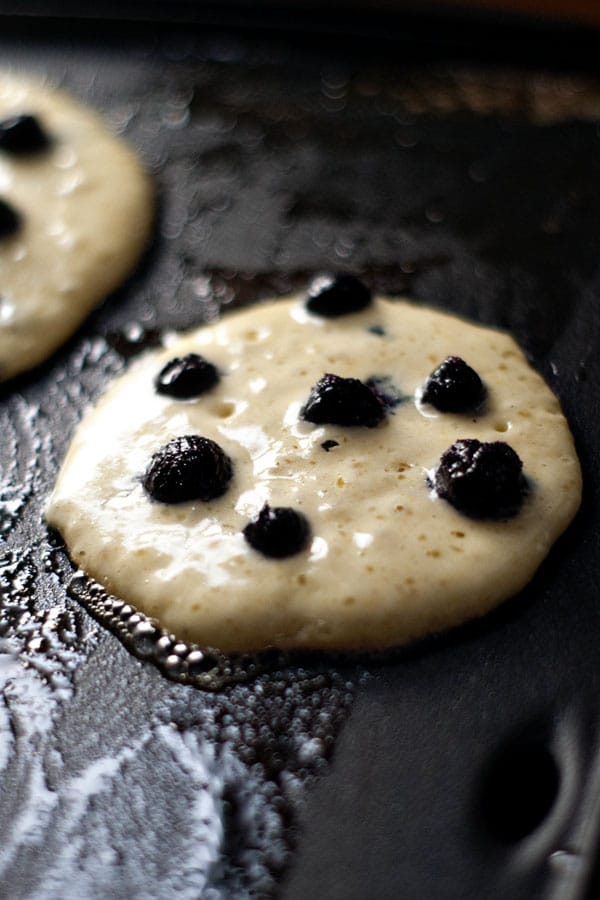 Give each one a flip once you see that the top has set up a bit and the bubbles have began to pop. Continue to cook on the remaining side,about another minute or two, and transfer to a plate.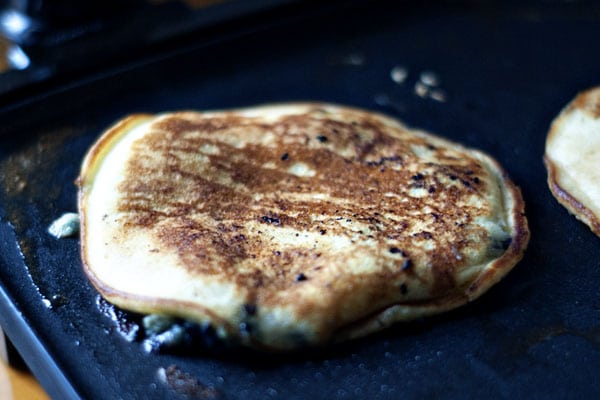 Serve hot with maple syrup, a comfy sweater, and find a few loved-ones with which to share.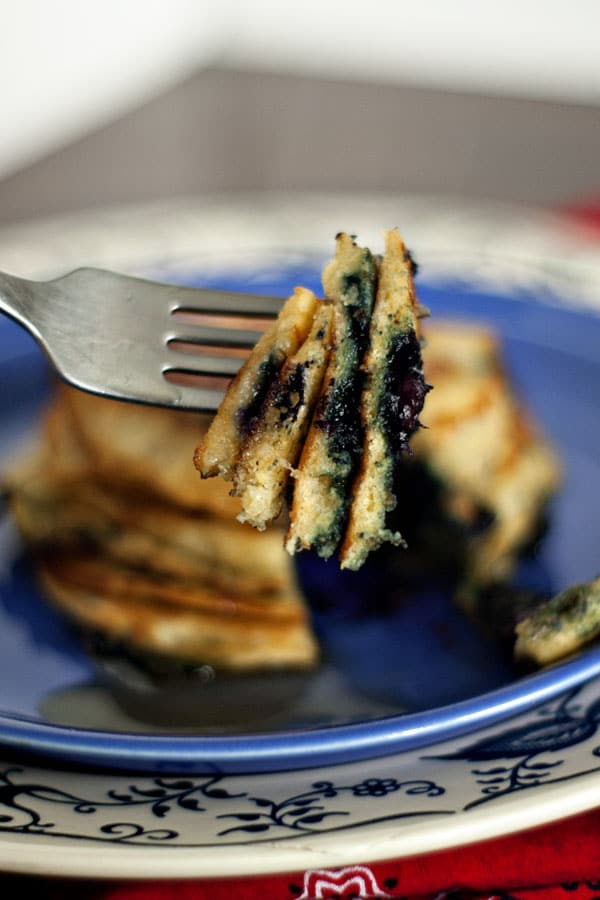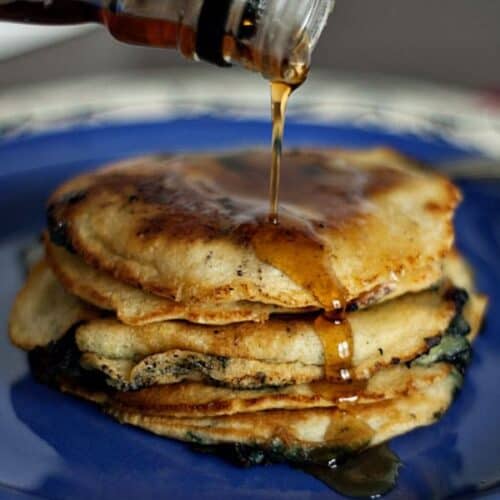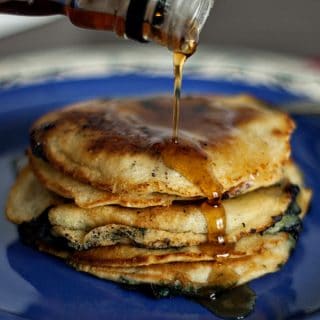 Blueberry-Cornmeal Pancakes
These cornmeal blueberry pancakes are the perfect way to stary a cold morning!
Print
Pin
Rate
Ingredients
1

cup

all-purpose flour

1/2

cup

cornmeal

1/4

cup

+ 2 tsp sugar

1 1/4

teaspoons

baking powder

1

teaspoon

kosher salt

1/2

teaspoon

baking soda

1 1/2

cups

low-fat buttermilk

1/4

cup

whole milk

3

tablespoons

butter

melted and cooled, plus more for griddle

1

large egg

lightly beaten

2

cups

blueberries
Instructions
Melt butter in a small bowl and let cool. Whisk together flour, cornmeal, 1/4 C sugar, the baking powder, salt, and baking soda. In another bowl, whisk together buttermilk, milk and egg. Whisk wet ingredients into dry ingredients until just combined (mixture will be lumpy).

Heat a griddle or large nonstick skillet over medium heat. Toss blueberries with remaining 2 teaspoons of sugar. Brush griddle with melted butter. Spoon batter onto griddle 1/3 cup at a time. Sprinkle with sugared blueberries, about 2 tablespoons per pancake. Cook until edges are set, 3 to 4 minutes. Flip, and cook until golden brown, about 1-2 minutes. Repeat with remaining batter and blueberries, adding more butter to griddle as needed.
Notes
Source: https://www.marthastewart.com/341864/blueberry-cornmeal-pancakes
Serving:
1
serving
|
Calories:
418
kcal
|
Carbohydrates:
67
g
|
Protein:
10
g
|
Fat:
12
g
|
Saturated Fat:
6
g
|
Cholesterol:
68
mg
|
Sodium:
913
mg
|
Potassium:
451
mg
|
Fiber:
4
g
|
Sugar:
25
g
|
Vitamin A:
430
IU
|
Vitamin C:
8.1
mg
|
Calcium:
194
mg
|
Iron:
2.5
mg
Are We Friends On Pinterest?
Follow Me For More Great Recipes @hlikesfood