Let's learn a little bit about Heather today, shall we?
The past few months (okay, years) I've really felt the affect of having worked jobs for the past 10 years that have all revolved around food. I remember being guaranteed by an instructor when starting culinary school that I'd earn at least an extra 15 lbs with my diploma and he was right (this may or may not have had anything to do with the bakery internship I had where cake scraps and donuts counted as breakfast and the owner baked fresh bread for sandwiches and cooked coconut shrimp in the donut fryer). Add two pregnancies, an affinity towards all things that start or end with fried zucchini, pie and nachos and a dislike for working out, you've got a pretty sure-fire formula for weight gain.
Here's a squinty-eyed picture of me and my man at our first race. Can you find the photo-bomber? He was awesome.
MY LATEST VIDEOS
I've tried lots of diets hoping for that one that will make me loose my 25 lbs over a weekend while eating nothing but popcorn, but I've yet to have one work. Sure, I've lost a few pounds here and there, but diets like those just aren't sustainable. I've always known that the best way to lose weight was by monitoring calories in vs. calories out but all the tracking and calculating sounded tedious so I never gave it a go. Until now.
Do you watch the Biggest Loser? You know those armbands that each of the contestants wear? Those armbands track the amount of  calories that they are burning, the intensity of their workouts, how many steps they are taking,  how efficiently they are sleeping, and more. The armbands are made by a company called BodyMedia  and as soon as I learned about them a few months ago, I knew that I wanted to try one.
I've been wearing an armband for a little over a month now and it's been so fun! Tracking how many calories I burn during the day has really helped me get a good handle on how I need to be eating to lose weight. I aim to burn 1000 calories more than I consume every day:
1 pound lost = 3500 calories burned
1000 cal/day x 7 days/week = 2 lbs lost per week!
The armband can't keep track of  the calories you're consuming so putting it on doesn't  mean you don't have to keep track of what your eating, but it does make it easier to make good choices. At the end of the day I can look at the calories I've burned and see how close I am to meeting my goal. If I have few calories to spare I don't feel guilty getting a treat. On the other hand, if I haven't burned as many as I should I try to get a workout in or go for a walk.
The armband tracks all your data and sends it out via Bluetooth to a  digital display, or with certain models, a smart phone. You can also connect it to your computer  and upload your data there. To use the activity manager and see your data you do have to pay a monthly subscription fee of $6.95/month. I wish this wasn't the case, but it is what it is. Each armband comes with a 3 month subscription. The activity manager gives you all sorts of charts and graphs showing your activity for the day, how efficiently you slept, and helps you enter in the foods and calories you ate. The chart below is of my activity for a day. You can tell I exercised in the morning and then basically sat on my bum the rest of the day- whoops.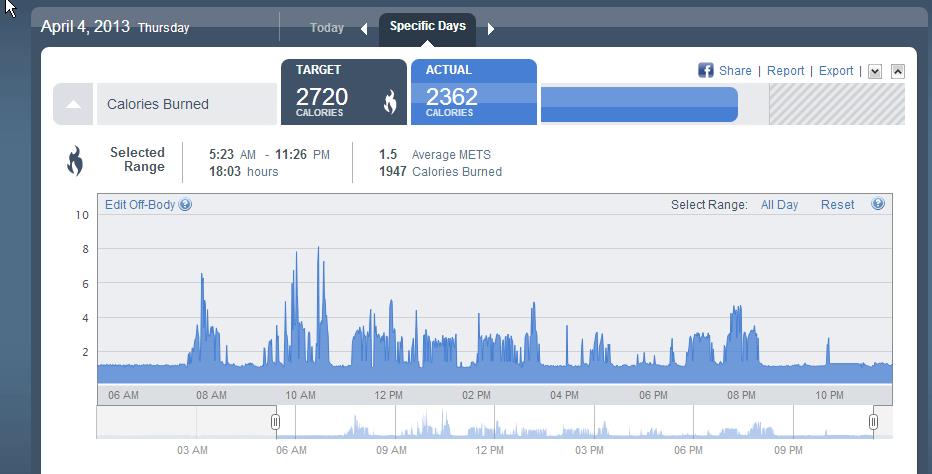 So yeah, that's what I've been doing and it's been great! I feel awesome and it's really been kind of like playing a game keeping track of my calories and workouts. The hubs calls me a cyborg because I always have it on my arm. Maybe I am, but I want you to be one too!
Who Wants to Win One?
I have a BodyMedia CORE armband and Digital Display ready to giveaway to one of you compliments of BodyMedia. Enter below!
I was compensated by BodyMedia with an armband to review, but as always, all thoughts and opinions are my own.