These braised beef short ribs are tender, juicy and full of flavor. They are perfect served over mashed potatoes or with cheesy grits and will be the star of the show at Sunday dinner!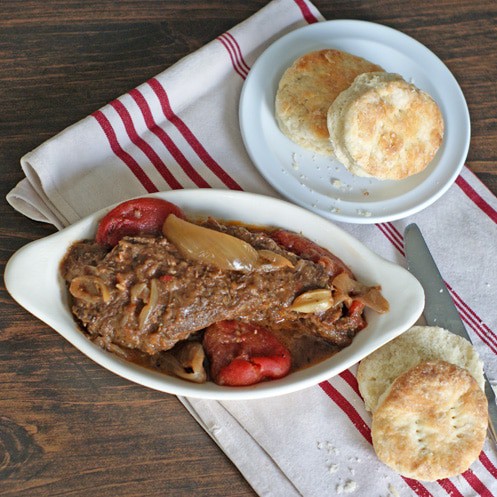 Braised Beef Short Ribs are arguably one of life's lesser-known delights. If you're familiar with them, you know they are are phenomenal and make any dinner something special. If you'd never made them, now is the time! Pair these braised beef boneless short ribs with Super Creamy Slow Cooker Mashed Potatoes, Easy Baked Rice Pilaf, or maybe this Herbed Sweet Potato Gratin for a super delicious dinner.
What Is The Braising Method?
If you're not familiar with braising, it just a fancy name for browning meat and then slow cooking it in liquid. It is mainly used for cuts of meat that are naturally tough and need the connective tissue cooked down and tenderized. If you have a slow cooker, you probably braise things all the time!
MY LATEST VIDEOS
What Kind of Meat Are Short Ribs?
The short ribs I'm using for this recipe are beef. The recipe calls for 8 boneless beef short ribs. Butchers cut short ribs one of three ways, either between the bones (so each chunk has one rib), across the bones (so that each piece has several bony sections connected by meat), or boneless. I use boneless most often because they are easy to find and serve up nicely over mashed potatoes or grits.
Are Braised Beef Short Ribs Fatty?
Boneless Short ribs are typically leaner than the bone-in variety and the fat content doesn't vary too much from a pot roast made from beef chuck. Most of the fat will render out during the cooking process and will need to be skimmed off the top before serving but the ribs themselves won't be overly fatty.
How Long Does It Take To Braise Boneless Short Ribs?
Braising is a low and slow cooking process. It usually takes about 2 to 2 1/2 hours for the boneless short ribs to be fully cooked and tender.
Cooking Tips for Making The BEST Braised Boneless Short Ribs
Use Wine… or Not — This recipe calls for wine. You can substitute apple juice or beef broth for it if you'd like. I personally don't drink, but I do cook with alcohol. It adds really nice flavor that is hard to get elsewhere.
Season your short ribs well—  boneless short ribs are fairly big pieces of meat and the salt and pepper you put on them before cooking is going to season them throughout the process. Be fairly generous with the salt and pepper.
Spoon off the fat at the end— during the braising process the boneless short ribs will render off fat that will rise to the top of your cooking juices. Before serving, spoon off as much of this fat as you can so you're left with a smooth, non-greasy sauce.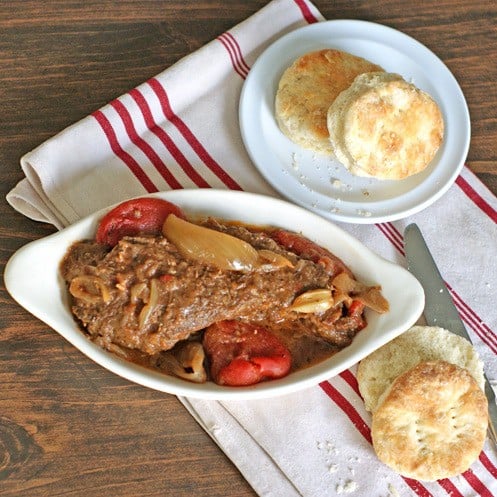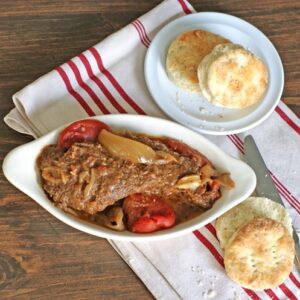 Braised Beef Short Ribs
These braised beef short ribs are tender, juicy and full of flavor. They are perfect served over mashed potatoes or with cheesy grits and will be the star of the show at Sunday dinner!
Print
Pin
Rate
Total Time:
2
hours
25
minutes
Ingredients
8

Boneless Beef Short Ribs

1

tablespoon

kosher salt

1

teaspoon

ground black pepper

1

teaspoon

dried thyme

1/4

cup

oil for frying

canola or peanut

3

whole

large yellow onions

peeled and cut into 1/2 in. wedges

3

bay leaves

12

whole

garlic cloves

peeled

28

ounces

whole tomatoes

canned

1

cup

chicken stock

1/2

cup

red wine
Instructions
Preheat the oven to 325.

Rinse the short ribs under cool water, and pat them dry with paper towels.

Sprinkle the salt, pepper, and ½ tsp of the thyme all over the ribs. Heat the oil in a large, heavy-bottomed skillet until hot, then add the ribs in batches without crowding, and cook, turning as needed, until they are deeply browned on all sides. Transfer the browned short ribs to a baking dish or casserole just large enough to hold them.

Carefully pour off all but 2 tbsp of the cooking oil from the skillet, and immediately add the onions to the pan. Sprinkle 1 tsp salt over the onions, and stir well. Cook the onions over medium heat, and, using a wooden spoon, scrape the bottom of the pan to dislodge any caramelized bits left from browning the ribs.

Add the bay leaves, a pinch of pepper, and the remaining ½ tsp of thyme. Stir well to distribute the seasonings. Add the whole garlic cloves and cook 3 minutes longer. Pour the tomatoes, stock, and red wine, bring to a simmer, and cook for 5 minutes. Taste carefully for seasoning. The braising liquid should be highly seasoned. Add more salt or pepper if needed.

Pour the vegetables and liquid over the browned ribs, and spread the veggies around so they are in an even layer. Cover tightly with a double layer of foil, shiny side down. Seal tightly. Put in the center of the preheated oven to cook for 1½ hours, or until a knife pierces the meat easily. Uncover, and bake 30 minutes longer. Remove from the oven and spoon off any visible fat. Serve hot with vegetables and braising liquid spooned over as a sauce.
Serving:
1
serving
|
Calories:
143
kcal
|
Carbohydrates:
8
g
|
Protein:
2
g
|
Fat:
10
g
|
Cholesterol:
1
mg
|
Sodium:
1411
mg
|
Potassium:
324
mg
|
Fiber:
1
g
|
Sugar:
3
g
|
Vitamin A:
155
IU
|
Vitamin C:
13
mg
|
Calcium:
48
mg
|
Iron:
1.7
mg
Are We Friends On Pinterest?
Follow Me For More Great Recipes @hlikesfood