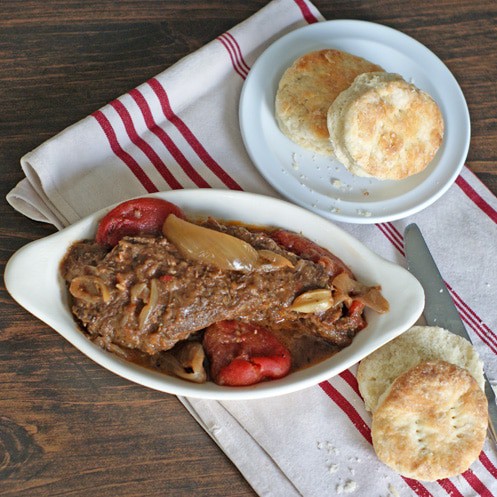 Every year on his birthday, the hubs gets to plan an ultimate menu and have me cook it for him. It's always been a ton of fun and subsequently we now do it for Father's day and any other "holiday" that he can talk me into.  Last Father's day was intense. The "Shellfish Tower" was at least a  foot-and-a-half tall and included lobster, crab, scallops, prawns, shrimp, oysters, and clams. It was stupid how insane this thing was.  Seriously hun? Thank goodness my father-in-law graciously helped devour it, it was hard for him, I'm sure. I'm about 100% positive that he and my hubby are conspiring about this year. Hit me with your best shot guys, I can take it!
So Ammon's birthday was last week and his original menu was a bit lack-luster for me (I really wish I could say what he wanted, but I promised I wouldn't. It was that bad) so I told him to re-think it and handed him a stack of cookbooks (I'm glutton). His final request looked like this:
Braised Beef Short Ribs with Creamy Grits, Buttermilk Biscuits, Green Beans Amandine, and a Chocolate Napoleon for dessert.
Sounds good right? And omigoodness it was so, so good. Like maybe one of my perfect meals good. The best part was that my 5 yr. old declared that she liked the grits more than macaroni and cheese. If you know Ems, you know that her relationship to mac and cheese is sacred. As evidenced by one morning's drive to school where Ammon told her that she needed to eat her granola bar breakfast (we were late, okay?) and that everything couldn't taste like heaven. To that she responded, " Why didn't you just say that everything can't taste like Macaroni and Cheese?" You get the point.
I'm just posting the recipe for the ribs today, but I promise I'll get to the rest. The recipe calls for wine, you can substitute apple juice or beef broth for it if you'd like. I personally don't drink, but I do cook with alcohol.  It really adds nice flavor and the alcohol does cook out.  I usually just buy whatever is cheapest and it never fails that I run into at least 1 person I go to church with while I have the devil's juice in my cart- let 'em judge, whatevs. Buying cheap wine to cook with is probably a big no-no in the wine/cooking world, but oh well. I don't know that the good stuff tastes like anyways.
If you're not familiar with braising, it just a fancy name for browning meat and then slow cooking it in liquid, mainly used for cuts of meat that are naturally tough. If you have a Crock-Pot, you probably braise things all the time. This recipe is braised in the oven, but could definitely be finished in the Crock-Pot. You won't get the yummy caramelization that comes from oven braising, but it would work.  Let me know if you want more info on that.
The recipe also calls for 8 beef short ribs. Butchers cut short ribs one of three ways, either between the bones, so each chunk has one rib,  across the bones, so that each piece has several bony sections connected by meat, or boneless. I used boneless this time because I couldn't find any with bones. I would have preferred bone-in because the exposed bones and cartilage give more flavor and body to the dish, but whatever cut you can find will work great!
I served this with grits, but it would be equally as great with mashed potatoes, rice, or on a baguette with cheese.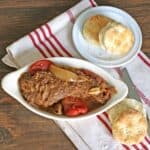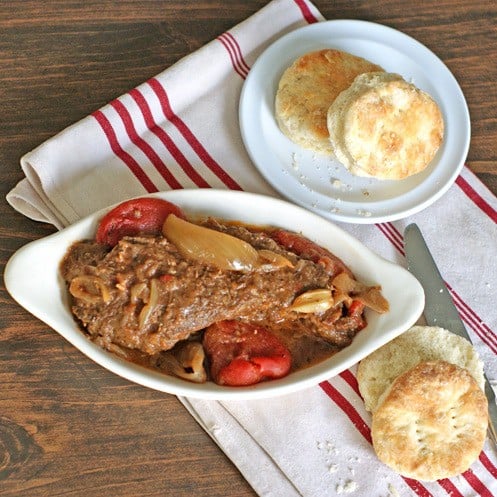 Braised Beef Short Ribs
Servings
4
very hearty servings
Ingredients
8

beef short ribs

1

tbsp

kosher salt

1

tsp

ground black pepper

1

tsp

dried thyme

1/4

cup

peanut oil- I used canola and it worked just fine

3

lg. yellow onions

peeled and cut into 1/2 in. wedges

3

bay leaves

12

whole peeled garlic cloves

28

oz.

canned whole tomatoes

1

C

chicken stock

1/2

C

red wine
Instructions
Preheat the oven to 325.

Rinse the short ribs under cool water, and pat them dry with paper towels. Sprinkle the salt, pepper, and ½ tsp of the thyme all over the ribs. Heat the oil in a large, heavy bottomed skillet until hot, then add the ribs in batches without crowding, and cook, turning as needed, until they are deeply browned on all sides. Transfer the browned short ribs to a baking dish or casserole just large enough to hold them.

Carefully pour off all but 2 tbsp of the cooking oil from the skillet, and immediately add the onions to the pan. Sprinkle 1 tsp salt over the onions, and stir well. Cook the onions over medium heat, and, using a wooden spoon, scrape the bottom of the pan to dislodge any caramelized bits left from browning the ribs. Add the bay leaves, a pinch of pepper, and the remaining ½ tsp of thyme. Stir well to distribute the seasonings. Add the whole garlic cloves and cook 3 minutes longer. Pour the tomatoes, stock, and red wine, bring to a simmer, and cook for 5 minutes. Taste carefully for seasoning. The braising liquid should be highly seasoned. Add more salt or pepper if needed.

Pour the vegetables and liquid over the browned ribs, and spread the veggies around so they are in an even layer. Cover tightly with a double layer of foil, shiny side down. Seal tightly. Put in the center of the preheated oven to cook for 1½ hours, or until a knife pierces the meat easily. Uncover, and bake 30 minutes longer. Remove from the oven and spoon off any visible fat. Serve hot with vegetables and braising liquid spooned over as a sauce.