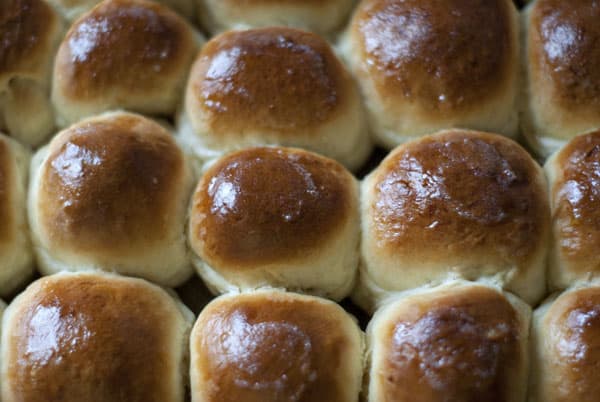 Hey guys. With Halloween under our belts- in more ways than one (curse those fun-sized Almond Joys!) – I want to dive right into Thanksgiving with a series of posts that will hopefully get you ready for the big meal. So for the next 2 weeks you're going to see a lot of me. I have 10 recipes ranging from desserts to the main bird that I'm hoping to cram into the next two weeks! Are you ready? Let's do it!
Thanksgiving just isn't complete without some warm, buttery rolls to sop up all that gravy. This recipe comes straight from the minions of Martha Stewart and is my favorite roll recipe, hands down! I've tried lots and LOTS of different recipes, created my own, and I still come back to this one every time. They are soft, chewy, flaky, buttery, and just perfect. I also love this recipe because the dough freezes really well which means I can have hot rolls ready in just the time it takes to defrost, rise, and bake just like using Rhodes Rolls- perfect for Thanksgiving day! Just place your shaped rolls on a cookie sheet and instead of letting them rise put the sheet in the freezer. Once they are frozen solid you can transfer them to a Ziploc bag for storage. If you're normally a skimmer, you might want to read the whole post today because I'm including lots of tips that work in all aspects of bread making and not just rolls.
You'll want your milk warm and butter melted, so in true Heather fashion I dirty as few dishes as possible. Heat the milk and butter in the microwave until the butter is melted and let cool until the milk is warm, but not hot ( about 115 degrees) . If you're using active dry yeast (in the packets) dissolve it in 1/4 C of warm water and set aside until bubbly.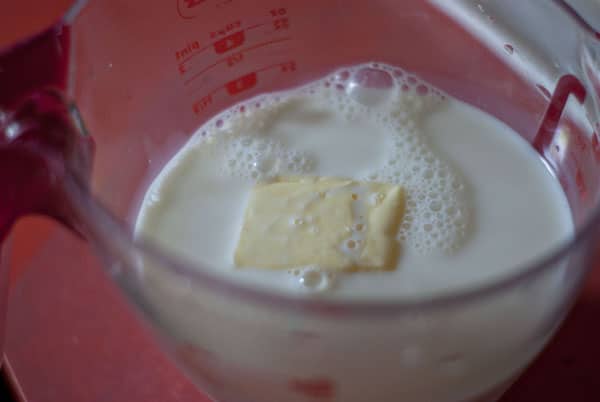 If you're using instant yeast, like I did here, there's no need to dissolve and activate it first. It can be added directly to the mixing bowl with the sugar, salt…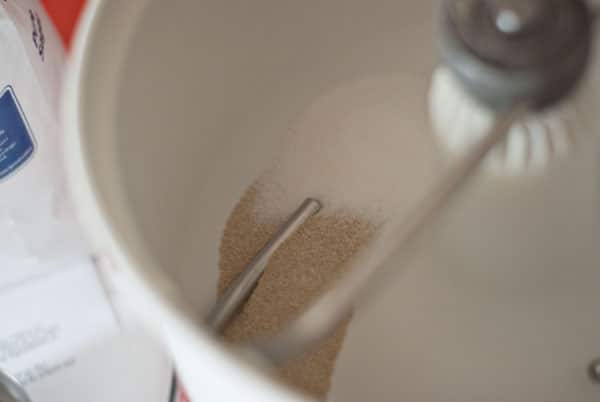 warm milk, butter, and eggs.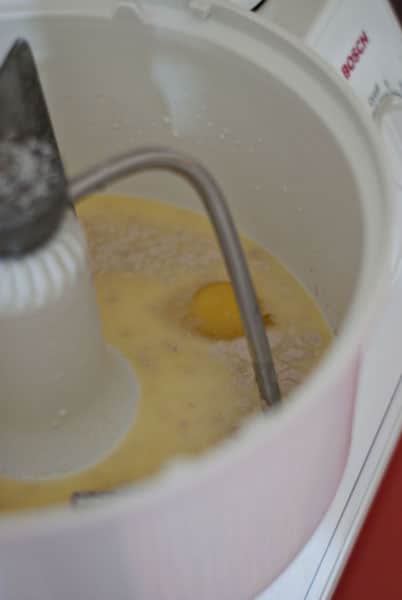 Give it a mix to combine and start to add the flour. When making bread I never hold to the amount of flour called for in the recipe as a hard and fast rule. I always go by the way the dough feels because flour absorbs moisture differently based on many factors from the weather to the brand.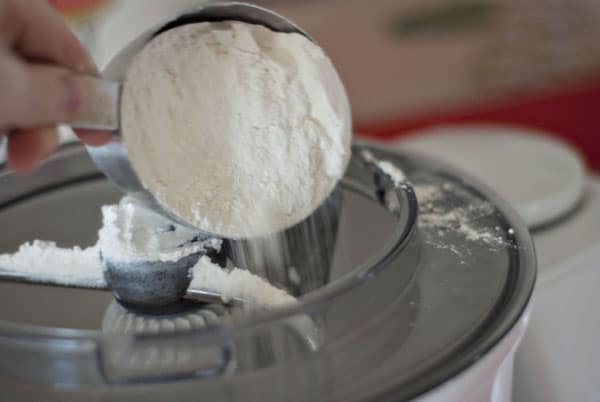 For this recipe you want your dough to be slightly sticky, but not so sticky that it makes a mess in your hands. Can you tell how it is just barely sticking to my hand in the last picture?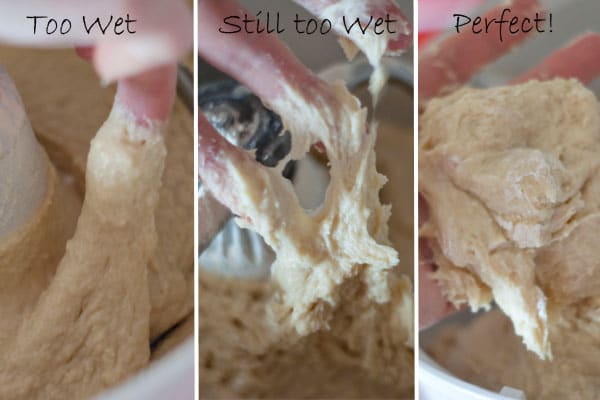 Once the dough feels how you want it, let it knead for about 7 minutes until it's smooth and elastic. In my mixer I divide the dough into two balls to rise, but if your mixer is just one bowl you can leave it as one piece. Cover your mixing bowl and let rise until doubled in size.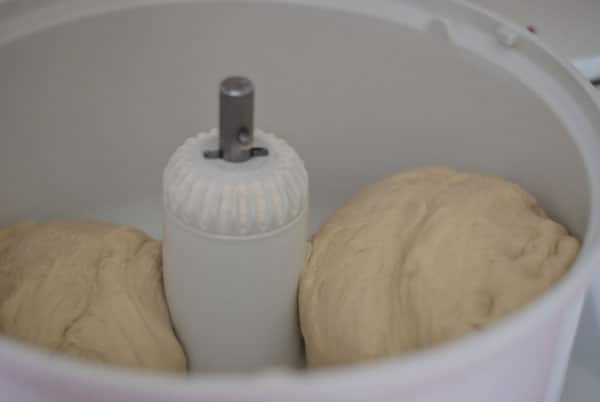 Once its risen it's time to divide it into rolls. I like to take my first two dough balls, divide them in half and keep dividing them in half until I have 32 pieces of dough.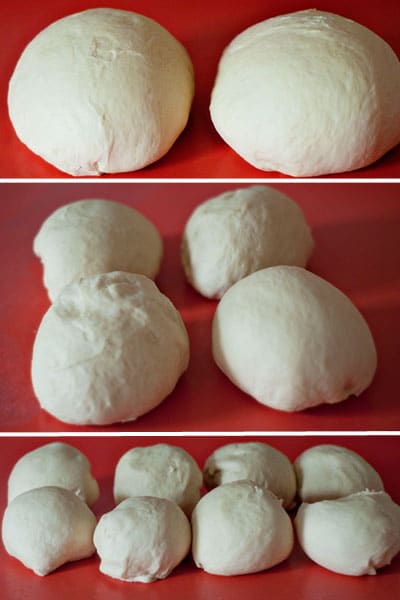 Pinch the bottom of each piece of dough to create smooth top and place on a lined baking sheet. Cover with plastic wrap and let rise until doubled in size and they are touching on all sides.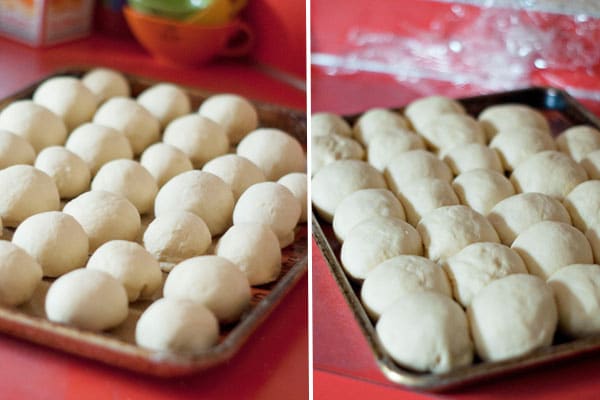 Make an egg wash by beating 1 egg with 1 tbsp of water and brush over the tops of the risen rolls and bake until golden brown. Once they come out of the oven brush the tops with a little melted butter, grab one, take a bite, chew, and swallow.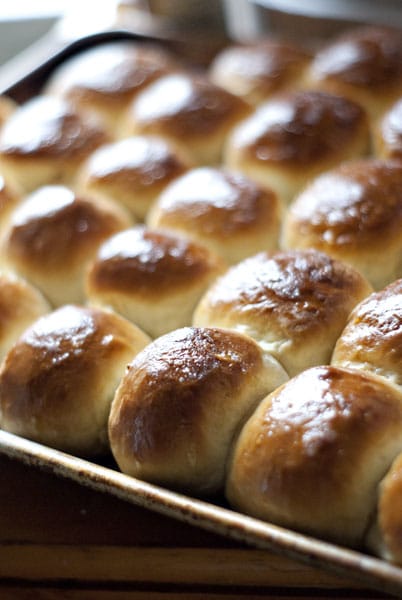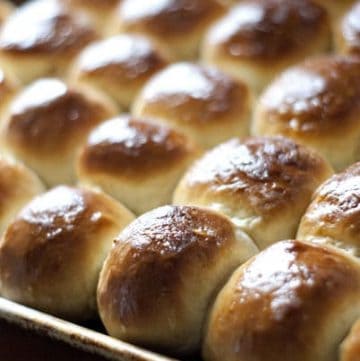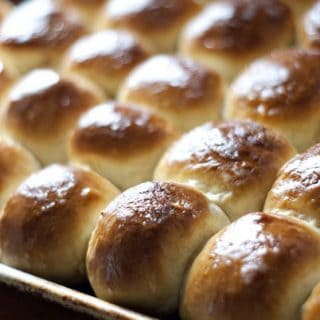 Ingredients
1/4

cup

warm water

2

packets

1/4 ounce each active dry yeast or 4 1/2 tsp instant yeast

1 1/2

cups

warm whole milk

115 degrees

1/2

cup

butter

melted

1/4

cup

sugar

2 1/4

teaspoons

kosher salt

2

large eggs

6 to 6 1/2

cups

all-purpose flour

spooned and leveled, plus more for work surface

1

egg

1

tbsp

water
Instructions
If using active dry yeast dissolve yeast in ¼ C warm water, otherwise combine sugar, warm milk, melted butter, salt, eggs, in bowl of a mixer. Mix until well combined.

Add flour 1 C at a time until you have a soft, shaggy, slightly sticky dough (adding additional flour if needed).

Knead for 5-10 minutes until dough is smooth and elastic. Shape into a ball and cover with plastic wrap. Let rise until ball is doubled in size- about 1 hour.

Remove dough from ball and divide into half, divide each half in half again, and repeat until you have 32 pieces of dough.

Shape each piece of dough into a smooth ball by pinching the bottom of each ball and place on a lined baking sheet. Cover sheet with plastic wrap and let rise until doubled- about 1 hour.

Combine egg wtih 1 tbsp of water and brush over tops of risen rolls. Bake at 375 degrees for about 20 minutes and golden brown. Remove rolls from oven and brush tops with melted butter.
Are We Friends On Pinterest?
Follow Me For More Great Recipes @hlikesfood