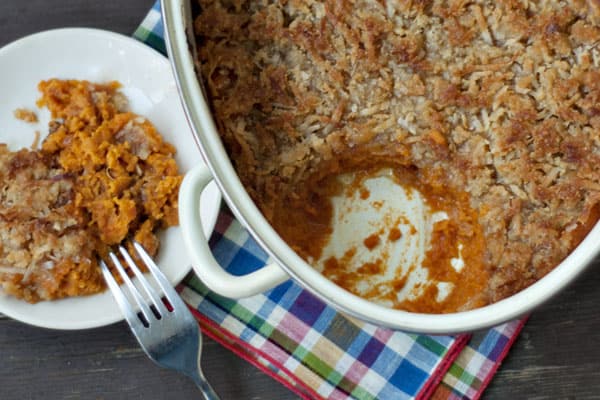 These sweet potatoes are not your typical marshmallow-topped-yam-chunk-side-dish. I'll admit that I do have a special little place in my heart for the candied yams of my childhood, but this sweet potato casserole will forever, and I mean FOREVER grace my table at Thanksgiving. The coconut topping is crunchy, sweet and the perfect complement to the creamy potatoes beneath it. But let's be honest with ourselves here and recognize that this is basically a dessert. Don't do what I did and think you can pass this off as dinner if you pair it with some sausage and salad because of the sweet potatoes. We'll just say that the hubs decided to eat his portion of this after a good helping of leftovers that night. So…it's a little sweet… big whoop. On the upside, the kids practically licked their plates clean. It will be the perfect something sweet next to your turkey and green beans on thanksgiving, or do as I do and eat it for breakfast once everybody leaves the house for the day. I mean, after all, it has orange vegetables in it.
Start by baking some sweet potatoes in the oven until they are nice and soft.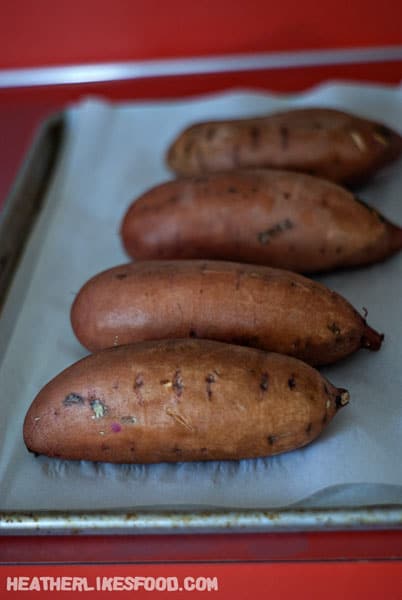 While they are baking you can make the coconut topping by combining flour, brown sugar, white sugar, coconut, and softened butter.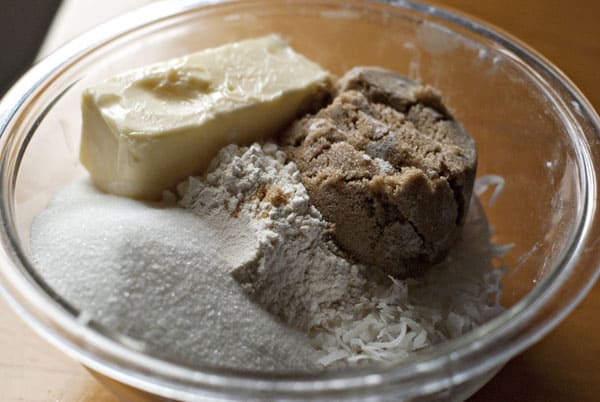 Stir around until it all comes together and looks like something you need to consume immediately. Take a pinch and press forward with the recipe.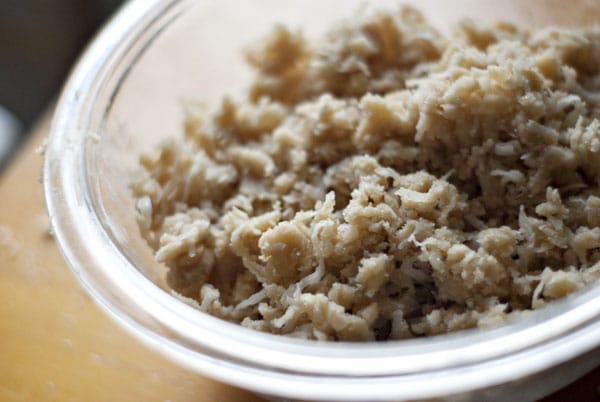 Once your potatoes have cooled enough to handle, cut in half and scoop out the soft innards (that sounds grosser than is it) into a bowl.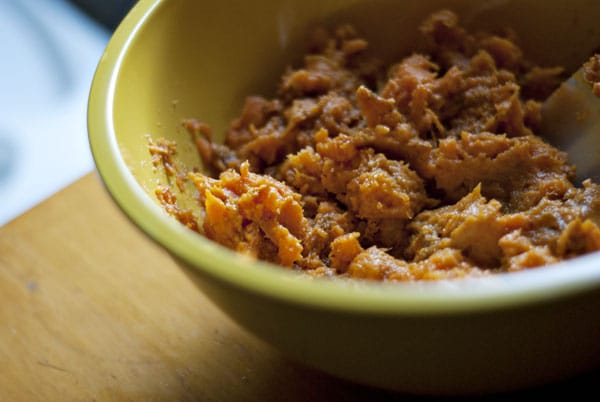 Next you're going to add some goodies to the potatoes- eggs, sweetened condensed milk, sugar, applesauce, vanilla, salt and butter.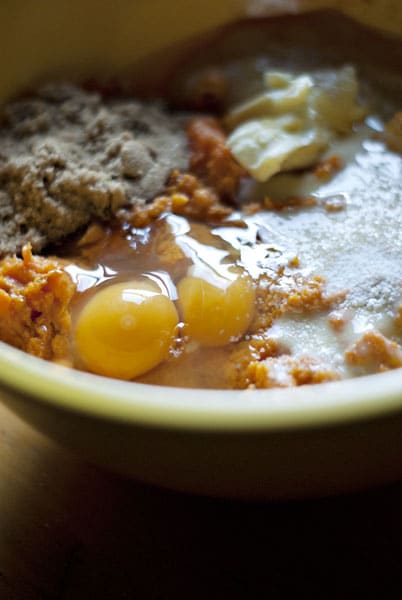 Mooshy, mooshy, mash-mash until smooth and creamy.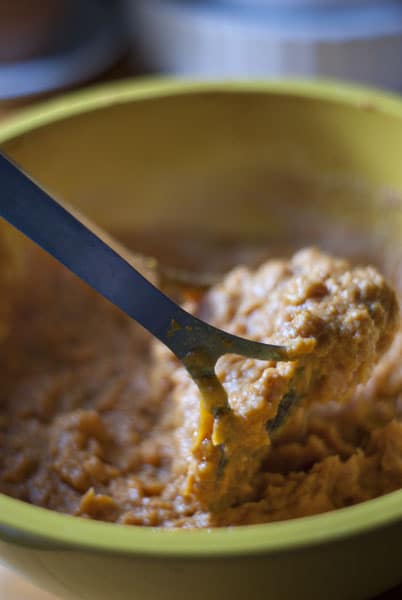 Spread the potatoes into a 9×13″ or equivalent baking dish.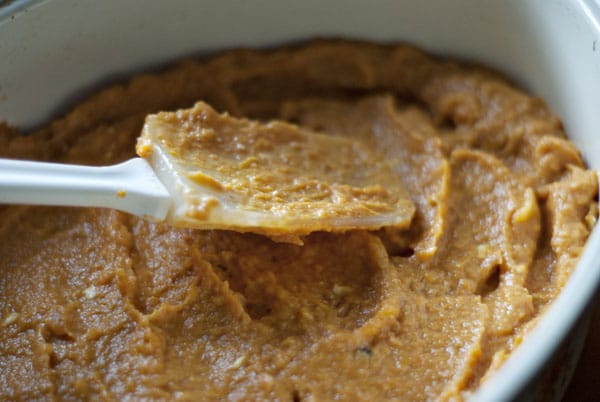 Top with the coconut mixture in an even layer.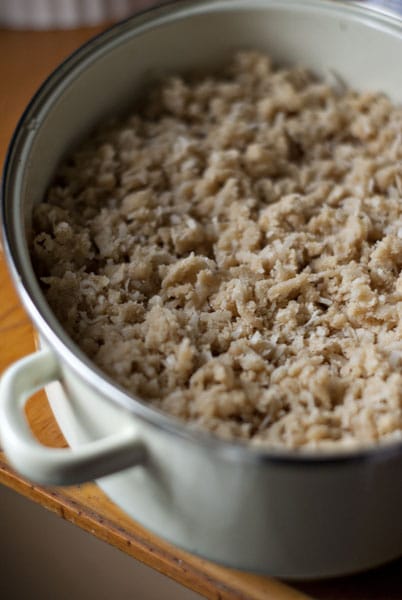 Place in the oven and bake until the potatoes are bubbly and the topping is crisp.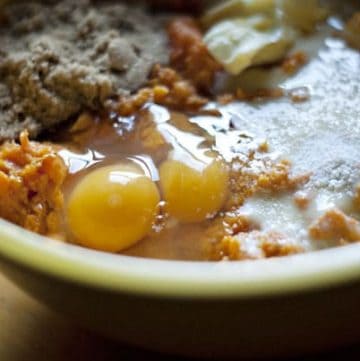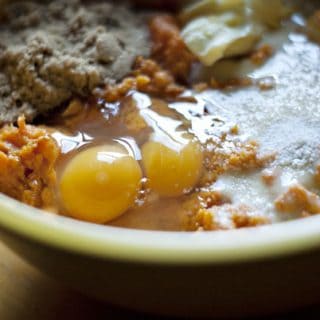 Ingredients
1/2

C

all-purpose flour

1 1/2

C

shredded sweetened coconut

1/3

C

butter

softened

1/2

C

sugar

1/2

C

brown sugar

4

C

cooked sweet potatoes

about 4 medium potatoes

2

eggs

2

tbsp

butter

1/2

C

applesauce

1/4

C

brown sugar

2/3

C

sweetened condensed milk

1

tsp

vanilla

1/2

tsp

kosher salt
Instructions
* You can make these a day or two ahead of time by keeping them covered in the fridge and not putting the coconut topping on until just before baking*

Combine the coconut, flour, sugars, and softened butter and mix until all ingredients are well incorporated. Set aside.

Combine the cooked potatoes with the eggs, 2 tbsp of butter, applesauce, sweetened condensed milk, vanilla and salt. Using a potato masher word the ingredients together until you have a smooth mixture.

Spread the potatoes into a 9x13" or equivalent dish and top with the coconut mixture.

Bake at 350 degrees for about 40-50 minutes. The potatoes should be bubbly and the topping browned.
Are We Friends On Pinterest?
Follow Me For More Great Recipes @hlikesfood