Inside-Out Caramel Apple Sundaes – If you've seen the picture floating around Pinterest or Facebook that promises perfectly sliced caramel-filled apple wedges and have been tempted to make them– don't do it! I'll just save you a few hours in the kitchen and tell you now that it doesn't work. The moisture from the apple actually melts the caramel which means that it doesn't stick to the apple when you're slicing it and leaves you with a big watery pool of caramel and a sad, sad apple with its innards removed in an effort to be something delicious. Don't ask me how I know.
But luckily I was able to salvage this Pinterest fail and turn it into simple dessert that is totally out of the ordinary and super fun to eat– I bring you, (dun-da-da-dah!) Inside-Out Caramel Apple Sundaes!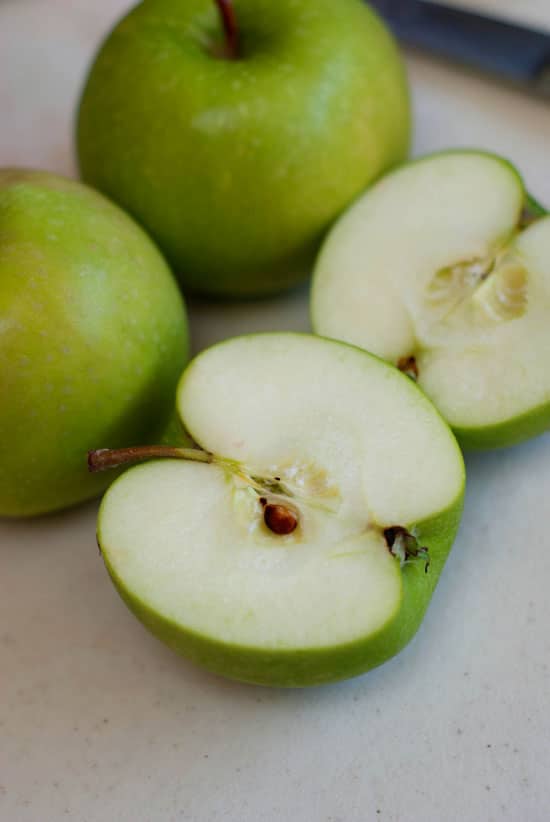 How To Make These Inside-Out Caramel Apple Sundaes
You'll start by cutting your apple of choice in half and then hollowing out the middle with a spoon or scoop. You can scoop out as little or as much as you like, but this is where the caramel will go so the bigger you scoop it the more caramel will fit inside.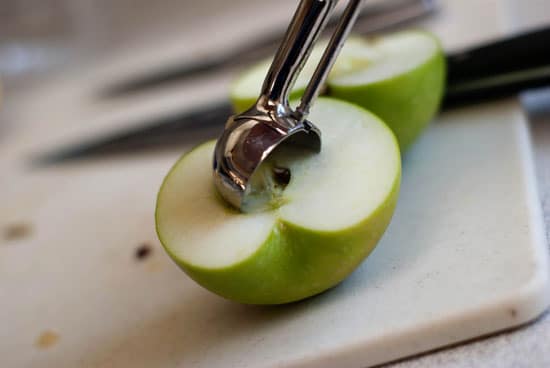 Dip each apple half in some lemon water to prevent them from browning and lay on a layer of paper towels to dry.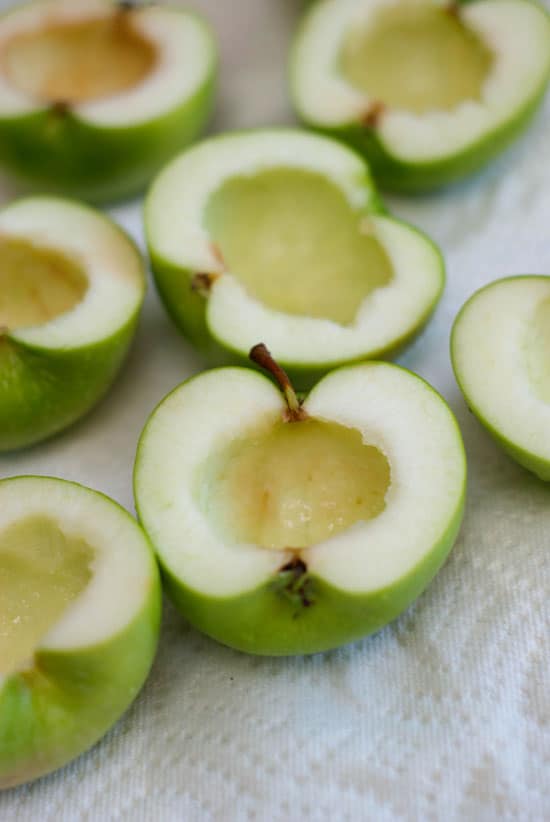 While the apples are drying, let's make the caramel! I went simple this time and used the trusty bag of Kraft caramels but you could definitely go for it and make your own caramel if you're feeling feisty or don't want to have to unwrap 4200 individual squares. Your call.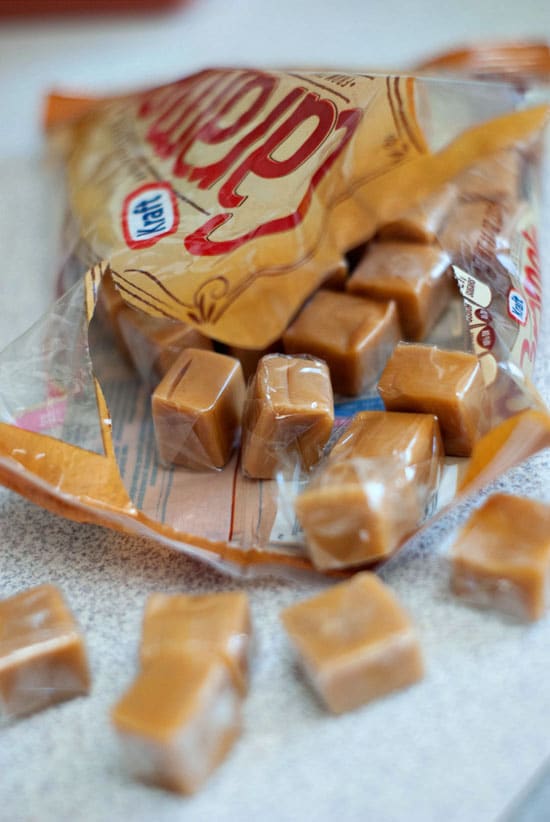 Mmm … Caramels
Melt the caramels down on the stove top with a few tablespoons of water, stirring until smooth and then stir in a 1/4 C of cream. The cream will keep the caramel soft and easier to eat since we don't need it to hold its shape for the sundaes.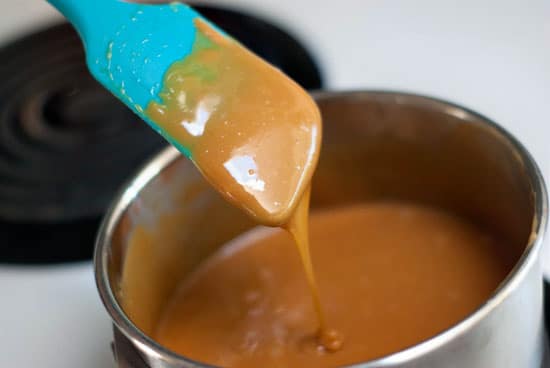 Onto the next sauce, hot fudge! This recipe is a super simple combination of a can of sweetened condensed milk, chocolate chips, a little butter and vanilla.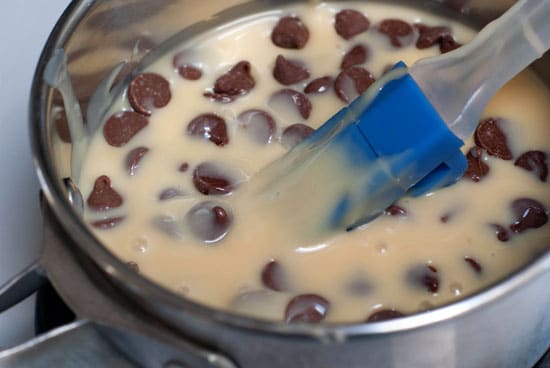 Stir it over the stove top until the chocolate is melted and smooth and keep warm until ready to use. I love taking that first bite of a sundae and getting the hot fudge with the cool ice cream… perfection.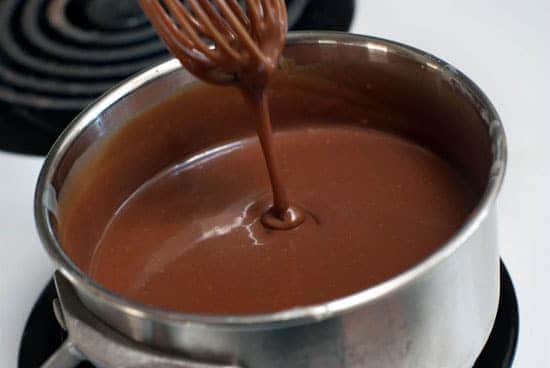 Dry the apples with a paper towel if they still have a little moisture pooled in the bottom and pour in the caramel.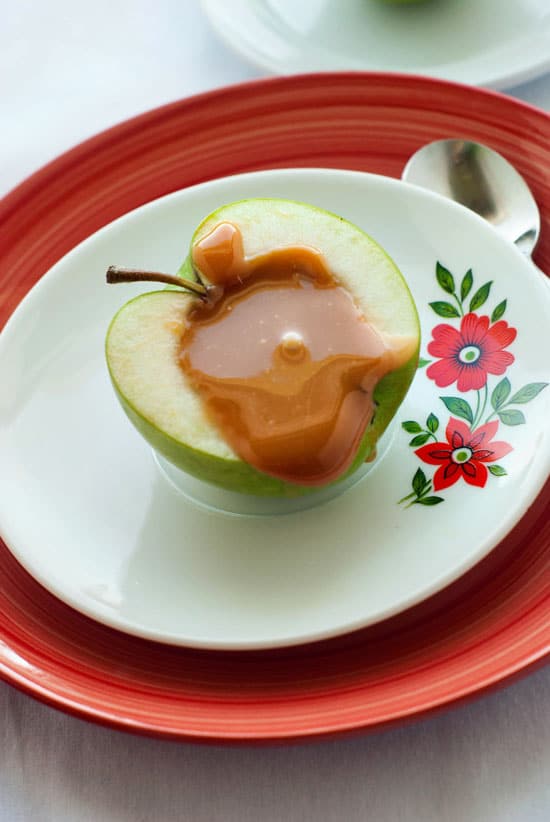 Top with a scoop of vanilla ice cream, a drizzle of the hot fudge, and top with peanuts or almonds if you're a nut freak like me.
I'll admit that there isn't a super civilized way of eating these Inside-Out Caramel Apple Sundaes, but with the help of a dinner knife, it's totally worth it.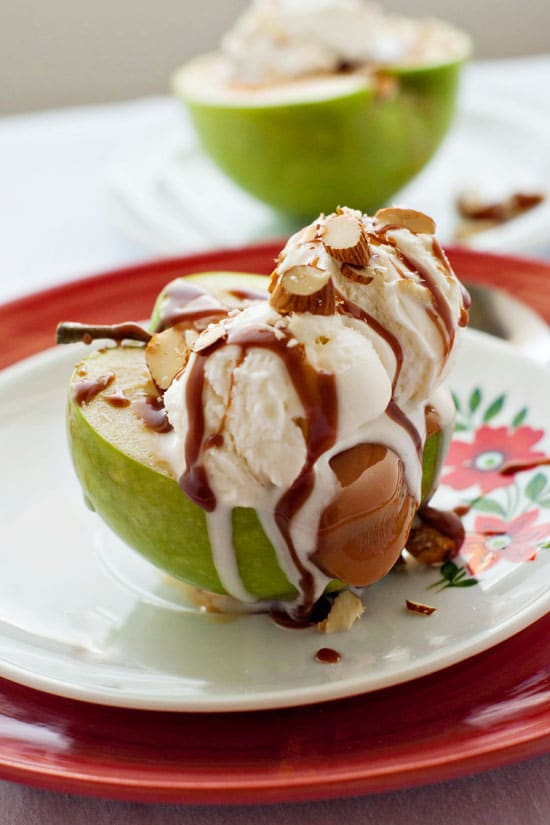 Interested in other frozen treats?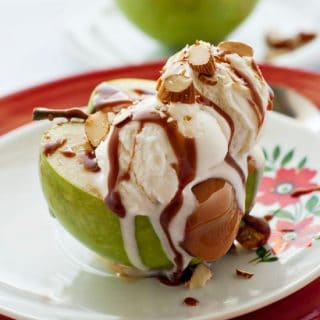 Ingredients
4

apples

1, 14

oz

bag of caramels

unwrapped

2

tbsp

water

1/4

C

heavy cream

vanilla ice cream

Nuts for topping

1

C

chocolate chips

1, 14

oz

can sweetened condensed milk

1

tsp

vanilla extract

2

tbsp

water

2

tbsp

butter
Instructions
Cut each apple in half and create a cavity in each half by using a spoon or scoop. Dip each apple half in lemon water and lay them to dry on paper towels.

Heat the caramels and water in a saucepan over medium-low heat and stir until melted and smooth. Stir in cream and remove from the heat.

In another saucepan, combine the chocolate chips, sweetened condensed milk, butter, water, and vanilla. Stir over medium heat until the chocolate chips are melted and smooth, whisking if necessary. Keep warm.

Pour caramel into the dry, hollowed out apples and top with a scoop of ice cream. Drizzle with hot fudge and top with chopped nuts.