Carne Asada is the perfect thing to throw on the grill this summer! It's flavorful, easy, and there's so much you can pair it with! Try corn tortillas, avocados and pico de gallo for a fresh summer dinner!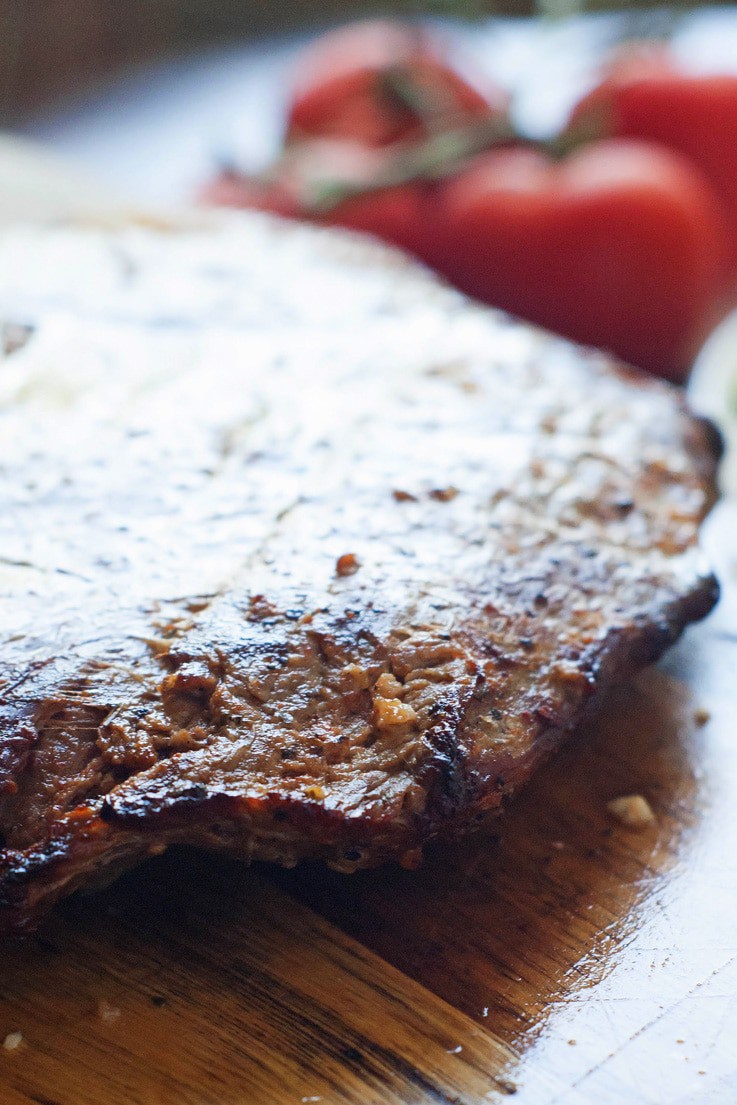 I'm so excited it's summer. My kids finally finished up the school year and we've got our summer bucket list locked and loaded in our fists and ready to play. There's only one problem– everybody is getting sick! It was me and the hubs over the weekend and now my 8 year old is sniffling and snoring away by my side as I type this.
What gives? I'm crossing my fingers and toes that the other two don't meet our fates, but I'm not getting my hopes up.
(Cue the whine) All I want to do is play and take our silly photo-a-day pics (#cheneysummerphotoaday watch for it!) and eat gobs of watermelon and live at the pool and eat lots of Blue Start Donuts (it's totally a summer thing), and have slumber parties, and go to the drive-in.
And yes, I'm a 14 year old girl stuck in a 30 something's body. #reallife
So what does this have to do with steak? Not a whole lot, actually. Except that you should make it.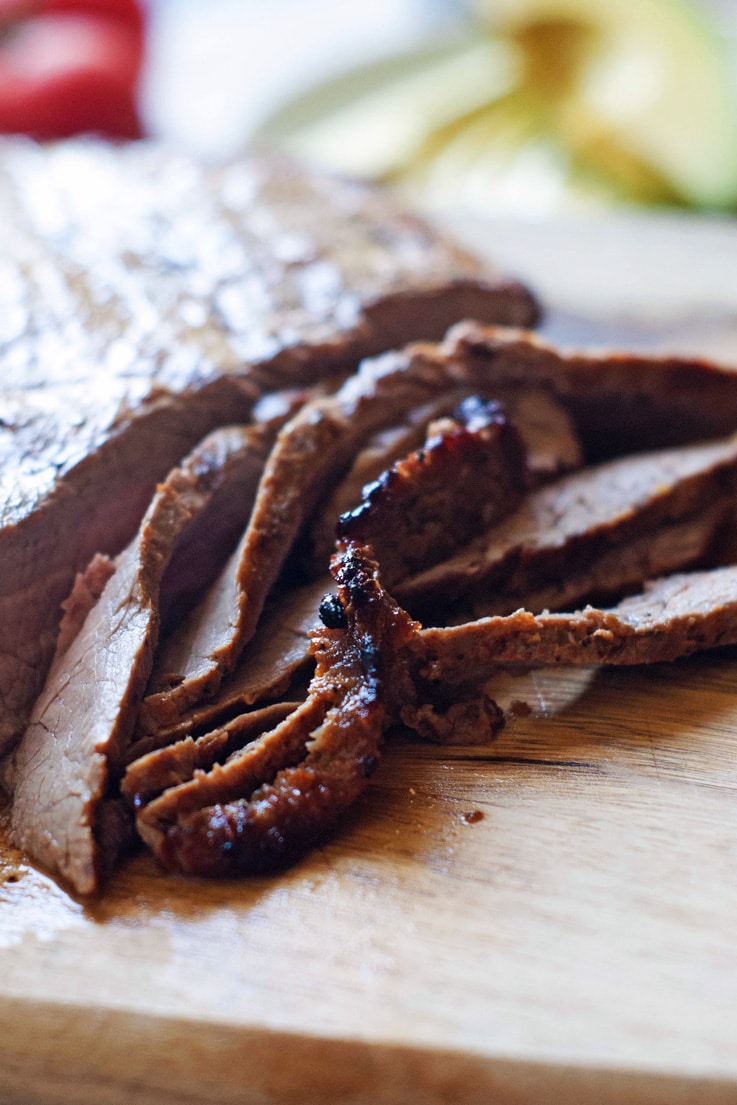 I'm a fan of the carne asada and it's kind of hard not to be. Carne Asada literally means "grilled meat" and you'll typically find beef when the term is used. It's marinated in a super flavorful mixture and then grilled until nice and charred on the outside and tender and moist on the inside.
Flank or skirt steaks are generally used for carne asada because they are thin and inexpensive. But keep in mind that they are also very fibrous meats and don't do very well when over cooked. I like to keep mine at medium doneness to make sure it stays juicy. Another thing to note about these cuts of meat is that once cooked they NEED to be cut across the grain of the meat in order to be tender. If you don't you'll end up with stringy bits of beef that will taste great but not be so tender.
To check which way to cut the meat, just look at the formed lines in the meat. Find the direction they are going and then cut the opposite way across them.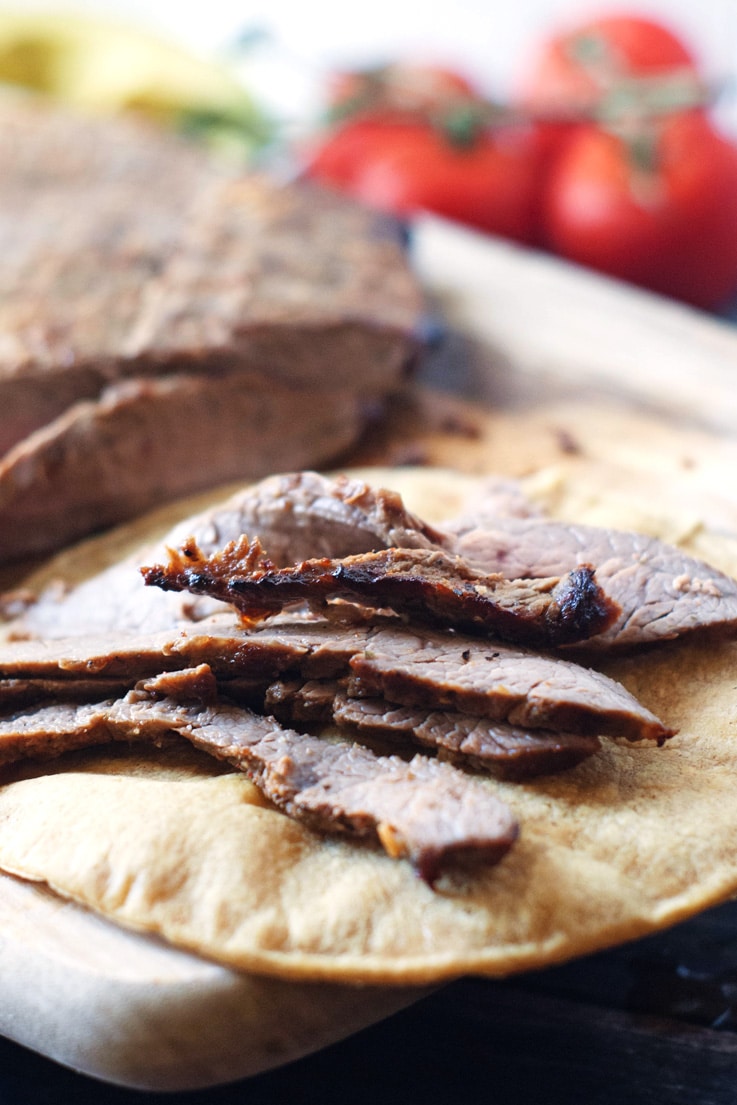 I've added directions for both grilling and broiling the meat. I ended up having to broil mine this time because I wasn't feeling super hot, but it will definitely be going on the grill next time! There's something about those charred bits that are magic!
Ingredients
2-3

lb flank or skirt steak, 1 inch thick

1/3

C white vinegar

1/3

C olive oil

2

limes, juiced

4

cloves garlic, minced

1

tsp kosher salt

1

tsp pepper

1 1/2

tsp chili powder

1 1/2

tsp garlic powder

1

tsp cumin

1

tsp dried oregano

1 1/2

tsp smoked paprika

Additional kosher salt while cooking
Instructions
Place flank steak in a large ziplock bag.
In a small mixing bowl combine remaining ingredients and whisk. Pour over meat in bag and seal. Marinade for at least 4 hours, up to 24 hours in the fridge.
To grill: preheat one side of the grill on high and the other on medium. Season steak well with kosher salt and place on the HIGH side first for 1-2 minutes per side to get a nice charred crust. Then transfer to the MEDIUM heat side and continue to cook an additional 3-4 minutes per side for medium.
To Broil: Preheat broiler on HIGH. Place oven rack at the highest setting. Season steak well with kosher salt and broil 5-6 minutes per side for medium.
Always remove steaks from the heat and let rest for 10 minutes before slicing to let the juices redistribute. As flank steak is very fibrous, cut ACROSS the grain of the meat to make it tender.

Made this recipe?
I'd love to see how you rocked it! Share your photo on Instagram with the hashtag
#heatherlikesfood  --
It will totally make my day to see it!