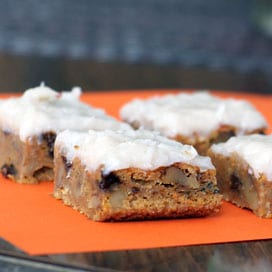 It never fails that every time we try to start eating healthy again I get a little too gung-ho at the grocery store and buy half of my weight in vegetables. It seems so reasonable at the time but as soon as I get them home and try to find space in my fridge I usually have to come up with some way to use them. Enter these squares.
They are super moist, full of flavor, low-fat and I don't mind my girls snacking on them (sometimes sans the frosting) because they are chock full of veggies, nuts, and fruit. The texture is a bit more dense than cake and almost reminds me of bread pudding without the eggy-ness. They are great with or without frosting, but it you haven't figured it out yet, I have a bit of a thing for coconut and I will always frost at least half of the pan and leave the rest for more healthy snacking.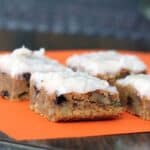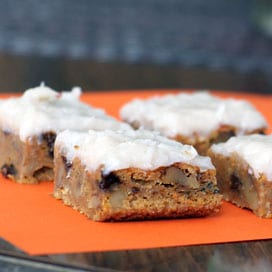 Carrot and Zucchini Squares
Servings
1
9x13\" pan, about 32 squares
Ingredients
1 1/2

C

All-purpose flour

1

tsp

baking powder

1/4

tsp

baking soda

1/2

tsp

ground ginger

1

tsp

ground cinnamon

1/4

tsp

ground nutmeg

1/4

tsp

ground cloves

1/2

tsp

kosher salt

2

eggs

lightly beaten

3/4

C

brown sugar

1 1/2

C

shredded carrots

1

C

shredded zucchini

about 1 medium

1/4

C

raisins

1/2

C

chopped walnuts

1/4

C

honey

2

tsp

vanilla extract

1/4

C

unsweetened applesauce

1/4

C

canola or coconut oil
Instructions
Preheat oven to 350°

In a large bowl combine flour, baking soda, baking powder, spices, and salt. Mix well. In another large bowl stir together eggs, carrot, zucchini, brown sugar, raisins, walnuts, oil, honey, vanilla, and applesauce. Add wet carrot mixture to dry ingredients, stirring just until combined – The more you stir, the tougher they will be. Spread batter into an ungreased 9×13? pan.

Bake about 25 minutes or until a toothpick inserted in the center comes out clean. Cool completely in pan and frost with Coconut Cream Cheese Frosting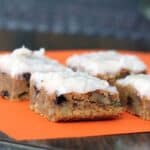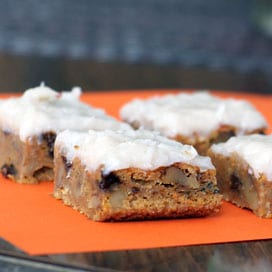 Coconut Cream Cheese Frosting
Ingredients
1 8

oz.

package cream cheese

softened

1 1/2

C

powdered sugar

1/2

C

shredded coconut

1/4

tsp

coconut extract

1/4

tsp

ground cinnamon

optional
Instructions
In a medium mixing bowl beat cream cheese and powdered sugar with an electric mixer until fluffy. Add in coconut extract, shredded coconut and cinnamon and mix until combined. Spread on cooled squares and cut.