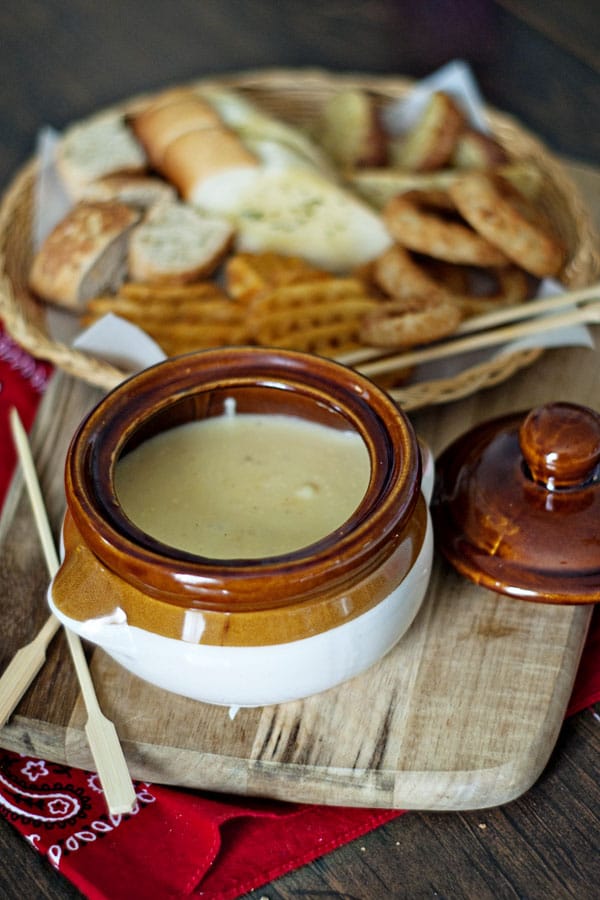 The top 4 reasons why, I Heather, absolutely love Valentines Day.
The Colors Pink and Red and Glitter

I LOVE me some glitter and when it's paired with pinks and reds I'm pretty much in crafter's heaven. Valentines gives me the perfect excuse to break out the glitter, make my house look super girly, and pretend like I'm Fancy Nancy for a few weeks.

Fun Food Surprises

I love doing things like surprising my 6 yr old with a heart-themed bento box lunch or pink milk in her morning cereal.

My hubby fell madly, deeply in love with me on V-Day

Okay so I might be biased towards the holiday because it was the day of our first date, but it is what it is. And really, I'm making it sound more romantic than it was in case you're about to barf on your keyboard. It went a little something like this: Hubby get's fired from job night before V-Day and no longer has to work the holiday. Hubby's roomie says "Hey, ask Heather out". Hubby quickly replies with a "No way!". Roomie persists and Hubby caves. Heather already has a date because she was a hot commodity, but decided to call and cancel V-Day morning because she wasn't feeling it (cruel, I know). Hubby calls Heather. Heather is newly available and agrees. Neither party is interested. They laugh, they eat pizza, they kiss, and get married 6 months later. Yep. And I'm still smitten by him 9 years later.

Cheesy Valentine Sayings

It's the only day of the year that my family puts up with me handing them a Tootsie Roll while saying "Happy Valentines Day, Toots!". Can you do me a favor this year? Grab your love a soda and say, " I soda think you're amazing". Next think you know, you'll be going through your cupboards to find something you can pair a saying with. If you need some inspiration, here's a link to a fun list.
What I don't like about Valentines day is all the rushing around to buy over-priced flowers, chocolates, or whatever just because it's the 14th of February. Shouldn't we be showing our appreciation to our loved ones year round? I'll answer for you… YES!
Cheese fondue is the perfect meal for a romantic date night at home or a fun dinner with the family. Everybody loves picking their own "dip-ables", putting them on a stick and digging in. This recipe is a great basic fondue and can be manipulated as you please with different cheeses or mix-ins. For this I'm using Gruyere and Emmentaler. Shred a cup and half each and place in a bowl.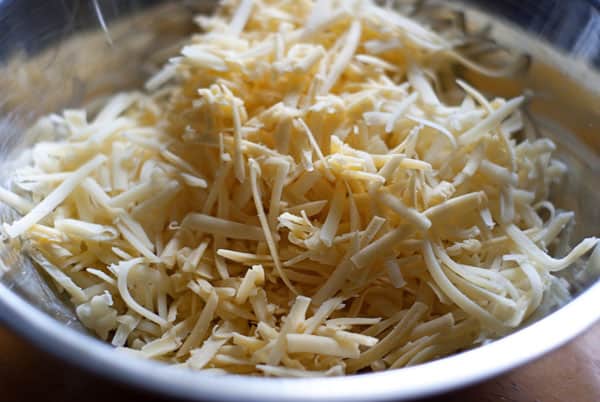 Toss the cheese with a few tablespoons of cornstarch. Doing this will improve the texture and viscosity of the finished sauce.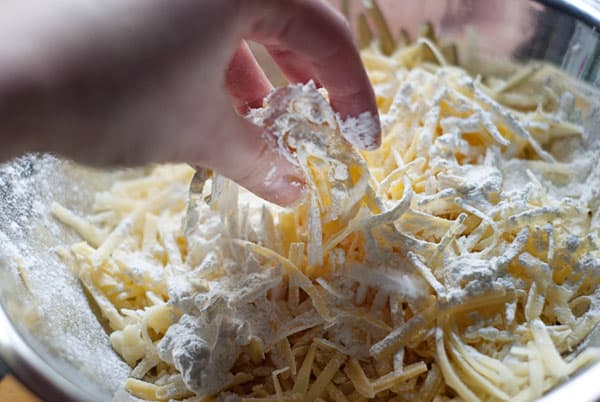 In traditional cheese fondue wine is used as the main liquid. I've mentioned before that I don't drink, and though I often cook with wine I don't always have some on hand. I'm using a 50/50 combo of water and white grape juice with just a little bit of white wine vinegar added to up the acidity content. It's the acid that helps break down the cheese into a smooth sauce so the vinegar is and important ingredient in this. Using white grape juice straight up makes an awfully sweet fondue so that's why we're cutting it water. Omitting the wine makes it kid friendly, too!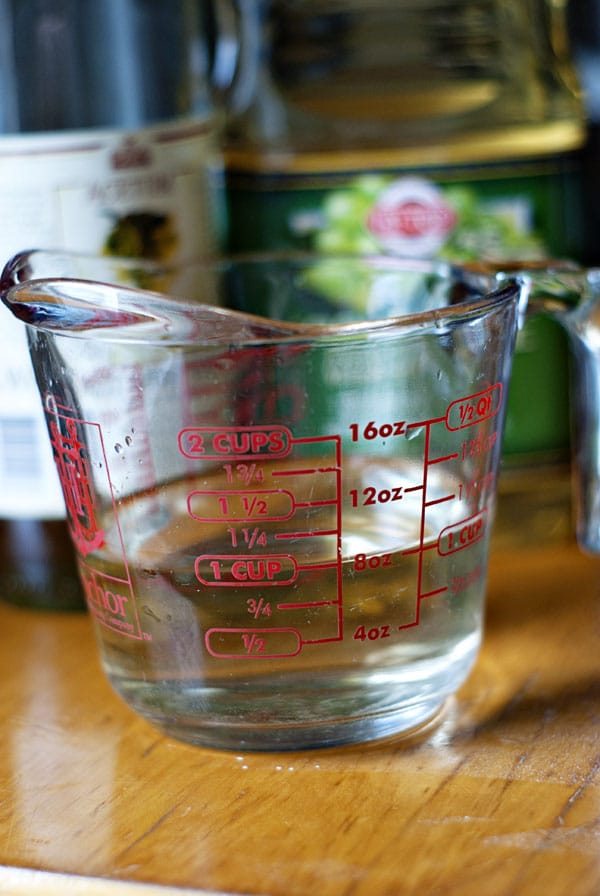 Peel and just slightly smash a clove of garlic to get the juices flowing and rub all around the inside of a medium-sized sauce pan.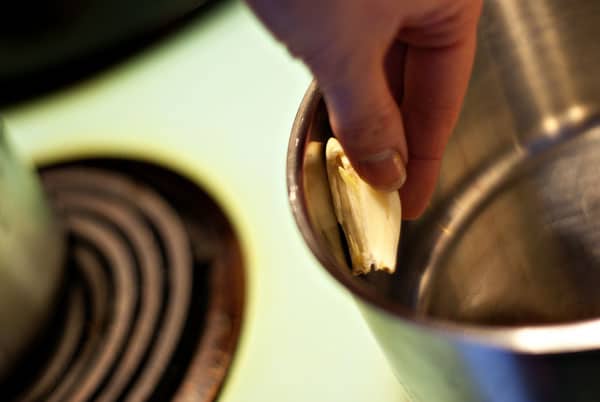 Add the juice/water/vinegar mixture into the pan and bring to a low simmer. NOT BOILING! Just a simmer. 🙂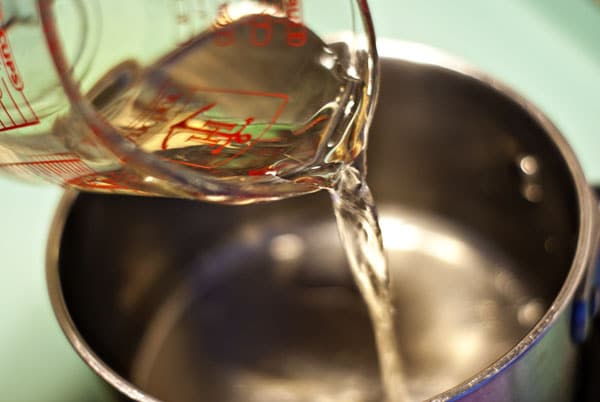 This is where the step-by-step pictures stop. At this point you'll need both hands to gradually add in the cheese and stir. Adding the cheese in small portions and stirring until smooth is the key to making it smooth. I was actually trying to take pictures at the beginning and ended up with my finished product not being as smooth as I wanted. It's said that stirring in a figure-8 motion is supposed to help too, but I think it's more about superstition than science.
Once all the cheese in incorporated and smooth, stir in a few grinds of black pepper, a squeeze of lemon juice, salt to taste and you'll be set to start dipping!
Ready, set…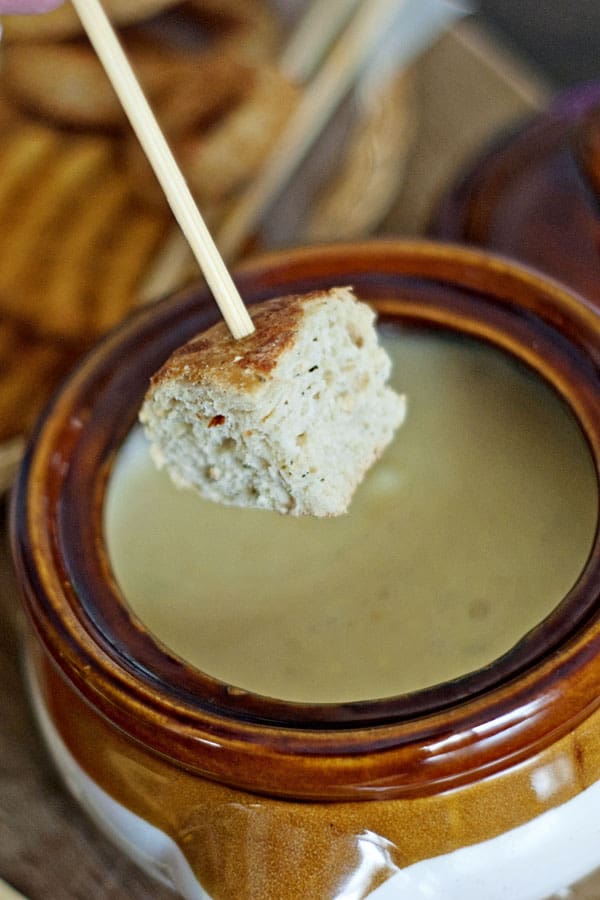 Dip!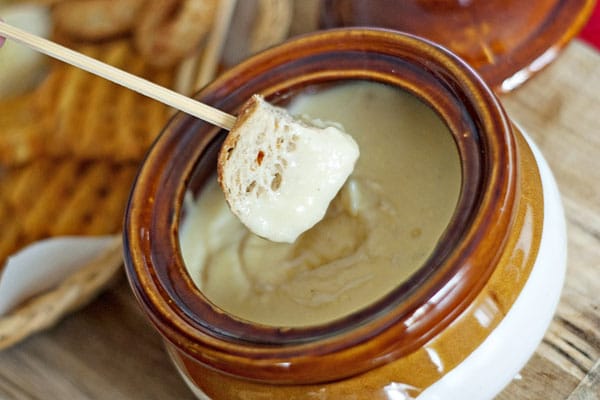 Onion ring? Don't mind if I do!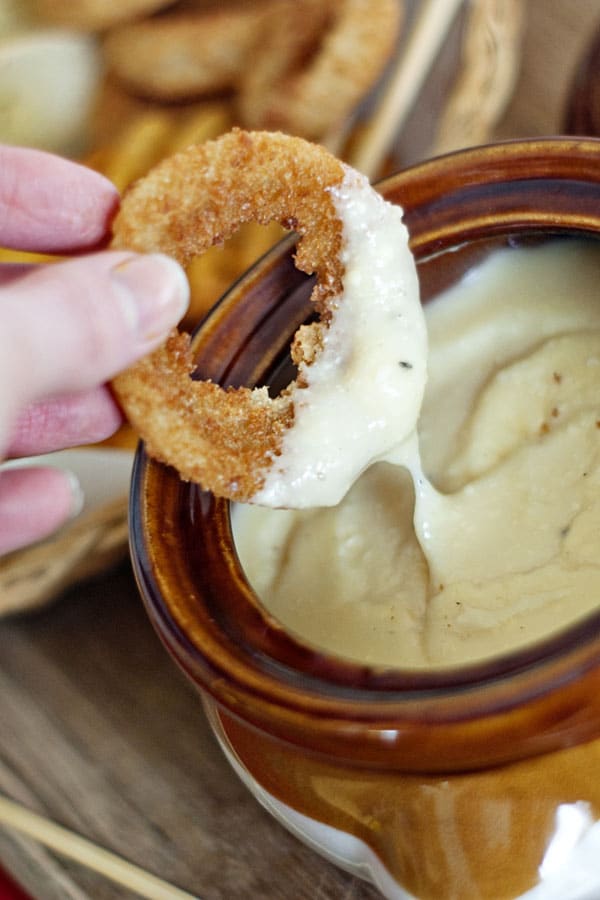 For this round of fondue, we used Alexia products as dip-ables. Foccacia bread, Oven Red Potatoes w/ Garlic and Rosemary, Garlic Baguette, Seasoned Waffle Fries, and Panko Breaded Onion Rings graced our table and bellies in all their delicious splendor. It made for a quick, fun meal as I just threw a handful of each thing into the oven while I was making the fondue. I'm seriously in love with their onion rings, btw.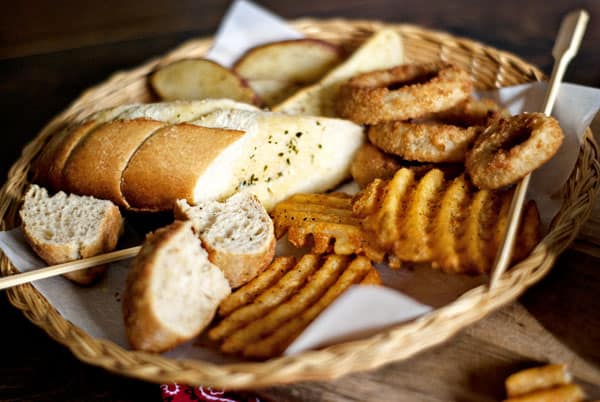 So I just wanted to say that I love you guys a hole bunch (pretend like I just gave you a plateful of donut holes) and that you guys rock! Thanks so much for reading HLF!
Now, go! Make some fondue, but don't dip your virtual donut holes in it. That would be gross.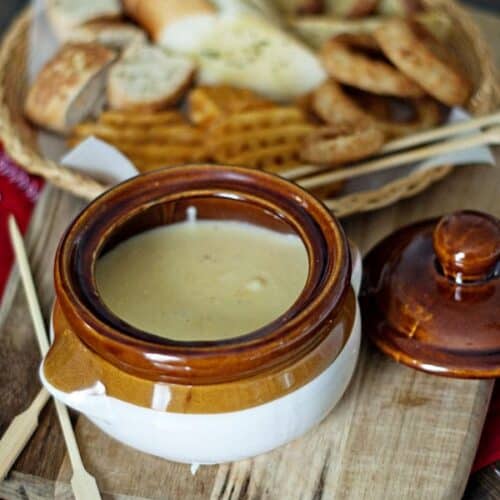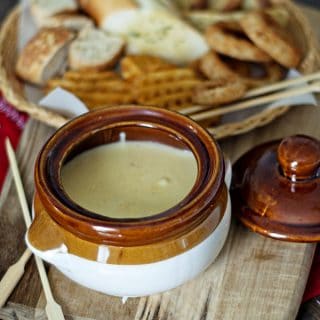 Ingredients
1 1/2

C

Gruyere Cheese

shredded

1 1/2

C

Emmentaler cheese

shredded

2

tablespoons

cornstarch

1

garlic clove

peeled

1/2

C

white grape juice

1/2

C

water

1

tsp

white wine vinegar

Juice of 1/2 lemon

Salt and Pepper to Taste
Instructions
Combine cheese in bowl and toss with cornstarch.

Lightly smash the garlic clove and rub around the inside of a medium sauce pan.

Bring juice, water, and vinegar to a low simmer but not boiling.

Slowly stir in the cheese a little bit at a time until all cheese incorporated. Adding it slowly will make a smooth fondue.

Once smooth stir in lemon juice, salt and pepper.

Serve with bread, potatoes, onion rings, fresh veggies, meats, etc.
Are We Friends On Pinterest?
Follow Me For More Great Recipes @hlikesfood