When I was in my early teen years I remember going to a youth conference of some sort and having Hawaiian haystacks for the first time. All lined up in a row was rice, chicken gravy, cheese, olives, celery, cashews, pineapple, tomatoes, coconut and the all-important crunchy Chinese noodles. On first glance I wanted to throw up a little in my mouth,  but I hung on and decided to give it a go because if it didn't work, why would all those toppings be there in the first place– right?
I know there are Hawaiian Haystack haters out there and that some will denounce me as a credible source for food schstuff from here on out, but guys, it has to be said: Hawaiian haystacks are delicious. I fell in love with them that day and have since loved the combination of creamy sauces and rice.
We eat a lot of rice in our home and love finding fun new blends to try out. So, when RiceSelect™ asked if I wanted to try out some of their new rice blends I was all over it! The idea was to create a recipe that showed how we eat healthy while indulging in the flavors of the world. Here's the sad part: every time I thought about what I should make I kept coming back to those Hawaiian haystacks. You'd think that with all the different foods I've made over the years, I'd be able to come up with something a little more exotic!? Apparently not. Having "Hawaiian" be part of the name threw me off– it's falsely exotic.
So in the end, I decided to take the creaminess of a H.H. and kick it up with some smoked sausage, peppers, and  onions. After throwing in some black beans it resembled a mild, creamy and cheesey version of  red beans and rice which is something I'm kind of in love with too.
For this sausage and rice skillet we'll start with some smoked sausage– I'm using beef here, but turkey would work great too.  Slice it up and brown in a large skillet.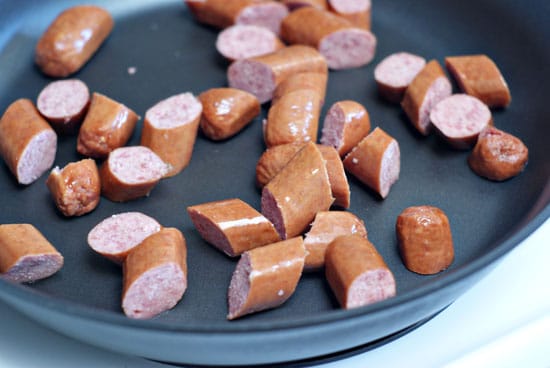 See how the sausage is getting all browned and crisp around the edges? That's where the flavor is at and it is what you want. If you're using turkey sausage you may have to add a bit of olive oil to the pan to get it nice and crisp since it won't be cooking out as much fat.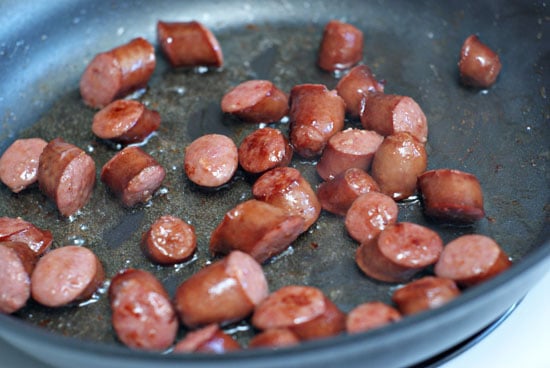 Remove the cooked sausage from the pan and set aside. Drain all but just a tablespoon of fat from the pan and add in some chopped onion and peppers.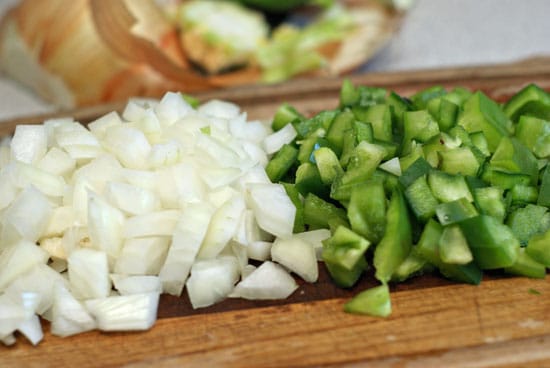 Let those cook just until they become tender, and stir in some rice. The blend I'm using here is Royal Blend® with Quinoa.  It's super flavorful, nutty, and I love the different textures that the little bit of quinoa and freekeh add to the dish. RiceSelect has three new Royal Blend varieties and I'm in love with each one. To purchase, use the RiceSelect store locator or buy online at Amazon.com, as product availability may be limited.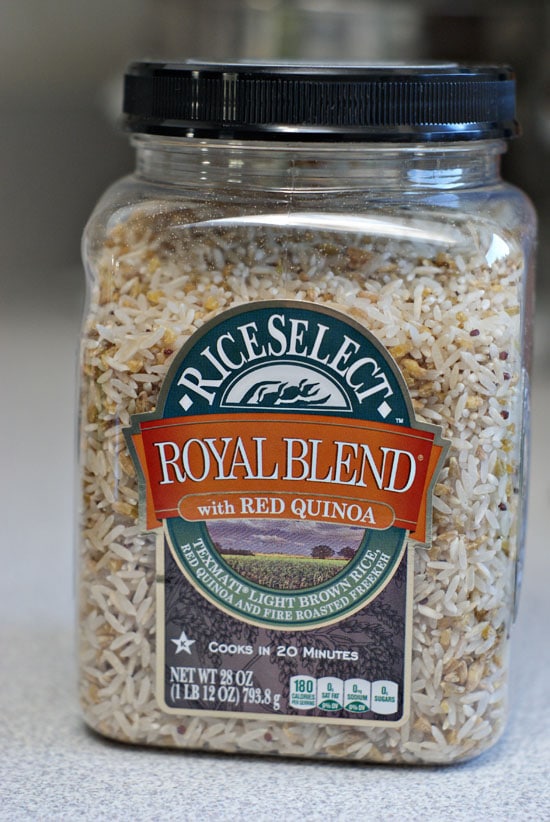 Aside from having great flavor, the RiceSelect blend is just so gosh darn pretty with that red quinoa!  Give the rice a stir and let it cook for a few minutes over medium heat. We're toasting the grains to add just a little bit more flavor so once you see that some have a nice golden color, it's ready.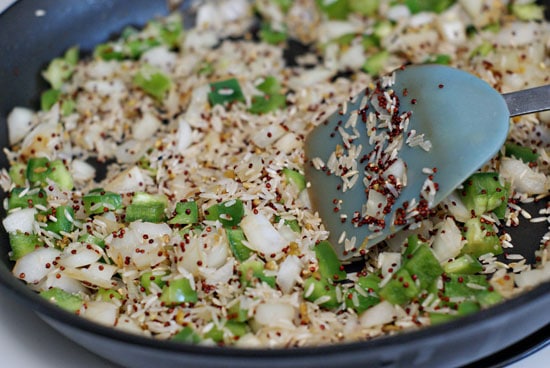 Pour in some chicken broth, a bit of Worcestershire sauce, and a can of drained and rinsed black beans and bring to boil. Reduce heat to low, cover and let it cook for about 20 minutes.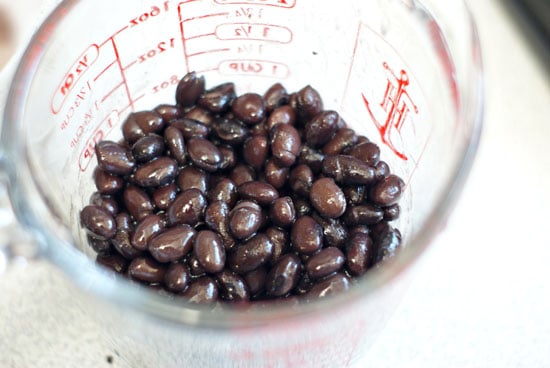 Once the rice is tender, stir in some shredded cheese and return the sausage to the pan.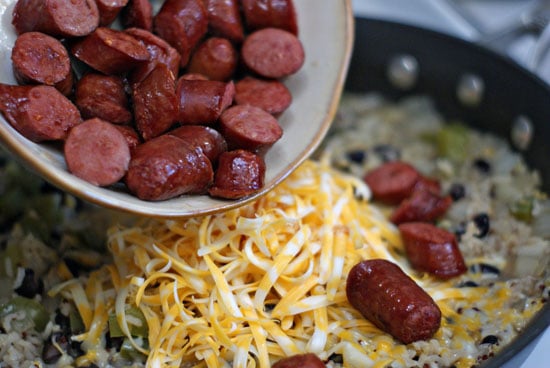 The mixture will be thin at first, but as the cheese melts and the rice cools it will thicken into a nice creamy sauce.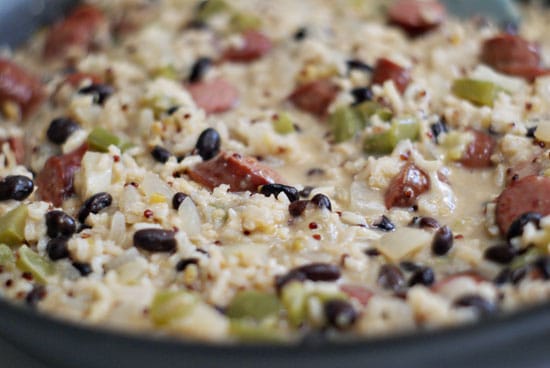 It's the perfect comfort food and a great way to get some grains onto your plate!
To purchase, use the RiceSelect store locator or buy online at Amazon.com, as product availability may be limited.
Giveaway!
RiceSelect has a $100 Visa gift card for one of you! Answer the question below in the comments section to be entered to win.
If you had to eat one kind of rice or grain for the rest of your life, what would it be?
[pinit]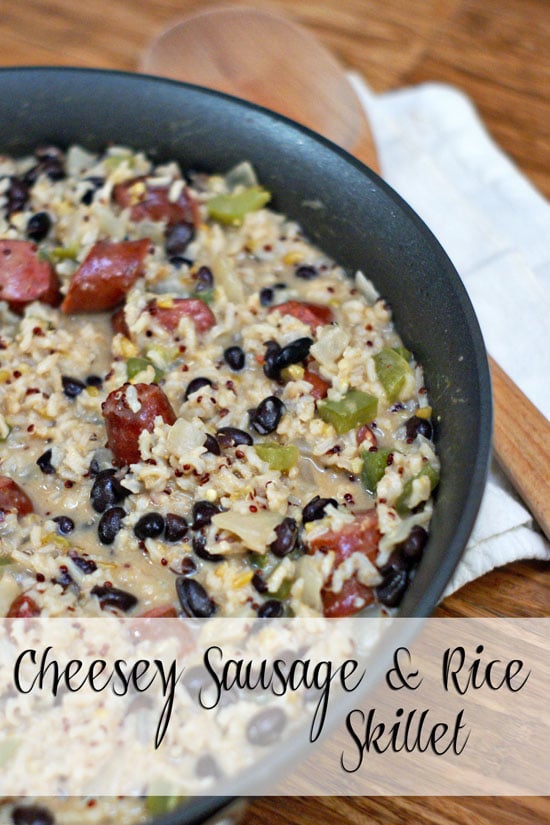 [pinit]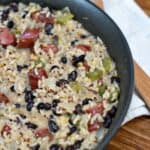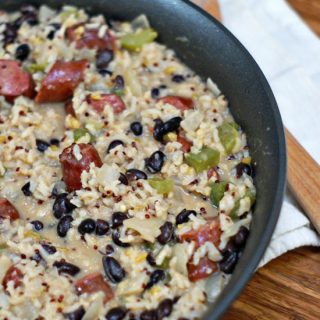 Cheesey Sausage and Rice Skillet
Ingredients
12

oz.

smoked sausage

sliced

1

C

chopped onion

1

green bell pepper

chopped

1

C

Royal Blend® with Quinoa

3

C

chicken broth

1

tsp

Worcestershire sauce

1/4

tsp

kosher salt

1, 14.5

oz

can black beans drained and rinsed

1

C

cheddar or colby-jack cheese

grated
Instructions
Brown sausage in a large skillet, remove from pan and set aside. If using a low-fat sausage like turkey, brown in a tbsp of olive oil.

Drain all but 1 tbsp of fat from the skillet and saute the peppers and onions over medium heat until just tender, about 3-4 minutes.

Add rice and stir until grains start to turn golden, about 3 minutes.

Pour chicken broth and Worcestershire sauce into the rice, add salt and beans. Stir and bring to a boil, reduce heat to low and cover.

Cook for 20 minutes (adjust time based on the rice used). Remove from heat and stir in sausage and cheese. Mixture will be thin but will thicken as it cools.