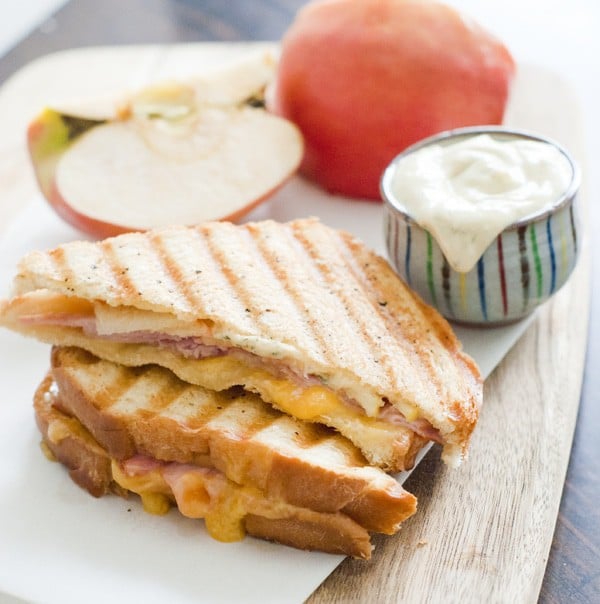 I'm not an expert at this having school-age kids thing. My oldest just started first grade and it's still a little hard for me to believe that we're both old enough for that to be our reality.
Many weeknights after dishing out snack, going through backpacks/lunch boxes and hearing about the many sundry things she learned from friends that day, I look at the clock and realize that I haven't planned anything for dinner. When this happens I usually choose from two options: 1. Get the kids really excited about making their own cold cereal cocktail for dinner, or 2. Make sandwiches with whatever odds n' ends I have laying in my fridge.
Back when I was in cooking school my first few weeks were spent making sandwiches, soup and salads. We were told that these were basic foods and if you could make a spectacular sandwich you basically cook anything. Now, years later, sandwiches and soups are still two of my favorite things to make. And while I can't claim that I can cook everything well, I do see how the principles used in sandwich making can translate into being able to create phenomenal food. Elements like variance in texture, contrasting flavors and temperatures and ease of consumption are all things that make food work; sandwiches, gourmet meals, and sweet treats alike.
So where am I going with this? My point is that even though you may have "sandwich-kind-of-nights" once the crazy fall schedule sets in, you don't have sacrifice flavor.  The magic with this sandwich lies in the crispness of the apples and the sweet/tangy sauce paired with the salty ham and cheese. If you don't have a Panini press, never fear- I don't have one either! Contrary to what Williams-Sonoma wants you to think, you can make Panini without one. It's basically just a grilled sandwich that's been pressed down while cooking.  Find a heavy skillet to put on the top of your sandwich or do as I did and use your old George Foreman grill that you never use. You know you have one.
Let's make some sandwiches, shall we? You'll start out by making a simple sauce made of sour cream, dijon mustard, maple syrup, and dill. Give a good mix and spread just a little bit on a slice of good quality bread.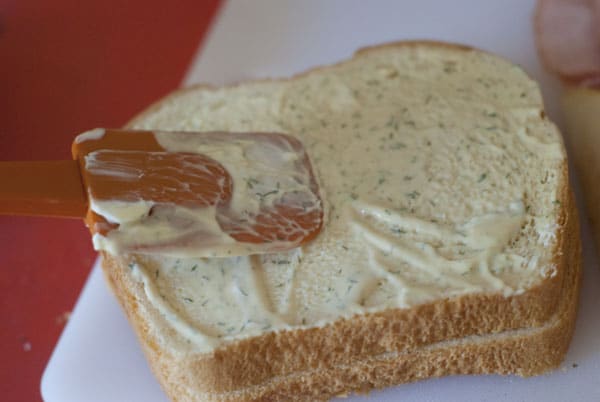 Layer on some thinly sliced apples.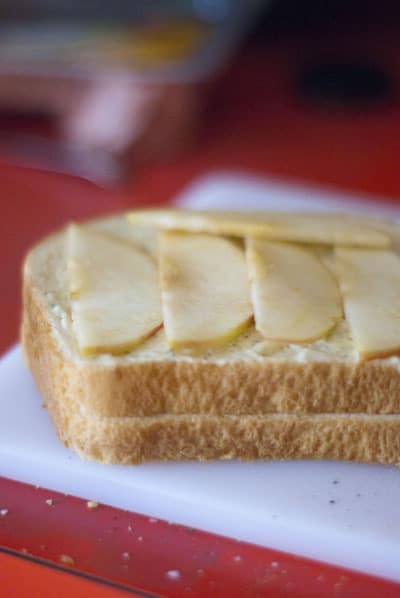 Followed by a few slices of deli ham and some sharp cheddar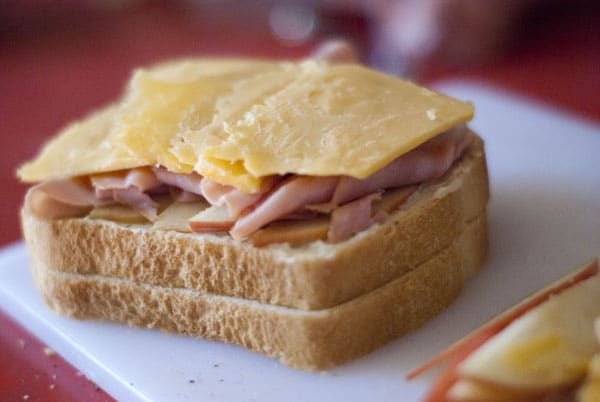 Top with another slice of bread and brush the top with a little melted butter and a sprinkle of salt and pepper.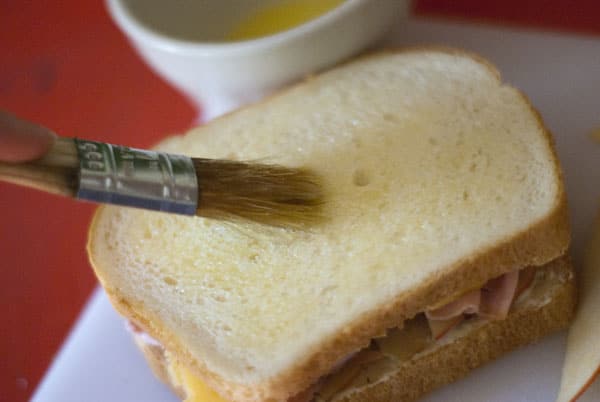 Place sandwich on grill, panini press, or skillet butter side down and brush a bit of butter on the other side.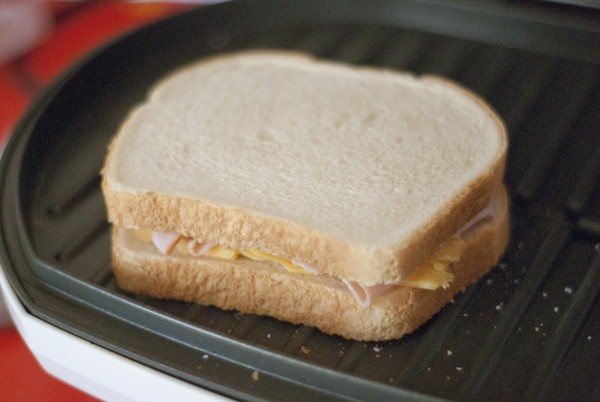 Cook until both sides are golden brown and the cheese is melted. Dip in remaining sauce and enjoy the cheesy goodness!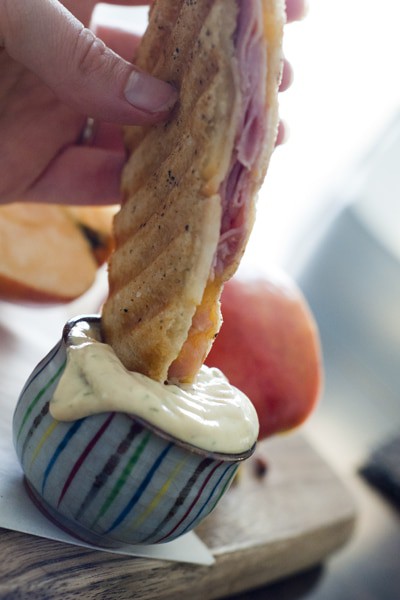 What's one of your favorite quick and easy dinners?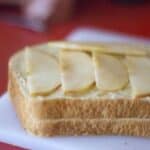 Cheesy Apple Panini w/ Maple Dijon Sauce
Ingredients
6

slices

good quality bread

1

apple

thinly sliced

6

slices

sharp cheddar

12

slices

deli ham

3

tbsp

melted butter

salt and pepper

Sauce

1/3

C

Sour Cream

1

Tbsp

Dijon Mustard

1

tbsp

maple syrup

1/4

tsp

garlic powder

1/4

dried dill weed
Instructions
Combine all ingredients for the sauce and mix well.

Spread 1 tbsp of sauce on each of 3 slices of bread. Top with sliced apples, ham and cheese. Place remaining slices of bread on top of each sandwich.

Brush the tops of each sandwich with melted butter and sprinkle with salt and pepper.

Place sandwiches butter side down on hot grill pan or panini press and brush remaining side with butter.

Cook until both sides are golden brown and cheese is melted.

Serve with remaining sauce.