I rarely make dressing at any time of the year besides Thanksgiving. It's not that I don't like it, it just doesn't occur to me. But really, how can a casserole of moist, buttery bread studded with vegetables not cross my mind when it's dinner time? I don't understand. It must have something to do with astrophysics.
I love this dressing for Thanksgiving because it has all the classic flavors of the traditional variety, but is given some pizzaz by the addition of dried cherries, chopped water chestnuts, and salty cashews. The combination of ingredients creates the perfect soft, crunchy, sweet, salty, and savory side dish for your turkey.
The first step in making dressing is sautéing your veggies. For this we're using celery and onion cooked in butter. The four tablespoons of butter called for in the recipe will seem like a lot when you're just cooking the veggies in it, but you'll end up mixing it all into the bread and putting it to work.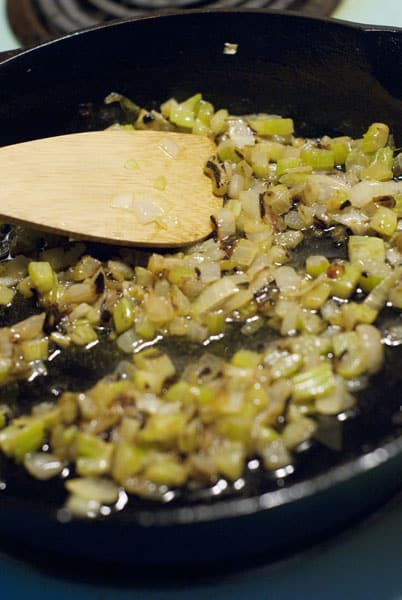 Once the celery and onion are soft and cooked, stir in some chopped fresh parsley and poultry seasoning, and transfer into a big bowl.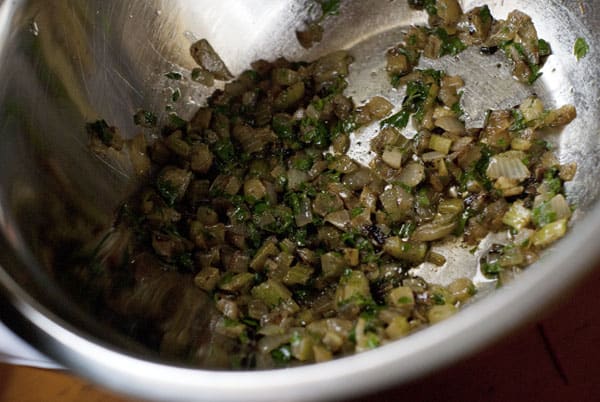 Add in your dried, unseasoned bread cubes (found by the Stovetop stuffing at the grocery store), 1 can of chopped water chestnuts, and chopped dried cherries. In a separate bowl, whisk together the chicken broth with 1 egg and pour over the bread mixture, stirring until all of the bread is moist.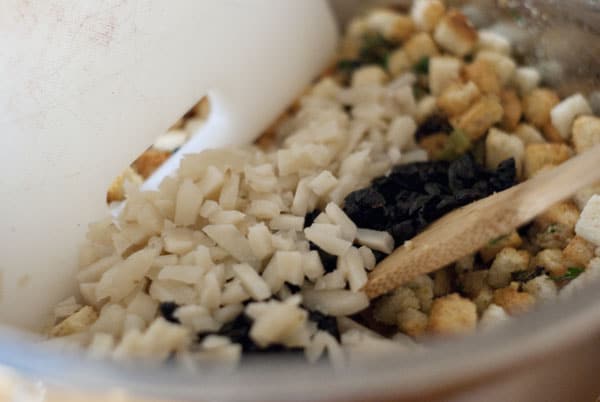 Spread completed dressing mixture into a greased 9×13″ dish, sprinkle with cashews, and cover with foil.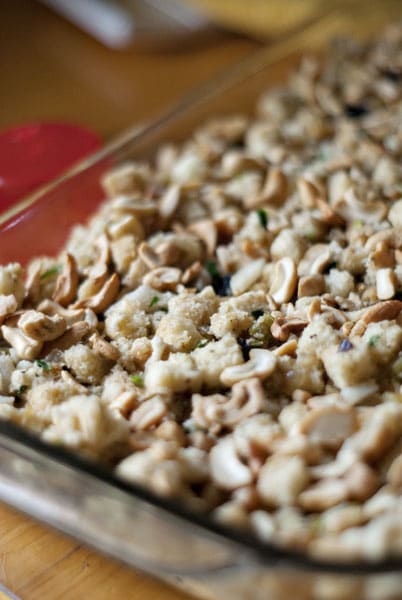 Bake for 20 minutes, remove the foil, and continue to cook for an additional 20 minutes until the top is golden brown and cashews are toasted.
Ingredients
2 ribs celery, chopped
3/4 C onion, chopped
4 tbsp butter
1 tsp poultry seasoning
1/4 C fresh parsley, chopped
1/2 tsp kosher salt
1/2 tsp black pepper
12 oz. dry, unseasoned bread cubes
1 (5 oz) can water chestnuts, drained and chopped
2/3 C sweet dried cherries, chopped
2 3/4 chicken broth
1 egg
1 C roasted and salted cashews, roughly chopped
Directions
Preheat oven to 400.
Saute celery and onion in butter until soft and translucent and stir in parsely, poultry seasoning, salt, and pepper.
Transfer to a large bowl and stir in bread cubes, chestnuts and cherries.
Whisk together the chicken broth with the egg and pour over the bread mixture. Stir until all the bread is moistened and the ingredients are well distributed.
Turn out into a greased 9x13" dish and sprinkle the cashews over the top. Cover with foil and bake for 20 minutes.
Remove foil and bake for an additional 20 minutes until the the top is golden brown and the cashews are toasted.

Made this recipe?
I'd love to see how you rocked it! Share your photo on Instagram with the hashtag
#heatherlikesfood  --
It will totally make my day to see it!