This rich and creamy chicken florentine gnocchi comes together quickly with the use of prepackaged gnocchi and frozen spinach. Easy, quick, and totally tastes like it came from a restaurant! This recipe was created in partnership with Anolon Cookware.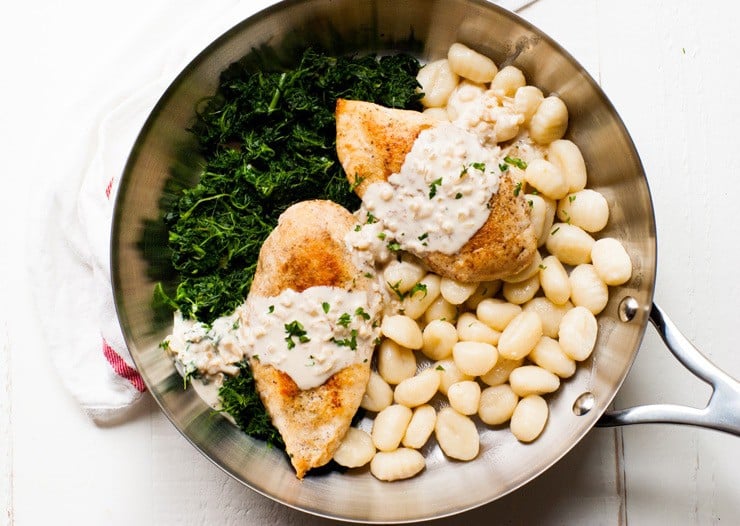 Alright, so posting this today, I kind of feel like a rockstar. I don't know if I've mentioned it already, but I've been doing this weight-loss challenge with friends the past 4 weeks. I did the same thing last year and for some strange reason thought it was a good idea to do it again, lol. Last year I lost 19 lbs over the course of 8 weeks and in the end, I was really glad I did it. I guess I just kind of forgot about all the ice cream, and pasta, and pizza I couldn't eat while doing it, so I signed up again. I equate this to getting pregnant again even though you've been through giving birth. Worth it? Of course, but hurts like [email protected]!&!# while you're doing it. Losing weight is hard, guys!
But alas, I'm still going strong and last week when I needed to make and shoot this super amazing chicken florentine gnocchi, I didn't sit down and slurp it down. Nope. I gave part of it away, and sealed up the remainder in a tight little tupperware container for my husband, who's weighed the same our entire marriage. I hate him.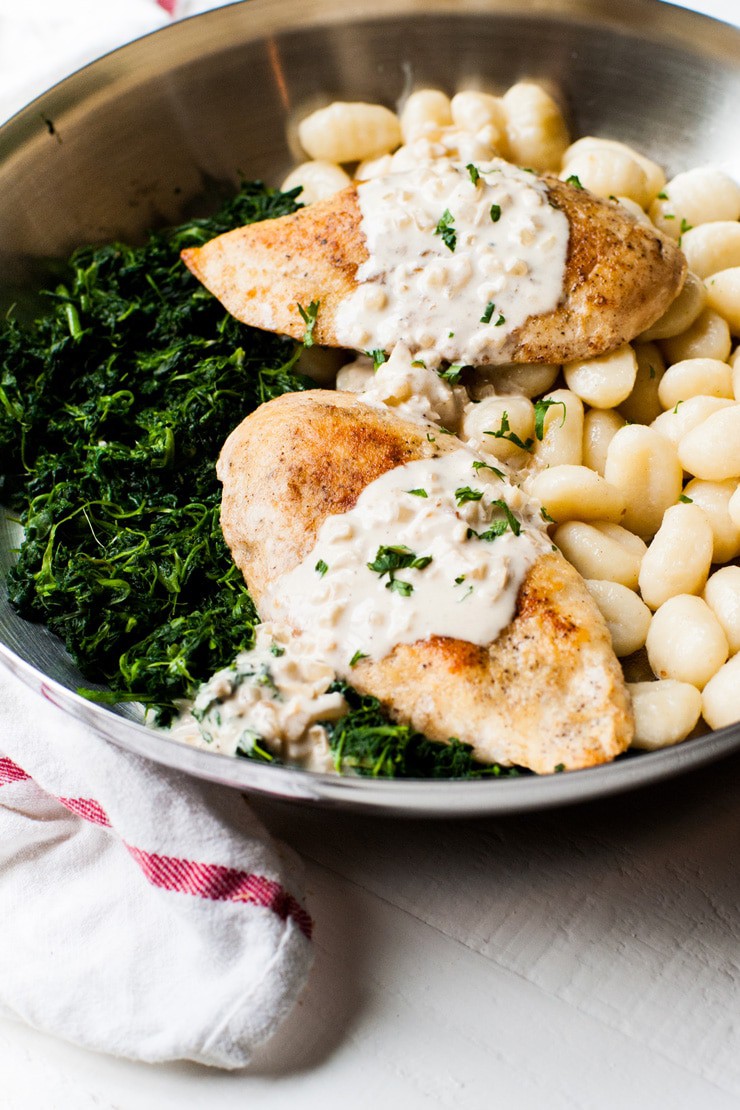 I guess I'm telling you this because I need a pat on the back or something. Maybe I don't. But it probably wouldn't hurt.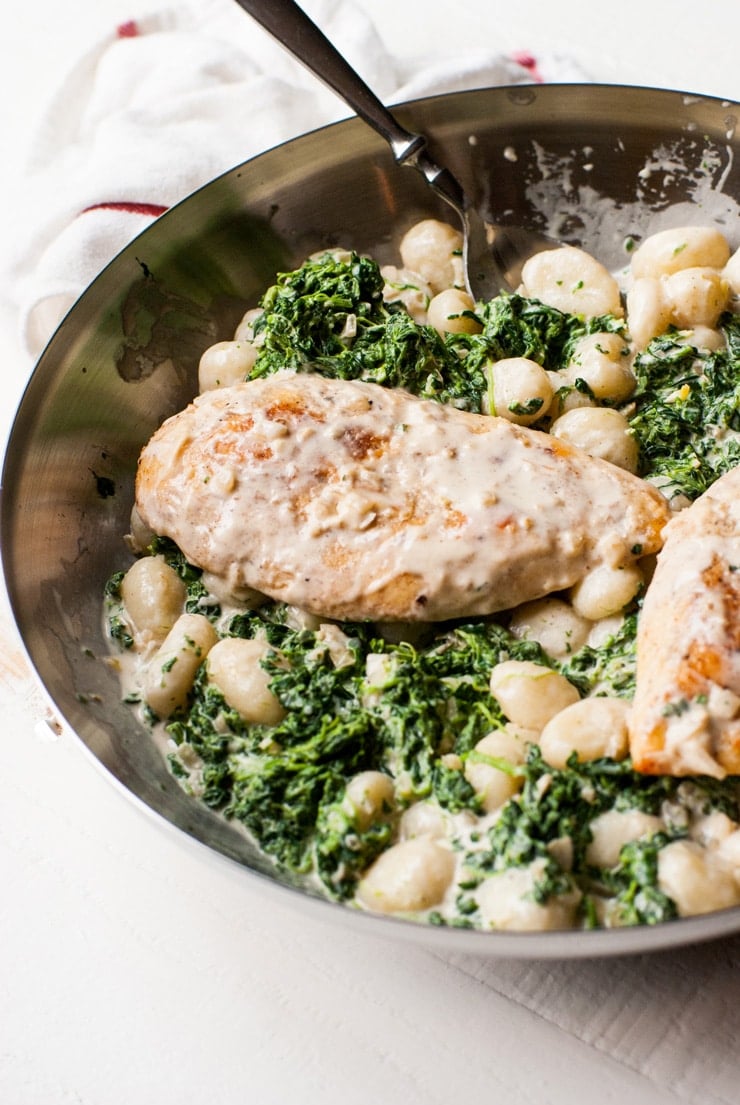 Chicken Florentine Gnocchi
This gnocchi tastes like it came directly out of a fancy Italian restaurant but only takes about 30 minutes to make! I used prepackaged gnocchi that I found in the pasta aisle, and frozen chopped spinach to make things easy. The best part of this is the sauce (obviously). It's made with white wine, and cream and plenty of garlic and is so yummy mixed in with the tender spinach and gnocchi.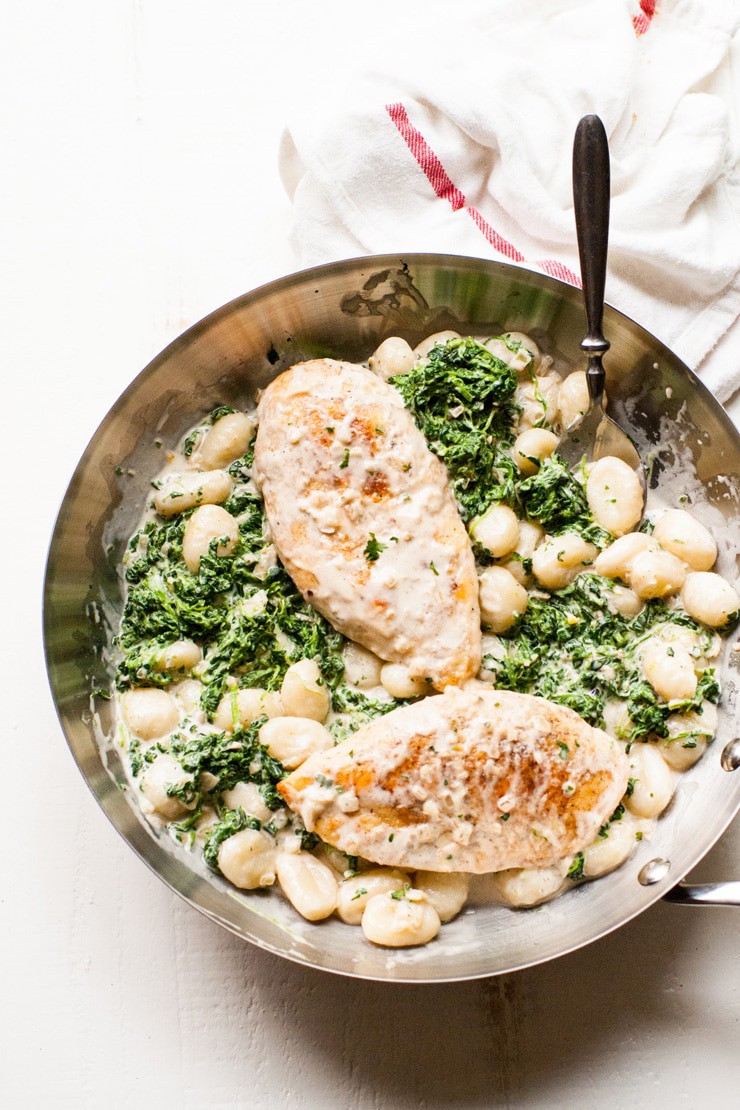 So, if you're not on some crazy diet like me, please make this. And then send me a picture of you eating it so I can live vicariously through you. In fact, I just jumped on the SnapChat wagon, so if you're on there come find me! @hlikesfood
In the meantime, hop on over to Anolon's site to see the recipe. I used their GORGEOUS 12″ Stainless Steel French Skillet to make this in and it gave the chicken that nice golden sear that is equally as tasty as it is pretty.
This recipe was made in partnership with Anolon Cookware and I was compensated for my time and accompanying photos. All opinions are mine, however.