This Chicken and Wild Rice Soup is super easy to throw together and will warm up even the coldest of days! Make it on the stove-top or in the Slow Cooker!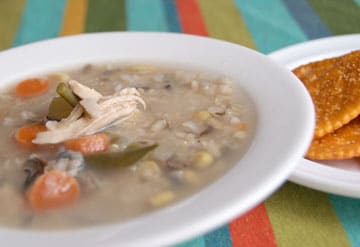 I'm in major need of a big bowl of this Chicken and Wild Rice Soup right now!
Yep, it's still winter here, but the sun has been peeking through the clouds the past few days and I'm getting a serious case of spring fever. I know I'm just setting myself up for disappointment because if I remember right, last year it rained until about May and I was dying. DYING! But at the time I was also a nanny-ing (??) twin 3 yr. olds, a 6 yr. old, my 3 yr. old daughter, and was about 6 mos preggers. The "indoor playground" was my only salvation and it was getting old REALLY quick.
The summers are beautiful here in Oregon because of all the rain we get, but I think I'd trade some dead scenery for a few more days of sun. But, in the name of making lemonade I've embraced the weather and have become a soup junkie. I love soup. LOVE. In addition to this Chicken and Wild Rice Soup, two of my other favorite soups are my Homemade Creamy Chicken Noodle Soup and myCreamy Slow-Cooker Tortellini Soup. So delicious!
My 4 y r. old calls this Chicken and Wild Rice Soup "Get Well Soup" because when the dreaded sickie bugs find us, I whip up a batch of this soup and have instant comfort in a bowl.
How to Make Chicken and Wild Rice Soup
I've made this chicken soup with both white and brown rice and like it both ways. The brown gives it a bit more substance, but the white is a nice contrast to the wild rice. The rice will soak up a lot of the broth after it sits in the fridge overnight, so to reheat you may need to add a bit of water to thin it down. I've included directions for making it in a crock-pot as well. Enjoy!
Where can I buy wild rice?
Wild rice can be found in most grocery stores in the rice section. My favorite place to buy it is in the bulk section, however. I typcially don't need a huge amount so buying it in bulk allows me to grab just want I need and save money.
What is wild rice?
Wild rice is a dried whole grain harvested from grasses that grow in shallow waters, small lakes and slow-moving rivers. The grain has a dark brown/black color and is long and skinny. It is high in protein, gluten-free and very nutritious.
How to Make Your Own Onion Soup Mix
This recipe calls for 1 packet of onion soup mix. Adding this makes the broth super flavorful and also makes the recipes easy! If you don't have any onion soup mix on hand, but have a few other pantry staples in your spice cupboard, chances are you can make your own homemade onion soup mix! Click here for the recipe.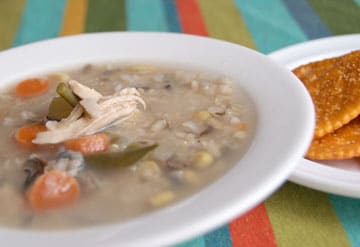 Chicken and Wild Rice Soup
This Chicken and Wild Rice Soup is super easy to throw together and will warm up even the coldest of days! Make it on the stove-top or in the Slow Cooker!
Print
Pin
Rate
Ingredients
2

tablespoons

olive oil

2

whole

boneless skinless chicken breast halves

1

cup

carrots

chopped

1

cup

celery

chopped

1

whole

medium onion

chopped

2

cloves

garlic

minced

2

cups

fresh or frozen corn kernels

1

cup

fresh or frozen cut green beans

1

packet onion soup mix

1 ounce

12

cups

chicken broth

1

cup

long grain white or brown rice

1/2

cup

wild rice

1/4

teaspoon

ground pepper

1/2

teaspoon

dried thyme

1/2

cup

sour cream

salt to taste
Instructions
Cut chicken breasts into bite-sized pieces and season liberally with salt and pepper.

In a heavy bottomed dutch oven or stock pot, heat 1 Tbsp olive oil over medium high heat until it shimmers. Add chicken to the pan and cook until the chicken has some color on it, but it doesn't need to be completely done. Remove from pan and set aside.

Add remaining Tbsp of oil to the pan and cook the onions, carrots, garlic, and celery until the onion is translucent and vegetables are starting to get tender.

Add in the chicken broth, onion soup mix, corn, beans, both rices, and thyme. Bring to a boil and then reduce heat to a simmer and add the chicken. Cook soup for about 30 minutes or until the rice and vegetables are cooked through.

Remove the pot from the heat and stir in the sour cream, pepper, and salt to taste.
Crock Pot Directions:
Follow the directions above through cooking the onion, carrots, celery and garlic.

Then put all the ingredients into the crock-pot, except for the sour cream and cook on low for 4-6 hrs, or high 2-3 hrs. Stir in the sour cream and serve.

Alternately, if you are running short on time, you can skip all the directions above and put all the raw ingredients, minus the sour cream in the crock-pot. Cook on low for 6-8 hrs, or high 4-6. This method will result in a little less flavor that would have been achieved by sauteing the chicken and veggies first, but you can take your pick. Stir in the sour cream just before serving.
Serving:
1
serving
|
Calories:
335
kcal
|
Carbohydrates:
54
g
|
Protein:
9
g
|
Fat:
10
g
|
Saturated Fat:
3
g
|
Cholesterol:
10
mg
|
Sodium:
1784
mg
|
Potassium:
807
mg
|
Fiber:
4
g
|
Sugar:
2
g
|
Vitamin A:
3895
IU
|
Vitamin C:
41.3
mg
|
Calcium:
85
mg
|
Iron:
2.3
mg
Are We Friends On Pinterest?
Follow Me For More Great Recipes @hlikesfood