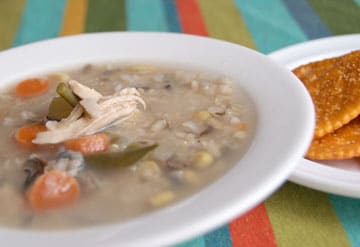 Yep, it's still winter here, but the sun has been peeking through the clouds the past few days and I'm getting a serious case of spring fever. I know I'm just setting myself up for disappointment  because if I remember right, last year it rained until about May and I was dying. DYING!  But at the time I was also a nanny-ing (??) twin 3 yr. olds, a 6 yr. old, my 3 yr. old daughter, and was about 6 mos preggers. The "indoor playground" was my only salvation and it was getting old REALLY quick.
The summers are beautiful here because of all the rain we get, but I think I'd trade some dead scenery for a few more days of sun. But, in the name of making lemonade I've embraced the weather and have become a soup junkie. I love soup. Love.
Emmy, my 4 y r. old calls this "Get Well Soup" because over the past few months when the dreaded bugs have found us, I whip up a batch of this soup and have instant comfort in a bowl.
I've made it with both white and brown rice and like it both ways. The brown gives it a bit more substance, but the white has its place too.  The rice will soak up a lot of the broth after it sits in the fridge overnight, so to reheat you may need to add a bit of water to thin it down. I've included directions for making it in a crock-pot as well.  Enjoy!
Ingredients
2

Tbsp olive oil

2

boneless skinless chicken breasts

1

cup carrots, chopped

1

cup celery, chopped

1

medium onion, chopped

2

cloves garlic, minced

2

cups fresh or frozen corn kernels

1

cup fresh or frozen cut green beans ( pul-eese don't use mushy canned beans. They have their place, and it's not in this soup.)

1

packet onion soup mix

12

cups chicken broth

1

cup long grain white or brown rice

1/2

cup wild rice

1/4

tsp ground pepper

1/2

tsp dried thyme

1/2

c sour cream

salt to taste
Instructions
Cut chicken breasts into bite-sized pieces and season liberally with salt and pepper.
In a heavy bottomed dutch oven or stock pot, heat 1 Tbsp olive oil over medium high heat until it shimmers. Add chicken to the pan and cook until the chicken has some color on it, but it doesn't need to be completely done. Remove from pan and set aside.
Add remaining Tbsp of oil to the pan and cook the onions, carrots, garlic, and celery until the onion is translucent and vegetables are starting to get tender.
Add in the chicken broth, onion soup mix, corn, beans, both rices, and thyme. Bring to a boil and then reduce heat to a simmer and add the chicken. Cook soup for about 30 minutes or until the rice and vegetables are cooked through.
Remove the pot from the heat and stir in the sour cream, pepper, and salt to taste.
Crock Pot Directions:
Follow the directions above through cooking the onion, carrots, celery and garlic.
Then put all the ingredients into the crock-pot, except for the sour cream and cook on low for 4-6 hrs, or high 2-3 hrs. Stir in the sour cream and serve.
Alternately, if you are running short on time, you can skip all the directions above and put all the raw ingredients, minus the sour cream in the crock-pot. Cook on low for 6-8 hrs, or high 4-6. This method will result in a little less flavor that would have been achieved by sauteing the chicken and veggies first, but you can take your pick. Stir in the sour cream just before serving.

Made this recipe?
I'd love to see how you rocked it! Share your photo on Instagram with the hashtag
#heatherlikesfood  --
It will totally make my day to see it!