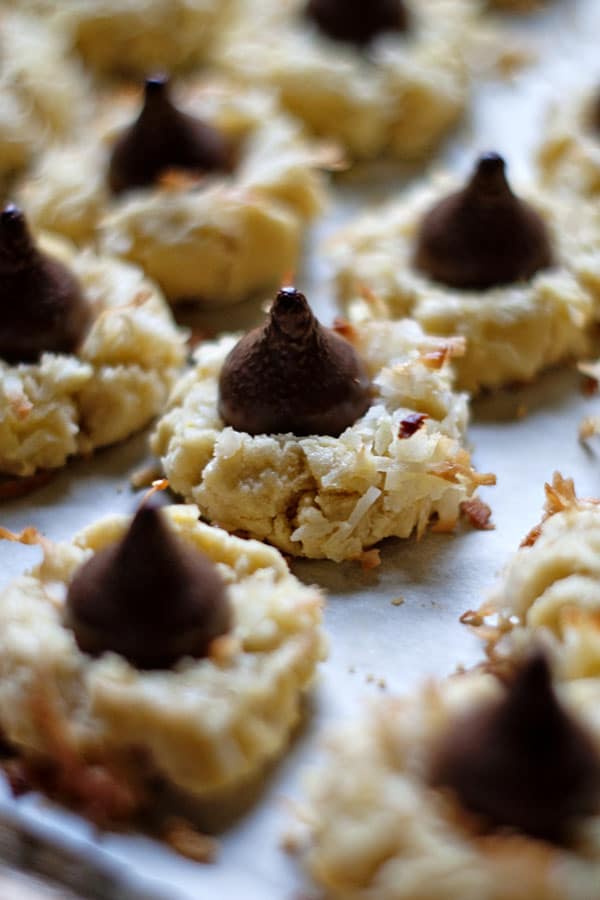 Yesterday morning began with the smell of melted plastic permeating my house as I pre-heated my oven.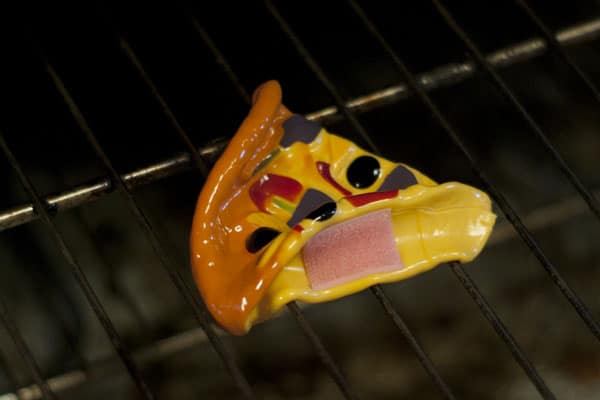 Only 2-year-olds have the ability to make something so delicious make the house smell so, so bad.
Order child-proof oven lock online? Check.
Be secretly proud that my daughter delights in cooking as much as I do? Double Check.
Next up for the day was making cookies for the annual cookie-exchange hosted by a friend.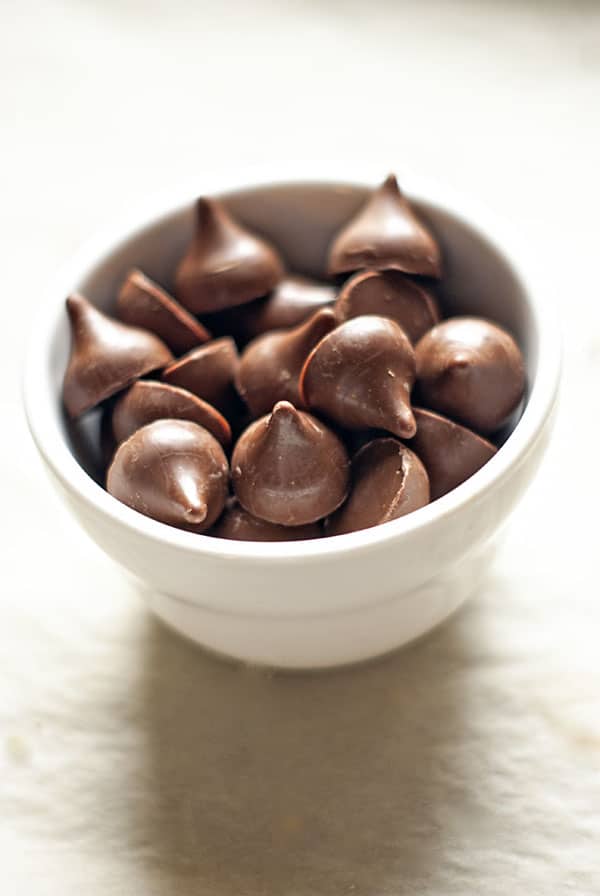 I've been formulating these cookies in my head ever since I bought a bag of caramel Hershey kisses over a month ago. A MONTH AGO. It's amazing that I've waited so long to make them a reality, but the real miracle lies in the fact that there were more than 4 kisses left in the bag after being in the pantry that long. #willpowerofthegods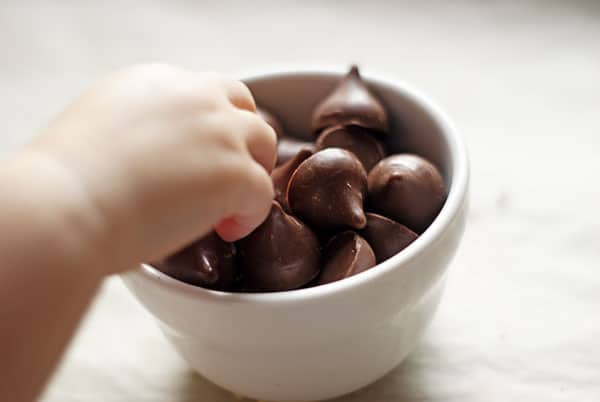 Oh hello, chubby-kiss-stealing-temper-tantrum-throwing-when-I-take-the-bowl-away hand. You may have ONE, sweetie. She totally got me back without even realizing it by putting that pizza slice in the oven.
I used the recipe from these pumpkin pie cookies as a base and scooped them into about 1 1/2 teaspoonful balls. I then dipped them into a beaten egg and rolled each one in sweetened coconut.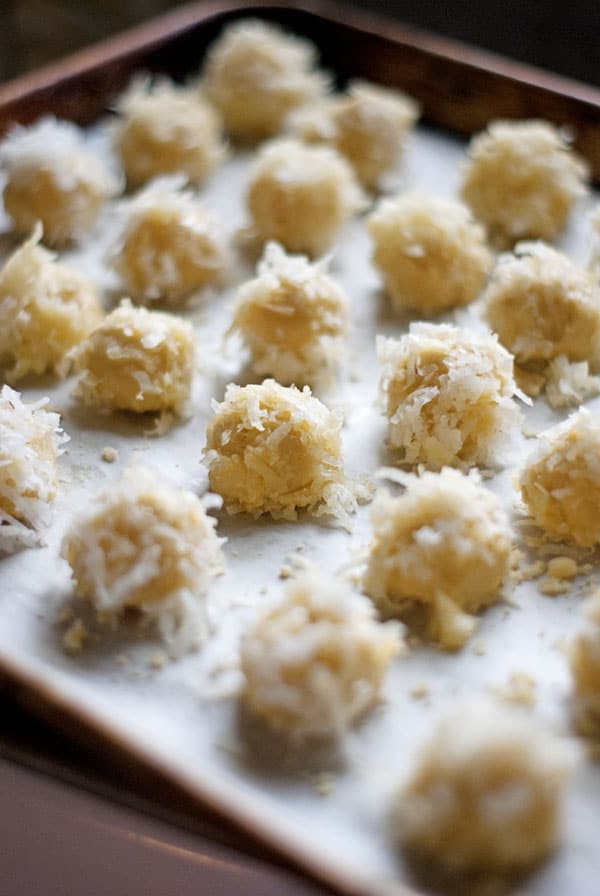 Bake for about 9 minutes at 350 degrees. The coconut should be starting to toast and the cookie just about set. Immediately press a caramel kiss into the center of each cookie, letting the edges spread or "blossom" and crack just a bit.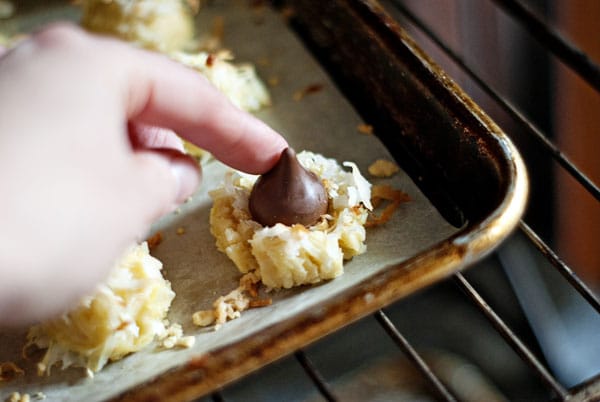 Return to the oven to let the kisses melt just a bit, about 1-2 minutes. Any longer and you'll end up with a melted puddle of chocolate and caramel. Bad thing? Not necessarily, but you can basically throw presentation out the window. Oh, and you'll probably need a tall glass of milk to wash all those "ooops" cookies down.
On second thought, leave them in there just a bit longer, find a good book and snuggle up with a few.
Whoops.
These blossom cookies are perfect for Christmas cookie exchanges and are also an entry for this month's shine supper club featuring holiday sweets. Hop on over here to see what it's all about.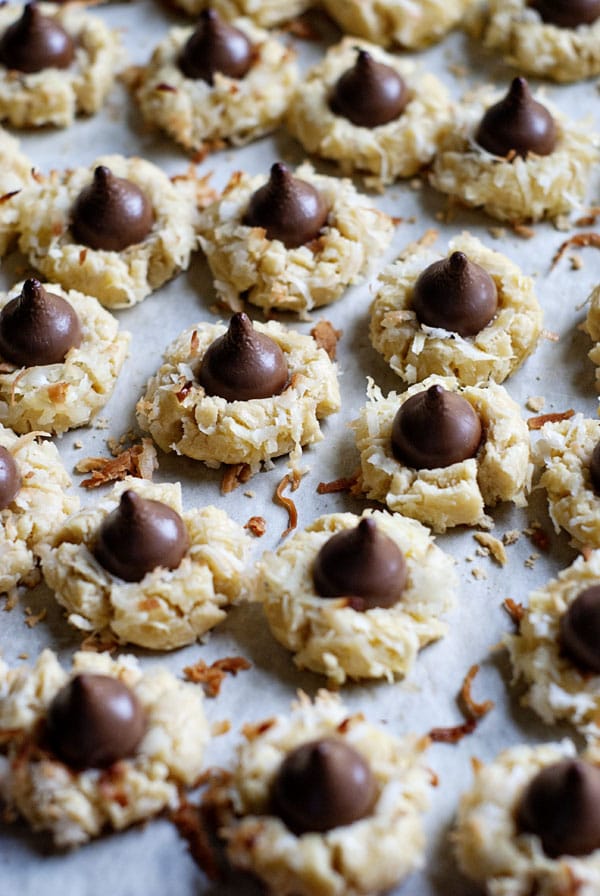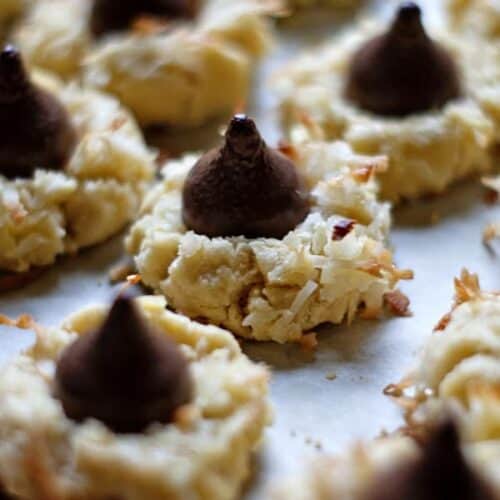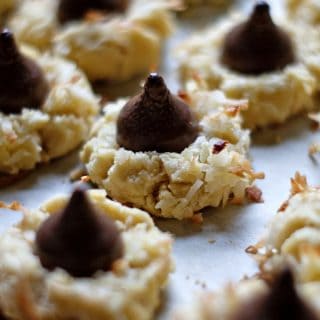 Ingredients
For the Cookies
1

C

butter

room temperature

2/3

C

sugar

2

egg yolks

1

tsp

vanilla

2 1/4

C

all-purpose flour

1

tsp

baking powder

1/4

tsp

kosher salt

1

egg

beaten

1

C

sweetened flaked coconut

1

bag caramel filled Hershey kisses
Instructions
Preheat oven to 350°

Cream butter and sugar until smooth. Add egg and vanilla and combine.

Mix in flour, baking powder and salt and beat until no dry spots remain. The dough will be stiff and possibly crumbly.

Scoop dough into about 1½ teaspoonful rounds and roll into smooth balls.

Dip each ball into the beaten egg and roll in the coconut.

Place on a lined cookie sheet and bake for about 9 minutes or until the coconut is starting to toast. Press a kiss into the top of each cookie ball, pressing just a bit to cause it to "blossom" or spread and crack.

Return cookies to the oven for and additional 1-2 minutes to let the kisses slightly softened and adhere to the cookie.

Remove from cookie sheet and let cool completely. Or not.
Are We Friends On Pinterest?
Follow Me For More Great Recipes @hlikesfood