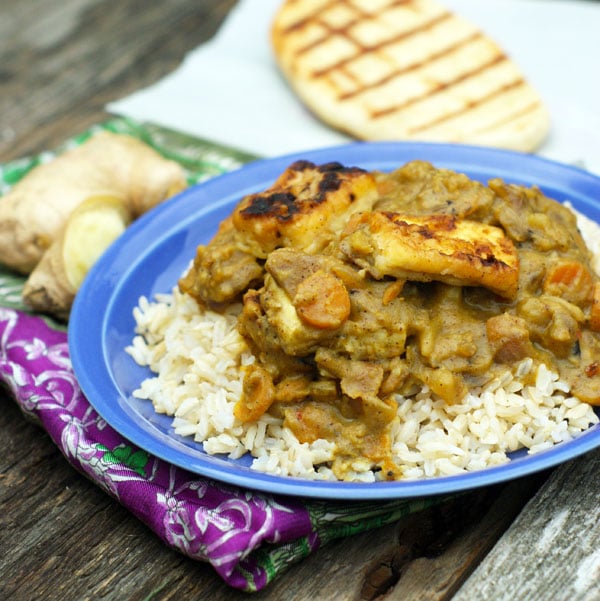 Growing up, my parents made it a tradition to take each of us kids out on a birthday date where we could eat at a restaurant of our choosing. I always (once I had sense enough to not want McDonalds) picked a Japanese Teppanyaki place where I could get big piles of fried rice and teriyaki chicken.
I loved watching the cooks make stacked onion volcanoes and how I almost always ended up with a lapful of rice that was haphazardly flung my direction. One of my visits there my best friend thought she would be different and order the tofu. At this point in my life I received very little exposure to the delightfulness that tofu is, and having her choose tofu over chicken or steak was beyond my comprehension. I know you're thinking I'm telling you all this because this was when I fell in love with tofu. WRONG! Quite the opposite, really. What she ended up with that night tasted like teriyaki flavored jello. It was gross, at least from what I remember, and I vowed to never to eat that vile substance again.
MY LATEST VIDEOS
Oh, but the tofu gods had something more in store for me when I married my hubby who was raised on tofu, homemade tofu, even. I was soon thrown into a world that I didn't recognize all because he wanted to eat something familiar- that retched thing I swore to never eat again. So I tried it again, and again, and again, and each time it grew on me. Now, 8 years into our marriage I've gotten to the point that I make it often. I put it in stir-fry and soups, but our absolute favorite way to eat it is fried (figures, right?). My 6 yr. old asks for it more often than she does chicken nuggets and my almost 2 yr old, whom I cannot get to eat meat, eats it like she hasn't had a meal in a month.
The moral to the story is: If you've had the teriyaki jello experience with tofu, try it again. Try it by itself dipped in BBQ or sweet chili sauce, or in this curry. This curry is mild enough for curry virgins, but still has some pizzazz. The crispy, flavorful crust on the tofu adds a nice texture and flavor to the curry too.
You'll start by frying up your tofu. Tofu can be purchased in varying degrees of firmness- you'll want to use firm or extra-firm for this recipe.
Drain the water off of the packaged tofu and cut into ¼ to ½ inch rectangles.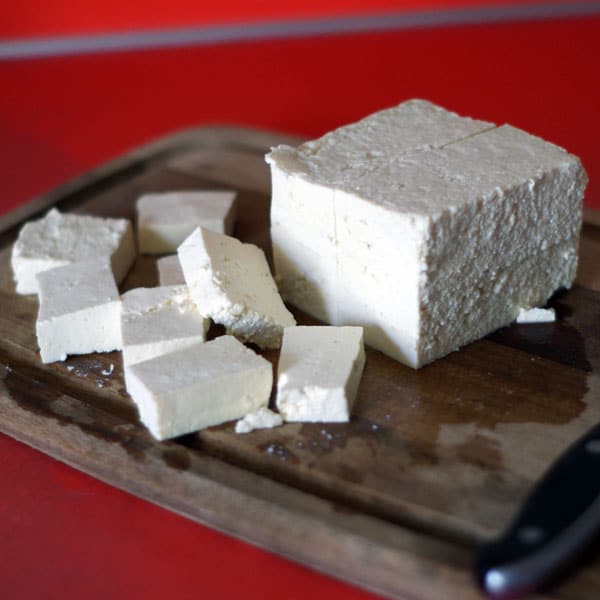 In a Ziploc bag combine flour, garlic powder, kosher salt, pepper, and nutritional yeast.
Nutritional yeast? This can usually be found in the bulk sections of most grocery stores, and can always be found at health food stores. It's a yellow-orange colored flake, made of yeast that has an almost cheesy flavor. It's used in a lot of "hippy" recipes and really makes this tofu awesome. Try it, you'll like it.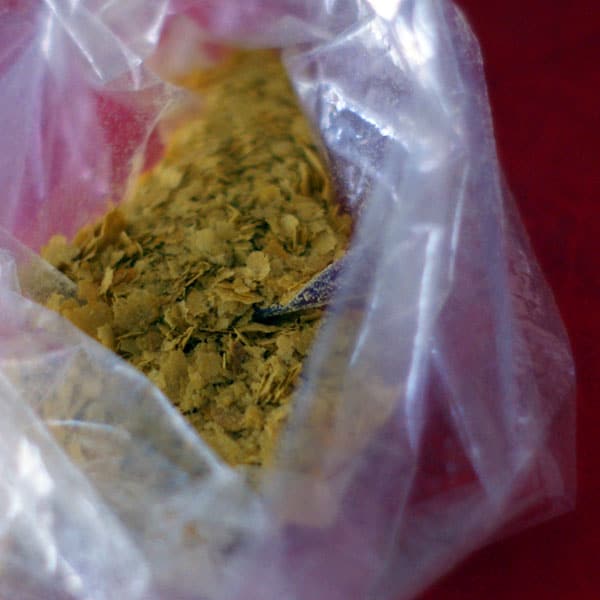 Working in batches, add the tofu cubes into the Ziploc bag and give them a good shake until they are well coated.
Fry the tofu squares in a bit of canola oil until browned and lightly crispy. Place on paper towels, or my favorite, paper shopping bags, sprinkle with salt and set aside.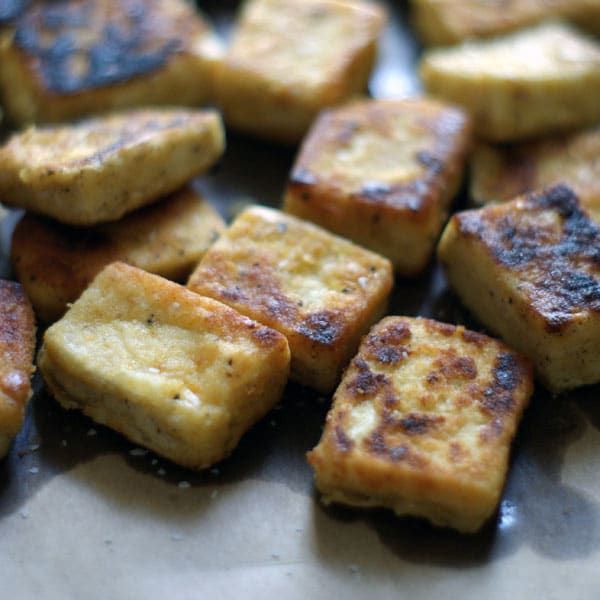 Now it's time for the curry sauce! Start by cooking your onion, carrots and garlic in a little canola oil until the onions start to get soft. Stir in some potato, ginger, curry powder and pepper and add some chicken or vegetable broth. Bring to a simmer and cook until all the veggies are tender.
Stir in some coconut milk, lime juice, and raisins (if using) and then season it to your liking with salt and pepper. Just before serving add in the fried tofu and serve over steamed rice.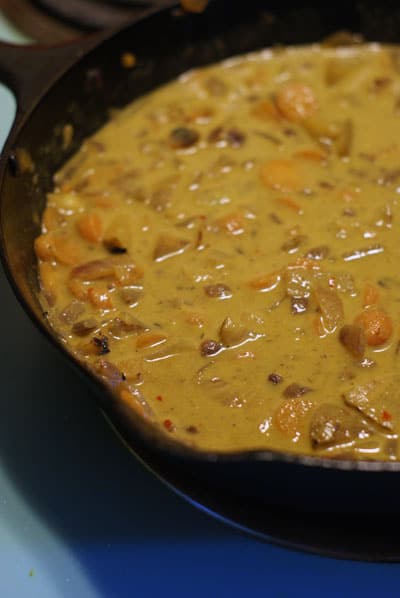 On a totally un-related and kind of awkward note after a post all about tofu, Foster Farms Chicken has invited me and 15 of my readers to attend the Oregon Regional Finals of the 3rd Annual Chicken Cooking Contest in Portland. So, if you're in the area and want to spend the morning with me sampling food and seeing the kitchen at the Art Institute leave a comment and I'll hook up the first 15 to respond. Foster Farms is also taking applications for you to throw your own House Party. House Party hosts and attendees can join in the Cooking Contest Fun and cast a vote for their favorite recipe to win the People's Choice Award. If selected you'd receive vouchers for chicken, a chef's jacket, and more. Sign up here if interested. (Giveway  now CLOSED.)

Now, go make some fried tofu or chicken…both would be great in this curry sauce.
Other Curry Recipes You Might Like
Other Recipes Made With Tofu You Might Like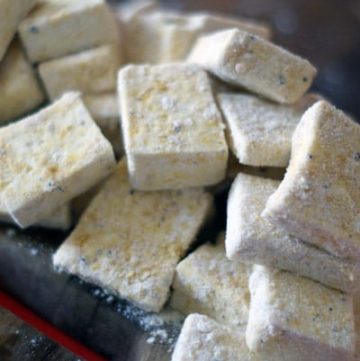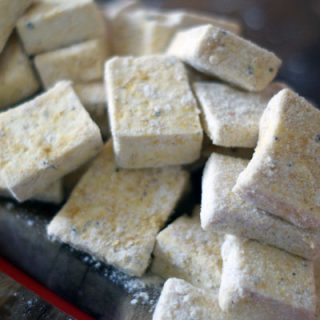 Ingredients
1

lb

block firm or extra firm tofu

3

tbsp

Nutritional Yeast

2

tbsp

flour

2

tsp

garlic powder

1/2

tsp

kosher salt

1/2

tsp

black pepper

1/4

C

canola oil
Curry Sauce
2

tbsp

canola oil

1

C

chopped onion

2

cloves

garlic

minced

2

tbsp

minced ginger

1

tbsp

curry powder

1/4

tsp

black pepper

1

carrot

chopped

1

potato

chopped

1

C

coconut milk

1 1/2

C

Chicken or Vegetable Broth

juice of 1 lime

1/2

C

raisins

optional

salt and pepper to taste
Instructions
Slice the tofu into ¼ in rectangles

In a ziploc bag combine yeast, flour, garlic powder, salt and pepper and shake to mix. Working in batches, shake 5-6 pieces of tofu in bag until coated. Repeat until all tofu is coated.

In a large skillet, heat the oil over medium heat and add the tofu. Cook for 4 to 6 minutes, turning occasionally, until golden brown and lightly crispy. Sprinkle with salt and set aside.

Curry Sauce: In a large skillet heat oil until it shimmers. Add onion, curry powder, carrot, and garlic to the pan, stir and cook until onion starts to soften. Add ginger, potato, broth, and pepper and bring to a simmer. Cook until all vegetables are tender.

Stir in coconut milk, lime juice, raisins and season with salt and pepper to taste.

Just before serving stir in fried tofu and serve over steamed rice.
Are We Friends On Pinterest?
Follow Me For More Great Recipes @hlikesfood