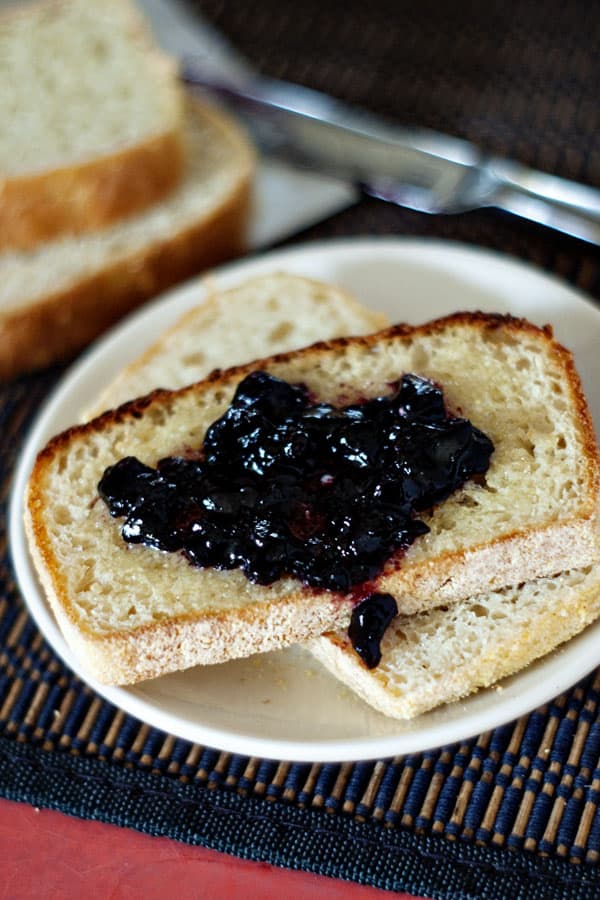 Why does bread have to get such a bum rap? There's so much talk about how carbs will make you fat, white flour is of the devil, and gluten will kill you, but has anyone ever thought about how this dialogue makes the bread feel? Pretty awful, I bet.
All it takes is one look at this English muffin bread and you'll hear it crying out for help.
MY LATEST VIDEOS
"Love me."
"Accept me."
Look at all those nooks and crannies for which to fill with butter, jam, and Nutella. It's kind of like a playful puppy or chubby baby thighs in it's irresistible-ness. How can you not want to smather it with goodness?
Hollandaise sauce? Yep, it makes a pretty killer eggs Benedict too. You know you want to, and you can! This bread is just as good as it's portion-controlled counterpart and it's just about as easy as opening a package of them too. In fact, it's so drop dead easy it almost makes me sick to think of how many packages of English muffins I've bought in my lifetime.
You'll start by combining some warm water with sugar, salt, yeast, and flour. Give it a stir in your mixer or by hand and you're done. Almost.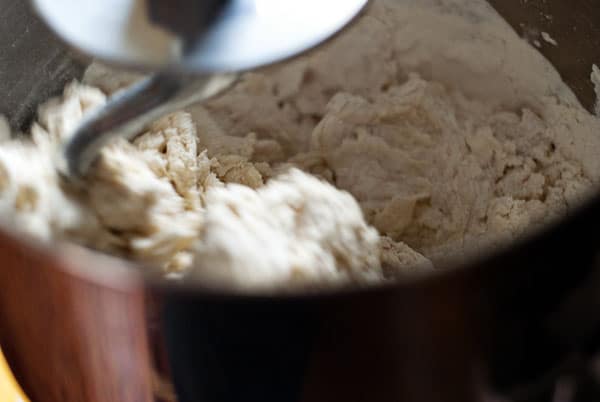 The dough will be very sticky and shaggy.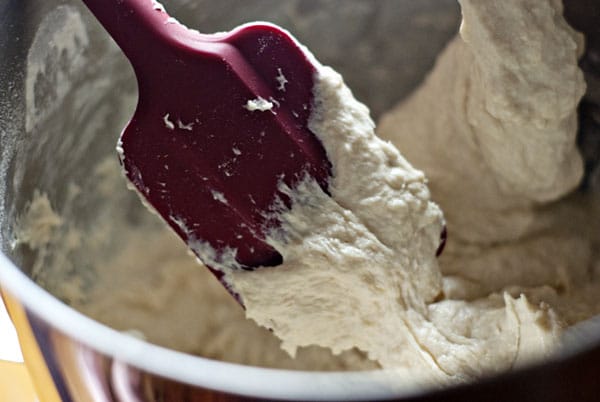 Scrape the edges of the bowl so that the dough is in one mound and place a piece of plastic wrap over the bowl to rise for about an hour. Little M needed a hand cameo today.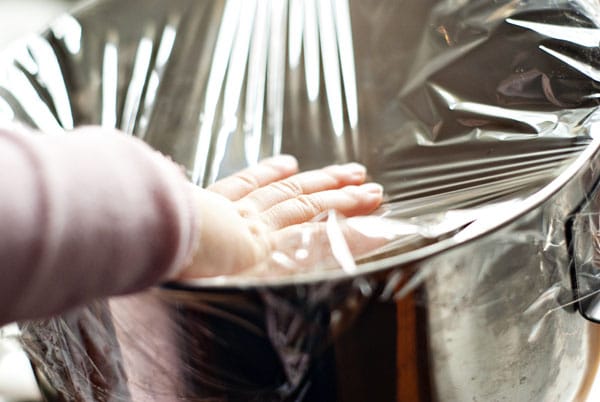 While the dough is rising, spray 2 standard-sized loaf pans with cooking spray and coat each with a few tablespoons of cornmeal.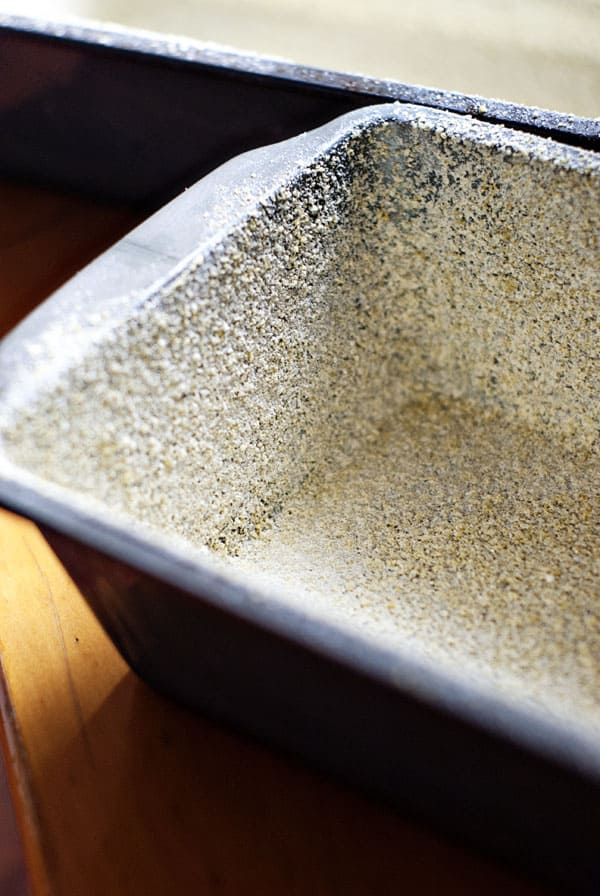 The dough is ready when it has doubled in sized and looks airy and bubbly.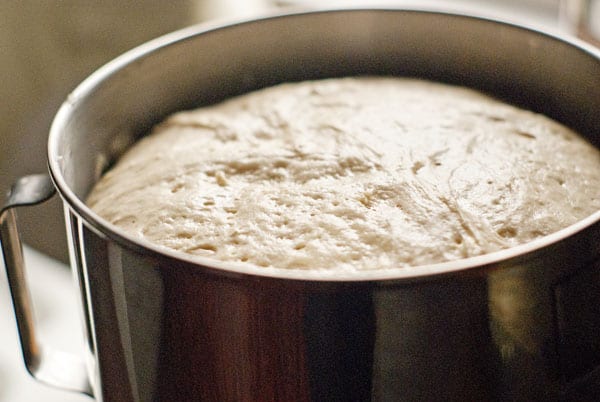 This is where it can get a bit messy, but fun. Since the dough is so sticky, spray you hands with a bit of cooking spray and divide it evenly into your cornmeal-crusted pans. Try to press the dough into the corners of the pan as much as possible or you'll end up with a round dome looking loaf.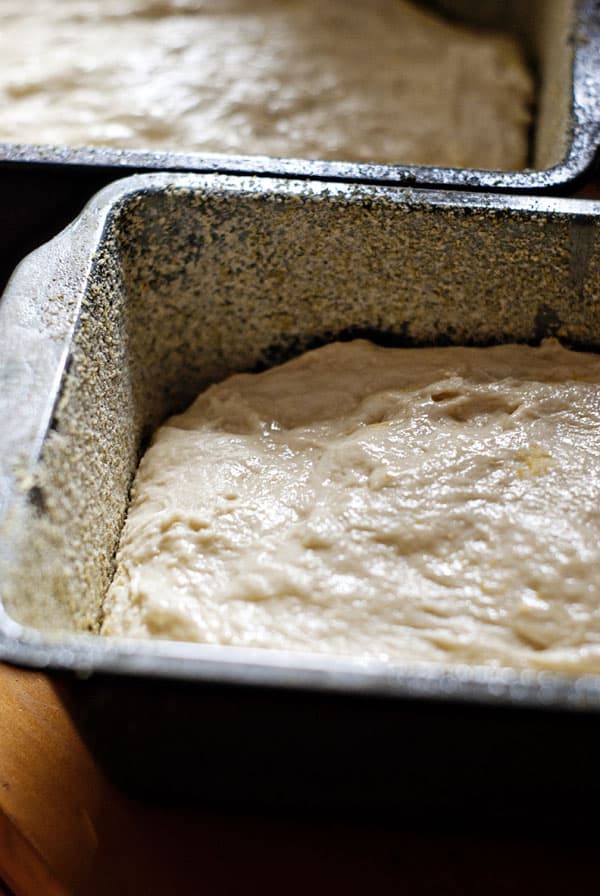 Spray the tops of each loaf with cooking spray and cover loosely with plastic wrap to rise again. This time will take about another hour. The dough will be peeking over the sides of the pan when it's ready.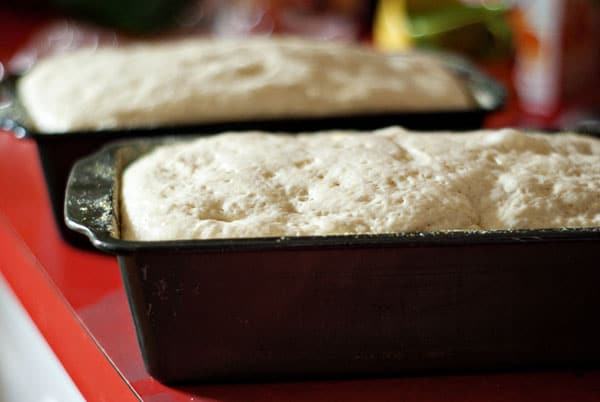 Bake at 350 for about 40 minutes or until it's a nice light golden brown color. Remove from the oven and generously brush melted butter over the top. Mmm. Mmm. Mmm. Just don't cut into it quite yet–it needs to cool completely for the texture to be just right. It sounds strange but if you cut into the loaf when it's piping hot it will never be the same as if you waited until it cooled. When you take it out of the oven it continues to cook and it needs that full time to do it's thing.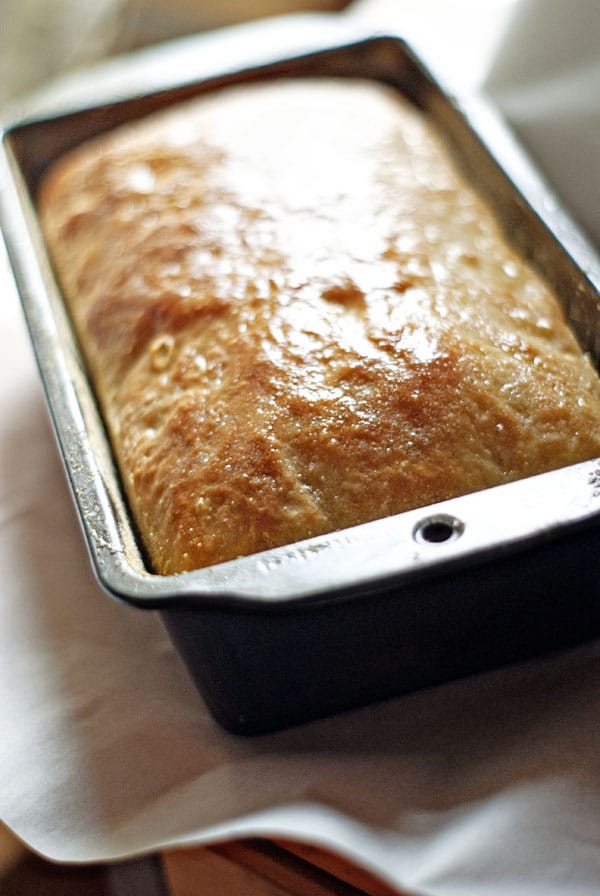 With patience comes great rewards. Toasted rewards. Did I mention that this bread makes the BEST toast ever? I guess that's why it's call toaster bread.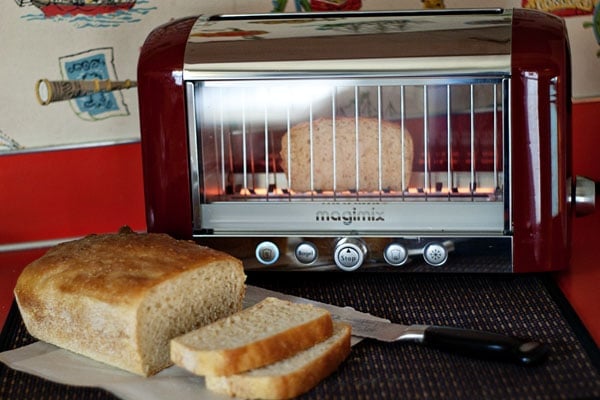 Wait, did you catch that toaster in the picture above? Yep, that would be a glass-sided toaster. It's pretty amazing and is the world's first see-through toaster. This means that you can have perfect toast every time and, coincidentally, it makes the perfect gift to give to those who seemingly have EVERYTHING. Because unless they have this toaster, they don't.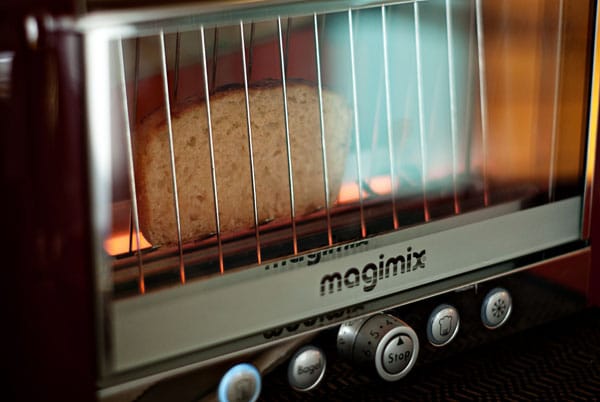 It's a Magimix Vision toaster and ever since they sent me one to try out, it has been one of my favorite appliances in my kitchen (something I never, ever thought I'd say about a toaster). It may be that our house is super boring, but toasting bread has become somewhat of an event lately. My girls love to watch the bread darken and it makes the most perfect, evenly cooked toasted I've ever tried– crisp, hot and not dried out.
I know, I hear you, "Heather, it's just toast".
Well sure, it's just toast and I do realize that you can make it in any old toaster. But seriously guys, this thing is not only fun and cooks perfect toast, it's built to last. It may be the Ferrari of toasters at $199 ( in all honesty, this is not something that would be a typical purchase for us based on price alone) but since having  it, I've been impressed by it's build, ease of cleaning, and many functions (one-sided toasting, wide slots, defrost, and reheat settings) which all make it worth the price, especially if it holds up to the promised 30,000 uses it boasts.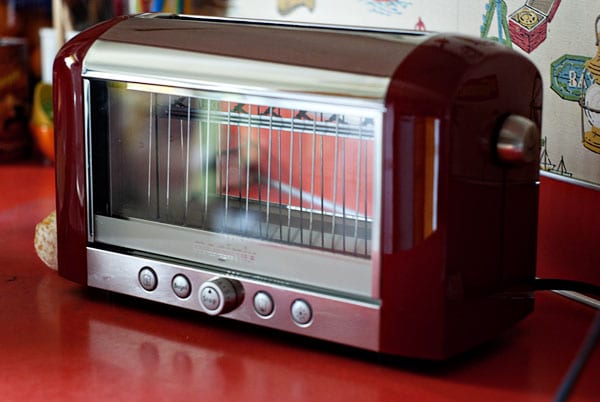 Cons? While the outside housing is super easy to clean as well as the crumb tray, I wonder if the glass will truly stay clear with extended use and no way to clean it. I guess we'll see…
Take a look at Williams Sonoma to see the colors it's offered in and stick around to get in some last-minute Christmas shopping. I know I can always spend some time browsing through WS even if I'm not gift shopping.
Oh, and don't forget to make this English muffin bread.
Toast it. Smather it. Eat it. You'll thank me one day.
**Disclaimer: Magimix provided me with a complimentary toaster to review, but all thoughts and opinions are my own.**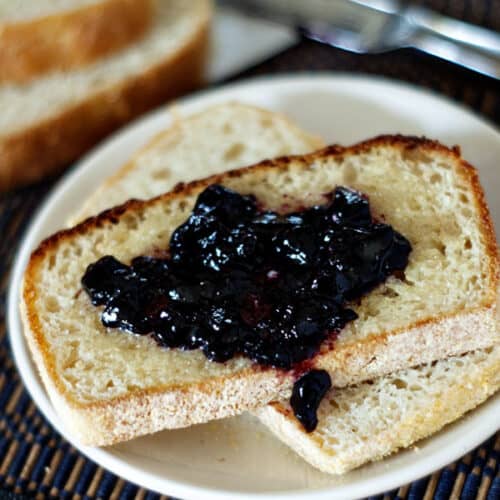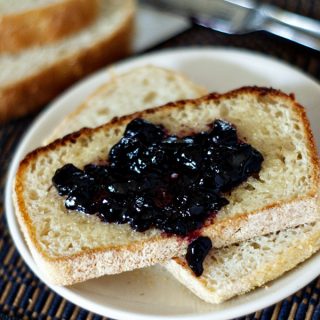 Ingredients
2 3/4

cup

very warm

but not hot water

1

tbsp

kosher salt

1

tbsp

+ 1 1/2 tsp sugar

1

tbsp

+ 1 1/2 tsp instant yeast

2 3/4

C

bread flour

3

C

all purpose flour

1/4

C

cornmeal
Instructions
Stir all ingredients together with a stand mixer or by hand until just combined. The dough will be very sticky and shaggy.

Scrap the sides of the bowl and loosely form into one mound in the bowl. Cover with plastic wrap and let rise in a warm place for about an hour or until it's doubled in size.

Spray 2 standard-sized loaf pans with cooking spray and sprinkle a few tablespoons of cornmeal into each one. Tilt the pans and tap gently until all the sides are coated with cornmeal.Tap out any extra and set aside.

Spray your hands with cooking spray and use them to divide the sticky dough evenly into the pans. Press the dough into the corners, spray the tops with more cooking spray and looselycover with plastic wrap. Let rise for about 1 hour or until doubled in size and the dough is just coming over the edge of the pan. Preheat oven to 350 degrees.

Remove plastic wrap and bake for about 40 minutes or until the top is a nice light golden brown color. Remove from the oven and brush the top liberally with melted butter.

Immediately turn the loaves onto a cooling rack and let cool completely before slicing.

This bread can be stored at room temperature, tightly wrapped for up to a week or frozen for up to 3 months.
Are We Friends On Pinterest?
Follow Me For More Great Recipes @hlikesfood