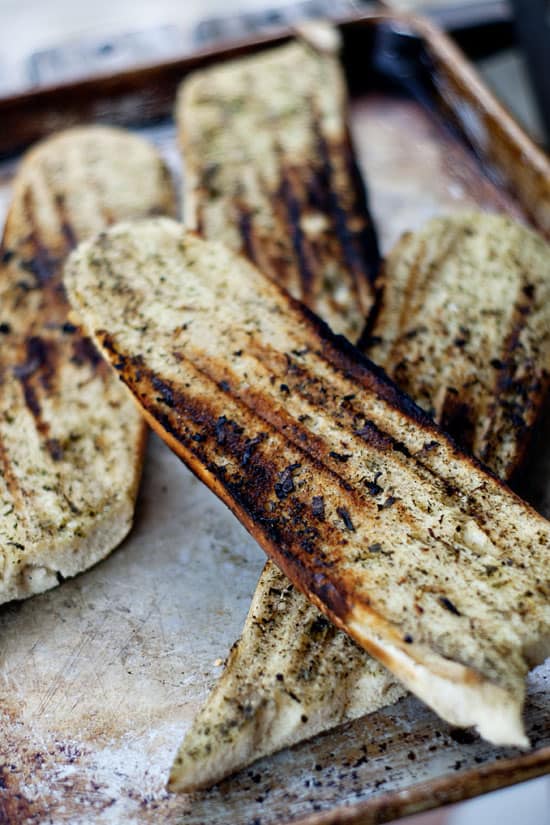 Garlic bread is a MAJOR weakness of mine. Heck, plain garlic just about does me in. But when it's paired with butter and bread and sometimes cheese I'd rather die 10,000 horrible deaths than have a loaf of it in front of me and not be allowed to eat it. This being said, I bet you have already figured out that it frequents our dinner table.
You know what the hubs said to me a few weeks back after eating a meal with garlic bread?
"You know, garlic bread is good and all but maybe you should come up with some sort of herby bread that isn't garlicky."
Huh?!
This statement just about made my world turn upside down. "What's better than garlic bread? … Why fix something that isn't broken? Why does he have to be so difficult? This isn't the man I married. He liked garlic!?"
And then, a few days and a couple handfuls of peanut butter M&M's later, I got my act together and realized that buttery bread without garlic didn't have to be criminalized and it wasn't the WORST idea in the world. I mean, it's bread and butter- what could go wrong?
The answer my friends, is nothing. Nothing. At. All. So this recipe is dedicated to my dear husband who puts up with my crazies and let's me be my garlic-smelling self. Thanks babe.
 It starts with a cube of softened butter, dried parsley, oregano, dill weed, tarragon and black pepper.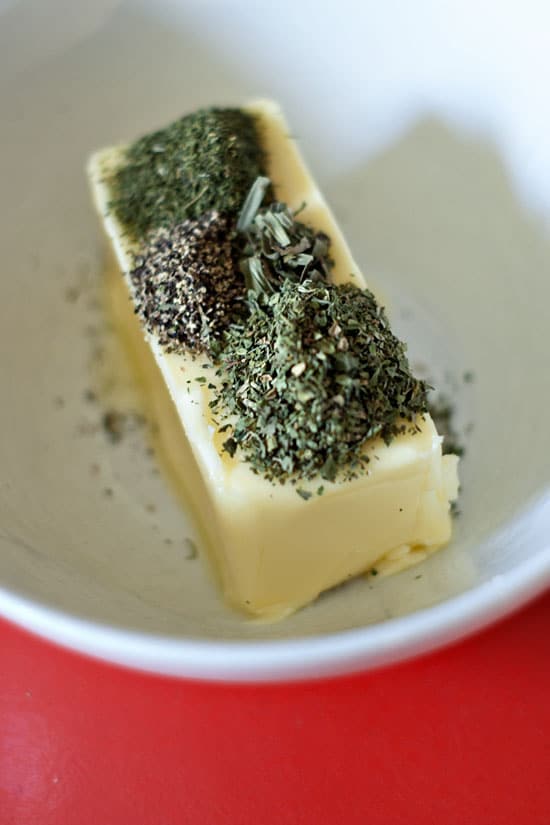 Give it a stir and a tablespoon of fresh lemon juice to brighten it up a bit.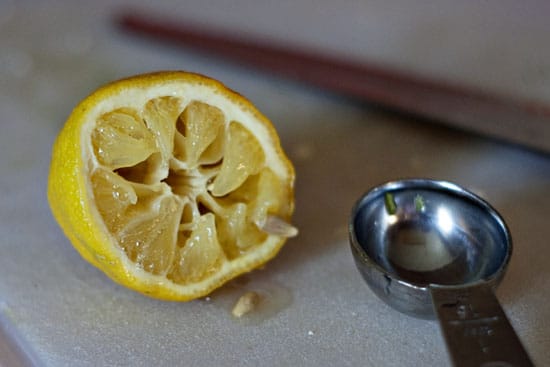 Green onions get sliced and stirred right into the butter mixture too. I like to use the tender middle part of the green onion for this.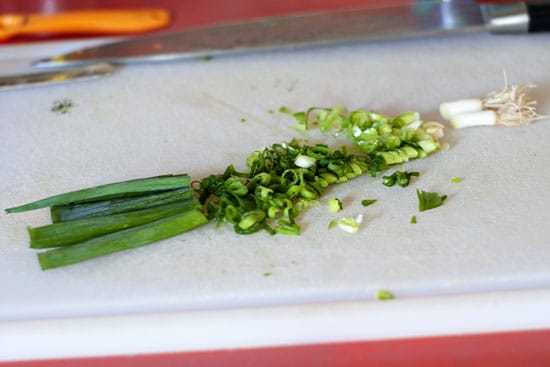 Next up is the bread. When I'm making a bread that will be baked, or in this case grilled, I like to buy par-baked loaves. They are usually pretty easy to find at most grocery store bakeries (I get mine at Fred Meyer) . I use them because they are less likely to become dried out and rip-the-roof-of-your-mouth-off-crunchy after being baked since they are already under baked to begin with. If you can't find them regular loaves work too, they will just be more crunchy.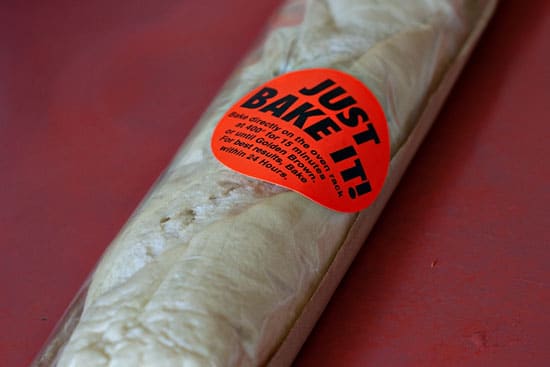 Cut your loaf long-ways into two halves, cut each half into two, and spread evenly with the butter.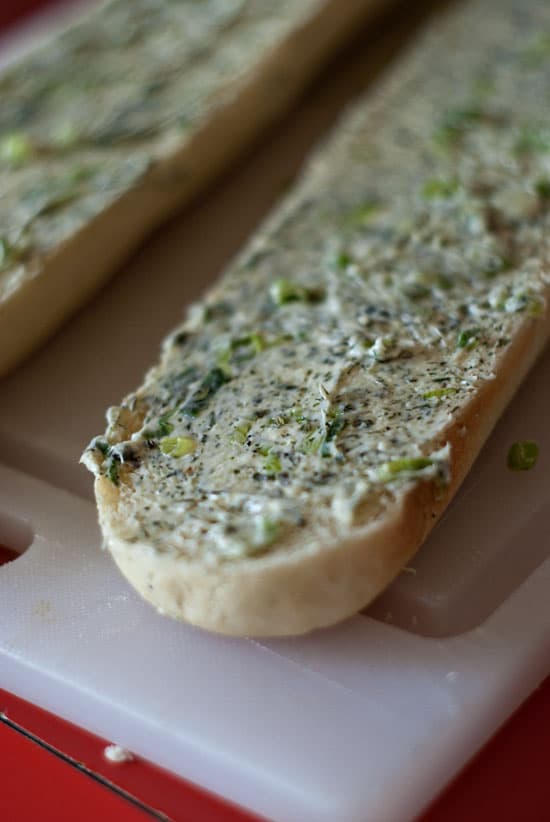 Heat your grill to medium-low and place the loaves bottom down on the grill. Cover and cook for about 5-7 minutes or until the bottom of the loaf is light golden brown.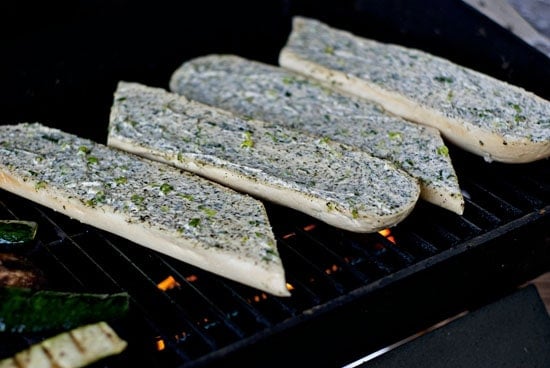 Flip the loaves to the buttered side and cook an additional 5 minutes or until the tops are toasted to your liking. Remove from the heat, slice, and serve! This bread is flavorful and bright but still gives you the satisfaction that a good slice of garlic bread does- making it perfect in my book!
[pinit]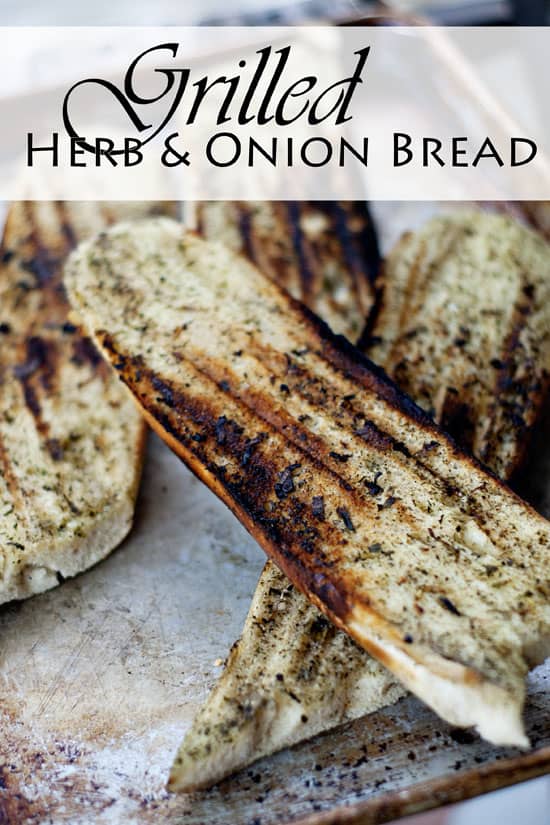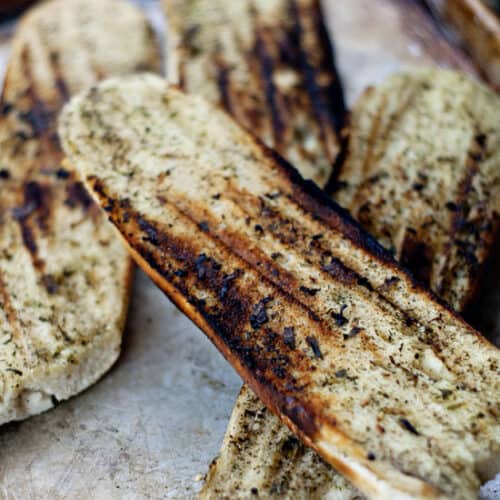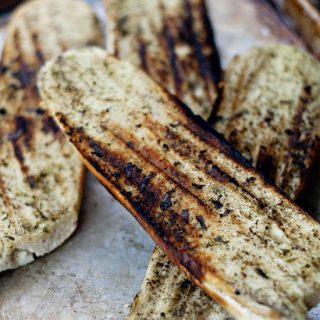 Ingredients
1/2

C

salted butter

softened

1

tsp

dried dill weed

1/4

tsp

dried tarragon

1

tsp

dried parsley

1/4

tsp

dried oregano

1/2

tsp

ground black pepper

1

tbsp

fresh lemon juice

2

tbsp

green onions

sliced

1

loaf par-baked french bread
Instructions
Preheat the grill to medium-low heat.

Combine the butter, herbs, pepper, lemon juice, and onions. Stir thoroughly.

Slice the bread in half long-ways to 2 create pieces. Cut eat piece into two, making 4 pieces.

Spread the butter mixture evenly over each piece.

Place the bread bottom side down (the un-buttered side) on the grill.Cover and cook for about 5 minutes or until the bottoms are golden brown. Flip the slices onto the buttered tops and continue to cook for an addition 5 minutes or until the tops are toasted to your liking.

Remove from the heat, slice and serve.
Nutrition and Food Safety Disclosure