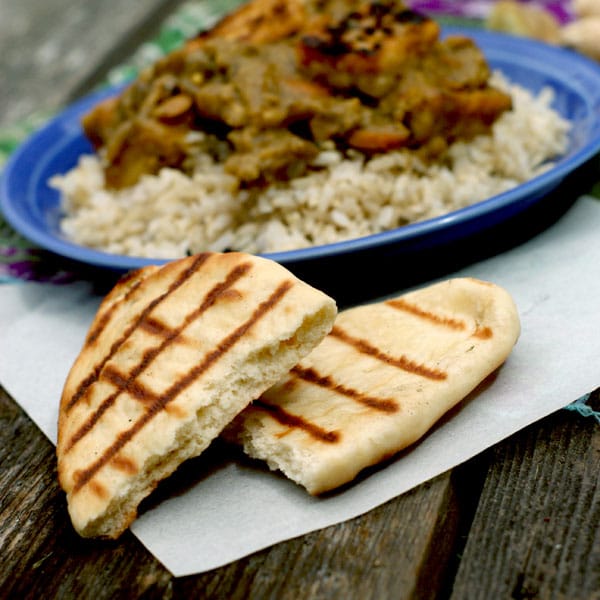 I survived! I mentioned last week that we were having a yard sale and luckily it went off without a hitch. And when I say "without a hitch" I mean that I went downstairs to find our hot water heater spewing water all over out basement leaving a 1/2 inch on the ground. Needless to say, hot water is not a luxury we are enjoying right now. But, on the upside I still went out for donuts and we made bank at our sale. Cha-ching! Sometimes I'm glad we rent…
Last week our dishwasher was broken (sounds like a nice place, eh?) and it was 90° outside. Not wanting a pile of dishes to clean and also not wanting to turn my non-air-conditioned house into a sweat pit by turning the oven on, I was trying to cure my craving for homemade bread. Solution? Grilled Naan.
MY LATEST VIDEOS
Naan is basically a flat bread that can be found adorning many a table at Indian restaurants. It's usually made in a clay tandoori oven and is cooked by sticking the dough rounds onto the sides of the hot clay. Since I don't have a tandoori oven and likely never will, I like to grill it on the BBQ. The grill marks give it the same sort of rustic flare that traditional naan cooking gives and I feel pretty cool when somebody walks by and asks what I'm cooking. It usually sounds something like this,
"What are you grilling?"
"Naan."
"Naan?"
"Yes, naan."
"What's naan?"
And then I get to tell them the whole story I just told you and feel like I really have a handle on what's going on in the world today. Go me! Let's make some naan!
You'll start with some yeast, sugar, milk, and warm water. Place it in your mixer, give it a whirl, and let it sit for a few minutes until it's bubbly (the picture does not show it bubbly, btw).
Once bubbly you'll add in the flour, salt and a room temperature egg. Why room temp? A cold egg will lower the temperature of the yeast mixture and warmth = happy yeast. You can place your egg in a glass of hot water to warm up while the yeast is getting bubbly.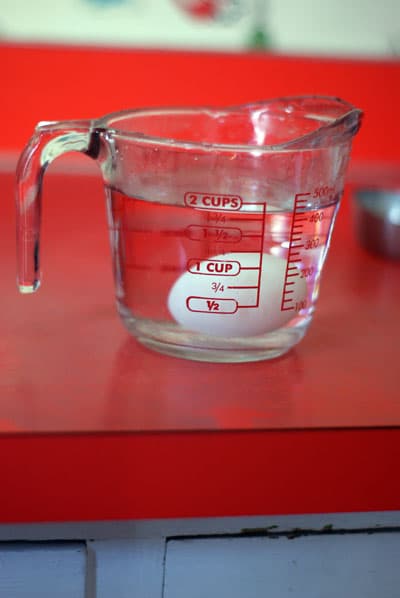 Knead the dough for about 8 minutes. It will be smooth and pliable. Remove from mixing bowl and pinch off golf-ball sized pieces until all the dough is used.
Using a rolling pin, roll each ball into an oblong, flat shape as thin as you can get it. The dough will want to retract and get smaller, but let it rest and it will relax.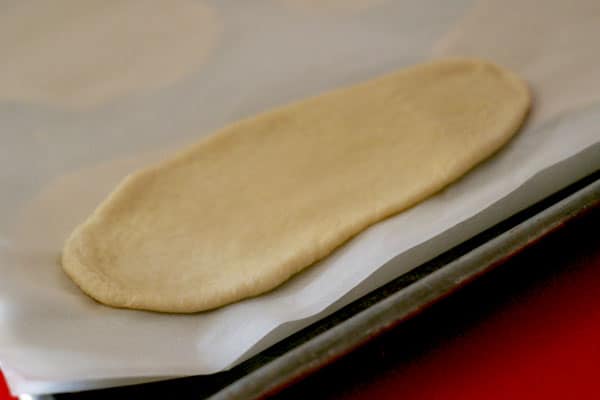 Heat your grill to medium-high and brush one side of the dough with melted garlic butter. Place buttered side down on the grill and cook for 2-3 minutes.
Brush the uncooked side of the naan with butter and flip over, cooking an additional 2-4 minutes or until it's puffed up and looks cooked through. Brush with more garlic butter if desired and serve hot!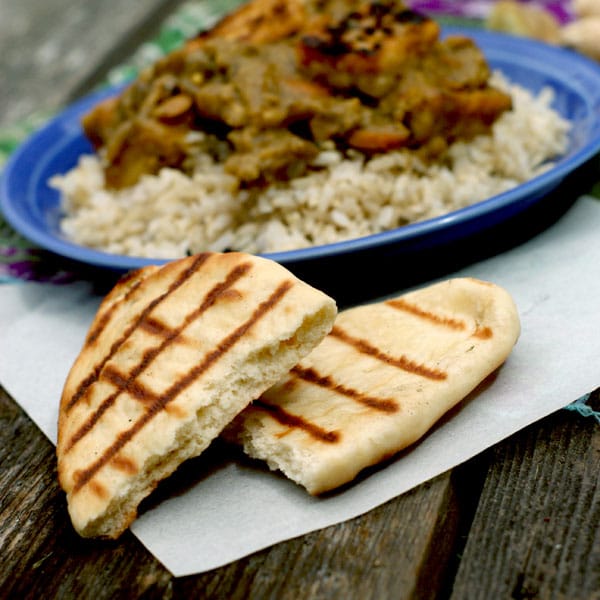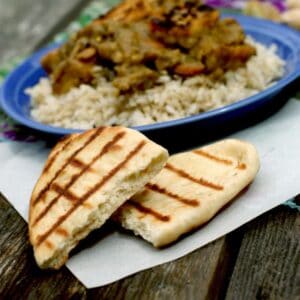 Ingredients
2 1/4

tsp

instant yeast

1, 1/4oz packet

1

C

warm water

1/4

C

sugar

3

tbsp

milk

1

egg

2

tsp

salt

4 1/2

C

bread flour

1/4

C

melted butte4

1

clover garlic

minced (optional
Instructions
In a mixer combine yeast, sugar, milk, and warm water. Let sit for a few minutes until bubbly.

Add egg, flour, and salt and mix until no dry spots remain. The dough should be a little sticky, but manageable enough to roll without making a mess– add more flour if needed and knead for about 8 minutes.

Turn dough out of mixer bowl and divide into golf ball-sized balls. Let rest for a minute.

Roll dough balls into thin, oblong pieces. The thinner you can get it, the better; they will puff up quite a bit on the grill.

Heat grill to medium-high.

Combine butter with minced garlic, if using, and brush one side of the dough rounds with it. Place the rounds butter-side down on the grill and cook for 2-3 minutes. Brush the uncooked side with butter and flip, cooking for and additional 2-4 minutes or until there are visible grill marks and bread is puffed.

Brush with more butter, if desired, and serve warm.
Are We Friends On Pinterest?
Follow Me For More Great Recipes @hlikesfood