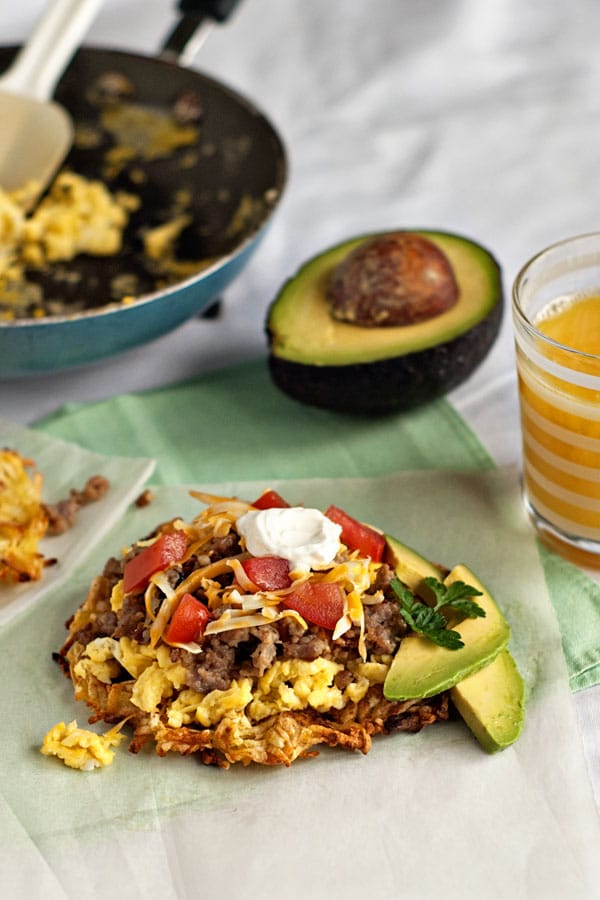 I don't make breakfast. More specifically,  I don't make hot breakfast in the mornings. My reasoning is mostly justifiable so the hubs picks up the slack when he or the kids want something more than cold cereal or smoothies.
But despite my kitchen absence in the mornings I LOVE to make breakfast for dinner. These hashbrown breakfast tostadas are a great way to put a twist on basic breakfast ingredients and  building your own is pretty darn exciting. With Easter around the corner these might be a fun breakfast to enjoy after the morning festivities.  If you're into cooking before noon, that is.
For the tostada "shell" I used Alexia Frozen Hashed Browns. These are pre-seasoned with a little onion and garlic so they taste great without any extra effort.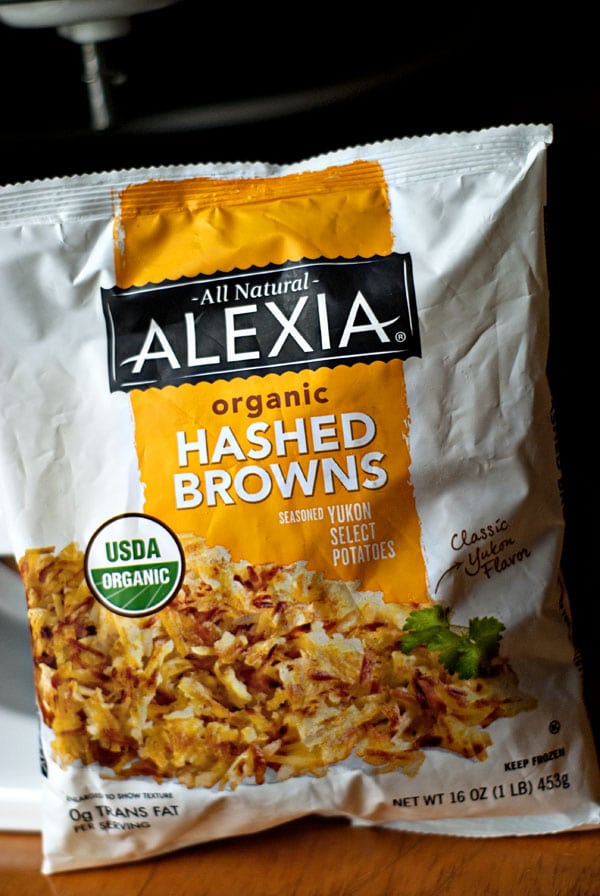 Cooking the potatoes in a waffle iron keeps them super crispy and is super simple to boot. You'll need about 1 1/2 C of frozen potatoes per tostada "shell". It will seem like a lot when your loading it onto the waffle iron, but they shrink down quite a bit while cooking.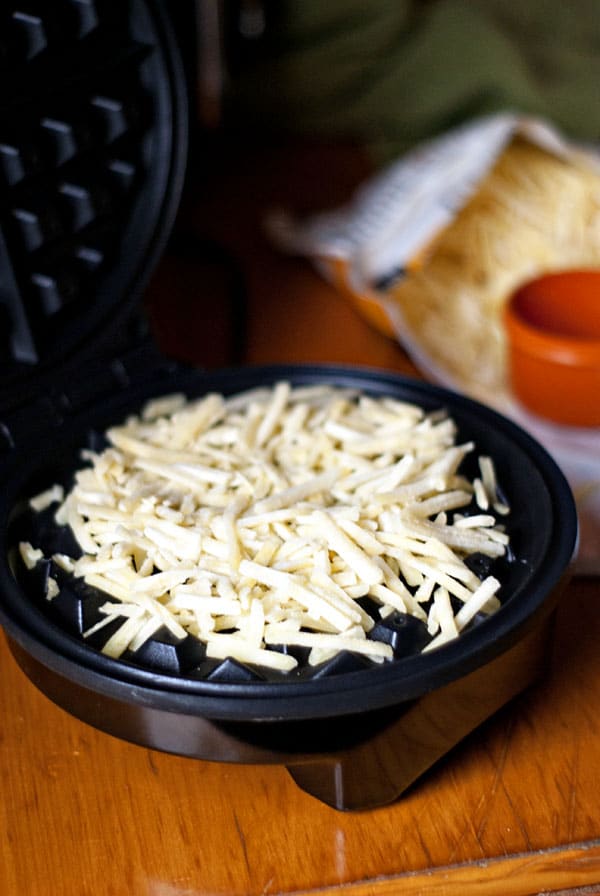 Cooking each "shell" takes about 5 minutes which is longer than the usual waffle. My waffle iron has a light that goes on when a waffle is ready and it usually takes 2-3 of those cycles before the potatoes are done and nicely crisp.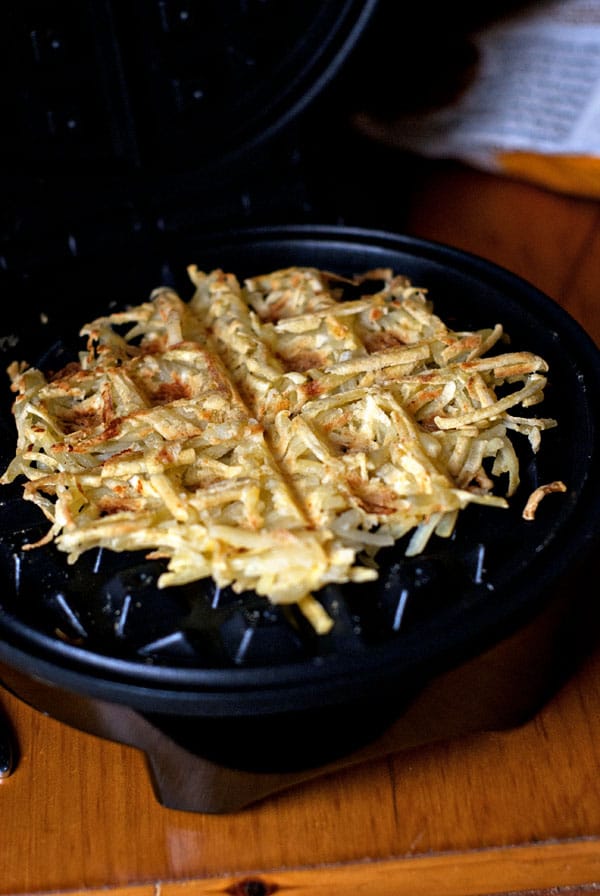 Once you have your tostada shell they are ready to load up with scrambled eggs, crumbled breakfast sausage, shredded cheese, salsa, avocados, or whatever else your little heart desires.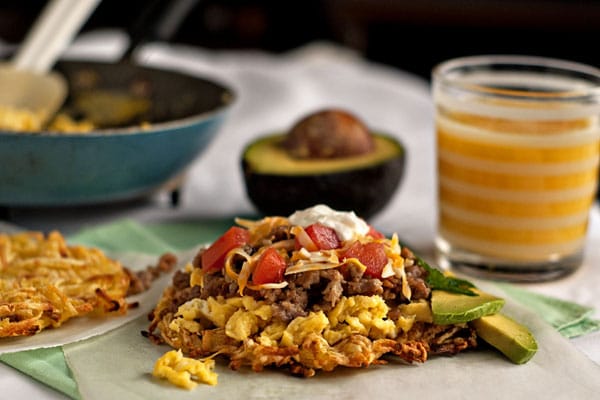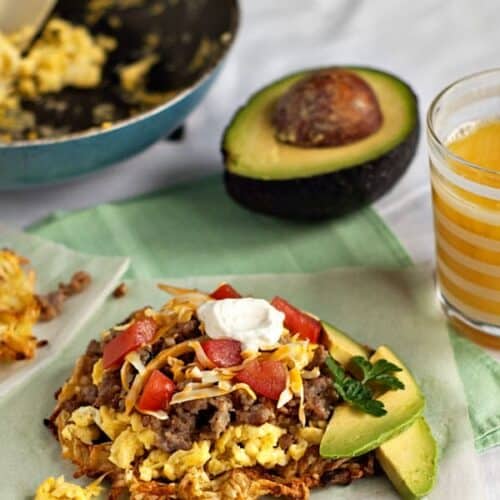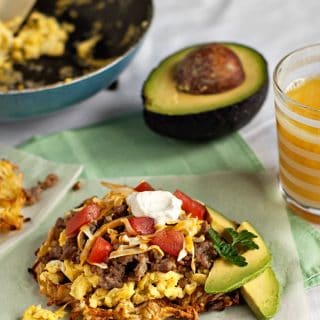 Ingredients
16

oz

frozen hashbrown potatoes

8

eggs

scrambled

1

lb

breakfast sausage

crumbled and cooked

shredded cheese

salsa

sour cream

avocado
Instructions
Heat waffle iron and place 1½ C of frozen potatoes in iron.

Cook for 5 minutes or until browned and crispy

Top with eggs, sausage, cheese and other desired toppings.