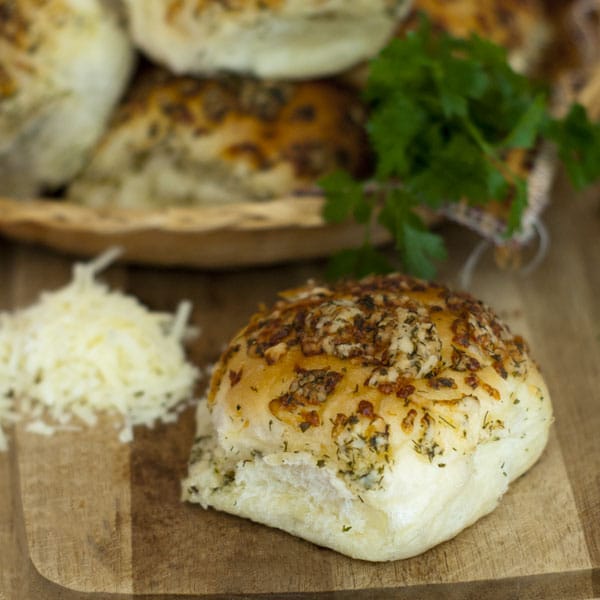 I love baking, specifically making bread. There's something satisfying about kneading simple ingredients into something that that is hearty, filling, and able to sustain life if need be. I try to make bread as often as I can, but sometimes the bread making stars just don't align and I don't have the time (or energy, patience) to make it from scratch. Confession time:
Hi, my name is Heather and I used frozen, store-bought bread dough. Yep you heard it right, I'm not some super-human bread baking machine. Gasp! As much as I'd love to say everything I make my family is made from scratch, I know it's just not realistic for me. At least not realistic if my children want a mother that isn't crazed, sleep-deprived, and/or  doesn't chronically wear yoga pants and hoodies everyday. Wait, that still sounds like me. One step at a time, I guess. So on days when I'm channeling my inner Sandra Lee I try different ways to schnazz up (it's totally a word) whatever it is I'm semi-cooking. These rolls are the perfect example. Dipping the frozen roll dough into an herb and cheese mixture before rising gives them added flavor, texture, and just makes them gosh darn pretty. It's a quick and easy thing that adds that homemade touch to something that is otherwise quick and simple.
You'll need mayonnaise, melted butter, shredded parmesan cheese, dried parsley, dried dill weed, and garlic powder. Combine the melted butter with the garlic powder, and the herbs with the cheese.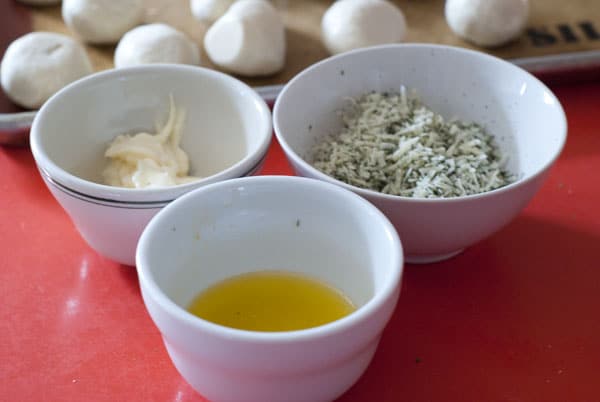 Dip the top half of each frozen dough ball into the mayonnaise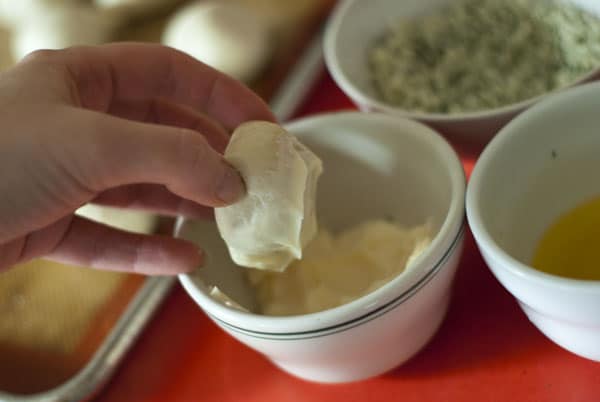 … then the garlic/butter mixture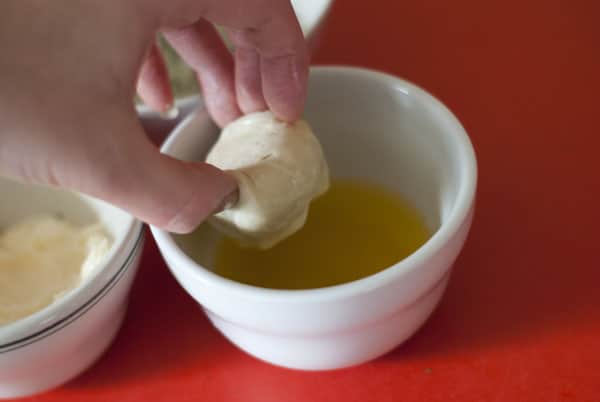 and finally the cheese and herbs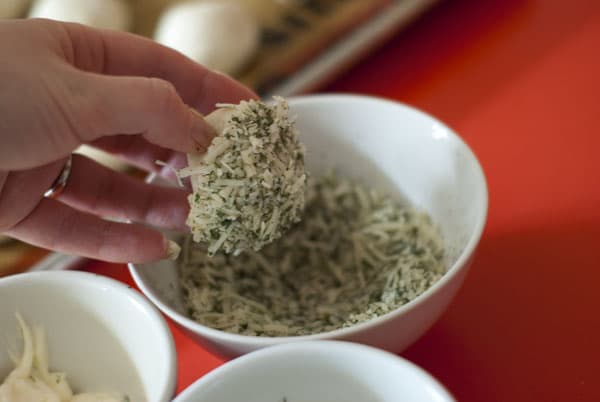 Place on a baking tray, cover loosely with plastic wrap and let rise per the package instructions (usually 3-5 hours)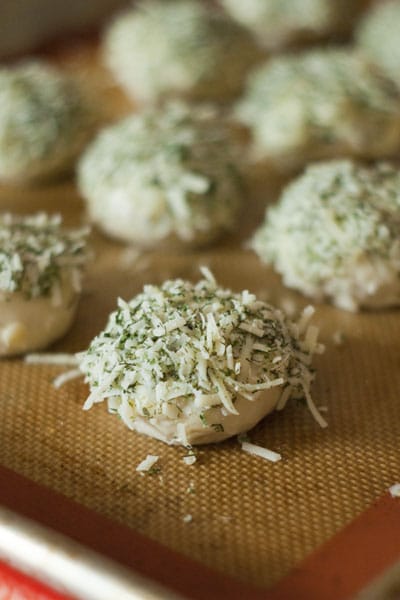 Once they are doubled in size the cheese will have spread out and created all sorts of cracks and texture.
Bake until golden brown and serve these cheesy little bites of heaven hot!
Ingredients
16 frozen pre-made rolls (like Rhodes Rolls)
1/4 C mayonnaise
1/4 butter, melted
1 tsp garlic powder
1 tsp dried dill weed
1 tsp dried parsley
1/2 C shredded parmesan cheese
Directions
Place mayonnaise in a small bowl. In a separate bowl combine butter with garlic powder. In another bowl combine cheese with herbs.
Dip the top half of each frozen dough ball into the mayonnaise followed by the butter and then cheese.
Place frozen rolls on baking sheet and cover loosely with plastic wrap. Let rise per the package instructions, until doubled in size ( about 3-5 hours)
Bake at 350° for 15-20 minutes until golden brown.

Made this recipe?
I'd love to see how you rocked it! Share your photo on Instagram with the hashtag
#heatherlikesfood  --
It will totally make my day to see it!