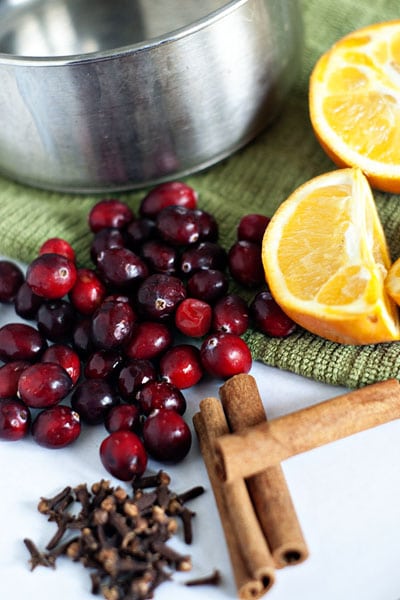 I've already confessed my fear of having a stinky house so it should come as no surprise that I'm all about things that make my house smell heavenly. And though this is not technically edible I thought it appropriate to post in my recipe blitz because in a little over a week we're going to have guests in our homes and they better smell good, gosh darnit! (our homes, not guests… though I hope your guests smell good for your sake)
I love the smell of the holidays; Cinnamon, nutmeg, cloves, pine, and citrus bring so much warmth into the home and just scream that Christmas in near. The best part about this is that it comes together in minutes and costs very little compared to the alternative candles or scent cubes (which I equally love, BTW, but can't always fork out the dough). It's also great because 1 batch of this will fill your home with scent for up to 2 weeks. The mixture will brown and start to look murky after a few days, but it will still do it's job.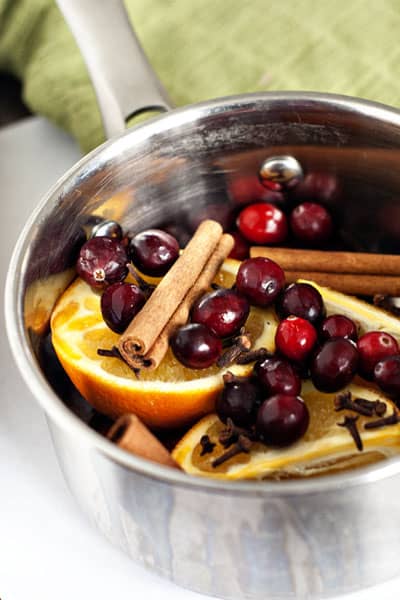 All that is needed is a ¼ C of fresh cranberries, an orange, a few cinnamon sticks, and a tablespoon of cloves. Pop it in a pot, cover with water and place on the stove-top on the lowest setting. Once it comes to a simmer you'll have sweet and spicy aromatics dancing around your house, tantalizing your senses and welcoming the holiday season with a bang.
I hope you love this as much as I do this year!