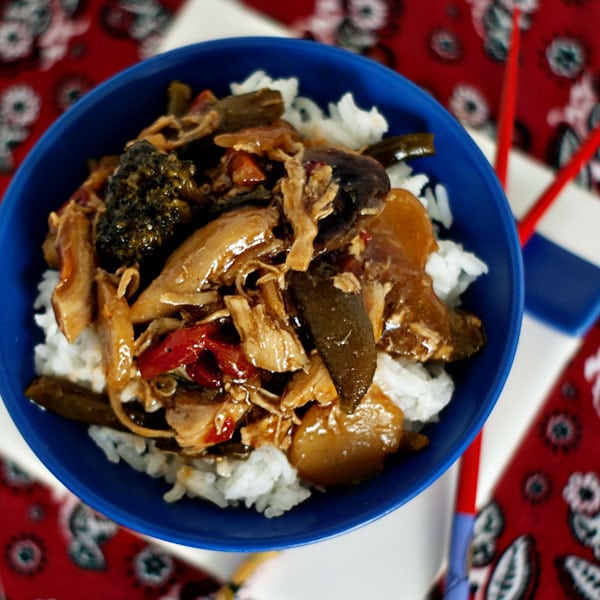 I've taught a few classes on slow-cooker cooking and I always make sure that my attendees go away with one bit of advice: sear the meat and sauté your veggies before putting it in the pot to cook for hours. I love the crock-pot but my one pet-peeve is that food can often be lack-luster. Call me a food snob, but I still want what I eat to taste good even if it only took me 5 minutes to throw together— calories are only worth it if they're delicious, right?
Now, you might think that taking the time to sear your meat and veggies takes away from the "convenience" of slow-cooking since you'll be dirtying more dishes and spending a few extra minutes cooking, but that's how you get good flavor! When you sear your meat you are essentially trapping all of the juice that's held within it and caramelizing the sugars on the outside to create depth of flavor. Caramel color on any food achieved by heat = flavor. Think seared scallops or crème brulee.
So here you are, totally torn to pieces because you want to be a slow-cooking aficionado, but don't want to take the time to sear, sauté, prepare, and clean-up. Well, I've got some good news for you! Have you heard about the new Ninja Cooking System? It was just released on the market last month and it is, in essence, a crock-pot on crack. Back in August I attended the International Food Bloggers Conference and the awesome folks at Euro-Pro decided to give each attendee a system to try out. As UPS was knocking on my door earlier this week I opened the door, ripped it out their hands and couldn't get to the kitchen fast enough to try it out. In the past 3 days that I've had it, I've used it twice and have loved it! Let's talk about some of the things that it can do because you might just end up with one! Yep, I have one to give away to one of my lovely readers too!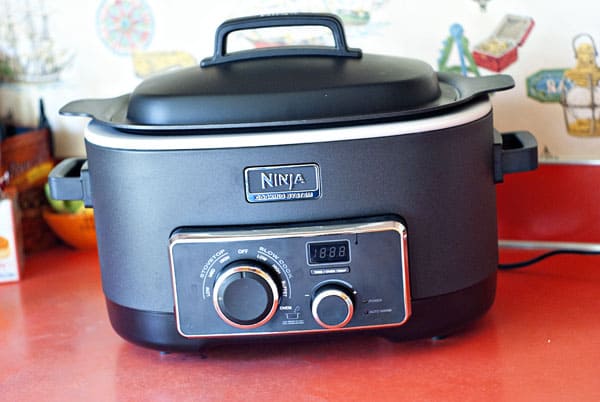 It's called a Ninja "Cooking System" for a reason; it's basically a whole kitchen in one little unit. Its functions include oven, stovetop, and slow-cooking settings. With these settings you are able to use it like an oven for roasting and baking, like a slow-cooker with high, low, and warm options, and like a stovetop for simmering and SEARING! So, if you're picking up what I'm laying down, you can sear and sauté your meat and veggies on the stovetop setting and then switch it over to the slow-cooker setting to cook like you would in a crock-pot. In addition to these settings you also have the ability to steam roast/bake, and the pot insert is professional grade non-stick so your days of over-night crock-pot soaking are over!
Let's take a look at this Honey Chili Chicken and how it works in the Ninja. This recipe will also work just as well with a few modifications in a crock-pot and I'll include those directions in the recipe card below.
You'll start by seasoning some chicken breast with salt and pepper and searing them in a bit of canola oil on the HIGH stovetop setting until they are lightly browned but not cooked through.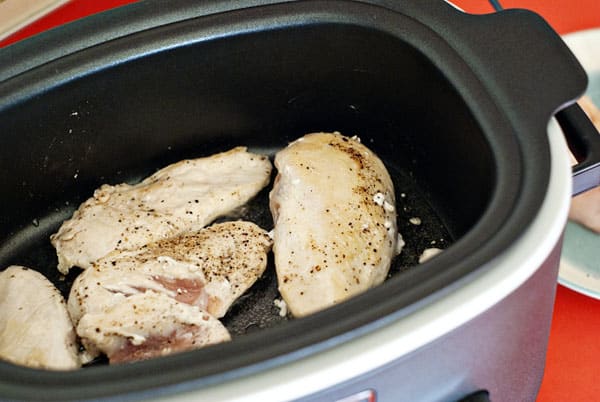 Combine some honey, soy sauce, sweet chili sauce, ketchup, garlic powder, and lime juice and pour over chicken. Set Ninja to LOW to cook for 3-4 hours, or HIGH for 1 ½ -2 hours.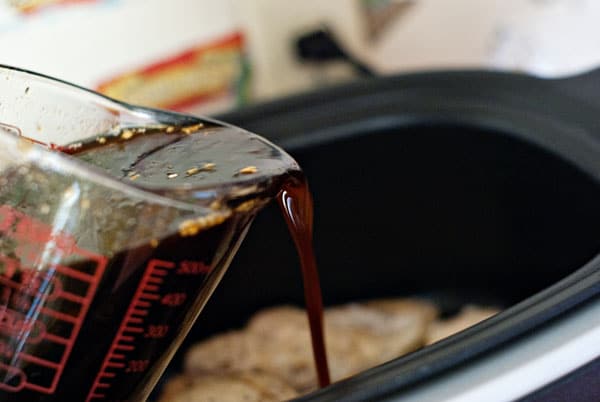 Remove chicken from sauce and place on a plate to shred.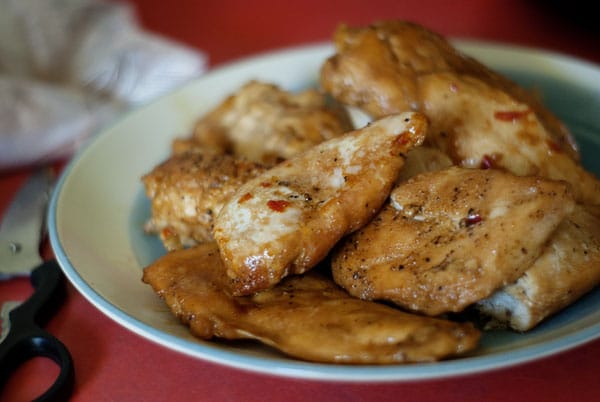 Switch Ninja back to the HIGH stove-top setting and bring sauce to a simmer. Add in about 8 cups of frozen stir-fry vegetables and let simmer in the sauce until they are cooked through, about 10 minutes. Stir a little cornstarch into some water and mix into the simmering sauce and vegetables. Bring to a boil and turn off the heat.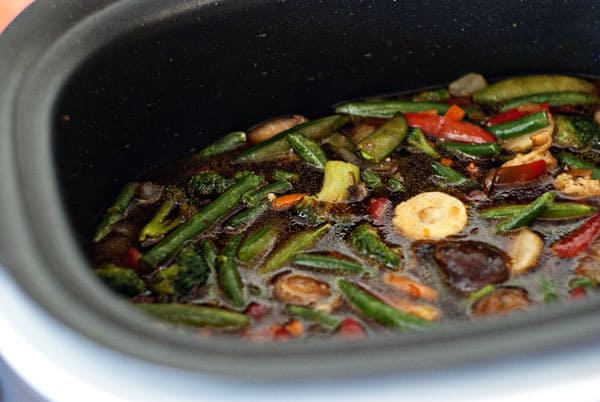 Stir the shredded chicken into the sauce and vegetables and serve over steamed rice.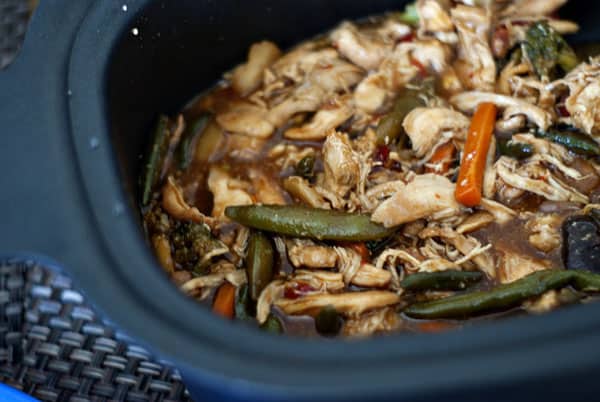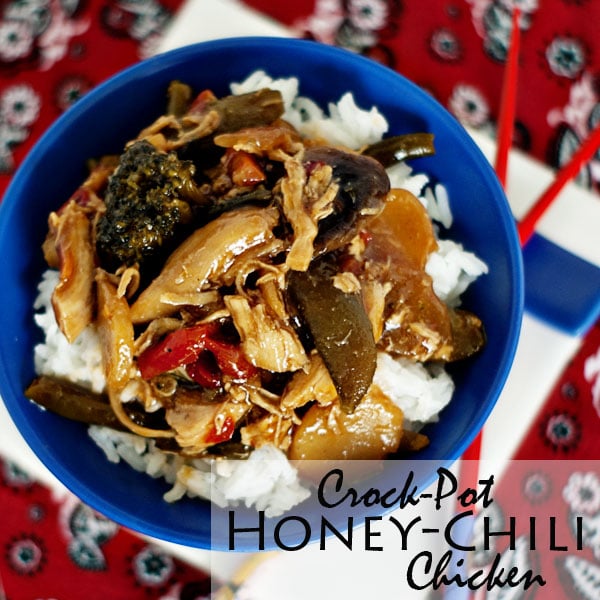 I love that I can sear, slow-cook, and simmer all in one pot! The other day I also used mine to heat up a gallon-sized Ziploc bag of frozen solid soup. 45 minutes on the 350 degree oven setting gave hot, simmering soup without me having to worry about scalding the bottom of the pan or stirring—it was amazing! I really wish I had a bazillion to give-away to all of you, but alas, many will enter; only one will win. Sniff, sniff.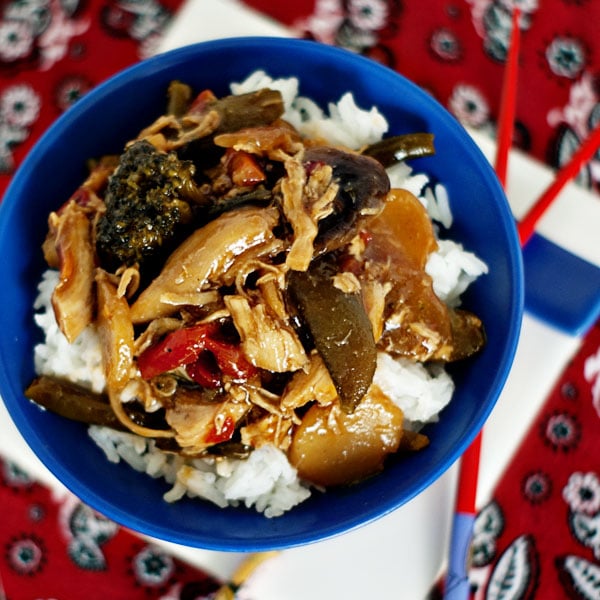 Honey Chili Chicken and Vegetables
Make in the slow cooker and have a hearty, sweet and savory chicken dinner ready with very little effort made on your part.
Print
Pin
Rate
Ingredients
2.5

lbs

boneless

skinless chicken breasts

1

tsp

kosher salt

1/4

tsp

black pepper

2

tbsp

canola oil

1

C

honey

1/4

C

soy sauce

1/3

C

sweet chili sauce

1/4

C

ketchup

2

tsp

garlic powder

1

tbsp

lime juice

8

C

frozen stir-fry vegetables

2

tbsp

corn starch

1/4

C

cold water
Instructions
Season chicken with salt and pepper and brown in canola oil until lightly browned, but not cooked through. Place chicken in slow-cooker.

Combine honey, soy sauce, sweet chili sauce, ketchup, garlic powder, and lime juice and pour over chicken.

Cook on LOW for 3-4 hours or HIGH for 1 1/2-2 hours. Remove chicken from sauce, place on plate, and shred.

Add frozen vegetables to slow-cooker, cover and let cook on HIGH for about 20 minutes or until they are cooked through. Combine cornstarch and water and stir into sauce and vegetables. Return lid and cook for an additional 10 minutes or until sauce is thickened.

Return chicken to the sauce and vegetables and serve over steamed rice.
Serving:
1
serving
|
Calories:
724
kcal
|
Carbohydrates:
102
g
|
Protein:
54
g
|
Fat:
14
g
|
Saturated Fat:
3
g
|
Cholesterol:
119
mg
|
Sodium:
1403
mg
|
Potassium:
1469
mg
|
Fiber:
12
g
|
Sugar:
55
g
|
Vitamin A:
16070
IU
|
Vitamin C:
34.2
mg
|
Calcium:
94
mg
|
Iron:
4.6
mg
Are We Friends On Pinterest?
Follow Me For More Great Recipes @hlikesfood