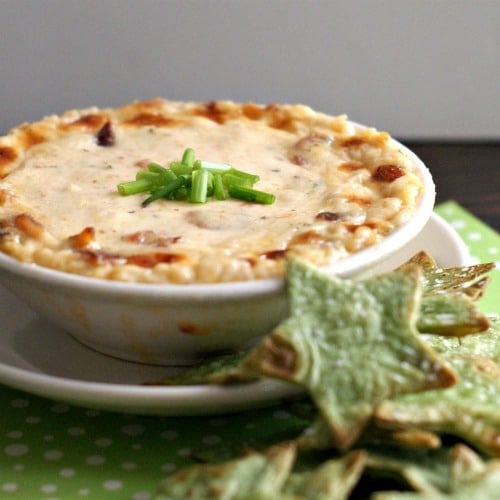 Right now I'm listening to my 18 month old throw handful after handful of her lunch off of her highchair tray. As soon as I go in there she'll  probably point at the thousands of goldfish crackers and half-eaten banana she's strewn about the kitchen and smile at me proudly. Little stinker. At least I just steam mopped the floor and can leave them there until  she wants a snack.
I kid, I kid!
Kind of.
While I'm waiting to go in to see what she's created, I'll share this fun way to make healthy baked chips. My original plan was to make shamrock shaped chips since St. Patrick's Day is right around the corner. I have one of those big boxes of cookie cutters that has shapes for nearly every holiday and was confident it had a shamrock. WRONG. So I went with stars.
Shamrocks= Leprechauns= Pots of gold= Rainbows= Pixie dust= Stars.  See, it works.
To start, get your favorite flour tortillas, corn tortillas, pitas, wraps, flatbread etc. I used spinach and herb flavored wraps because I wanted the green color. I wish I would have though about this sooner and made hearts from tomato wraps for Valentines day! Next year.
Figure out what shape you want to cut them into and never assume that you have the shape you want. Oh, crazy cookie cutter people. No shamrock? Really?!
Place your cut-out pieces on a baking sheet lined with parchment paper or foil.
Use a non-stick cooking spray to coat your shapes in a thin layer of oil and sprinkle with kosher salt.
Bake in the oven for 10-15 minutes at 400°. The edges will be lightly browned, but they will not seem crisp all the way through. Once cool, they crisp up and are ready to be dipped in something amazing.
Want that something amazing to dip them in? Hot and Cheesy Bacon Dip, my friend. You're welcome.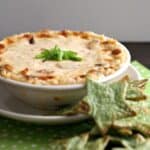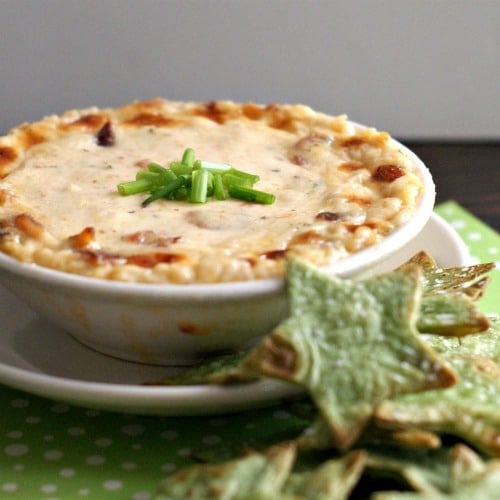 Hot and Cheesy Bacon Dip
Ingredients
1

C

Mayonnaise

1

C

Sour Cream

2

C

Grated Monterrey Jack Cheese

1/2

C

shredded Parmesan cheese

6

slices

bacon

cooked and crumbled

1/2

tsp

onion powder

1/4

tsp

garlic powder

1

tsp

dried tarragon

rubbed between your palms to release some of the oils of the herb

a few dashes Chipotle Chili Powder

more if you like it spicy!
Instructions
Preheat Oven to 400°

Combine all ingredients in a medium-sized mixing bowl and transfer to an 8×8″ baking dish. Bake for 15-20 minutes or until bubbly and cheese is melted. Serve with chips, veggies, or bread. Delish!