Use up those old cocoa packets and make these Hot Chocolate Cookies to keep you warm this winter!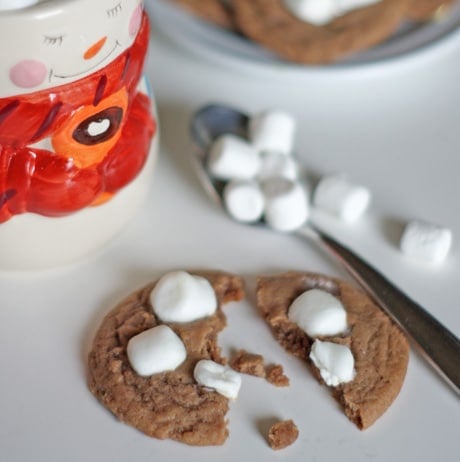 It's been snowing like crazy here the past few days. When I say crazy I mean it has snowed maybe four inches total and melts off during the day, BUT it's big news here in this rainy little NW town. I'm glad today is a holiday and all- go MLK jr.!- but for the sake of my kindergartener I wish the snow would have held off until a real school day so it could have been cancelled. Here's a hoping for tomorrow…
I love these hot chocolate cookies. I could eat them all day and I really wish I would have made a game plan on how to dispose of them before I made them yesterday. One too many have found their way into my face and I can feel the glares from the Weight Watcher's gods as they look down on me in disapproval. They are chewy, stay soft and are perfect for dunking into a mug of cocoa on a cold day. I made these with hot chocolate mix instead of using cocoa that's used in most chocolate cookie recipes. Doing this gives them a mild chocolate flavor that isn't overpowering and they really do taste a lot like hot chocolate. Plus Ems thought that it was the COOLEST thing ever to help me pour packets of cocoa mix into the mixing bowl. It's the little things.
I think next time I make them I'll add 1/2 tsp of cinnamon and make them Mexican Hot Chocolate Cookies!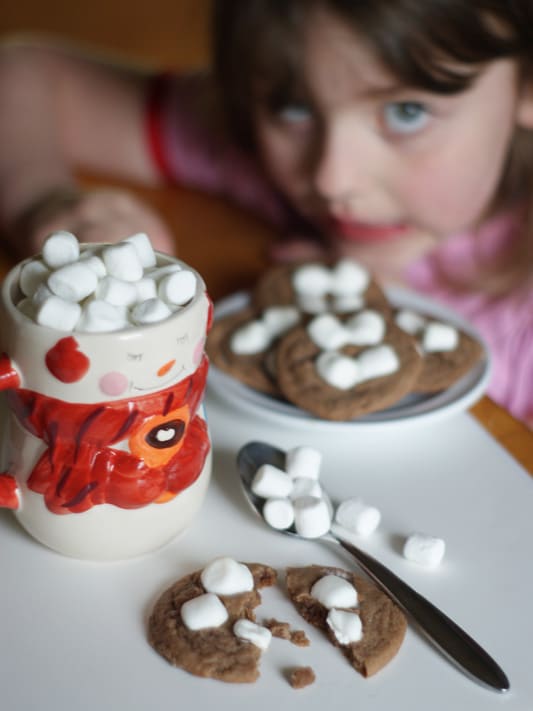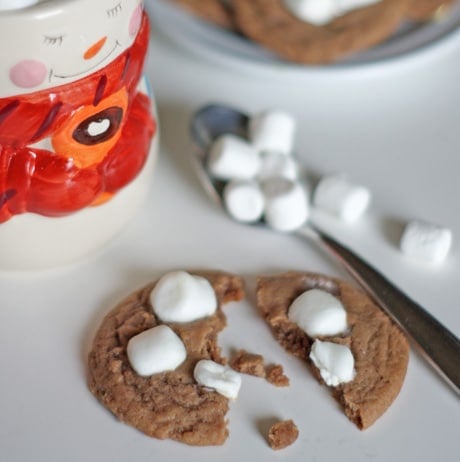 Hot Chocolate Cookies
Use up those old cocoa packets and make these Hot Chocolate Cookies to keep you warm this winter!
Servings
4
dozen, 3 in. cookies
Ingredients
2 1/2

sticks room temperature butter

1

C

white sugar

2/3

C

brown sugar

2

eggs

room temperature

2

tsp

vanilla extract

4

C

all-purpose flour

4

packages Hot Chocolate mix

not sugar-free!

1

tsp

kosher salt

1 1/4

tsp

tsp baking soda

1

tsp

baking powder

1

C

mini-marshmallows + more for the tops
Instructions
Preheat oven to 350° oven.

Cream together the butter and both sugars until light and fluffy. Add in the vanilla and eggs, room temperature- remember? (Why room temp? Adding cold eggs to warm-ish butter causes the butter to seize and will change the texture of the cookie because the butter isn't able to cream properly. whew.) Blend well. In a separate bowl, mix together the dry ingredients, including the cocoa mix.

Add the dry ingredients a little at a time to the wet ingredients until it's all combined. Pour in the marshmallows and let mix for a minute or two so the marshmallows have a chance to get broken up a little bit. Big pieces of marshmallow tend to melt and make the cookies misshapen.

Scoop into 2-3 Tbsp balls and place on parchment paper-lined cookie sheets. Bake for about 8 minutes or until the tops of the cookies look set and no longer shiny. Remove from the oven and immediately place 4-5 marshmallows on top, pressing lightly into the cookie. Return the pan into the oven and let bake for 2 minutes more. The marshmallows should look puffed and just barely melted. Remove from oven and let cool for 5-10 minutes before transferring. Enjoy!