Last month we visited a waterpark as a family for the first time and learned a few things along the way on how to make our trip to the waterpark with young kids successful.   It turns out Mikey from The Goonies has had it right all these years!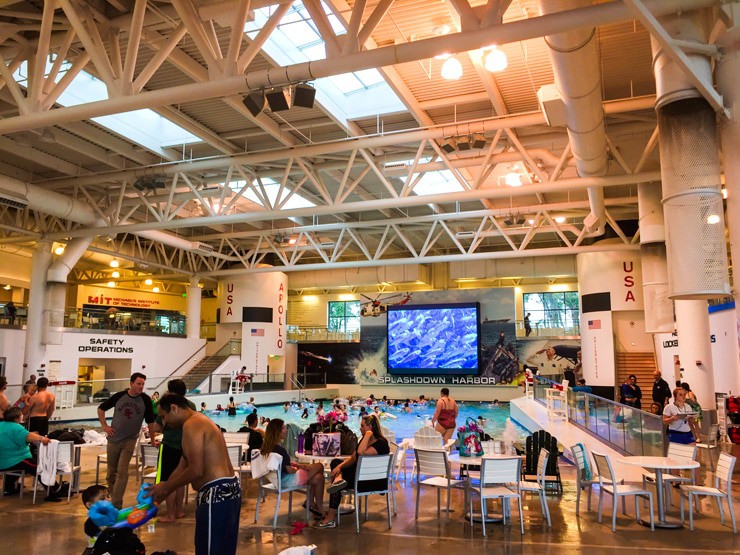 Thinking about visiting a waterpark with young kids soon? Here's what we learned on our first trip as a family…
GET THERE EARLY. LEAVE EARLY.
Our kids are 9, 5, and 2 so we knew we would be busy with them THE. WHOLE. TIME. and we were right… almost. More on that in a bit. We visited Wings and Waves Water Park in McMinnville Oregon. It's an indoor waterpark that is connected to Evergreen Aviation Museum and as such, has an educational aviation and space theme. We started out early at the museum before heading to the water and that was a good decision. Doing this ate up a little bit of time (not too much because they were so focused on swimming), and gave a nice little segue into the rest of our busy day.
Getting there early also meant that we would have plenty of time to play and head home before the inevitable exhaustion and accompanying attitudes arrived.
PUDDLE JUMPERS!
We brought our Puddle Jumpers  for the two youngest to wear and I'm so glad we did! They are Coastguard approved so they are allowed in the park and are so much better than the life jackets they provide. They are more comfortable and allow the kids a larger range of motion that helps them to learn how to swim. But if you don't a puddle jumper, life jackets are sanity savers and most water parks provide them. I have some serious anxiety issues about my kids being in the water and knowing they could play and feel confident in the water is worth it!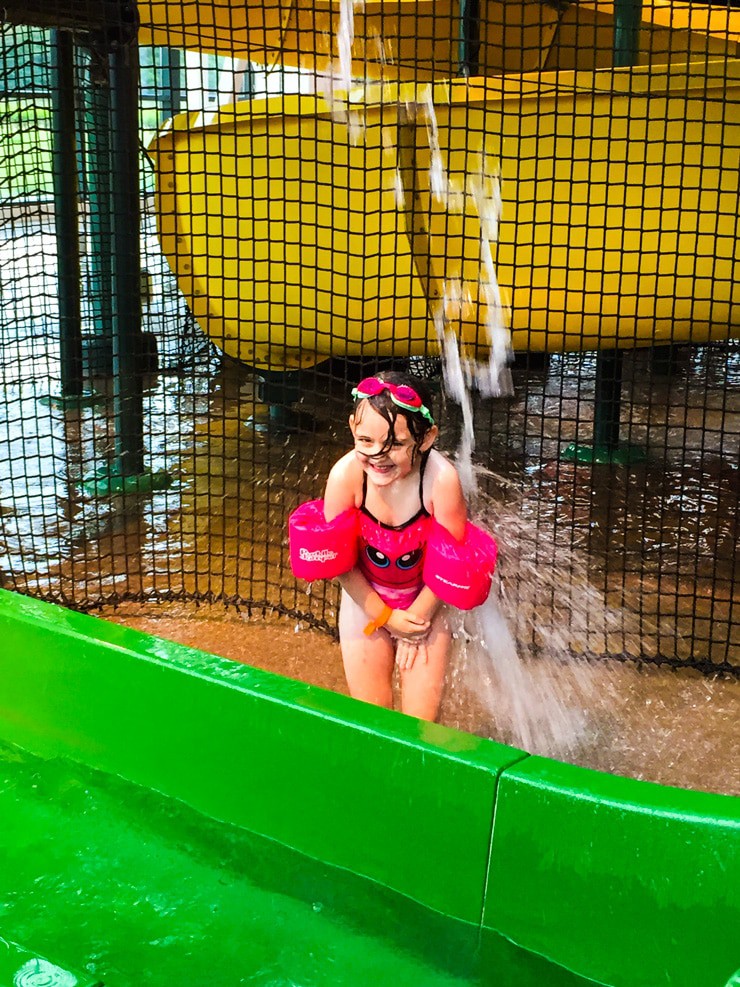 PACK LIGHT
A towel, flip flops, goggles, and a change of clothes are all you need or even WANT to bring in with you. Have you ever tried to get 3 kids changed in a waterpark family locker room? There's not a lot of counter space and everything is WET! Go figure. The less you bring, the less will get dropped on the wet, icky floor. Once you're ready to swim, you can purchase a locker to keep your belongings in but they are small so we decided to just keep our stuff on a table. Our stuff was never bothered and it was nice to be able to walk over and have our things right there. I brought my phone in to take pictures and just hid it in one of our tote bags. It's a risk, but not likely to be stolen. As far as food goes, we opted not to eat at the snack bar and ate just before arriving and again on the way home. This way we were able to leave our wallets in the car, play until we were famished, and leave!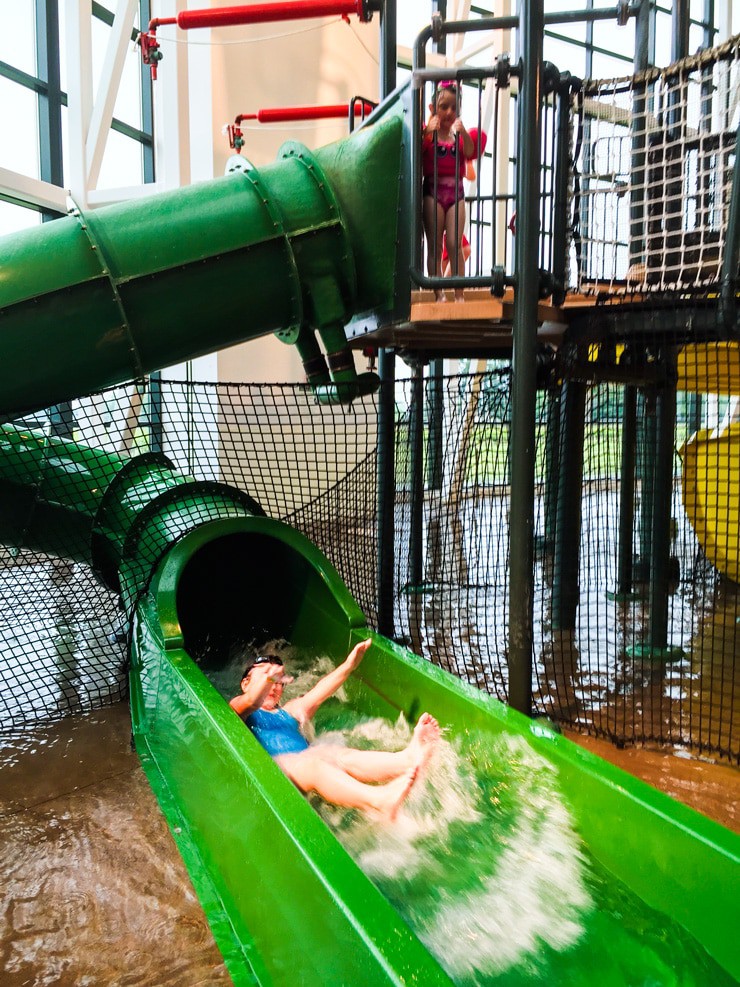 GET TO KNOW THE PARK
With little kids wanting to run this way and that as soon as you get there, it's important to do your research BEFORE you get there. We didn't do this and wish we had. We spent a while trying to figure out how the lines worked for the slides, which ones we needed tubes for, which kids could ride what, and how we would switch off with them. It all worked out just fine, but had we done just a little bit of planning things might have gone a little smoother.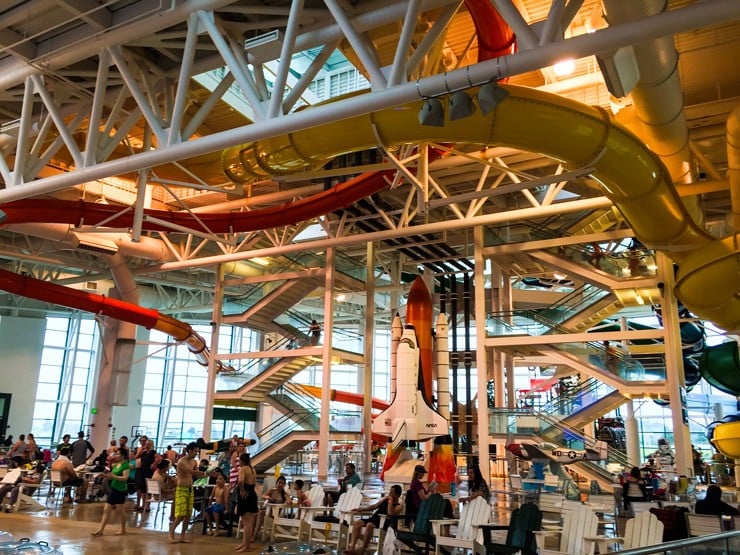 IT'S THEIR TIME
My husband and I have an ongoing joke referencing Mikey's speech from The Goonies every time we go on a date or have some time away with one another.
"Because it's their time. Their time! Up there! Down here, it's our time. It's our time down here."
So as much as you like playing at the waterpark, if you're there with the kids, it's their time. We learned this lesson when we went to Disneyland as a family a few years ago and it's stuck pretty well. You are there for them, not you. If you go into it with this mindset, I find it's much easier to chase around the 2 year old or go down the same 8ft slide 2 million times with the 5 year old.
HAVE A WINGMAN, TAKE A BREAK
I don't do big things like go to waterparks by myself with the kids. Maybe I'm a weakling Mom, but I need some back up for places like this. Bring your spouse, a friend, an older teenager, or just someone else that can keep an eye on them while you take one to the bathroom, or go on the fast slides with the older kids. My husband and I traded off the whole time we were there and it was so nice to split the time between the kids and different activities. At one point we could tell our littlest was fading so my husband set me afloat in the wave pool while holding him on an intertube and he quickly fell asleep. He slept for over and HOUR and it was so fun to just snuggle him while bobbing away and relaxing in the wave pool. If it wasn't for having my wingman there, I wouldn't have had that chance to relax and focus on just the baby.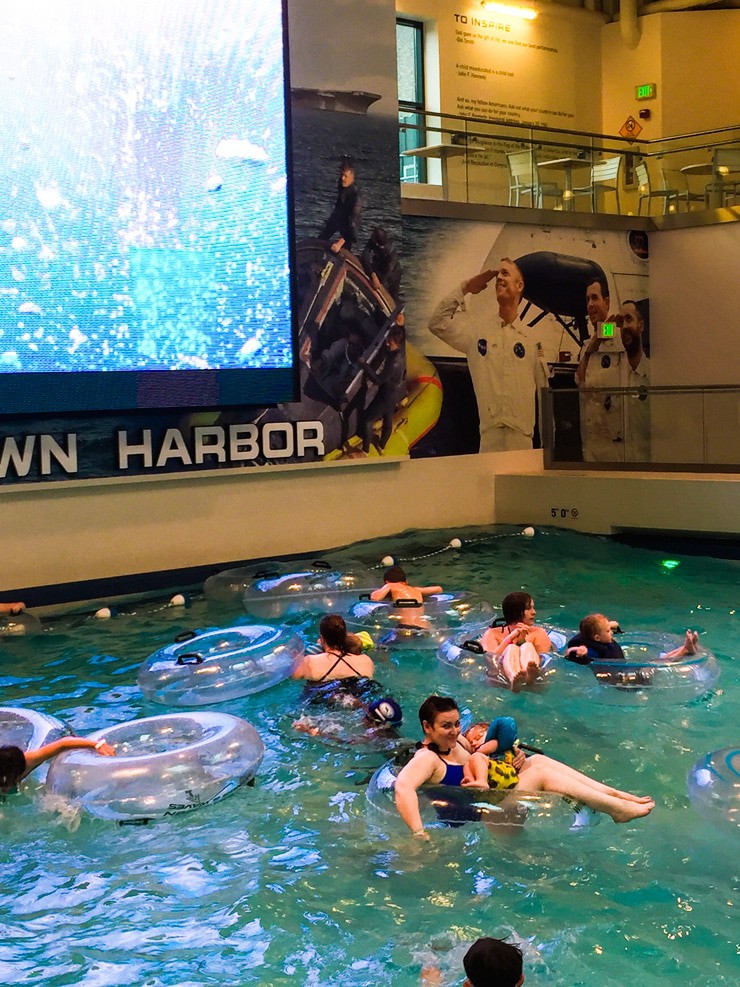 PREPARE FOR THE MELTDOWNS
If you're a parent, you know what I'm talking about. At the end of a fun and busy day meltdowns happen and if you just accept that they will happen, life will be easier! I feel like much of parenting is this way and it's just matter of expectations vs. reality. It's all about shifting our thinking in the right direction.
HAVE FUN!
Let your hair down (or put it up in a bun). Run around in your swimsuit no matter how comfortable you are in it. If you've got your wingman, go down the big slides by yourself. Stand under the waterfalls and giggle with your kids. Let them splash you and pull you in and out of the water 4 billion times. They're only little for so long, enjoy it.
A big thanks to Evergreen Wings and Waves Waterpark for having us! We had so much fun!