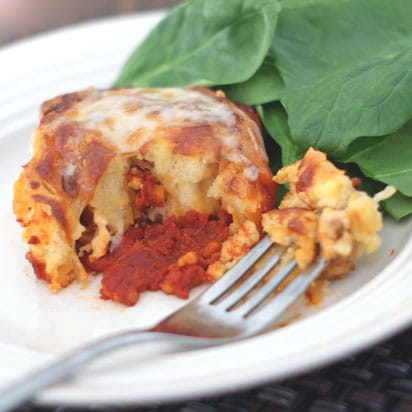 It doesn't take much to please me– just bread and pasta. It's not too much to ask for, really. A bowl of pasta and a hunk of garlic bread the size of my head is about enough to get me to do anything short of a route canal. So clearly,  in my mind,  I knew that combining the flavors of something like lasagna with a bread dough/ pastry would be phenomenal and I was right.
This recipe takes just a few ingredients most of which are prepared ( I'm channeling my inner Sandra Lee here) and comes together super quickly. I may have a cooking degree, but like any family,  we eat our fair share of grilled cheese sandwiches and jarred pasta sauce. Sorry if I'm ruining the illusion for you.
When assembling this just think about how you would make cinnamon rolls. I'll explain more in the recipe, but that might help you better envision what I'm instructing. For the meat I used smoked chicken sausage because I had it on hand, but ground pork Italian sausage or beef would work well too.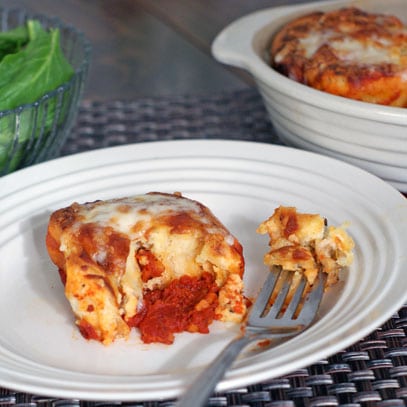 Ingredients
2 cans Pillsbury Crescent Rolls
1 Jar prepared tomato pasta sauce
1 C Ricotta Cheese
1 egg
1/4 tsp kosher salt
1/4 tsp ground black pepper
2 C mozzarella cheese, grated
12 oz Italian-ish meat, cooked (Italian sausage, smoked chicken sausage, ground beef, etc)
Directions
Preheat oven to 375°
In a 9×13" baking dish pour entire jar of pasta sauce and spread into an even layer.
On a flat surface un-roll each can of crescent roll dough into a rectangle. Using your fingers, pinch seams closed, flip over and repeat. Use a rolling pin if needed to flatten out the dough a little bit. You want each rectangle of your dough to be one smooth piece so it doesn't break when rolling.
In a small bowl mix the ricotta cheese with the egg , salt and pepper. Divide this mixture into 2 even portions and spread each portion on the rectangles of dough. Repeat with the meat and top each rectangle with ½ C of mozzarella.
Starting with the longest side of the dough, start to roll one rectangle just like a cinnamon roll. Repeat with the second. Once rolled, use a sharp knife and cut each roll into about 8 rounds , placing them in the baking dish on top of the pasta sauce. Sprinkle the remaining 1 C of mozzarella cheese on top of the unbaked rolls and place in the oven for 25-30 minutes. The rolls will be well browned and the cheese bubbly.
WW pts+: 6.5 pts/roll using smoked chicken sausage. Adjust according to the meat you're using.

Made this recipe?
I'd love to see how you rocked it! Share your photo on Instagram with the hashtag
#heatherlikesfood  --
It will totally make my day to see it!