This is a Sponsored post written by me on behalf of Butterball Every Day. All opinions are 100% mine.
Loaded Baked Potato Nachos – This baked potato nachos recipe comes straight to you today from the hubs and he's pretty excited that he's getting all the credit for these. A few weeks back, I went out and left him with 3 hungry kiddos to satiate. Like any good man, he poured over my cookbooks activated his "bachelor mode", sliced up some potatoes, fried up some bacon and made "nachos". Needless to say, I was pretty impressed when I came home to this cheesy, bacon-y, diet-killing, yummy-ness while he had a baby on his hip. #superdad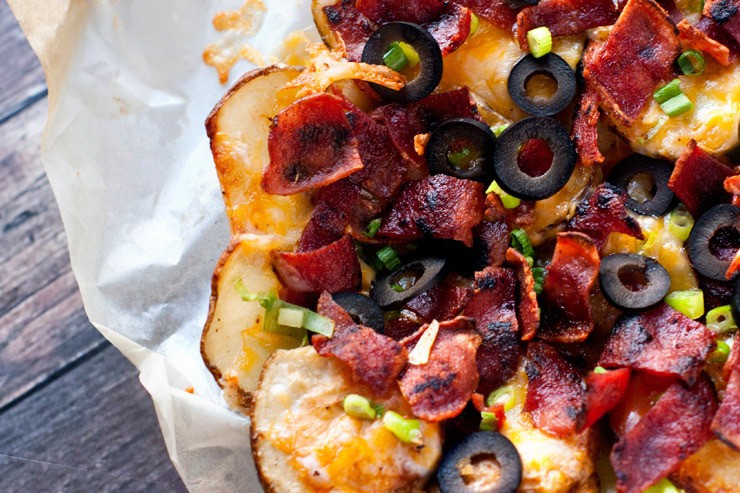 But, since I AM trying to shed some of this baby weight that's hanging on, I decided to re-make these using lean Butterball turkey bacon in place of pork. The result is something that makes for a quick and fun family night snack that tastes just as naughty as the original without all the guilt. It's kind of perfect.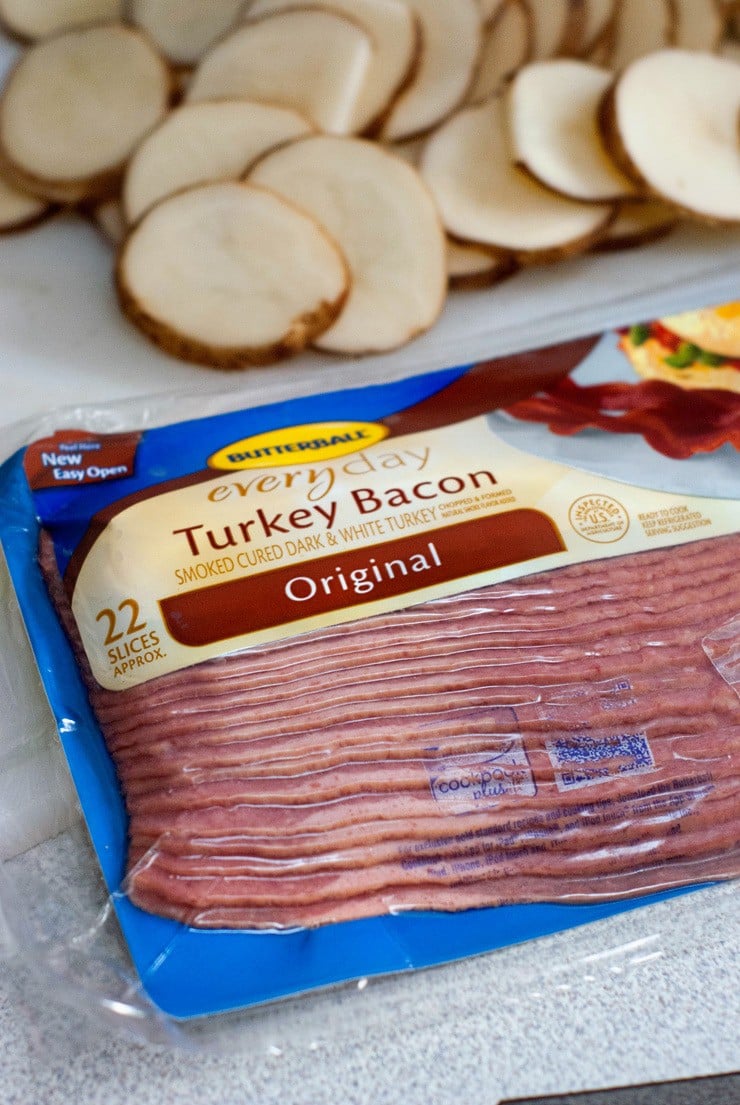 How to Make Loaded Baked Potato Nachos
Let's get started! Slice up some russet potatoes, drizzle with a bit of olive oil and season well with salt and pepper. Spread the potatoes out on a lined baking sheet doing your best to keep them in one layer. Depending on the size of the potatoes you use it will be hard to keep them from doubling up, but just do your best and pop them in the oven.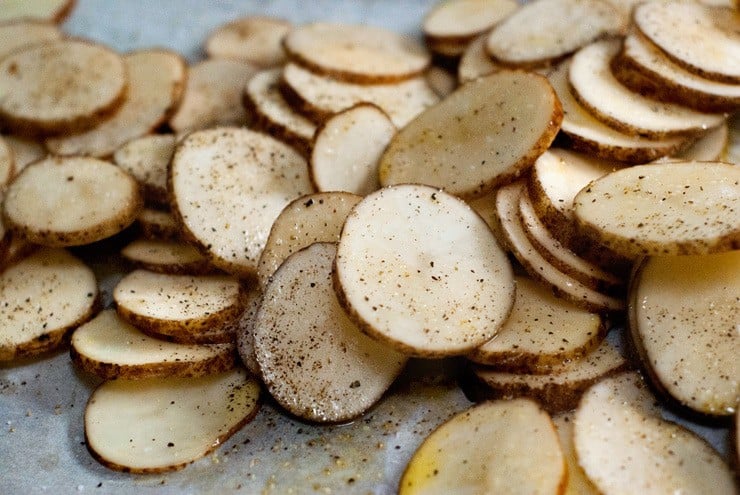 I'm always impressed at how well turkey bacon frys up without having to add fat to the pan. I'm a crispy bacon girl so I keep it cooking for a while over medium-high heat until it's nice and crisp.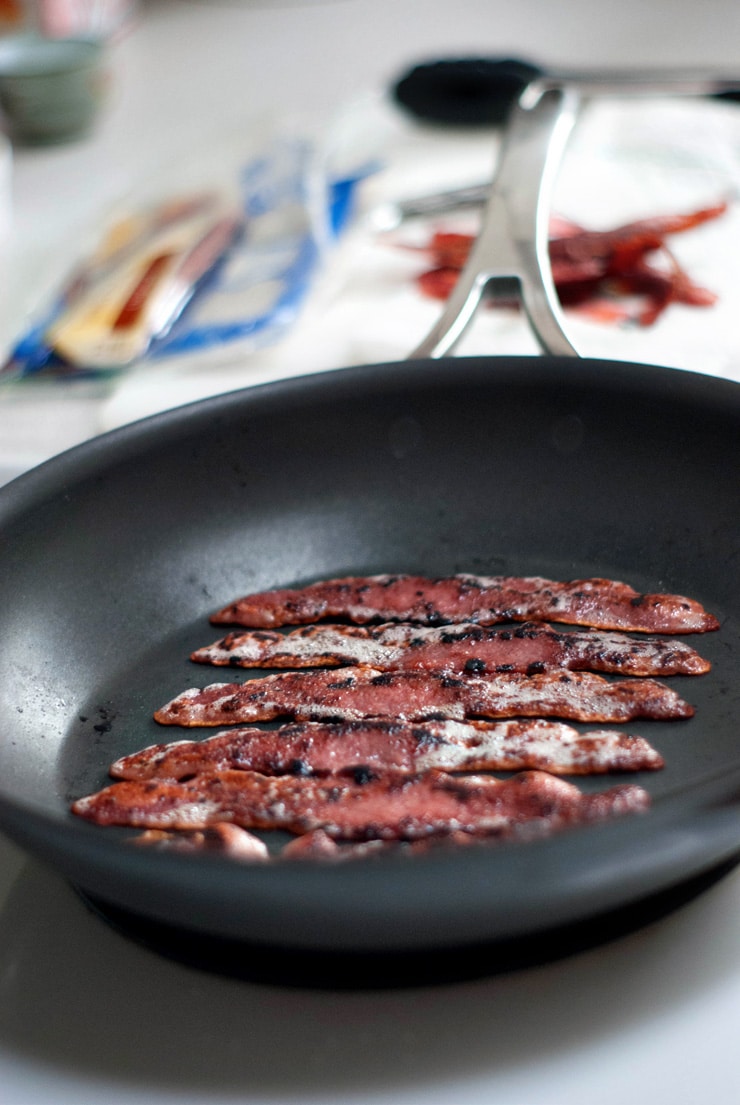 Check on the potatoes and give them a little rearranging to make sure that all of them can get a little browned. You can cook them for as long as needed to get them as crispy as wanted. I usually take them out once the edges and most of the tops are starting to turn golden.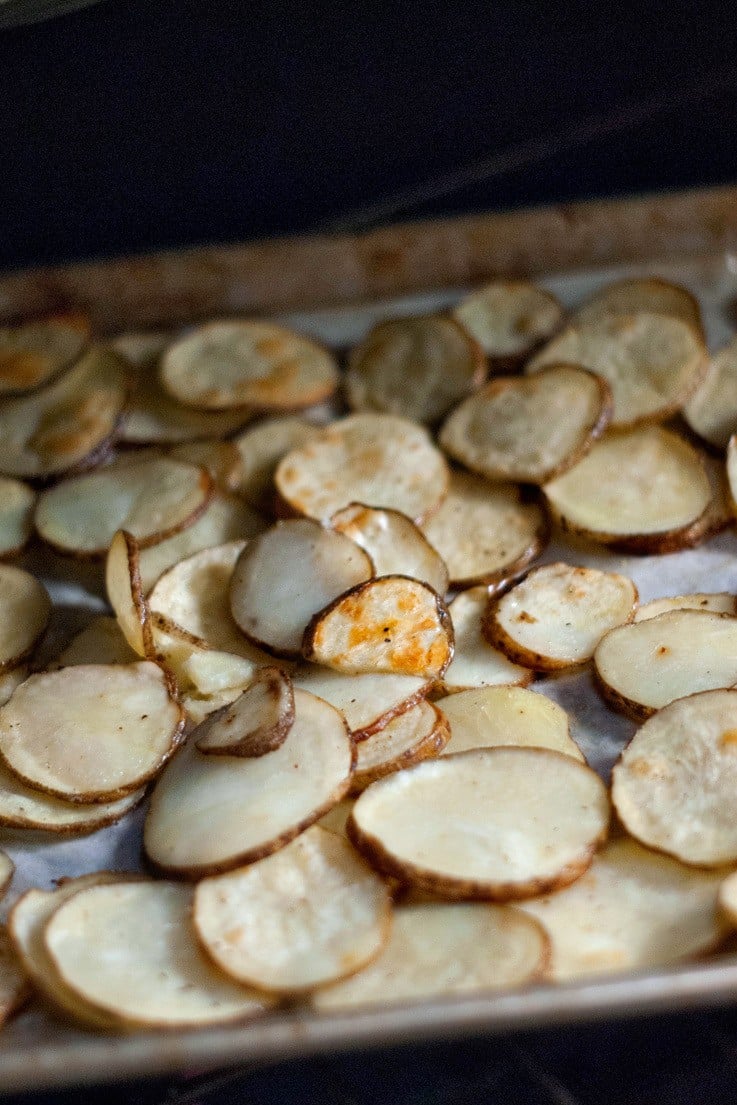 From here all that needs to be done is to top them with cheese, bacon, olives, green onions, and whatever other toppings you'd like. Give them one more go in the oven until the cheese is melted and serve. We like to dip ours in sour cream or ketchup. Baked potato nachos are a super fun finger food for game or movie watching!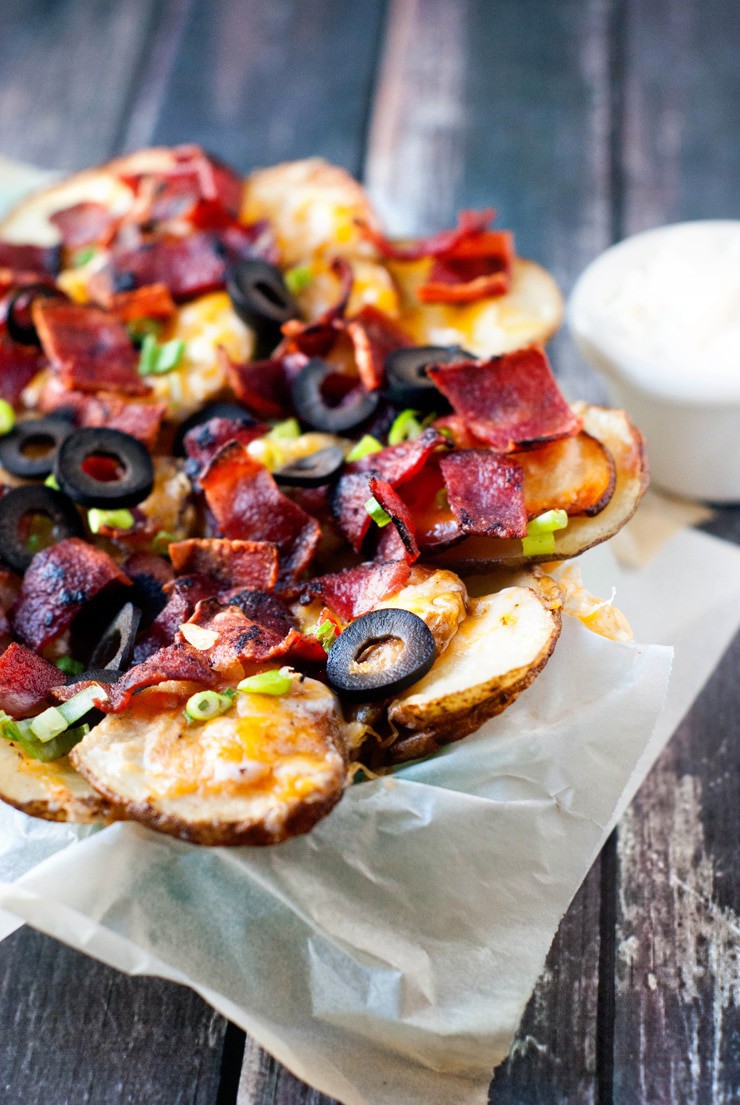 Turkey Bacon
Butterball has many more products besides just their Turkey Bacon that are low in fat and big on flavor. Their website has great Butterball recipes and Butterball coupons for things like turkey burgers, sandwich meat, and sausage. Check it out!
Interested in more delicious snacks: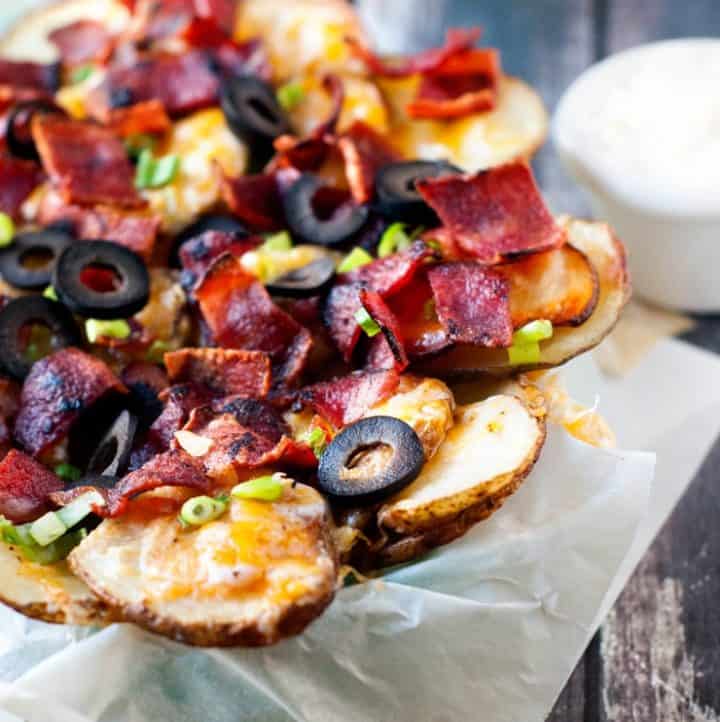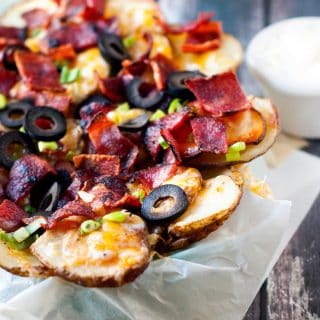 Ingredients
4

Russet potatoes

washed and sliced

2

tbsp

olive oil

salt and pepper

10

slices

turkey bacon

2

C

colby jack cheese

shredded

¼

black olives

sliced

2

scallions

thinly sliced

sour cream
Instructions
Preheat oven to 425 degrees.

Toss potatoes in olive oil and season well with salt and pepper. Arrange potatoes on a lined baking sheet, trying not to overlap too much.

Bake potatoes for 15-25 minutes or until tender and the edges are golden brown and crisp.

While potatoes are baking, brown turkey bacon in a large skillet over medium high heat until crisp. Cut bacon into pieces.

Top baked potatoes with cheese, bacon, scallions and olives. Return to oven and bake an additional 3-5 minutes or until the cheese is melted and bacon is heated through. Serve with sour cream.
Are We Friends On Pinterest?
Follow Me For More Great Recipes @hlikesfood