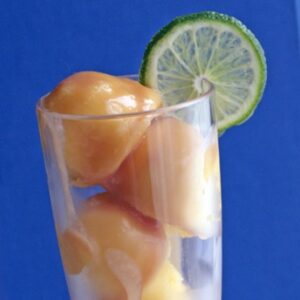 Is it summer yet?  At least Punxatawney Phil didn't see his shadow today, so here's a hopin'  it warms up soon.  I thought I'd send out some warm weather vibes with this post and hope that it works.
I whipped this mango sorbet up while we had a vegan friend over the other night. It comes together pretty quickly, especially if you use frozen mango chunks as opposed to fresh because you can completely skip letting the mixture chill in the fridge before putting it in the ice cream maker.  Some sort of an ice cream maker is needed to make this the consistency of sorbet, but if you don't have one you could easily turn the puree into popsicles, or add a bit of sparkling water and you have a tropical drink.
While the sorbet is  really good all by its self, the coconut-pineapple sauce makes it AMAZING.  It has the perfect amount of sweetness that balances out the tartness of the sorbet and gives it a creamy texture. I could seriously just eat the sauce with a spoon and be happy.
So there you have it, a tropical paradise in a bowl. But you don't have to wait for summer!  Join me in a false state of denial, wrap up in a blanket, a pretend you're on an island beach and enjoy a cool, sweet dessert.  No really, do it.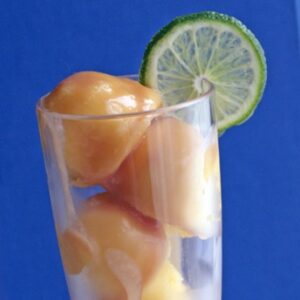 Ingredients
Sorbet

2.5-3

lbs

frozen or fresh mango

coarsely chopped (If you're using frozen, microwave the mango just long enough to make it easy to chop, but still be cold)

3/4

cup

sugar

1/2

cup

coconut milk

Juice of 2 limes

1/2

tsp

coconut extract

pinch of salt

Coconut-Pineapple Sauce

1

cup

coconut milk

1/2

cup

pineapple juice

1/2

cup

brown sugar
Instructions
Combine all ingredients in bowl of food processor or blender. Blend on high until well combined and no large pieces remain. Strain mixture through a wire sieve, chill for about an hour and then pour mixture into ice cream maker. Turn it on and freeze away, per your ice cream freezer directions.

Combine all ingredients in a small sauce pan over medium-high heat. Stir until the sugar has dissolved and let cook, stirring every once in a while, until it's thickened and about the consistency of caramel sauce- about 20 minutes. Let cool and serve over mango sorbet