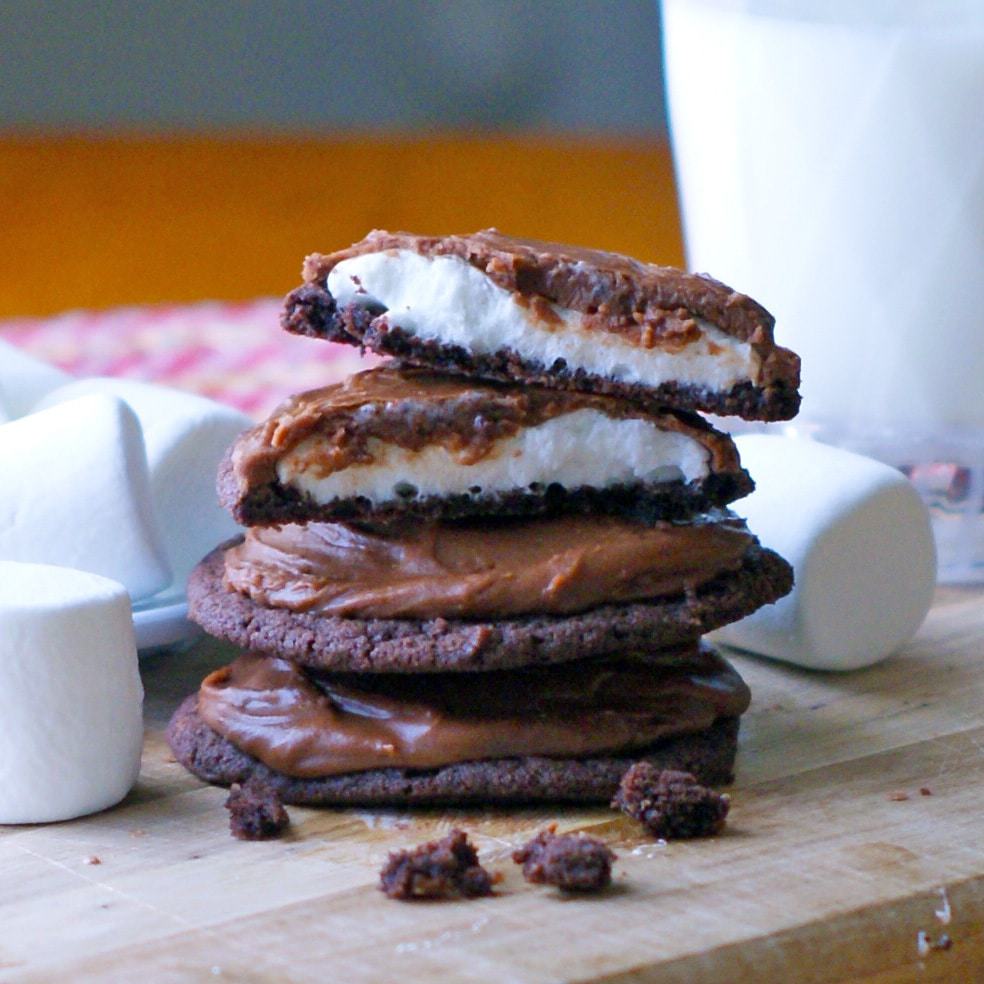 All is right in the world today. My kindergartner just graduated -which totally shows how good of a parent I am- and is enjoying her last few hours of school, my husband is done with finals and taking a nap, and my toddler is also taking a much needed nap. So here I am, curled up on the couch with my laptop and a blanket (what the heck, June?), eating a cookie and marveling in the stillness and silence of the house- It's AMAZING.
If my calculations are correct, I've got exactly 1.3 hours left to myself before the chaos of being a mom sets back in, but for now it's all about you, me, and these cookies.
Oh, these cookies!
Let me warn you, they're dangerous! I know you're thinking, "I thought she didn't like chocolate!?". Remember this little disclosure? Well, here's the deal- while these cookies are chocolaty and rich to the max, I, for some reason, can't get enough of them. Maybe the moon has flipped sideways or the chocolate gods have dusted me with chocolate-liking-dust and changed my tastes, but I'm not complaining. I'll take it, and I'll eat that whole pan of cookies, gosh darnit!
Ooh!
Uh!
YEAH!
Oh, Hi, you're still here?
Come, make some cookies with me…
You'll start by making your chocolate dough and scooping it into balls for baking. You'll bake the cookies until they are just barely starting to set and then take them out of the oven. Lightly Press a big marshmallow into the top of each cookies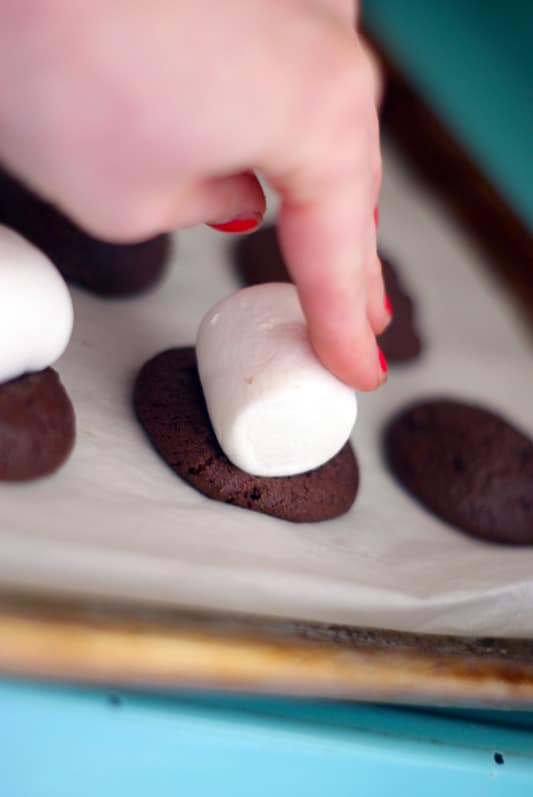 Oooh, these look good already!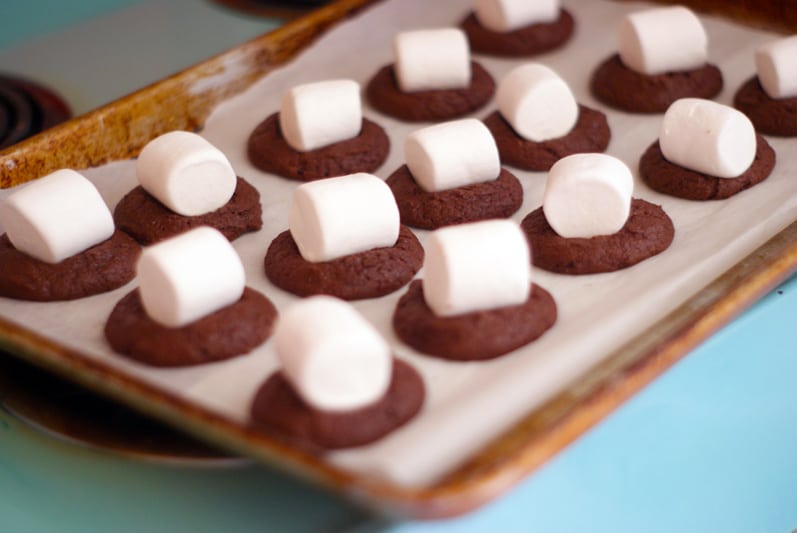 Next, you pop them back into the oven to finish cooking and to melt that big hunka', hunka' marshmallow just a bit.
This is what you're looking for- the tops of the marshmallows haven't browned but have softened and started to spread.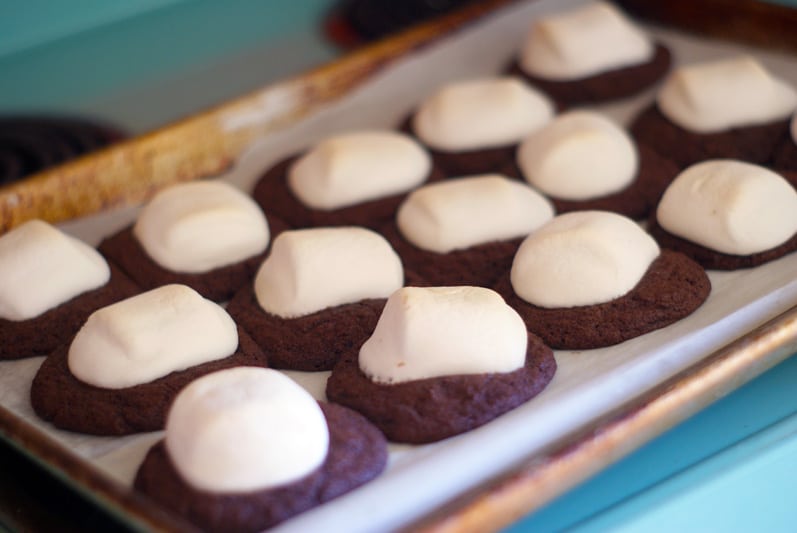 I found a bag of peppermint marshmallows in my deep, dark, pantry and thought I'd give them a shot too. Normally, I don't recommend consuming food found in the hidden recesses of a pantry, but they were still sealed and I at least remembered having bought them, so I went for it. Here's what they looked like before they were frosted. 'Aint they pretty?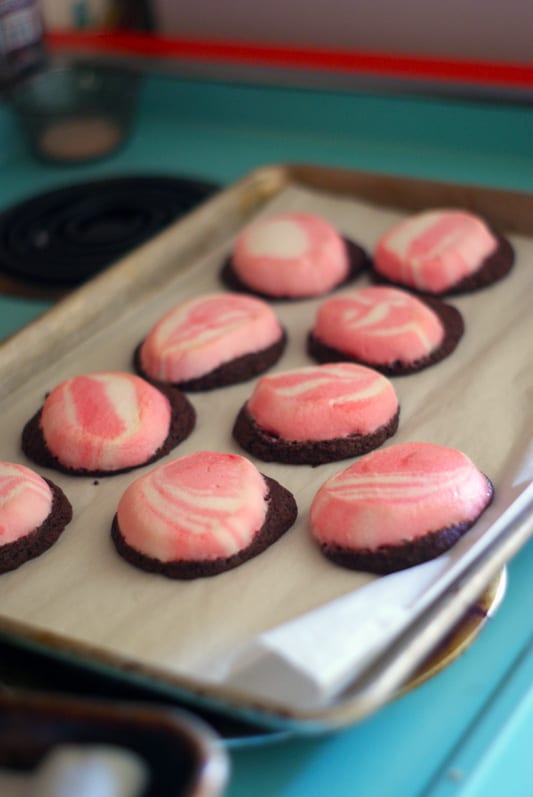 Just think about all the possibilities of flavors you could make with all the different kinds of marshmallows there are now!
Also, I'm easily excitable.
While the cookies are cooling off, combine the ingredients for the frosting and mix until smooth.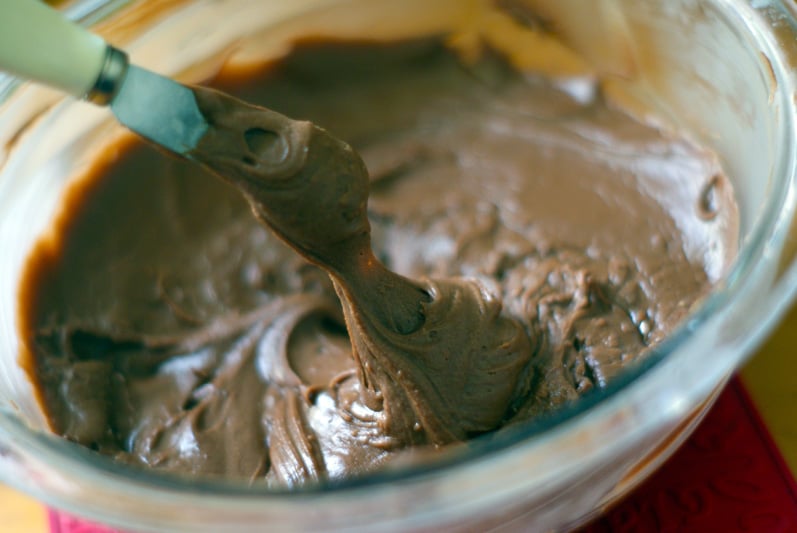 Once the cookies are cooled (they do really need to be completely cool or the frosting will melt), smather each one with a generous dose of frosting.
Hello, Lover.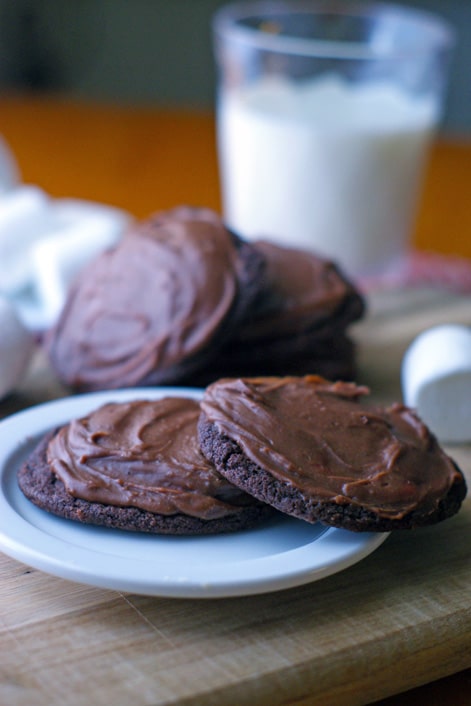 Smather, eat, and repeat.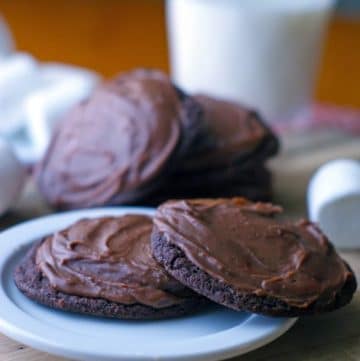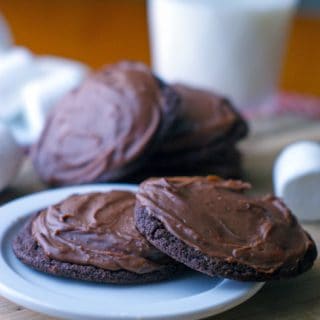 Mississippi Mud Cookies
Chocolate cookie with a marshmallow and chocolate frosting-- the perfect cookie? Possibly.
Print
Pin
Rate
Ingredients
Instructions
Preheat oven to 350.

With the paddle attachment on your stand mixer, or with a handheld mixer combine the butter and sugar and beat until it looks light and fluffy.

Add in the egg and vanilla and beat until smooth.

In a separate bowl, combine cocoa, flour, baking soda, baking powder, and salt.

While mixing, slowly add in the flour mixture and mix until the dough comes together and no dry spots remain.

Spoon cookie dough onto lined baking sheets and bake for 5 minutes; the cookies will be underdone and look just barely set.

Press a marshmallow into the tops of each cookie and put the cookies back into the oven for an additional 3 minutes or until the marshmallow has melted a bit and started to spread. Remove from oven and let cool completely.

For the Frosting

Combine melted butter with the cocoa powder and mix until smooth. Slowly mix in milk and vanilla until combined. Stir in powdered sugar and mix until smooth and creamy.

When cookies are completely cooled, spread a layer of frosting on each one.
Serving:
1
cookie
|
Calories:
309
kcal
|
Carbohydrates:
50
g
|
Protein:
2
g
|
Fat:
12
g
|
Saturated Fat:
7
g
|
Cholesterol:
39
mg
|
Sodium:
176
mg
|
Potassium:
70
mg
|
Fiber:
1
g
|
Sugar:
38
g
|
Vitamin A:
375
IU
|
Calcium:
17
mg
|
Iron:
0.9
mg
Are We Friends On Pinterest?
Follow Me For More Great Recipes @hlikesfood