I like to think I have a good relationship with bread-  Bread likes me, I like it back. We've been happy together for a long time, but recently we've had some problems. I started blaming my pudge on bread.
Poor Bread.
Poor ME!
No more bread?
I LOVE bread, what am I thinking?
And then it hit me- just eat bread with veggies! That won't make me fat! (I am not a licensed dietitian and I cannot back up that argument.)
So I made this salad. I've made it before and I'm pretty sure it will be a staple here in our home for a while because we love it!
Panzanella is an Italian bread salad that uses day-old, toasted bread and tosses it with tomatoes, cucumbers, bell peppers, cheese, and a simple, yet spectacular dressing. The magic of the salad is really in the bread. It soaks up all the dressing and juices from the veggies and turns into this incredible little piece of soft, crunchy, olive-oily, herby goodness which is great paired with the crisp veggies. The first time I heard of it I thought,  "Bread salad? Ewww". But the first bite made me a believer and I hope it does the same for you!
The first thing you'll do is  start with some fresh veggies and get them chopped up. Tomato, red onion, cucumber (I use English cucumbers because you don't have to peel them, and they have itty-bitty seeds), basil, and bell pepper. You'll also cube up some mozzarella cheese and throw it into the mix. You know those marinated mozzarella balls? I bet my sink full of dishes that they would be awesome in this!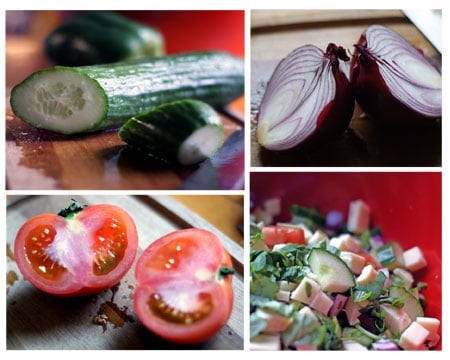 Next up is the dressing. It's a super basic vinaigrette: vinegar, olive oil, dijon mustard, salt, pepper, honey and garlic. Want to know a little secret for using garlic in salad dressings or any other time you want it minced really fine? Make a garlic paste! Instead of putting the 1/2 tsp of kosher salt that you need directly into the salad dressing, pour in on top of the garlic cloves. Chop it up a bit and then use the tip of your knife while pressing down on it with your palm to smoosh up the garlic. The salt is just abrasive enough to help break it down into a paste. No more biting into big pieces of raw garlic!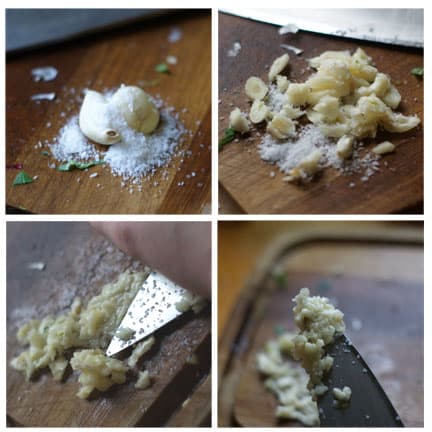 Pour the salad dressing over the veggies and give it a stir. You want the veggies to have a chance to really soak in the flavor of the dressing. I usually make it up at least an hour ahead of when I want to serve it.

This is where it gets dangerous for me- The bread. I like to use the French Baguettes from Fred Meyer (best grocery store bread ever, BTW), but any crusty-crusted, fairly firm bread will work well. I don't like to use breads that are really light and don't have much girth. They just get soggy in the dressing. Yes, I just used the word girth to describe bread.
Cut the bread into 1″ cubes, place on a baking sheet, sprinkle with salt and drizzle with olive oil. I usually use my hands to toss the bread around a bit to make sure its all coated. At this point I usually snitch a few pieces too.  Olive oil+bread+ salt= love. If there's any left, pop them in the oven for about 15-20 minutes. They should be golden around the edges- I forgot to snap a picture.

Once the bread is out of the oven and cooled, toss with the veggies and eat to your little heart's content! Because after all, bread with veggies won't make you fat!

Panzanella Salad
Servings
8
, 1 cup servings
Ingredients
1

English Cucumber

2-3

large

ripe tomatoes

1

bell pepper- any color will work

1/2

medium red onion

2

lg. fresh basil leaves

3/4

C

mozzarella

cubed

For the Dressing

2

cloves

garlic

1/2

tsp

Dijon mustard

3

tbsp

white wine vinegar

1/2

C

extra virgin olive oil

1/2

tsp

kosher salt

1/4

tsp

ground black pepper

1

tsp

honey

For the Bread

1

baguette french or italian bread

about 6-8 cups cubed

3

tbsp

extra virgin olive oil

1

tsp

kosher salt
Instructions
Preheat oven to 400°

Chop the veggies into bite-sized pieces and toss with the mozzarella cheese in a large mixing bowl. Make dressing by combining the vinegar, mustard, pepper, honey, garlic, salt and olive oil. Mix with a wire whisk until it is well mixed and slightly thickened. Pour over the veggies/cheese and refrigerate for 1 -3 hours before serving.

Cube bread into 1? pieces and arrange in a single layer on a baking sheet. Drizzle with olive oil and salt. Toss with hands until all pieces are well coated. Place in oven for 15-20 minutes or until the edges of the bread are golden and crispy. Let cool.

Just before serving, toss veggies with the bread and enjoy!