Peppermint Bark Oreo Cookie Balls – Given everything that has gone down the past few months here in Cheneyville, I'm all about keeping the holidays simple this year. I LOVE Christmastime and am usually all about the goody plates and thoughtful gifts but it just hasn't happened yet this year. And you know what? That's OK! I've got a warm house, a beautiful tree that smells divine and makes me happy every time I look at it, and a healthy family. Oh, and I've got these oreo cookie balls now too, so life is pretty gosh-darn good.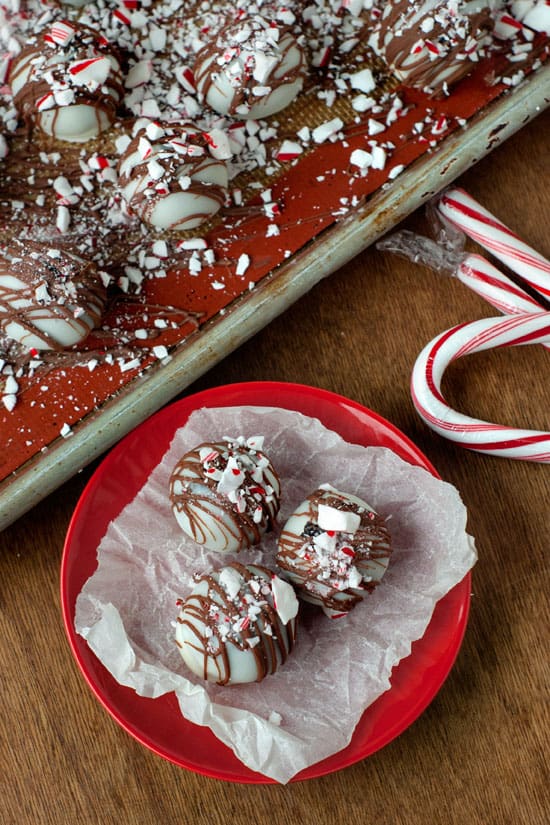 Some call them Oreo truffles, others call them cookie balls, but really what they are is little simple bites of heaven. All you do is combine Oreo cookie crumbs with cream cheese, roll into balls, dip in chocolate and consume in great amounts. Sound good? Let's make them!
As you can imagine, these beauties can go so many different directions in flavor. I used cool mint Oreos to get the peppermint flavor going strong in these. The original recipe for cookie balls calls for 8 oz of cream cheese and 36 cookies, which is about what you get in a standard size bag of Oreos. But keep in mind that the packages of the specialty flavors usually are a bit smaller and you might have to adjust the recipe a bit so that it's not too wet/sticky. (I adjusted the recipe below so you can use 1 whole package of the Cool Mint or 30 cookies)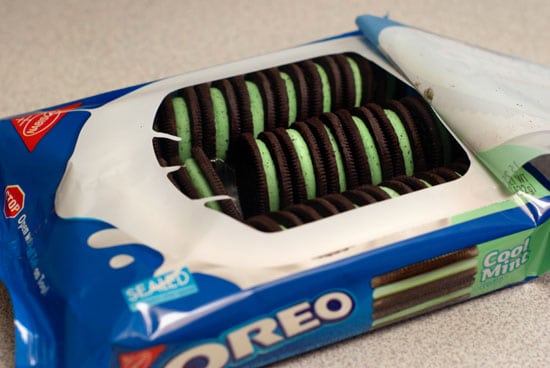 How to Make These Delicious Peppermint Bark Oreo Cookie Balls
Crush the cookies however your little heart desires. The food processor is my best friend here but if you don't have one a rolling pin, blender, or meat mallet work well too, you just want the cookies crushed fine.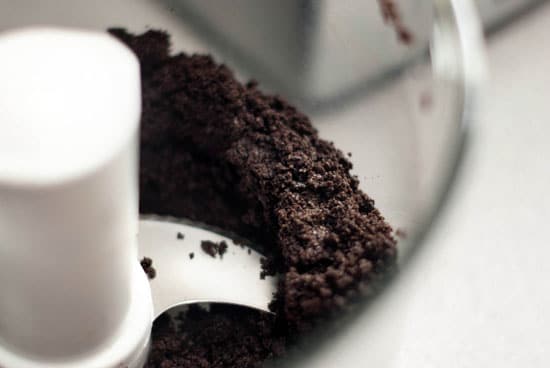 Make sure your cream cheese is well softened and stir into the crumbs. Again, I just let my food processor do the work but it's pretty easy to mix it by hand too.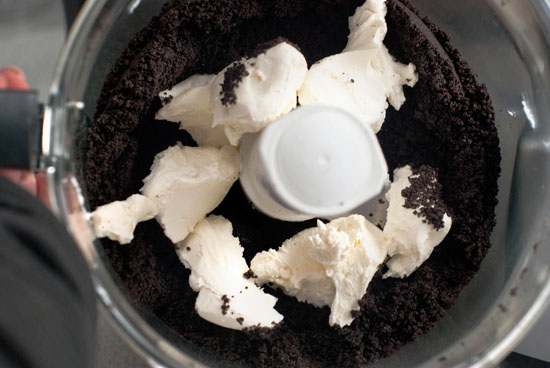 Making The Oreo Cookie Balls
At this point you can scoop the mixture out by the teaspoon onto a lined baking sheet. If it seems a little too soft to scoop, throw it in the fridge for a few minutes to firm up and then finish scooping. The scoops will eventually need to be rolled into smooth balls but I find that it's much easier to do if they are put in the fridge at this point to set up a little bit– about 20 minutes or so.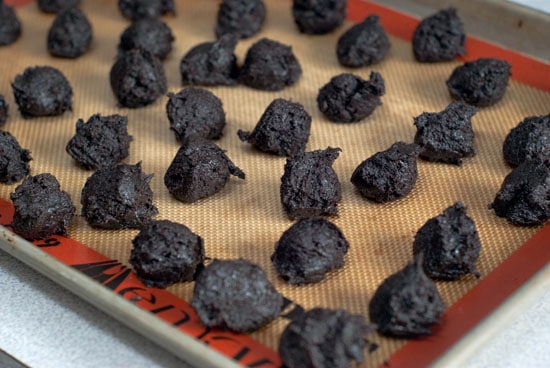 In the meantime, get your vanilla candy coating and crushed candy canes ready to go.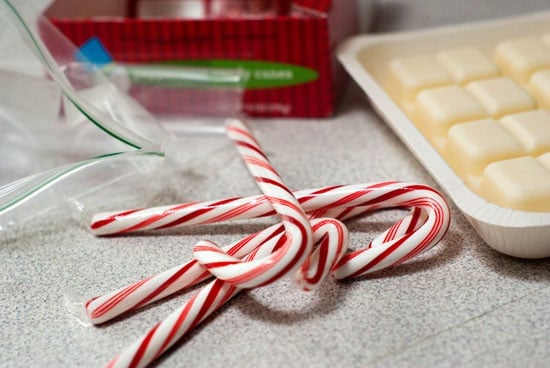 I highly suggests letting some little hands help with the crushing of the canes… she thought it was awesome!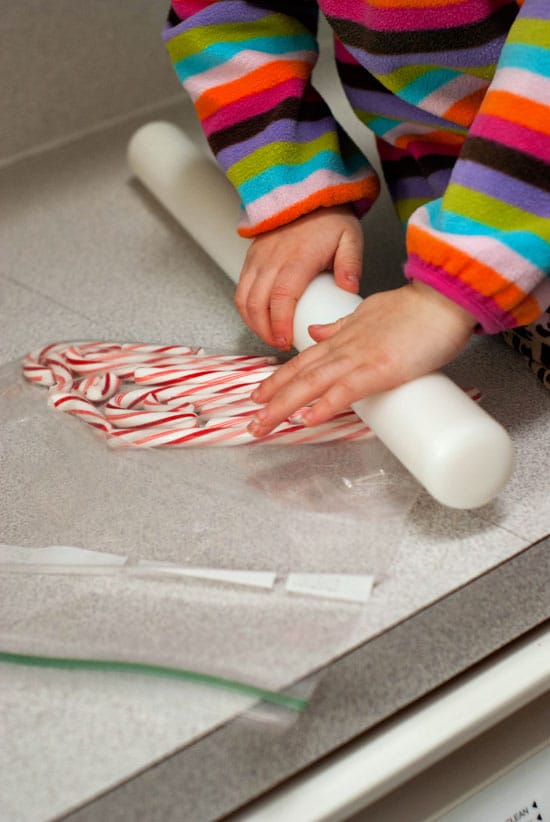 Roll each ball between your palms to make smooth and uniform and place the tray in the FREEZER for about 10 minutes or until they are pretty firm. this will help them stay together when dipping.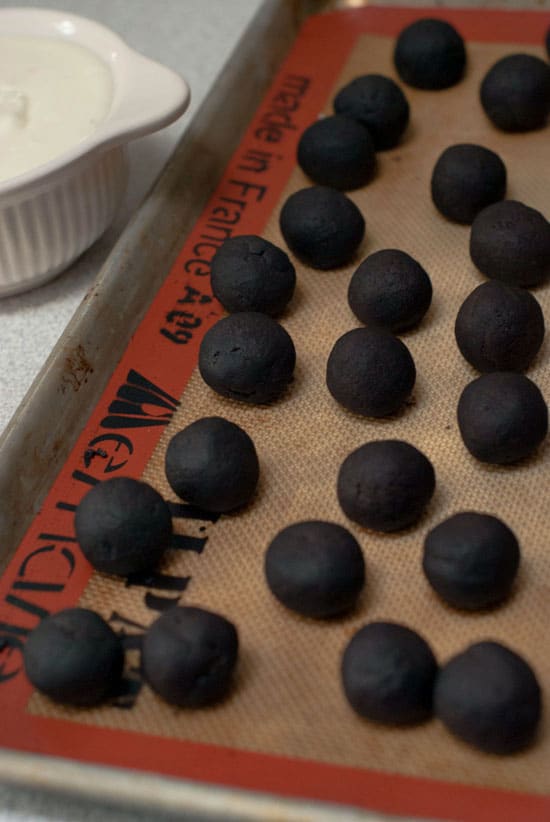 Okay, so you're going to think this is weird but for dipping I like to use a clean straight pin. It's small, isn't as messy as using a fork and leaves just a small hole at the top of the balls that can be easily covered up.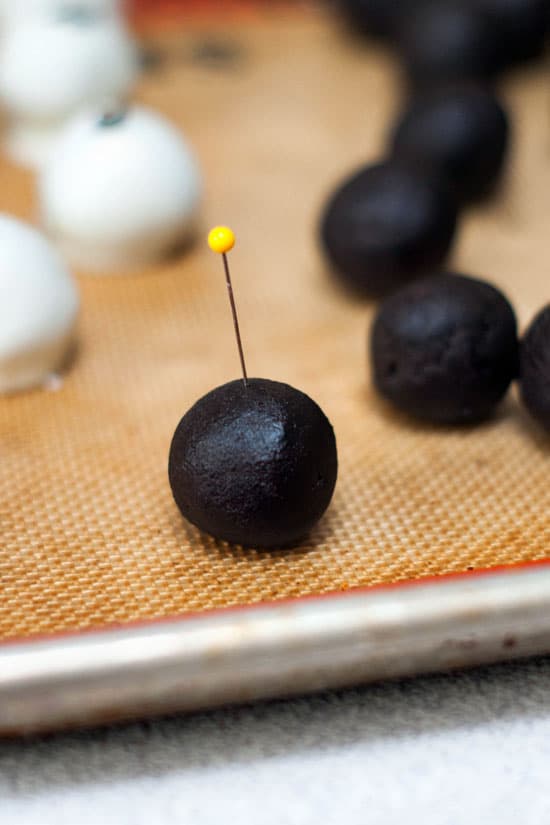 Dip each ball into some melted candy coating, tap on the side of the bowl to get rid of any excess and place on a lined baking sheet to harden.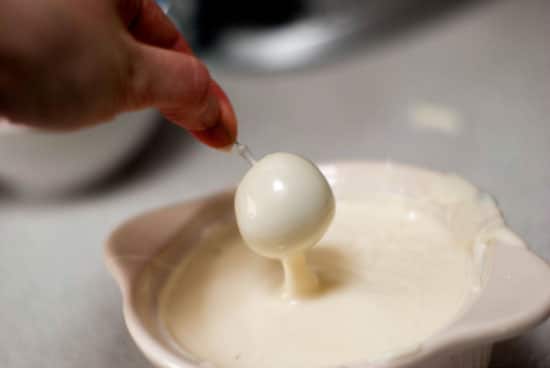 I'll admit that they aren't the prettiest things in the world at this point, but that's all going to change!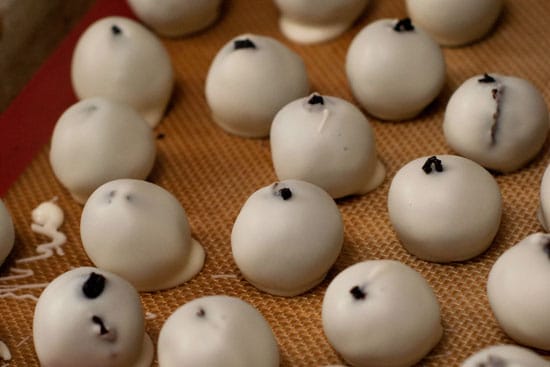 It's amazing what a little drizzle of melted chocolate chips and crushed candy cane can do! Seriously folks, they are SO pretty when they are done.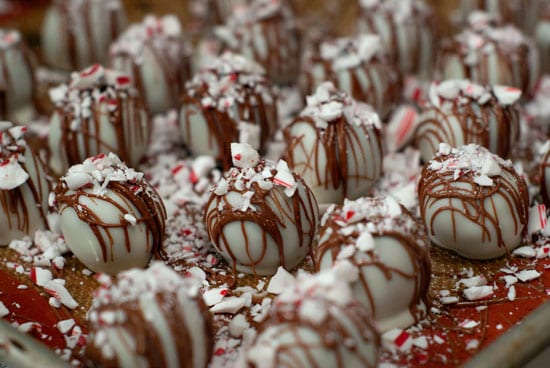 Now all you have to do is tie a ribbon around a box of these and you've got an awesome and impressive little gift for a teacher/co-worker/neighbor. Simple, delicious, and you didn't even have to turn the oven on! Score.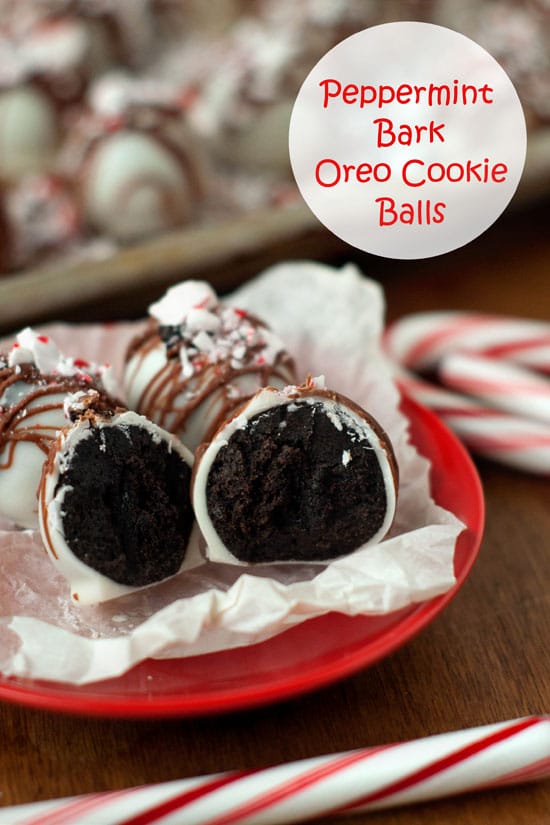 I was compensated for my time by OREO for this post, but as always all thoughts and opinions are my own.
Interested in other Christmas treats?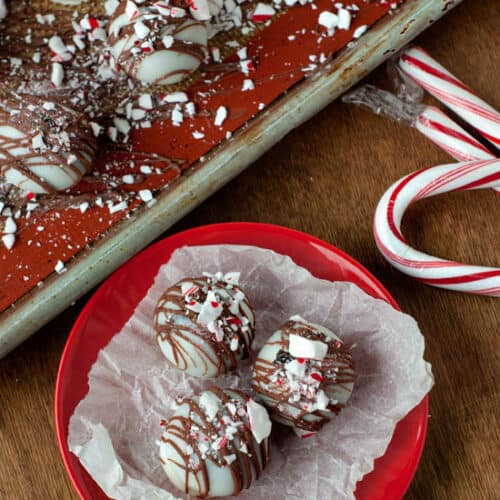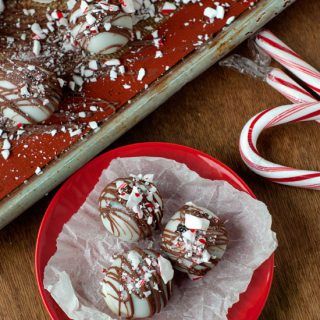 Ingredients
1

package Cool Mint Oreos

30 cookies, finely crushed

7

oz

cream cheese

softened

Vanilla Candy Coating

¼

C

semi-sweet chocolate chips

2

peppermint candycanes
Instructions
Combine Oreo crumbs with the cream cheese and mix well until smooth.

Scoop by the teaspoon onto a lined baking sheet and refrigerate for 20 minutes.

Roll each ball between palms until smooth and uniform. Place in freezer for 10 minutes.

Dip each ball into melted candy coating and place on a lined baking sheet to set.

Drizzle the dipped balls with melted semi-sweet chocolate and top with crushed candy cane.
Are We Friends On Pinterest?
Follow Me For More Great Recipes @hlikesfood