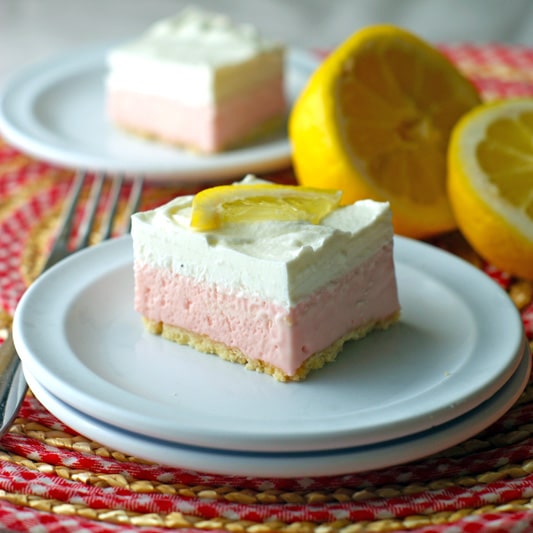 I love anything that makes my lips pucker. I remember my Mom's look of total disgust when I would pop a sour Warhead in my mouth and wiggle and squirm until I made my way to the sweet center.  I've always seen sour things, for some odd reason, as a challenge- something that I could conquer. My sickness and I  probably fall somewhere beside those who like to eat really spicy things. I've never been too keen on eating something that causes me pain though. Call me weird, but eating does not need to involve sweating, nausea, convulsions, or any other bodily function that is onset by spice. It's supposed to be enjoyable, people!
With this love of sour things, I've always loved all things lemon and these lemonade bars are no exception.  What's better is that you can make these any flavor you want! The secret is to use frozen juice concentrate to flavor them. Of course, I love the lemony goodness so I used pink lemonade; limeade, regular lemonade, grape, or orange juice concentrates would also be tasty. You'll start with a shortbread crust and then top it with a juice concentrate/sweetened condensed milk/cream cheese mixture. You'll top the whole thing off with sweetened whipped cream and then you'll sit on your porch while the sun shines down on you and you'll eat yourself a little piece of cool, fruity deliciousness.
Let your summer start and make these now!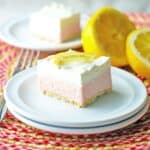 Pink Lemonade Freezer Bars
Ingredients
For the Crust

4

tablespoons

butter

softened

3

tablespoons

sugar

1

egg yolk

1

cup

all-purpose flour

1

teaspoon

kosher salt

For the Filling

8

oz

cream cheese

softened

14

oz

can sweetened condensed milk

3/4

cup

pink lemonade concentrate

not mixed with water

2

tablespoons

lemon juice

2-3

drops red food coloring

optional

For the Topping

1

C

Heavy Whipping Cream

1

tablespoon

sugar
Instructions
Crust

Stir together butter and sugar in a medium bowl. Stir in yolk. Add flour and salt, and stir until mixture is dry and crumbly. Press dough into bottom of a 9x13inch baking dish. Freeze until firm, about 20 minutes. Meanwhile, preheat oven to 375 degrees.

Bake, rotating halfway through, just until crust turns golden brown, about 20 minutes. Let cool completely.

Filling

Using the whip attachment on a stand mixer or with a handheld electric mixer, beat the cream cheese until softened. Pour in the sweetened condensed milk very slowly while mixing to avoid clumps, scraping the bowl as you go.

Slowly add the lemonade concentrate and lemon juice and continue beating. Add a few drops red food coloring if desired until light pink.

Pour the mixture onto the cooled shortbread crust and place in the freezer while you mix the topping.

Topping

Using the whip attachment on a stand mixer or with a handheld electric mixer add the cream to the bowl and start to whip. Add in sugar and continue to whip until it's thickened and peaks form when you pull out the whip. Spread thickened cream over filling and freeze until firm enough to cut into squares.