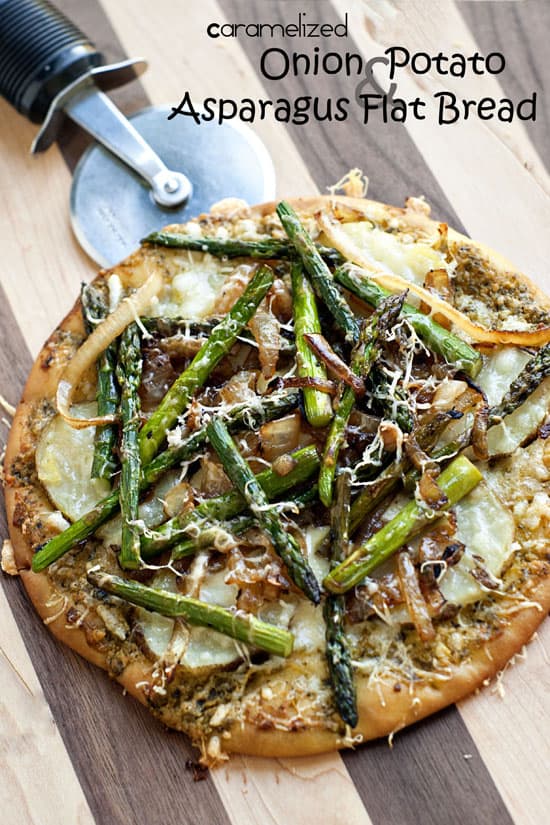 Once upon a time I believed that asparagus was only to be enjoyed steamed and smothered in cheese sauce because that's how I grew up eating it. But, over time I've learned that asparagus is amazing even when it's not bathing in dairy- who woulda' thunk?
My first sighting of it in the produce section each year makes me giddy with excitement and I can't wait to get my hands on it. My latest bunch of asparagus was beautifully thin and just screamed "put me on something delicious". So clearly, that's what I did.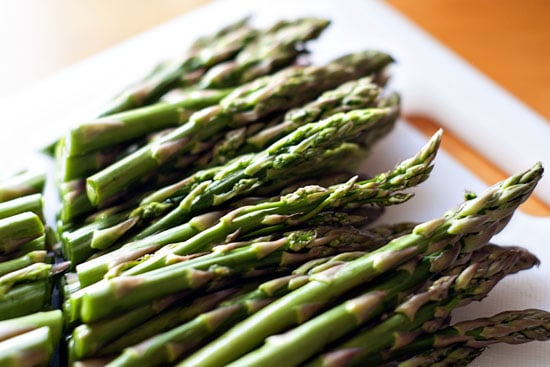 MY LATEST VIDEOS
We're starting with pre-made flat bread here, but I bet my heaps of laundry that if you felt so inclined to make your own flat bread  it would be divine. Just follow the directions on the link above for assembly and baking if you decide to do so.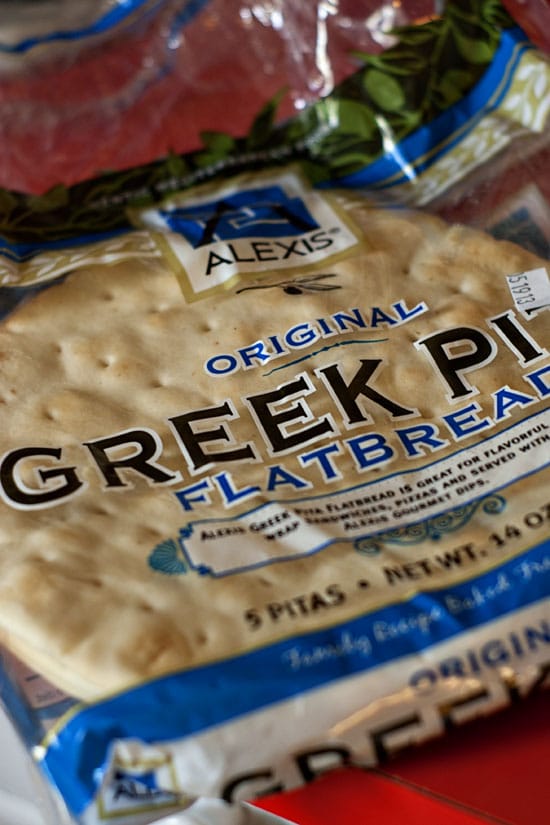 In a large skillet heat a couple of tablespoon olive oil and stir in some sliced onions and salt. Once the onions get some color on them, toss in the asparagus and continue to cook until the asparagus is bright green and the onions are a nice, golden brown.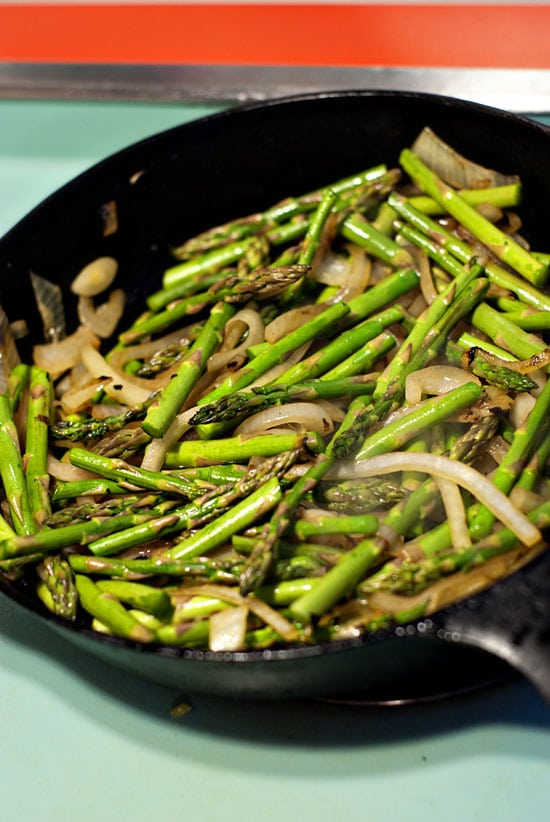 Top each piece of flat bread with pesto and arrange some baked potato slices over the top- forgetting to bake them first will only make you sad. Sprinkle 1/4 C of mozzarella cheese over the tops of the potatoes and you're ready for the next step.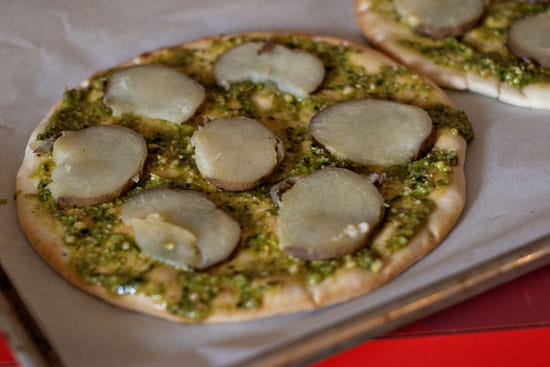 Follow up the potatoes and cheese with a good helping of the perfectly cooked asparagus and onions.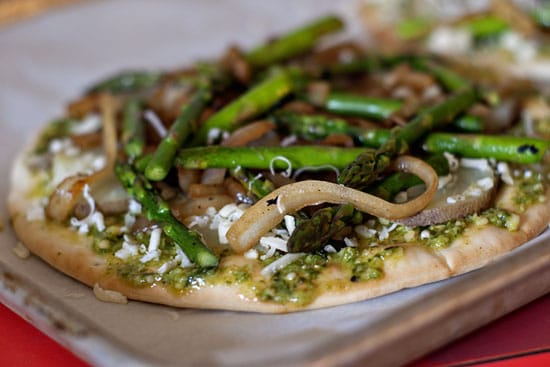 Everything is better with a little parmesan cheese, right? Right. So on goes a couple tablespoons of grated cheese followed by a nice little drizzle of olive oil.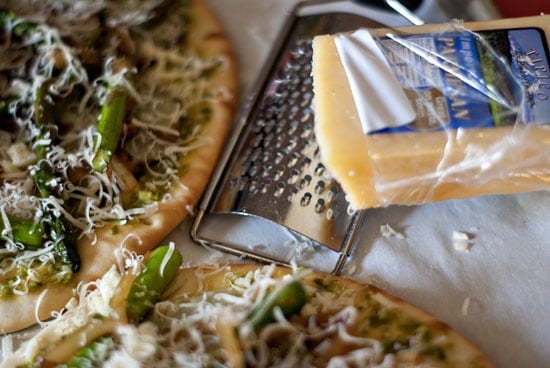 Place in a 425 degree oven and bake until the cheeses are melted and the bread is nicely browned- about 10-15 minutes. Slice, serve, and enjoy!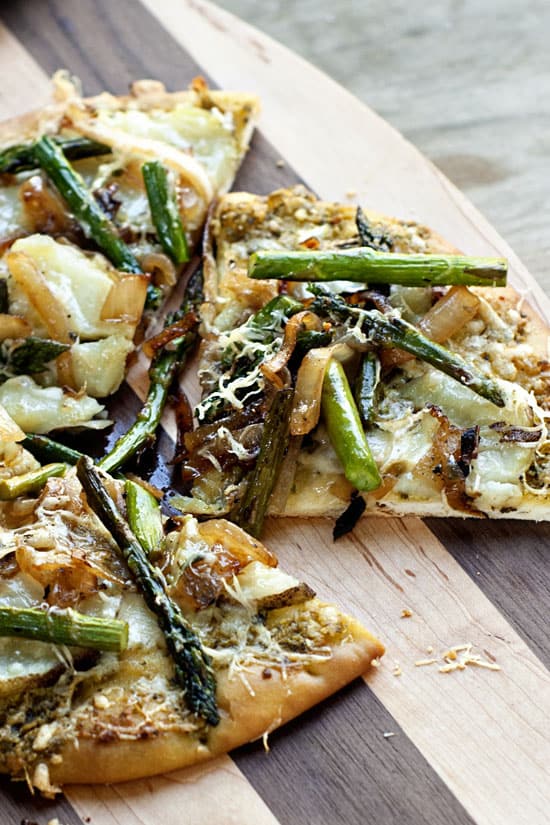 You want some now, don't you?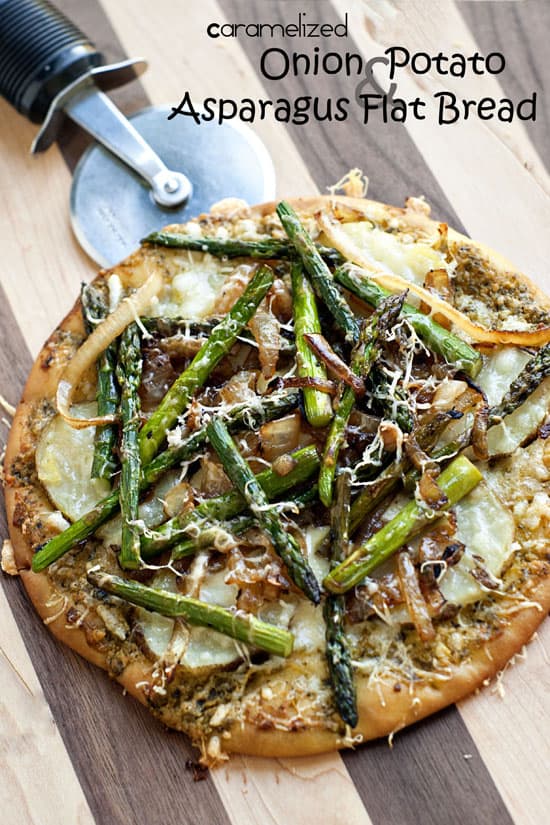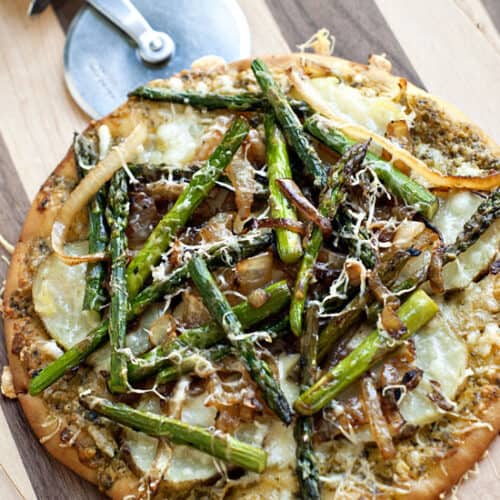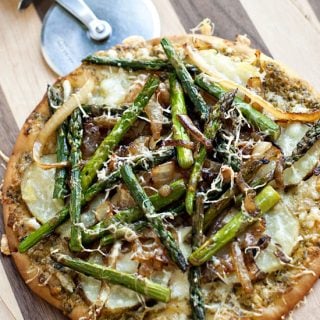 Potato Asparagus and Caramelized Onion Flat Bread
Print
Pin
Rate
Servings:
4
-6 servings, 4 flat breads
Ingredients
1

lb

fresh thin asparagus

quartered

1

large russet potato

baked, cooled and sliced into rounds

1

large onion

sliced

2

tbsp

olive oil

1/2

tsp

kosher salt

3/4- 1

C

prepared basil pesto

4

whole flat bread rounds

1

C

mozzarella cheese

shredded

1/2

C

parmesan cheese

shredded

1/4

C

olive oil
Instructions
Preheat oven to 425 degrees.

In a large skillet, heat 2 tbsp olive oil and stir in sliced onions and kosher salt. Cook and stir over medium heat until onions are starting to soften and become golden- about 5 minutes- and stir in asparagus.

Continue to cook vegetable mixture for 5-7 minutes longer. The asparagus should be bright green and tender, the onions golden brown and caramelized. Remove from the heat.

Place the flat bread rounds on a lined baking sheets (you'll need two) and spread each with 3 tbsp of pesto, followed by a ¼ C of mozzarella cheese.

Arrange potato slices over the cheese and divide and spread the vegetable mixture evenly over the tops of each flat bread.

Top each completed flat bread with 2 tbsp of parmesan cheese and drizzle with 1 tbsp of olive oil.

Place in the oven and bake for about 10-15 minutes or until the bread is nicely browned and cheese is melted.
Are We Friends On Pinterest?
Follow Me For More Great Recipes @hlikesfood