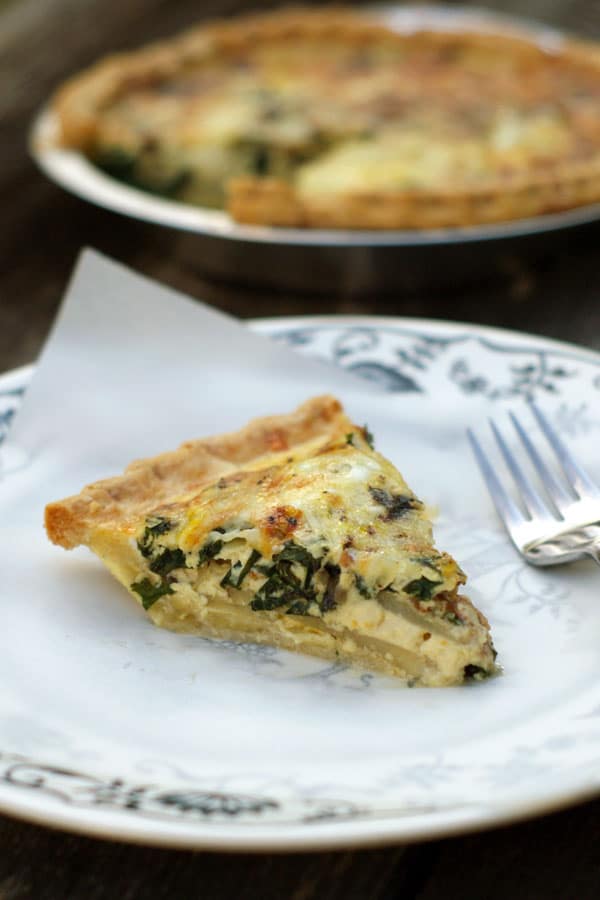 Good morning and happy Saturday! What are you up to this fine summer day? We're having a yard sale! It's… um, fun. I never remember how much work a yard sale is until I'm actually in the thick of it. Signs, junk hauling, having to act cordial towards people that want to bang down my door at 7am, pricing, haggling, craigslist postings, more junk hauling, you get the idea. We were already at it for one full day yesterday, so I'm definitely a little less excited about reliving the whole experience again today. Here's to having an excuse for a donut run and pawning my crap treasures off on others. Whoohoo!
I don't know about you, but I love pie crust and anything that's made with it. So clearly, quiche is a favorite of mine. I like quiche not only because of the pie crust, but because you can essentially put anything you'd like in it and it will most likely taste good. (Don't quote me on this. I can name five things right off the top of my head that I know will NOT make for a good quiche). Leftover meat? Put it in a quiche. Chopped too many vegetables? Put it in a quiche. Pizza from last night? Put it in a quiche! – KIDDING! I better stop; this is starting to sound like an episode of Portlandia.
Anyway, what I'm trying to say is that if you don't have potatoes or bacon or kale you can use what you have on hand. Though I thoroughly recommend that you try this recipe as written at least once, spinach is a great sub for kale and ground sausage would work for the bacon. Honestly, I don't know what a good sub for the potatoes would be besides some other potato product like hash browns, but be creative, it's fun! This is the first time that I've used potato in my quiche and I loved it! Just make sure to slice them very thin so they have a chance to cook all the way through, some of my bigger pieces were a bit undercooked.
I started with a frozen pie crust and usually do for my quiches since they mostly end up being a last minute, I-don't-know-what-to-make-for-dinner type of meal. Poke holes all over the base and sides of your uncooked pie shell (cooking it while it's still partially frozen will help to minimize shrinkage) and bake for about 10 minutes or until just lightly golden brown;  it won't be cooked all the way, just enough to prevent it from having a soggy bottom.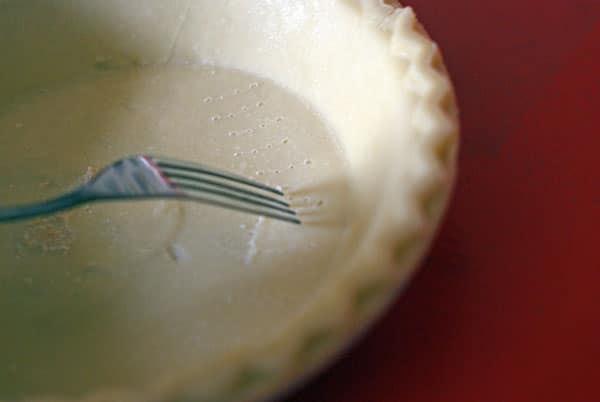 Cook the bacon until it's crisp, remove from pan and drain off all but 1-2 tbsp of the grease from the pan. Return to heat and add the kale and red onion, cooking until both are tender. Remove from heat, and stir in the bacon.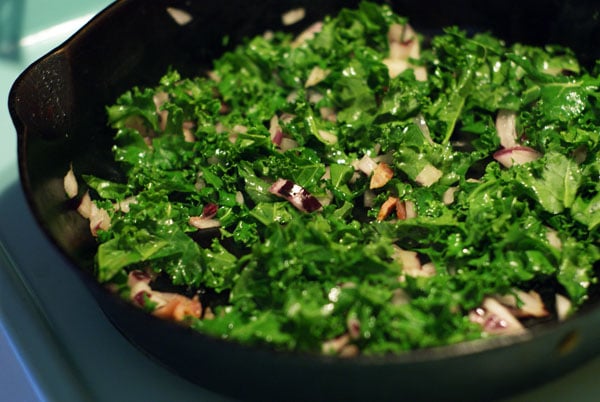 Once your pie crust is partially cooked, shingle a single layer of sliced potatoes across the bottom.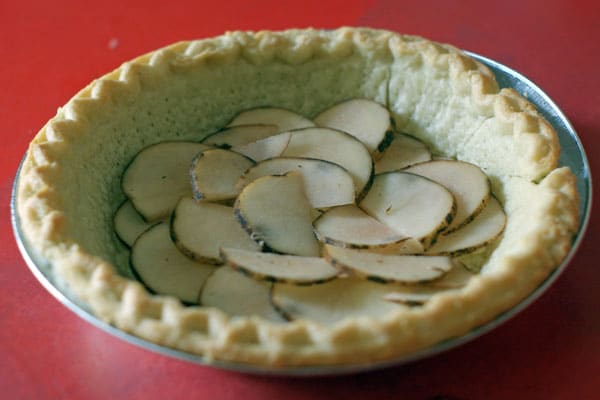 Top the potatoes with the kale mixture and spread evenly.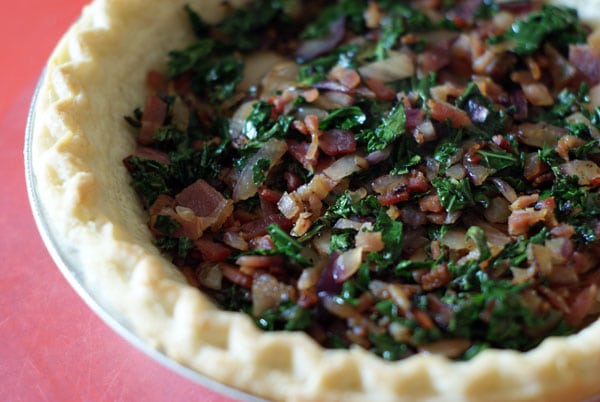 Combine eggs, half and half, salt and pepper in a separate container and mix well. Top the kale mixture with grated cheese, and pour the egg over the contents of the pie plate.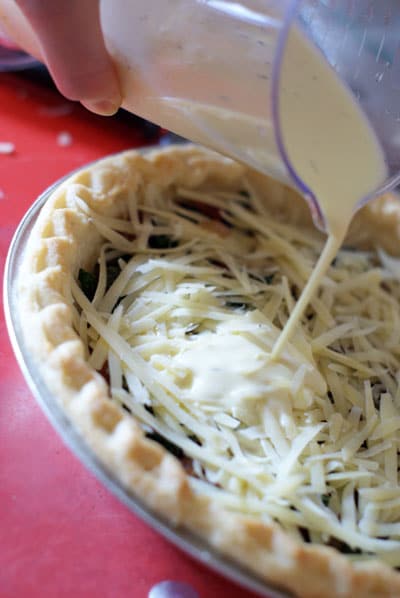 Bake for 40-45 minutes or until a knife inserted 1″ from the side comes out clean. You want the center to be set, but to still jiggle a bit like jello; it will continue to cook after being removed from the oven.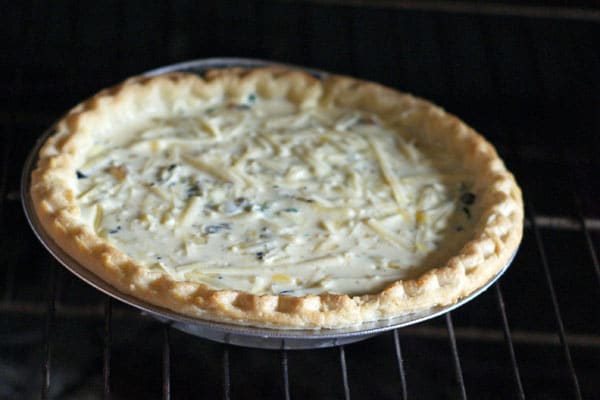 Let cool for 15-20 minutes and serve warm or at room temperature.
Ingredients
1 9" pie crust, rolled and placed in a pie dish
1/2 C red onion
4 slices bacon, cooked and chopped
1 1/2 C kale, chopped
3/4 C potato, thinly sliced
1/4 tsp pepper
1/4 tsp kosher salt
1/2 C gruyere cheese, grated
3 eggs
1 C half and half
Directions
Poke holes all along base and sides of partially frozen pie crust and bake at 400° for 10 minutes. Pie will be light golden brown,
Cook bacon until crispy and remove from pan. Drain off all but 1-2 tbsp of grease from pan and return to heat. Cook kale and onion in bacon grease until tender. Stir in bacon.
In a single layer, shingle potato slices on bottom of pie crust. Top with kale mixture followed by grated cheese.
Combine egg, half and half, salt and pepper and mix well. Pour over contents of pie shell.
Bake at 350° for 40-45 minutes or until a knife comes clean when inserted 1" from sides. You want the center to be set, but still jiggle a bit like jello- it will continue to cook outside of the oven.
Let cool for 15 minutes and serve warm or at room temperature.
Recipe Notes

Made this recipe?
I'd love to see how you rocked it! Share your photo on Instagram with the hashtag
#heatherlikesfood  --
It will totally make my day to see it!