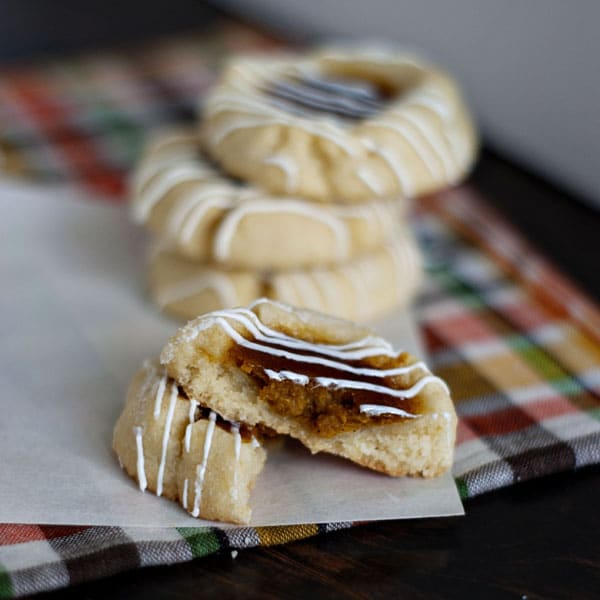 Remember that time I predicted cookies were going to be a key player in creating world peace? Well, I think I just found the cookie that's going to do it- or at least the cookie that will start the process. See, this world changing course of action will start in the fall when everyone is crazy about baking with pumpkin. And then you know the drill: people will eat these cookies, they'll get happy, war will stop, and we'll all live happily ever after on our over-inflated cookie-filled tushies.
Sound like a plan? Onward!
Oh, but really, these cookies are goooood. They really are like a little bite of pumpkin pie with a shortbread cookie base and a pumpkin pie filling. Top them off with a little drizzle of white chocolate and you've got a party… a peace party!
Okay, I'll stop.
Let's make these cookies! You'll start by creaming together some butter and sugar. Once that's combined add in your egg yolk and vanilla.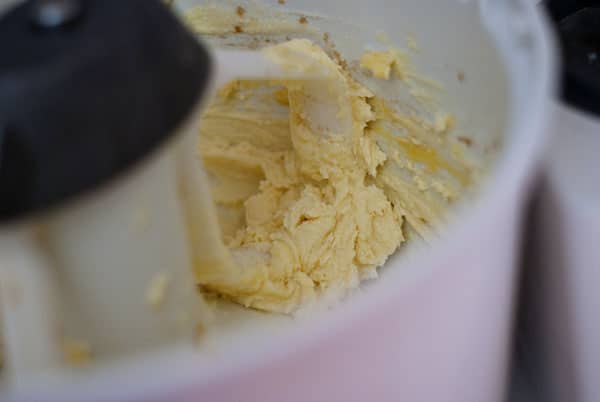 Add in the flour, baking powder, and salt and mix until well combined. The dough will be stiff and a bit crumbly.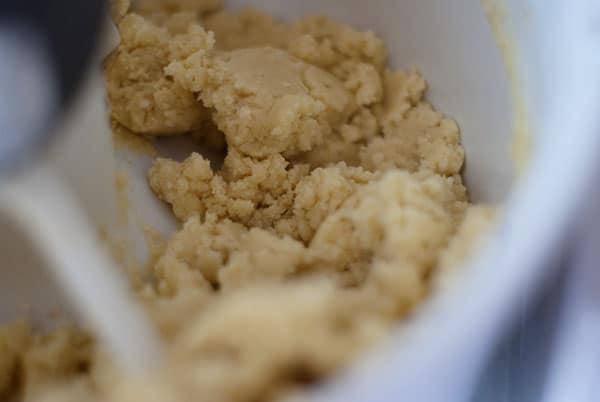 Scoop balls of dough with either a 1 tablespoon cookie scoop or regular tablespoon.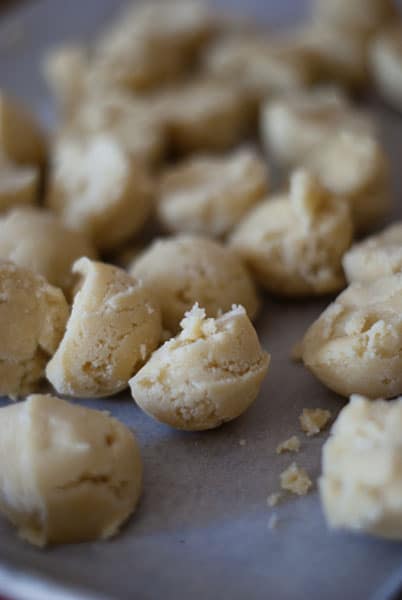 Roll the balls until smooth and place on a lined cookie sheet a few inches apart.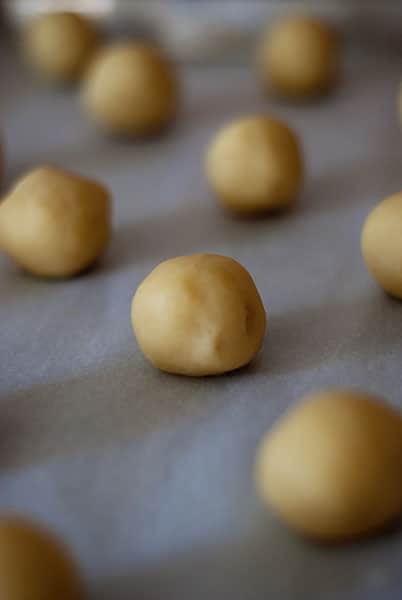 Using your fingers, press lightly on the top of each ball to flatten it slightly.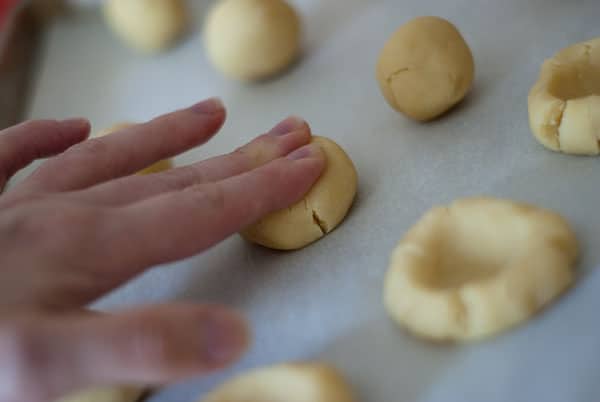 Now, using the back of a teaspoon make an indentation in the top of each flattened ball.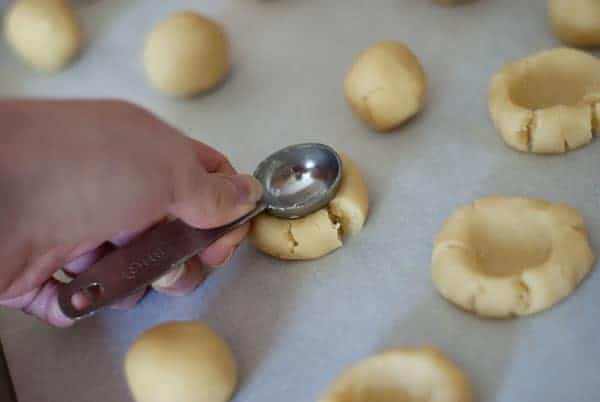 The sides will crack and that's okay. If they crack so much that the filling will run out the side just pinch it back together and make it look purdy.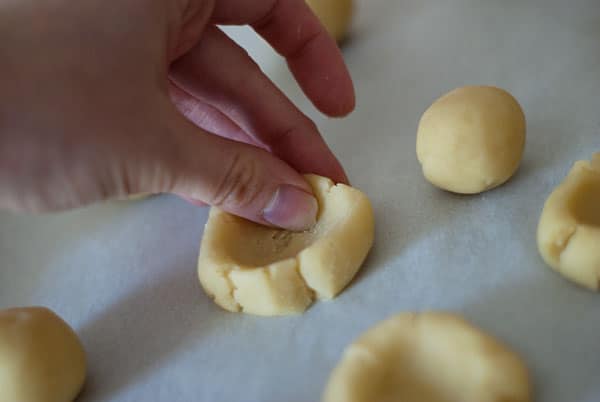 Place your cookies in the fridge for a few minutes to firm up and get ready to make the pumpkin filling. This is your basic pie filling: pumpkin, egg, milk, spices. Since we just need a little bit to fill the cookies, you only need 1 tbsp of beaten egg. You'll want to crack your egg in a separate bowl, beat, and measure from there. Once you've got the egg measured out, place all of the filling ingredients into a bowl and stir until smooth.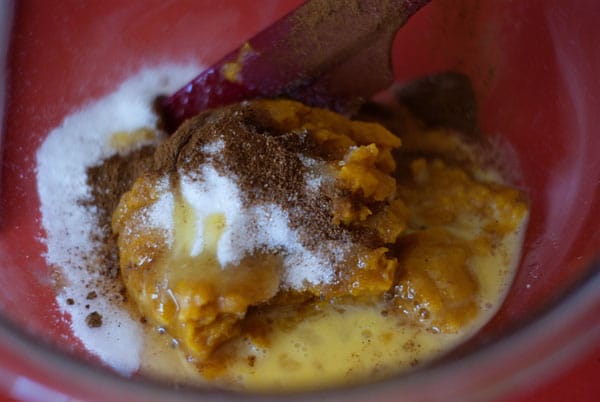 Remove cookies from the fridge and fill each with about a heaping 1/2 teaspoon of pumpkin filling. You can fill them pretty high and they won't bubble over the oven.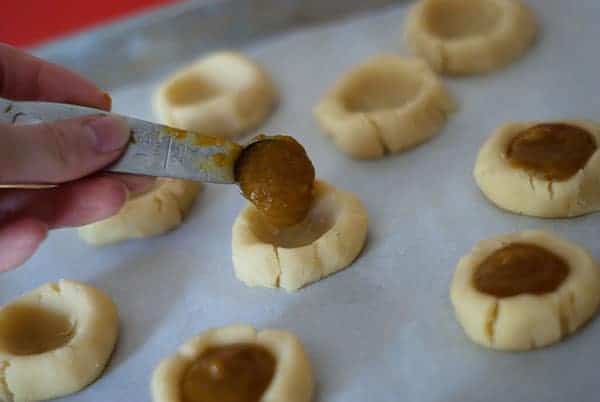 If you're not going to bake these immediately, return to the fridge to stay chilled. Otherwise, bake at 350° for 12-15 minutes. The bottoms of the cookies will be just starting to brown and the filling will be set.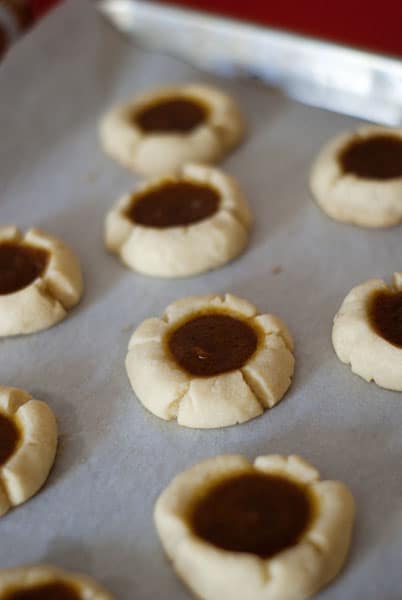 Let cool and drizzle with a little white chocolate decadence (aka white chocolate).
Do you feel peaceful yet? If anything, they'll make you glad that Thanksgiving will be here before we know it! Yikes!
Ingredients
For the Cookies
1 C butter, room temperature
2/3 C sugar
2 egg yolks
1 tsp vanilla
2 1/4 C all-purpose flour
1 tsp baking powder
1/4 tsp kosher salt
For the Filling
1/2 C pumpkin puree
2 1/2 tbsp sugar
pinch of kosher salt
1/4 tsp each cinnamon and nutmeg
1/8 tsp ground cloves
1 tbsp egg, beaten
1 tbsp milk
Directions
Preheat oven to 350°
Cream butter and sugar until smooth. Add egg and vanilla and combine.
Mix in flour, baking powder and salt and beat until no dry spots remain. The dough will be stiff and possibly crumbly.
Scoop dough by the tablespoon and roll into smooth balls. Place on lined cookie sheets a few inches apart.
Using a few fingers, press lightly on the top of each ball to flatten slightly. With the back of a teaspoon measuring spoon, make an indentation in the top of each ball.
Place unbaked cookies into the fridge and let chill for 15 minutes.
Make filling by combining all of the filling ingredients and mixing until smooth.
Remove chilled dough from fridge and spoon heaping ½ teaspoonfuls of the filling into each cookie.
Bake for 12-15 minutes. The bottom of the cookie will be lightly browned and the filling set.
Let cool and drizzle with melted white chocolate.

Made this recipe?
I'd love to see how you rocked it! Share your photo on Instagram with the hashtag
#heatherlikesfood  --
It will totally make my day to see it!