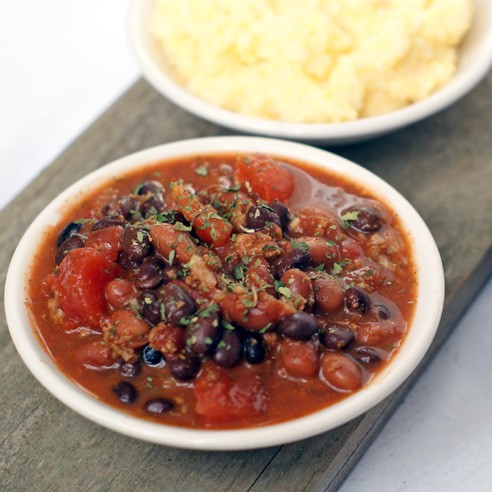 My family loves corn grits. We eat them often for breakfast with eggs and toast, for dinner topped with chili, or basically anytime that I'm in need of a quick side-dish that I know both my kids will eat. I mentioned them here when they were served for the Hub's  birthday meal and I promised the recipe would come soon.
If you're not familiar, corn grits are just ground up corn that cooks up to a creamy almost pudding like consistency- think cream of wheat with more texture and made of corn. I buy mine in the bulk section at the grocery store. It looks like corn meal just not ground as finely. Sometimes it's called polenta so if you find that, you've got the right stuff. The trick to making grits is to stir constantly once you add them to your boiling liquid and to not stop stirring until they are cooked. If you stop you'll end up with lumpy burned mush.  So stir, okay?
Grits are super versatile and are great for getting your creative juices flowing. You can stir in cheese, chopped green onions, a bit of curry powder, chopped dried fruit, etc. to go with whatever you are serving.  But truthfully, eating them plain, made with this recipe is by far my favorite.
Now, onto the chili!  Chili and grits is one of my go-to, I've-wasted-my-day-away-on-Pinterest meals. I love it because I almost always have all the ingredients in my pantry and it comes together in under 30 minutes. While I'd like to say that every time we eat chili it's this one that's been simmering on my stove for hours, I can't. More often than not I'm in a pinch for time and I turn to my good friend canned chili. I use the term friend loosely because I basically detest this stuff straight out of the can. But add a few ingredients and it turns into something that tastes like I actually had a plan for dinner.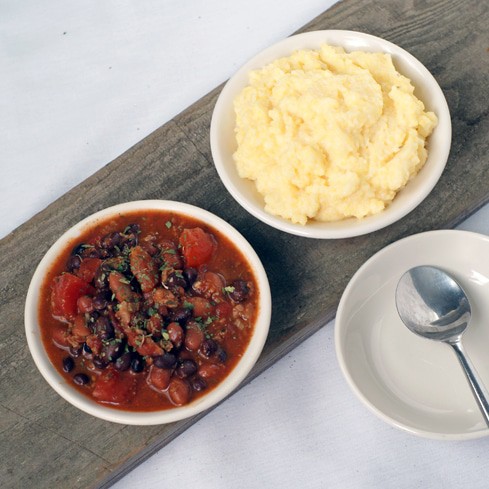 Ingredients
2

C water

2

C milk

1

C regular corn grits or polenta (same thing)

1/4

cup cream, evaporated milk, half & half- whatever you have on hand

2

tbsp. butter

1/2

tsp kosher salt
Instructions
Heat the water and milk in a medium-sized sauce pan until just simmering. Stir the grits into the simmering water and milk. Cook, stirring often, until the grits are tender and have thickened to the consistency of thick oatmeal. They usually take between 10 and 15 minutes. Once cooked, remove from heat and stir in butter and cream, season with salt.
Leftover grits can be reheated over low heat, stirring in a little water or milk as needed to thin them out.

Made this recipe?
I'd love to see how you rocked it! Share your photo on Instagram with the hashtag
#heatherlikesfood  --
It will totally make my day to see it!
Ingredients
1 15

oz. can prepared chili- I always use Nalley Original

1 14

oz. can black beans, drained

1 14.5

oz can diced tomatoes, do NOT drain

1

tsp chili powder

1/2

tsp ground cumin

1/4

tsp smoked paprika

1

tbsp dried, minced onion

1/4

tsp kosher salt

1/2

tbsp dried parsley
Instructions
In a medium-sized sauce pan, cook chili powder, cumin, and paprika over medium heat for 2-3 minutes, stirring often until very fragrant. Stir in chili, beans, tomatoes, and onion; bring to a simmer and let cook for 10 minutes or until bubbly and heated through. Season with salt and stir in dried parsley just before serving.

Made this recipe?
I'd love to see how you rocked it! Share your photo on Instagram with the hashtag
#heatherlikesfood  --
It will totally make my day to see it!