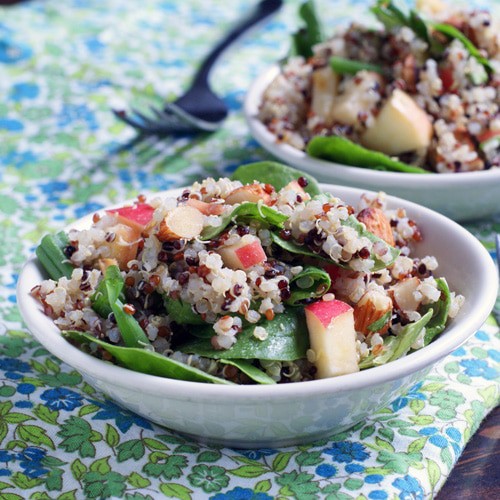 Do you feel like being healthy today? Does quinoa scare you?
I admit, it does look a little alien if you look closely at it with the little tails and all, but don't let it cause you stress. It's just a seed. A small delicious seed that packs a huge nutritious punch.
MY LATEST VIDEOS
Think of it as rice–you like rice. You'll like quinoa too, you'll see… tails and all.
Yes, I know they aren't real tails, and maybe if you've never had quinoa you have no clue what I'm talking about, nevertheless eat some and you'll like it.
It really does have the same feel as rice with a bit more texture. I love it! You can now find quinoa at most all grocery stores  near the rice and other grains. And, I kid you not, my 5 yr. old loved this so much that she asked to bring it in her lunch the next day and my other crazy girl scarfed it down. Maybe you can play up the alien factor and make them believe their eating tiny extra-terrestrial…er…somethings.
This salad makes a perfect light lunch or a nice side to some grilled chicken or steak. The quinoa is filling, the apples are sweet, the dressing is slightly tangy, and the almonds give a nice crunch. Give it a whirl, I don't think you'll be disappointed.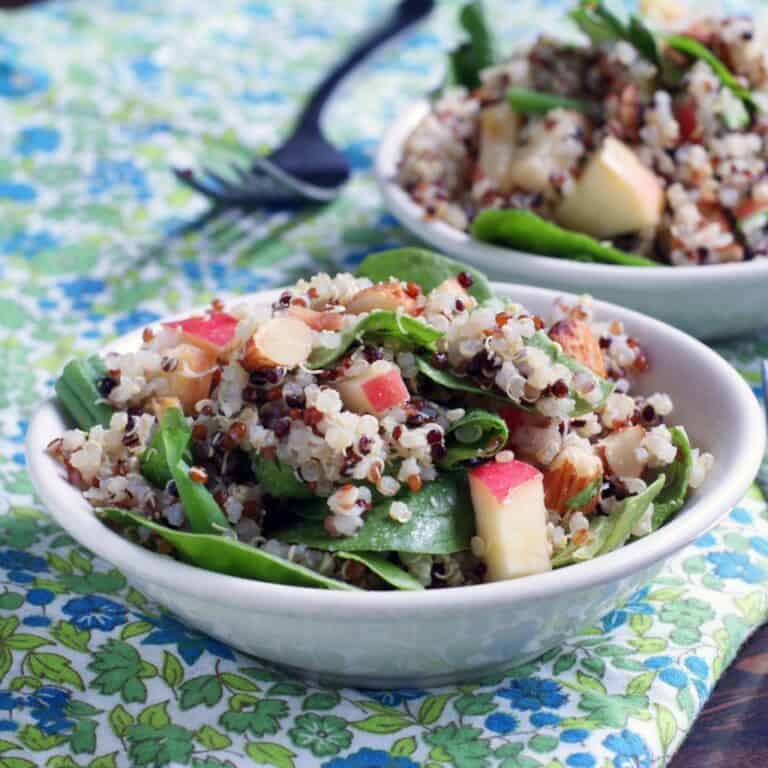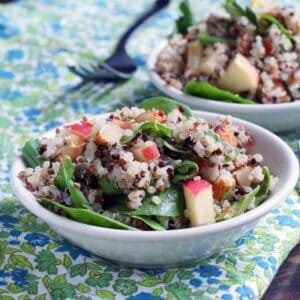 Ingredients
For the Salad
6

C

cooked and cooled quinoa

2 C uncooked

2

C

apples

diced ( I used Pink Lady apples)

4

C

fresh spinach

roughly chopped

1/4

C

chopped green onion

1/2

C

sliced or chopped almonds

toasted
For the Dressing
1/2

C

apple juice

1/2

C

canola oil

3

tbsp

white balsamic vinegar

1

tbsp

honey

1/2

tsp

Worcestershire sauce

1/4

tsp

salt

1/8

tsp

black pepper
Instructions
Combine cooked quinoa, spinach, apples, onion, and almonds in a large bowl.

In a separate bowl combine apple juice, vinegar, honey, Worcestershire, salt, and pepper. Slowly stream the oil into the juice mixture while whisking and mix until well combined.

Pour over salad and toss to coat.
Notes
Heather @ www.heatherlikesfood.com
Are We Friends On Pinterest?
Follow Me For More Great Recipes @hlikesfood