Raspberry and Balsamic Broiled Tofu Salad – Over the summer, I took my daughter and her best friend out for a little "girl's day" one afternoon. Going out to eat and seeing a movie in one afternoon is just about enough to make any 7-year-old's heart explode with excitement and they had a blast, but for me, the conversations I listened to at lunch were enough to make me want to take her out every weekend–it was hilarious. But really, the funnest part was watching the two of them fight over the last piece of tofu!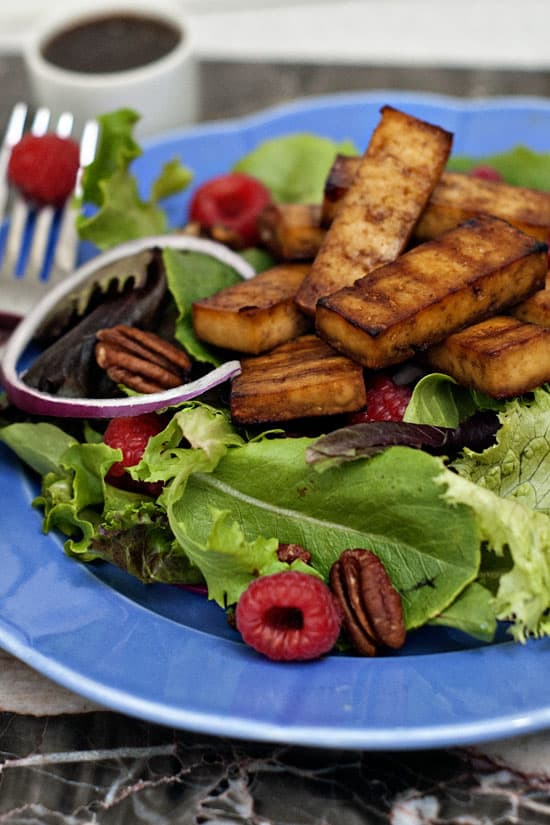 Yes, my kid and her bestie ordered tofu for her birthday meal. I rock as a parent. The tofu was first cut in half, but of course one half was bigger than the other and that was "so not fair"! Nibbles were exchanged and they eventually came to some agreement over the teriyaki-glazed morsel, but I found it amusing that I was with 2 little girls that couldn't get enough of something that I thought was gross until I was in my early 20s.
My hubby on the other hand has been eating tofu his entire life and his mom even makes her own! When I made this salad for him, he tried the tofu and asked if I was using different tofu that I usually do because it was so good. I excitedly told him that I was trying out a new brand made with sprouted tofu, and that it was ridiculously high in protein (14 g/serving), organic, and non-GMO verified. I kind of felt like a commercial because I was excited about it too, haha. But it's safe to say that High Protein SprouTofu by Wildwood is now our new favorite and we're completely sold.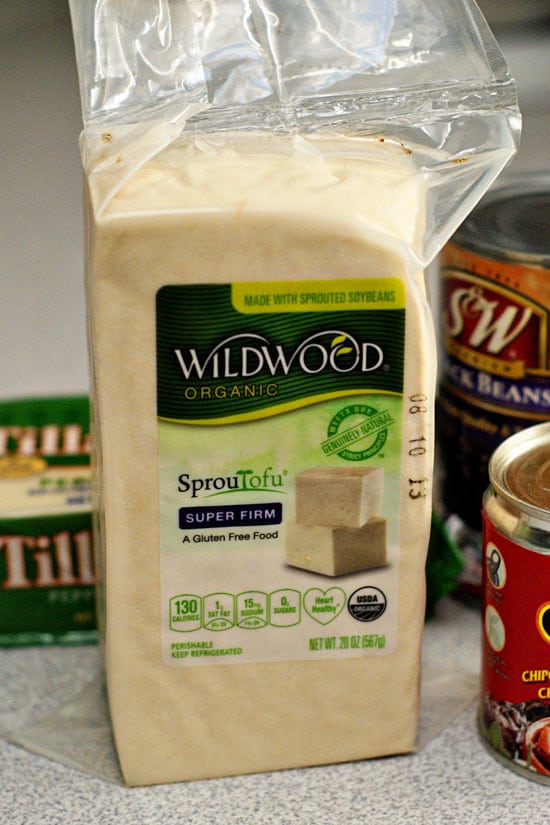 How to Make Raspberry and Balsamic Broiled Tofu Salad
Ignore the black beans, cheese and chilies in the picture above. In my first round of recipe testing for this post, I made a tofu and black bean burger that tasted AWESOME but refused to stay together when being cooked and resembled more of a sandwich spread than burger. Fail. So I went with plan B and came up with this incredible salad. This Raspberry and Balsamic Broiled Tofu Salad is so light and refreshing but the protein from the broiled tofu keeps you nice and full.
Update: Giveaway closed.
Giveaway!
Clearly, I'm all about the giveaways lately.
Before we move on to the recipe, Wildwood and BlogHer wants one of you to walk away with $100 Visa gift card. All you have to do is visit their website, take a look at their products, and leave a comment below answering this question:
"What would be your ideal dinner recipe when using Wildwood products?"
Now, on to this salad! You'll start by making a marinade for the tofu. Tofu is great because you can basically make it taste like anything you want it to! For this salad we're using balsamic vinegar, soy sauce, Worcestershire sauce, brown sugar and a little olive oil to flavor it.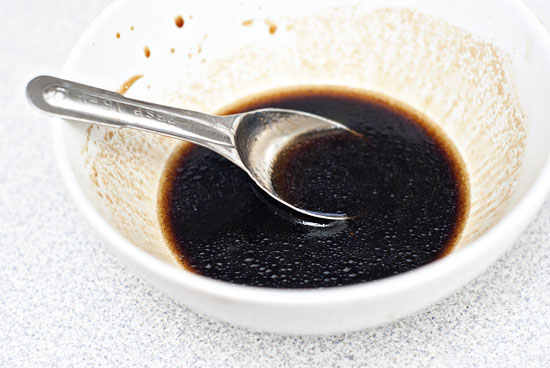 Slice your tofu up into small 1/4″ thick rectangles and give them a toss in the marinade. Let sit for at least 15 minutes in the sauce.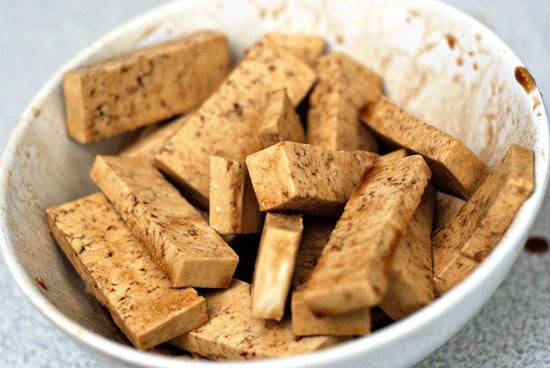 Lay the rectangles out on a baking sheet lined with foil and a baking rack and SAVE the remaining marinade. The rack will keep the air circulating around the pieces to keep them un-soggified. Give them a little sprinkle of salt before putting in the oven.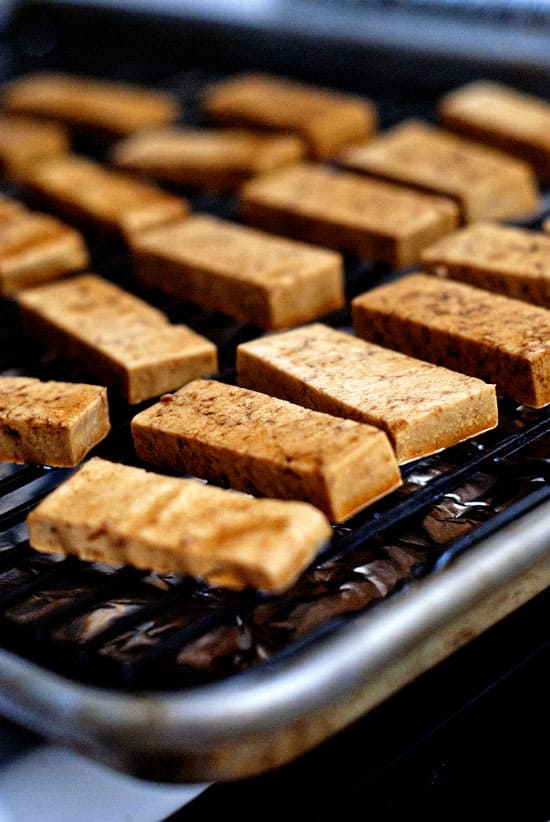 Place the tofu under the broiler on the middle rack of your oven for about 10-15 minutes. Cooking time will vary based on how hot your broiler gets. Just flip them at the halfway mark and cook until they are golden brown and crispy around the edges.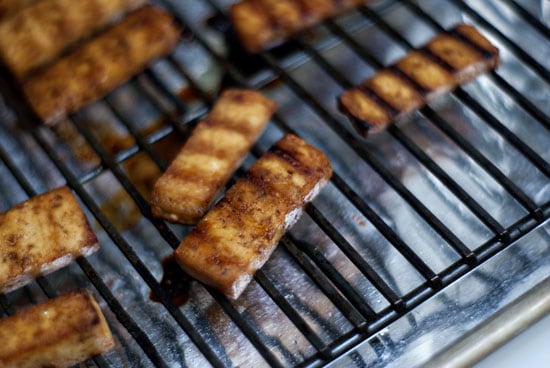 While the tofu is cooking, we're going to make up a little dressing with the remaining marinade. I know the red hazard light in your brain goes off and makes some ghastly buzzing sound when I tell you to re-use the marinade but in this case it's 100% A-OK. Tofu is already cooked which means the marinade isn't swimming with disease and imminent death like it might be if we had marinated pork chops in it.  We'll add a little more balsamic vinegar and olive oil to it and throw a clove of minced garlic into it for good measure. Whisk it up until smooth and you're set to pour all over your broiled tofu salad!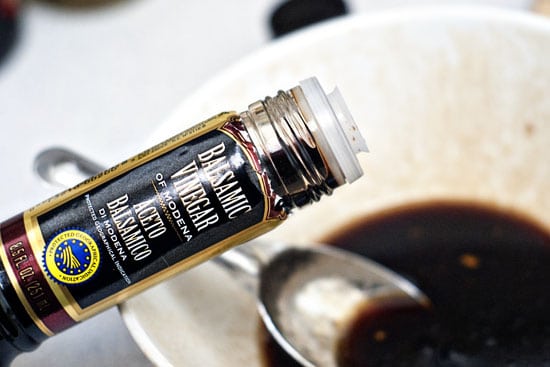 Done With The Tofu and Dressing?
With tofu cooked and the dressing made, all that's left to do is throw some spring mix on a plate, top with some thinly sliced red onion, handful of fresh raspberries, some toasted pecans and adorn with the tofu and dressing and your broiled tofu salad is complete!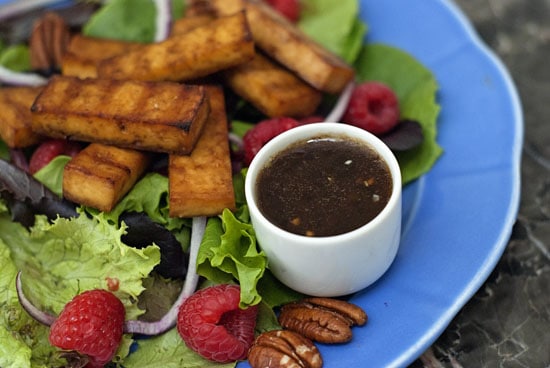 Interested in other salad recipes?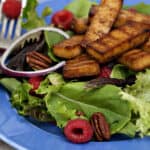 Raspberry and Balsamic Broiled Tofu Salad
Servings
4
-6 entree sized salad
Ingredients
20

oz

Wildwood Foods Super Firm SprouTofu

2

tbsp

balsamic vinegar

2

tsp

Worcestershire Sauce

2

tbsp

olive oil

1/4

C

brown sugar

6

tbsp

balsamic vinegar

1/4

C

olive oil

2

cloves

garlic

minced

8

C

spring mix greens

1/4

red onion

thinly sliced

1-2

C

fresh red raspberries

1/2

C

toasted pecans
Instructions
Preheat oven broiler.

Cut tofu into small, ¼" thick rectangles

Combine 2 tbsp of balsamic vinegar, 2 tsp Worcestershire sauce, 2 tbsp olive oil, and ¼ C brown sugar to make marinade and pour over tofu.

Marinade tofu for at least 15 minutes and place on a baking sheet lined with foil and a baking rack. Sprinkle tofu pieces with salt. SAVE marinade.

Broil for 10-15 minutes on the middle oven rack, flipping each piece over halfway through. Cooking time will vary based on the temperature of your broil. Tofu is done when golden brown and slightly crisp around the edges.

While tofu is cooking, make the dressing by combining the reserved marinade with an additional 6 tbsp of balsamic vinegar, ¼ C olive oil and minced garlic. Whisk until smooth.

Assemble salads with spring mix, red onions, raspberries, pecans, tofu and top with the dressing.