Ravioli Lasagna – Sometimes I just have a whole lot of nothing say. This is one of those days. But I do have an overwhelming urge to reach through your screen, grab your shoulders and say, "MAKE THIS NOW!".
Here's the deal with this ravioli lasagna: it's super simple, uses only 7 ingredients and totally satiates any craving I have for a hearty baked pasta without putting a huge dent in my dinner prep time. I'm not going to say that this ravioli lasagna recipe will replace your great aunt Lucia's famous lasagna, or even trumps my Pasta Al Forno, but if you're short on time it definitely does the trick.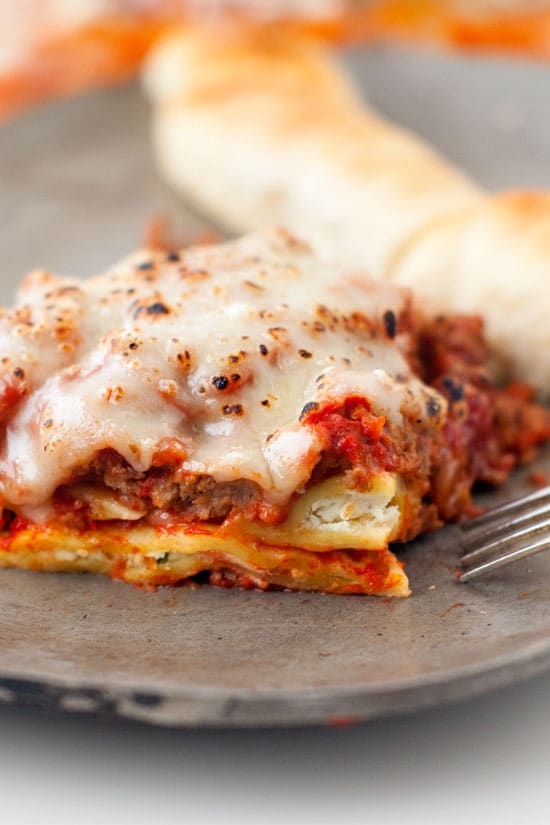 How to Make Ravioli Lasagna
You'll start this ravioli lasagna by making a sauce that consists of Italian sausage, crushed tomatoes, chicken broth, and a little bit of salt and sugar. I like to use hot Italian turkey sausage to cut down on the fat but keep in lots of flavor. I find that the hot variety is bolder in flavor and is still mild enough for my kiddos. The finished sauce is pretty thin and needs to be so that there's enough liquid to cook the ravioli all the way through.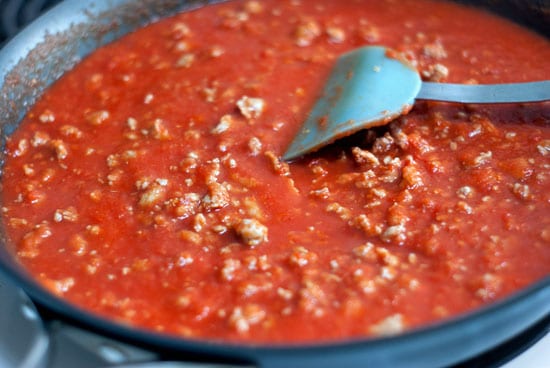 Once the sauce is done ladle a bit over the bottom of a 9×13 baking dish.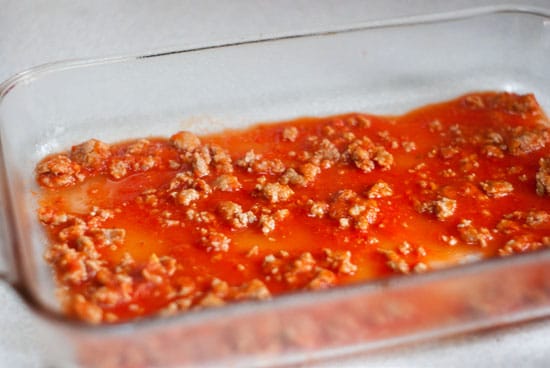 Frozen cheese raviolis are the shining start in this. You can put them in the oven completely frozen ad they'll come out soft, cheesy, and surprisingly lasagna-like.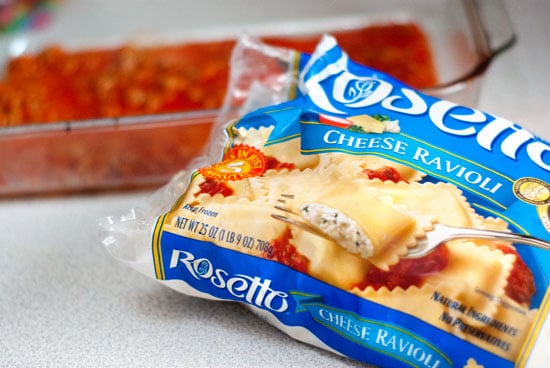 Lay 1/2 of the raviolis in a single layer out in the pan, top with 1/2 of the remaining sauce and 1/2 of the mozzarella cheese.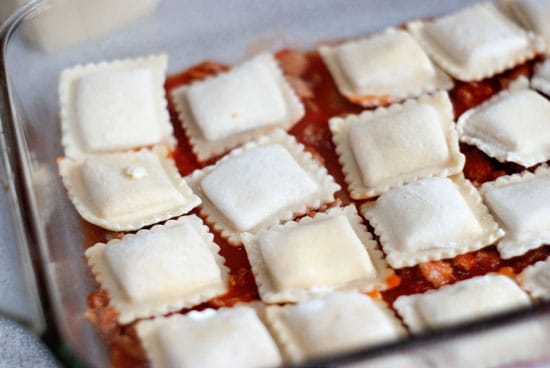 Repeat the whole process one more time and you're done! Cover that puppy up with a piece of foil, pop into the oven and bake.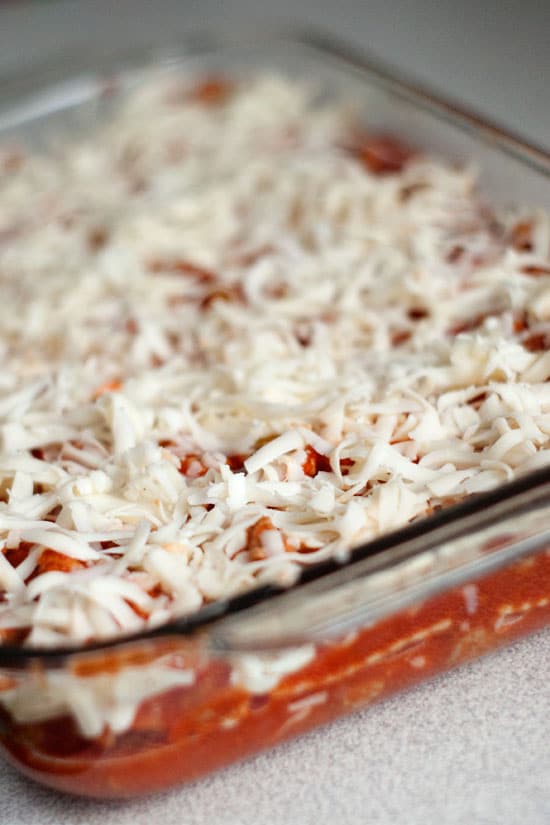 Happy Saturday, all!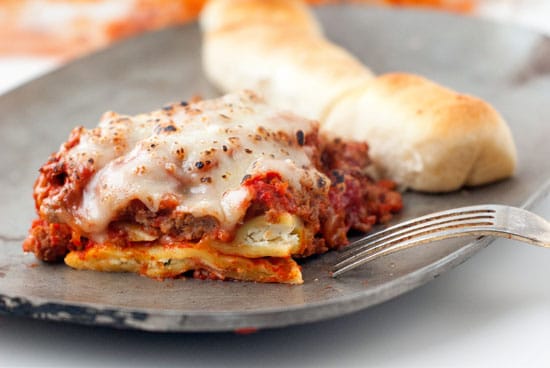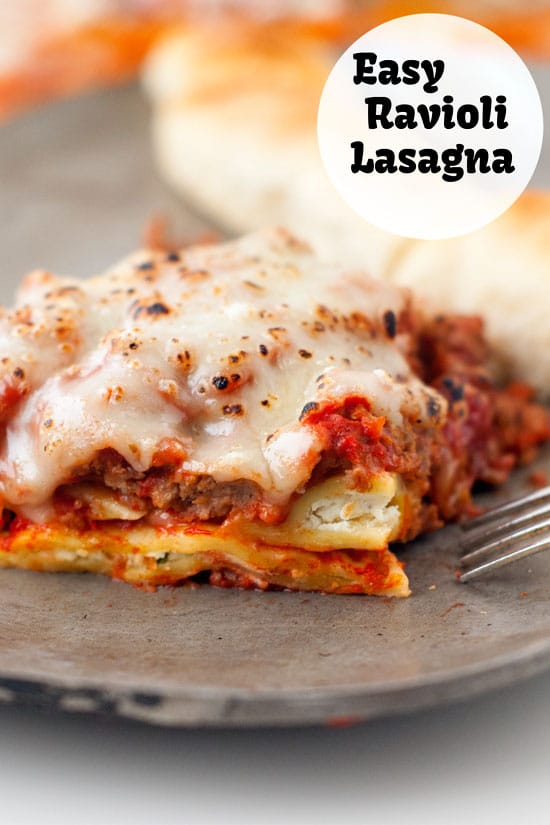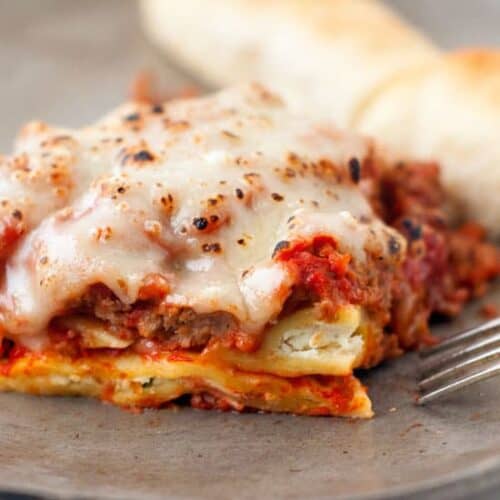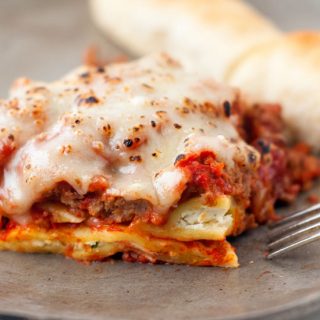 Ingredients
1 1/4

lb

Italian Sausage

I use Hot Turkey

1 28

oz

can crushed tomatoes

1

C

chicken broth

1

tsp

sugar

1/4

tsp

kosher salt

1, 24

oz

bag frozen cheese ravioli

1 1/2 -2

C

mozzarella cheese

grated
Instructions
Preheat oven to 375 degrees.

In a large skillet, brown and crumble sausage. Stir in Tomatoes, chicken broth, salt, and sugar. Bring to simmer and let cook for 10 minutes.

Ladle ¾ C sauce into the bottom of a 9x13 baking dish and spread evenly. Layer half of the ravioli over the sauce in a single layer. Top with ½ of the remaining sauce and a ½ of the cheese. Repeat 1 time.

Cover pan with foil and bake for 30 minutes. Uncover and bake an additional 15 minutes or until the cheese on top is browned and dish is bubbly. Let sit for 10 minutes before serving.
Are We Friends On Pinterest?
Follow Me For More Great Recipes @hlikesfood