Refrigerator Pickles - In my hometown our church runs a pear farm and every August I would spend summer evenings picking pears with my friends so the pears could be shipped all over the country to aid in welfare relief efforts. It also meant that my mom and I would spend several sticky hours in our kitchen canning a ridiculous amount of pears that we would glean after the initial harvest was over.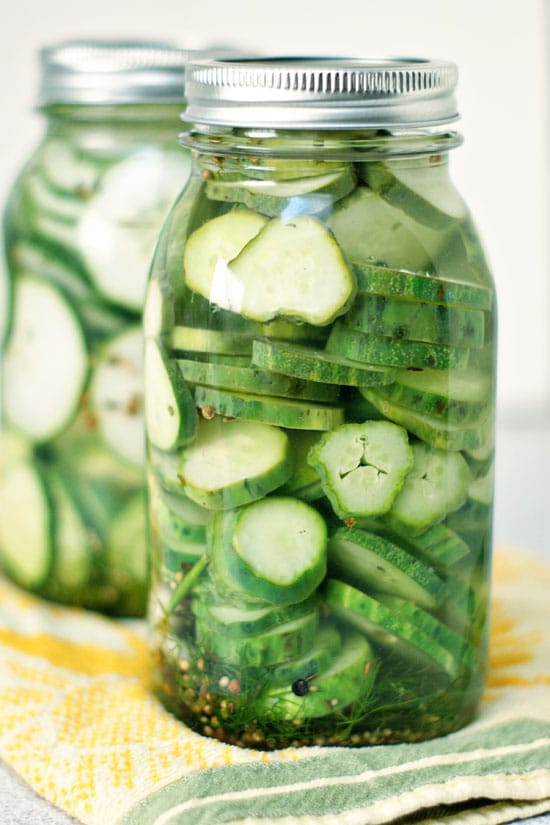 If you've never canned before it can be a seemingly intimidating process, but the truth is that it's pretty simple once you get a few basics down. But, instead of  try to organize my thoughts about canning in one post I'll just refer you to the professionals and let them give you the skinny. Canning is super simple and Ball brand canning wants you to know how to do it so they are hosting,
National Can-It-Forward Day on Saturday, August 17.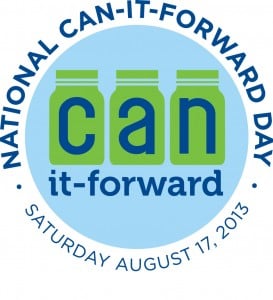 You can come and participate in a live webcast of canning demos where viewer questions will be answered in real-time!  Food Network star Ted Allen will be live on site demoing his favorite canning recipes for viewers too!   You can find information about how to participate in Can-It-Forward Day as well as watch the live stream at www.FreshPreserving.com.
Cool, Right? I'm kind of excited about watching and learning something new. Until then, if you want to curb your craving for canning without really having to know how to can, these refrigerator pickles are for you! They use canning jars so you're basically canning, right? The only difference is that the finished pickles need to be stored in the fridge after making as opposed to being stored in the pantry. This makes for a quick project that is super easy.
How to Make Refrigerator Pickles
For this Refrigerator Pickles recipe you can basically pickle whatever vegetable your little heart desires but I went basic with cucumbers. Asparagus, young carrots, raddishes or green beans work well too. I used half pickling cumbers and half regular cucumbers in the pictures.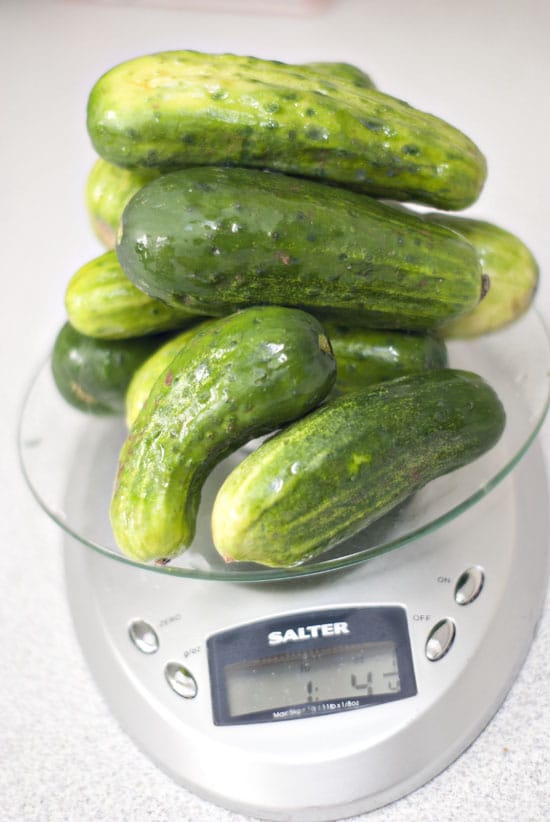 Wash, slice, and get your veggies ready how you want them and peel 10 cloves of fresh garlic.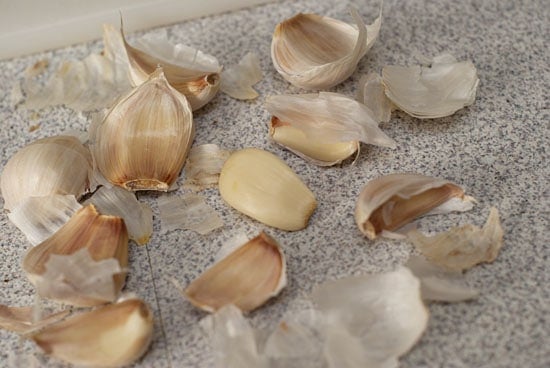 Fresh Dill
In the meantime heat 4 C of water to boil, cook the garlic in the water for a few minutes, remove from the heat and stir in some vinegar and salt-- this is your brine. I LOVE fresh dill.  I love the way it smells. I love the way it looks. I love the way it tastes. I honestly wish I could have a vase of it in my kitchen year-round. Is that weird?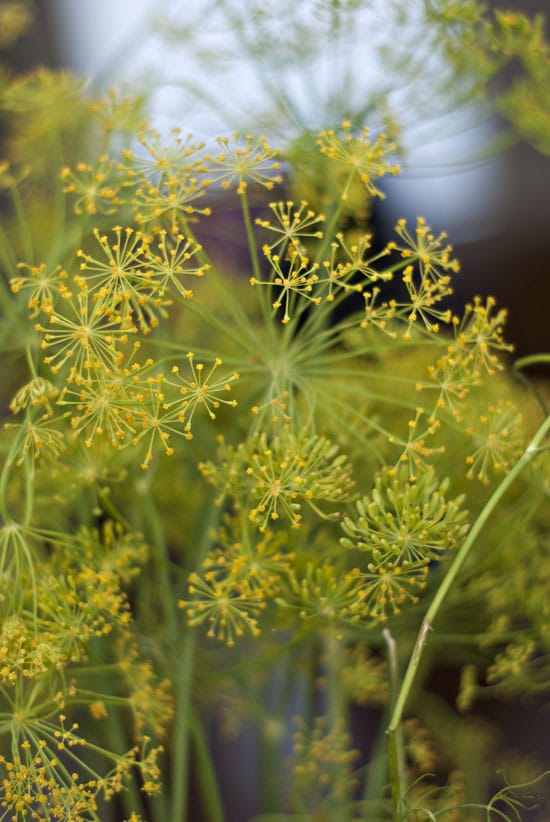 Divide about 1 C of fresh dill (stems attached) among two quart-sized canning jars.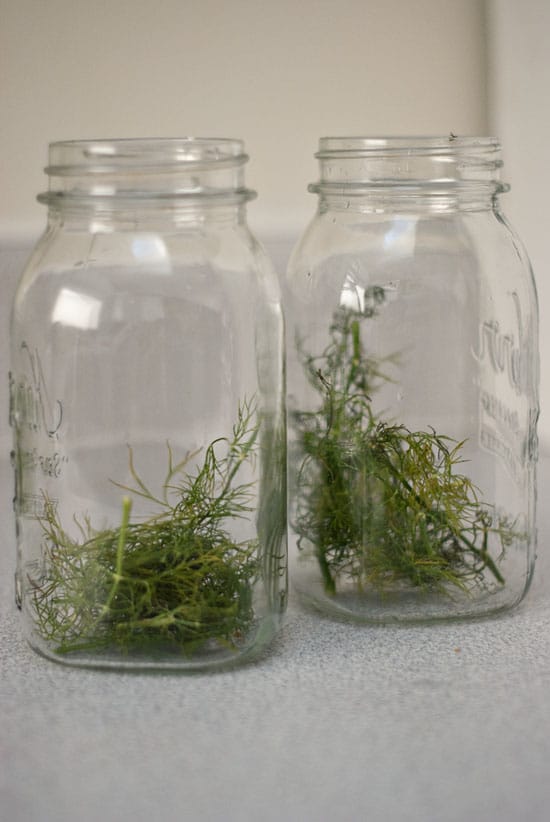 Remove the cooked garlic cloves from the brine and divide evenly along the jars. Add 2 teaspoon of pickling spice to each jar as well.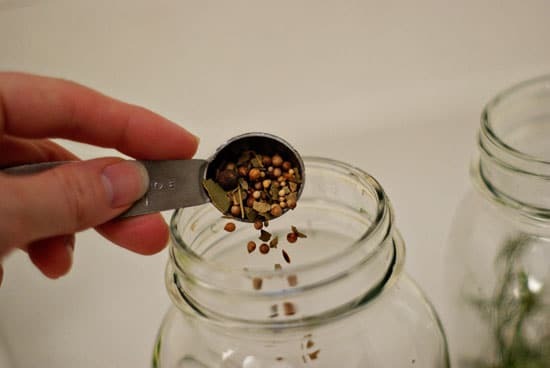 Pack each jar with your veggies-- you can pack them in there pretty tight if you want to.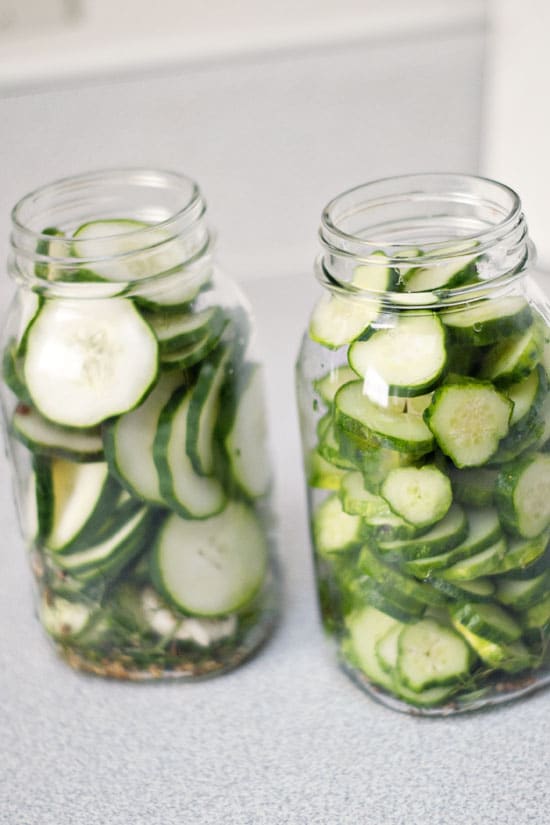 Bring the bring back up to a boil and and fill each jar with it until the veggies are immersed. Allow to cool, place a lid on top and refrigerate until ready to eat!  They'll keep in the fridge for up to 3 months and so much better than your typical grocery store pickle! The recipe is at the bottom of the post, just past the giveaway info. Enjoy your Refrigerator Pickles!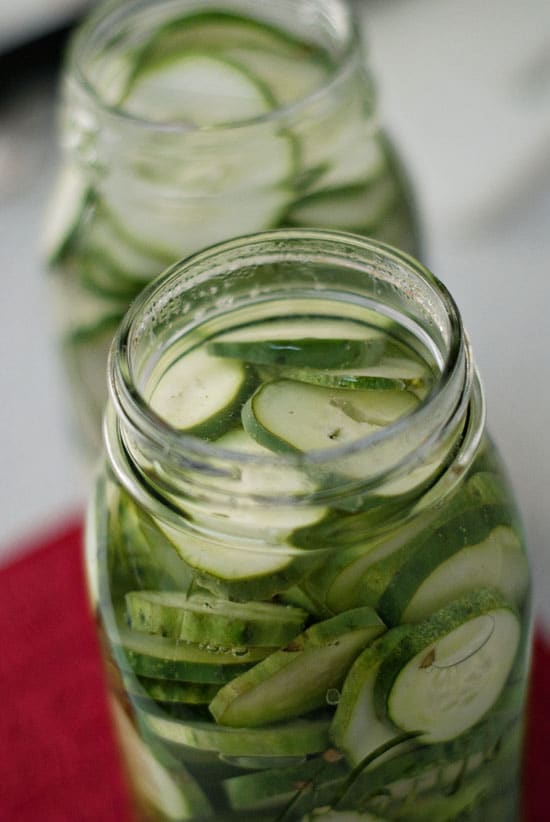 [pinit]
Update: Giveaway closed.
Giveaway!
Two ways to win:
1). Ball wants you to be ready to start canning once you learn all you need to know about canning on Saturday, so to one of you lucky ducks they are giving away:
·         The Ball Canning Discovery Kit
·         The Ball Blue Book Guide To Preserving
·         One coupon for a free case of Ball brand canning jars
All you need to do is leave a comment on this post and tell me me what you want to can first! I'll pick a winner on August 27th and contact the winner via email.
2.) One grand prize winner will receive a $500 gift card to Cooking.com and four runners up will receive a Ball branded package including a Ball Blue Book, Canning Discovery Kit and Case of Heritage Collection Jars by pinning a canning-related image on Pinterest and tag it with #canitforward. (Click on any of the "pin it" buttons below my pictures on this post to pin these pickles). Email your pin to canitforwarddaycontest@gmail.com to be entered to win!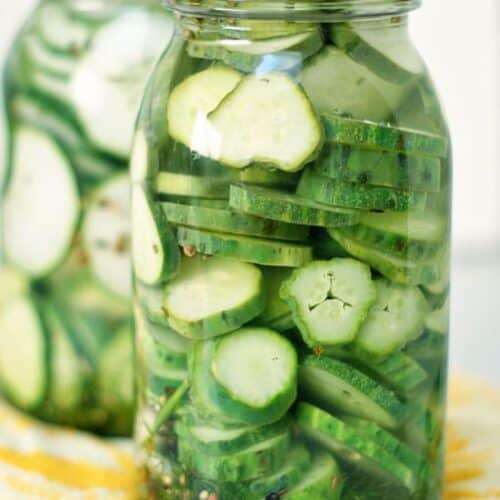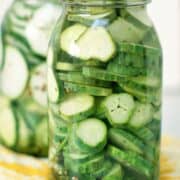 Refrigerator Pickles
Quick pickles that are easy to make and even easier to eat! If you've never made refridgator pickles, now is the time!
Print
Pin
Rate
Ingredients
10

cloves

garlic

peeled

2

cups

white vinegar

2

tablespoons

kosher salt

several sprigs fresh dill

about 1 cup, stems attached

4

teaspoon

pickling spice

Desired vegetables

I used all cucumbers, but green beans, asparagus, young carrots, raddish, sweet peppers, etc. work well
Instructions
In a medium saucepan, bring 4 cups water to a boil, reduce heat to a simmer, and add the garlic. Cook for 5 minutes. Add the vinegar and salt, raise the heat, and bring to a boil, stirring until the salt dissolves. Remove from heat.

Evenly divide the dill among 2 1-quart canning jars. Divide the pickling spice among the jars as well. Using tongs, remove the garlic from the brine and place 5 cloves in each jar. Pack each jar with desired vegetables (I used about 2 pounds of cucumbers) until each jar is tightly stuffed.

Bring the brine back to a boil and pour over the veggies to cover completely. Allow to cool, then place the lids on the jars and refrigerate. Keep these in the fridge for up to 3 months.
Nutrition Facts
Serving:
1
serving
|
Calories:
8
kcal
|
Carbohydrates:
1
g
|
Protein:
1
g
|
Fat:
1
g
|
Saturated Fat:
1
g
|
Sodium:
699
mg
|
Potassium:
11
mg
|
Fiber:
1
g
|
Sugar:
1
g
|
Vitamin A:
2
IU
|
Vitamin C:
1
mg
|
Calcium:
7
mg
|
Iron:
1
mg
ARE WE FRIENDS ON INSTAGRAM?
Tag me @heatherlikesfood and use #heatherlikesfood so I can see what you're making and enjoying!