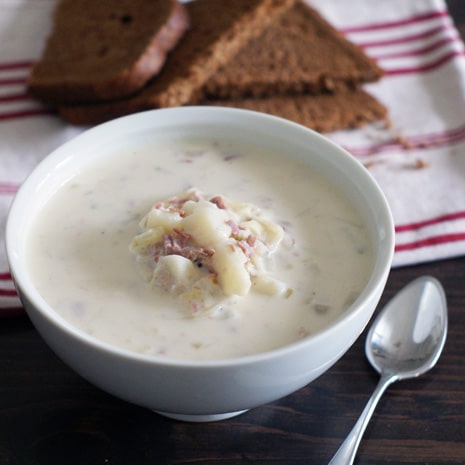 Saint Patrick's Day had come and gone this year and due to an unexpected trip out of town, I still had the annual corned beef brisket I had purchased starring longingly at me to be used every time I opened the fridge. It was sad, really. I've mentioned before that I'm not super excellent at planning out my meals ahead of time and usually just go with the flow once dinner time rolls around.
Consequently, this poor, poor corned beef just sat in all its vacuumed-packed glory waiting patiently for me to get my head out of the clouds and plan ahead.  What's really sad about this is that prepackaged corn beef is one of the easiest things to make because all the "corning?" (that sounds extremely unappetizing) has already been done for you and all you have to do is cook it for a few hours-  sure, you can corn your own beef (losing my appetite by the minute) but save yourself the 10 days it takes to make it and buy it already corned!
I did, after a few failed attempts, finally get that lonely brisket cooked and it was worth the wait. The first night's dinner produced ridiculously good Reuben sandwiches but I still had a couple of handfuls of meat left-over. So what do I do? Put it in soup! Reuben Soup. You can't get enough of Reubens right? Remember Ruben from American Idol? Enough said.
So, you're looking at the recipe and you're thinking that putting Sauerkraut in soup sounds weird. I agree, but just do it. It's just cabbage; you put cabbage in your soup, right?  Another thing, I used ½ Swiss cheese and ½ Monterrey Jack because I wanted the taste of the Swiss but still wanted the creaminess from the jack. But, if you only want to buy one kind of cheese, I'm sure it would turn out well if you used all Swiss, just don't use all Jack.  I know it would still taste good, but what's a Reuben without Swiss?
Ingredients
2

tbsp butter

2

tbsp olive oil

3/4

C diced onion

3/4

C diced celery

2

C beef broth

2

C chicken broth

1/4

C flour

3

C diced potatoes (about 4 small-medium potatoes)

1

C Sauerkraut (drained and rinsed, reserve juice)

1-2

C Cooked Corned Beef, shredded and cut small

2

C half and half

1

C Swiss cheese, shredded

1

C Monterrey Jack Cheese, shredded

1/4

C +2 Tbsp Sauerkraut Juice

1/4

tsp each, salt and pepper, more to taste

4

dashes Tabasco sauce
Instructions
In a large sauce pan, sauté onion and celery in butter and oil until tender. Stir in flour and cook for 1 minute. Slowly add broth stirring until thickened and brings to a boil. Add potatoes and cook for 8-10 minutes or until the potatoes are tender, stirring occasionally.
Reduce heat to low, add sauerkraut, beef, cheeses and half and half. Do not bring to a boil, but stir until combined and add sauerkraut juice, salt, pepper and Tabasco to season. Serve with rye bread and a salad with Thousand Isle Dressing!

Made this recipe?
I'd love to see how you rocked it! Share your photo on Instagram with the hashtag
#heatherlikesfood  --
It will totally make my day to see it!