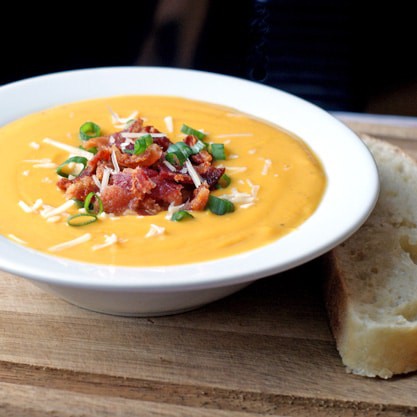 Let's get real here. In some way, shape, or form I've been working in the food industry for the past 10 years.  I've loved the jobs I've had, but being around food all day every day has definitely  taken it's toll on my once skinny little waist. Throw in a couple of pregnancies and an insatiable desire for late-night nacho feasting and I've found myself  being not so fond of what's going on down, around, and everywhere. The hubs hasn't been too happy with his well-being either, so since it's January and we should have at least 8 more days of motivation before February rolls in, we're on a diet, er… conscious eating plan ( I hate the word diet. It makes it sound like I don't get to eat, and that makes me mad).  I tell you all of  this  because we've been following the Weight Watcher's points plan and I'm going to start listing the point values at the bottom of each recipe. These calculations are the from the new-ish  Points Plus program and I figure that if I'm calculating it all out anyways, I might as well let you in on it too!
Now, onto this soup! Oh, this soup! It's filling, warm, contains BACON, and has very few points, even with the bacon!  Think you can't get your kids to eat it? Think again! My 5 yr. old saw me cutting up the squash as I was making this and frankly told me that she didn't like squash and wouldn't eat any.  So being the cunning loving mother that I am, I sat down at the table, dished her up a bowl, and  happily told  her that we were having "Cheesy Sunshine Soup". Totally worked! She finished off two bowls in no time flat.  Try it!
This soup needs to be pureed and how you do it is up to you. I used a stick blender and really recommend that everyone has one  in their kitchen arsenal, but you could easy pop it in the regular blender or food processor as well.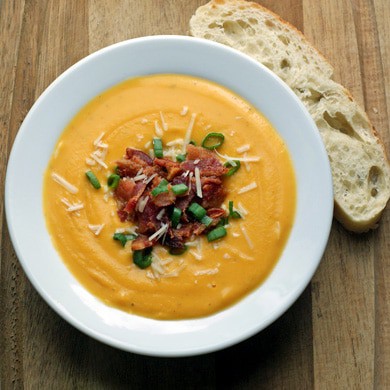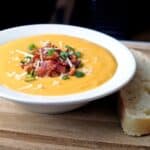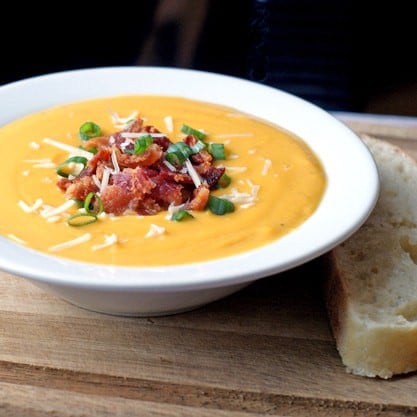 Roasted Butternut Squash Soup with Bacon
Ingredients
1

lg butternut squash

2

tbsp

olive oil

1/2

tsp

kosher salt

1/4

tsp

black pepper

6

garlic cloves

peeled

3

cups

chicken broth

1

can

12 oz evaporated milk

1/8

tsp

chipotle chili powder

optional, but gives it just a little kick

1/8

tsp

ground nutmeg

Toppings: Crumbled bacon

green onions, parmesan cheese
Instructions
Preheat oven to 400° and line a baking sheet with either foil or parchment paper.

Wash, peel, seed and chop your squash into about 1"cubes. Spread squash and 6 cloves of garlic (peeled and left whole) onto your baking sheeet. Sprinkle with salt, pepper, and olive oil and toss to coat. Place pan in oven for 35-45 minutes or until the edges of the squash have started to brown and it's easily pierced with a fork.

In a 3 qt. or larger pot place roasted squash and garlic, chicken stock, and evaporated milk and puree with a stick blender until smooth. (This is where you would put it in your blender or processor. Depending on the size of either appliance,you can add just enough chicken broth to theth and milk in the pot.) Depending on the size of the squash you may have to add more or less chicken broth to get it the consistency that you'd like. Heat thoroughly and add the chipotle chili powder and nutmeg. Taste for seasoning and add more salt if needed. Top with bacon, green onions, and Parmesan cheese.