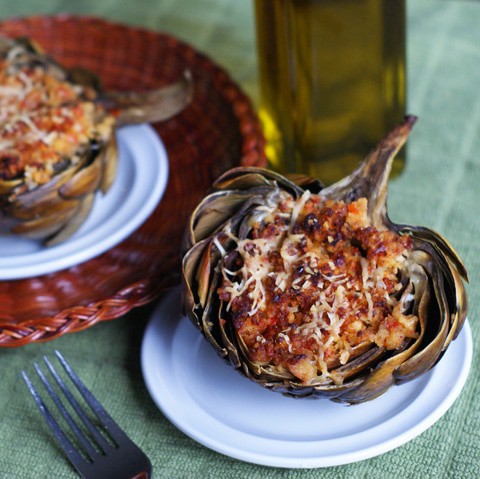 Hey guys! I Hope you all had a fabulous weekend!
Now that the harsh reality of the weekdays has set back in after a few days off to play, I have mountains of laundry to fold and a house to bring back to order. Sound familiar? But, because procrastination is my thing, I'm blogging first. Feel important.
Before I get to this awesome recipe, I need your help! A few weeks ago I mentioned on Facebook (If you don't already like Heather Likes Food on Facebook, go do that now. I'll wait. 🙂 You can just click on the blue Facebook icon on the right and it will take you right to my page) that I was thinking about adding a section to my site called "Cooking School". Well I've done it– look above in the menu– but I need your input before I can start writing. I want this cooking school section to be a place where you can get your cooking questions answered. I don't claim to be the BEST chef in the world, but I do have a lot of cooking knowledge floating around in this little head of mine that I'd like to share.
Ever wonder what the BEST way to cut a watermelon is? Or what herbs go well with different kinds of foods? Or how to cook a perfect steak?
Do you have a burning cooking/baking question that you'd like answered? Yes? Great! Let me know by leaving a comment below, emailing, or letting me know on Facebook. As soon as I have a couple of requests I'll get started. I really have high hopes that this little part of my page can be a great resource for you!
Now… onto these artichokes!
I LOVE artichokes. I grew up with all brothers, non of which really liked artichokes, but my Mom and I felt differently. We'd boil our artichokes, melt slabs of butter in ramekins and watch chick flicks while methodically removing each leaf, dipping them in butter, and enjoying every bit. The whole artichoke process was– and still is– something that I loved. It took so much work to get to the heart, but once you were there the 3 bites of tender artichoke meat made it all worth it. There's probably some great metaphor I could come up with right now about getting to the artichoke heart, but I don't want to. I just want another artichoke.
The way these artichokes are prepared are much different than the ones I enjoyed with my Mom, but the enjoyment felt while eating is all the same.
You'll start out with 3-4 large artichokes. Aren't these pretty?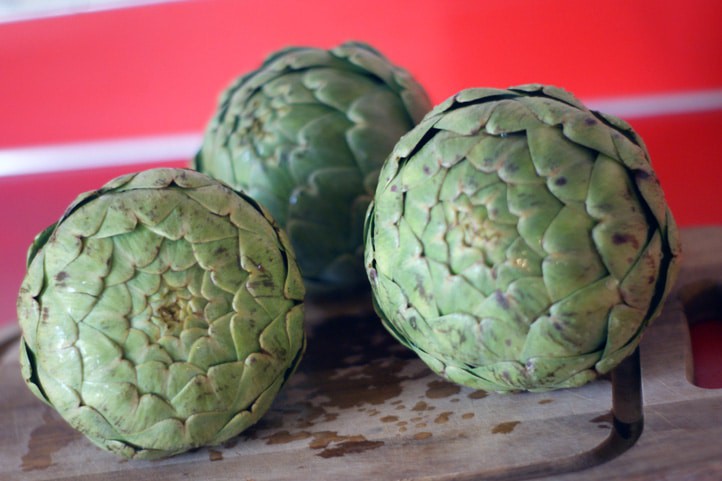 Cut each one in half and remove the hairy purple and white center. This is called the choke. It is seriously nasty stuff so make sure to get it all out. I like to use one of my cookie scoops to do the job.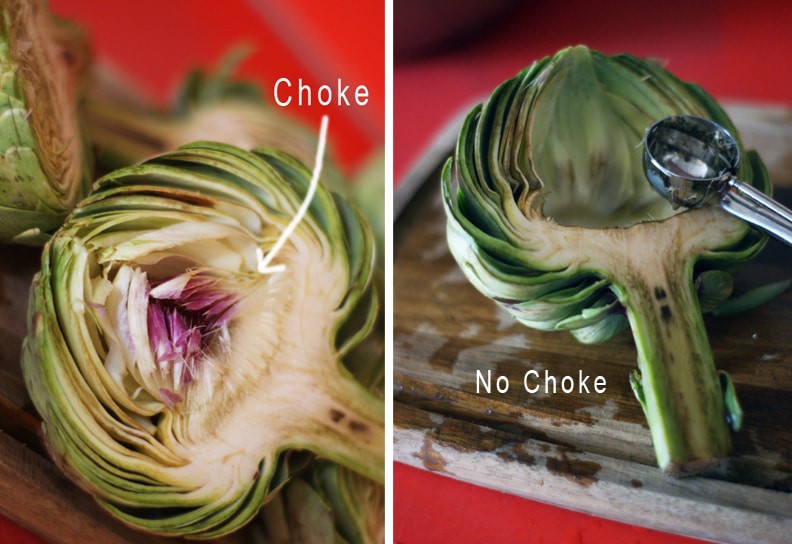 The artichokes turn brown really quickly once cut, so I always keep them in a bowl of lemon water while I'm working on removing the choke and making the filling.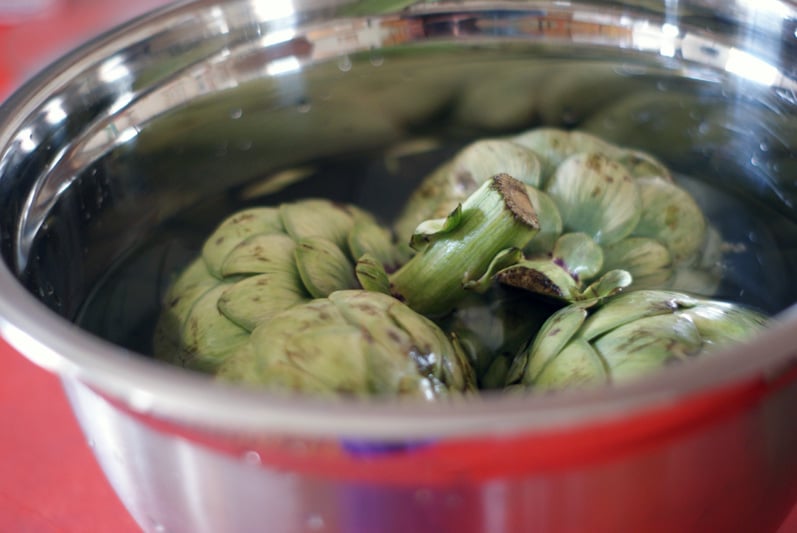 For the filling you'll need a few cups of diced bread, which in my case was a bakery bagel because that's how I roll. Any type of bread will work, sans maybe Wonder bread. Is Wonder bread really good for anything besides grilled cheese sandwiches? You'll also need about a cup of grated Parmesan cheese. Place this in your food processor and let it go until the bread is crumbly. If you don't have a food processor you can break the bread up by hand.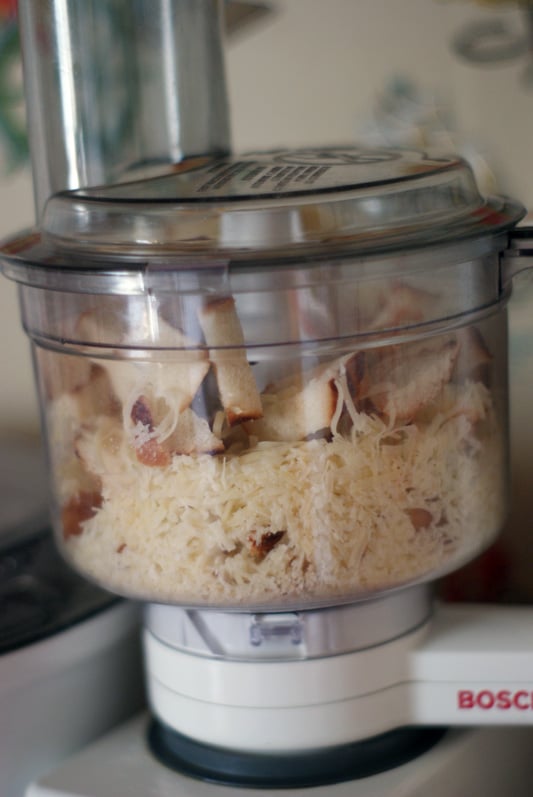 It will look like this…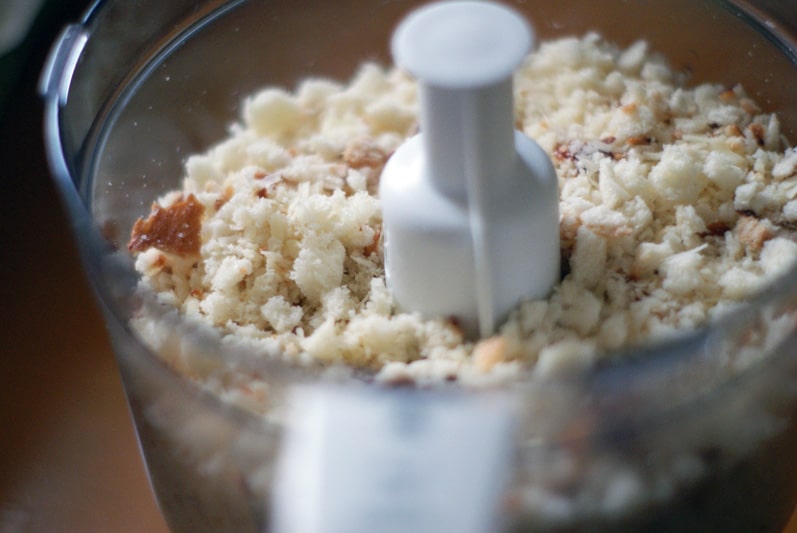 Next up is some sweet red pepper. I'm using mini sweet bell pepper here, but the full sized bell pepper will work just as well. I do love the mini ones though! Give them a rough chop and place in the processor with the bread and cheese. If you're doing it by hand, you'll want to mince the peppers up pretty fine and stir them into the bread mixture.
Now you're left with this loveliness. Toss in some salt, pepper, and garlic powder and stream in about a 1/4 C of olive oil while the processor is running. You need just enough oil to make it come together. If you squeeze a bit of it in your hand and it stays together, you're done.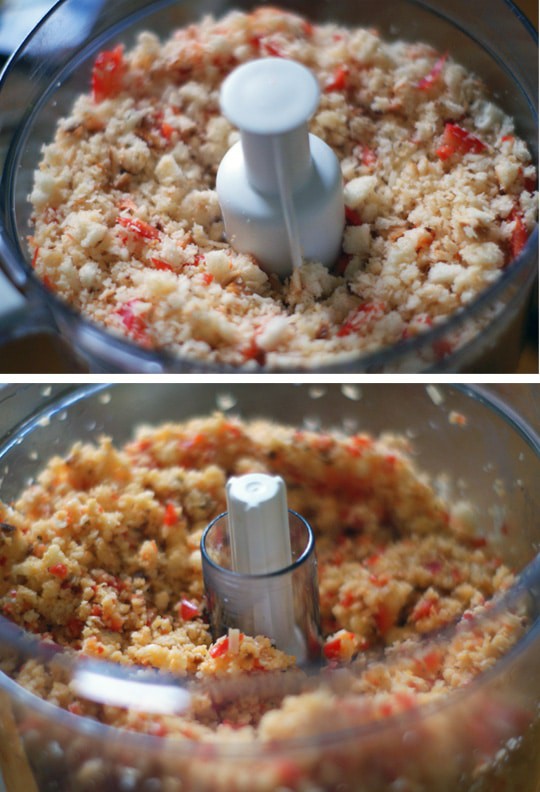 Place your artichokes in a baking dish with sides– like my ginormous lasagna pan. A cookie sheet won't work because you'll need to fill it up with water. Fill the hollow artichokes with the bread mixture, top with a little bit more Parmesan cheese and a drizzle of olive oil. Place in the oven and then fill your baking dish with enough water to come half-way up the sides of the artichokes. It's kind of hard to see in the picture below, but the water is there.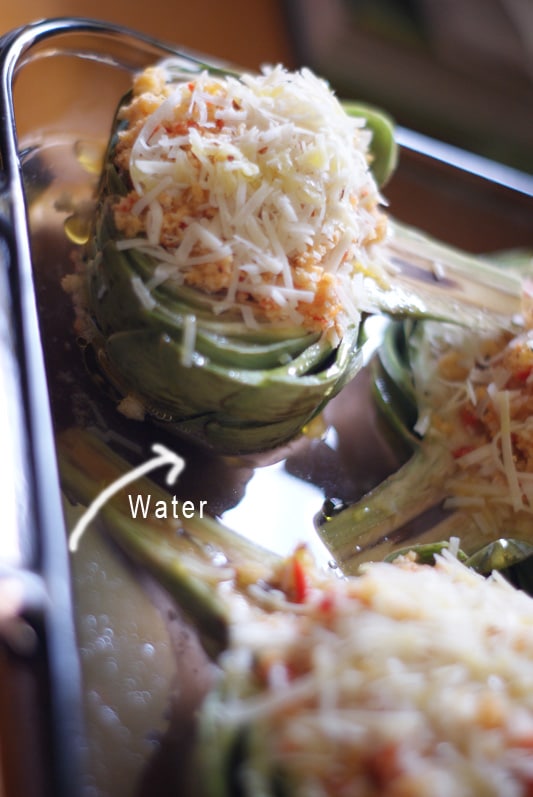 Bake uncovered for about an hour, or until you can pierce the thickest part of the artichoke heart with a fork easily. I had to cover mine loosely with a little bit of foil for the last 10 minutes of cooking so the filling didn't get too brown.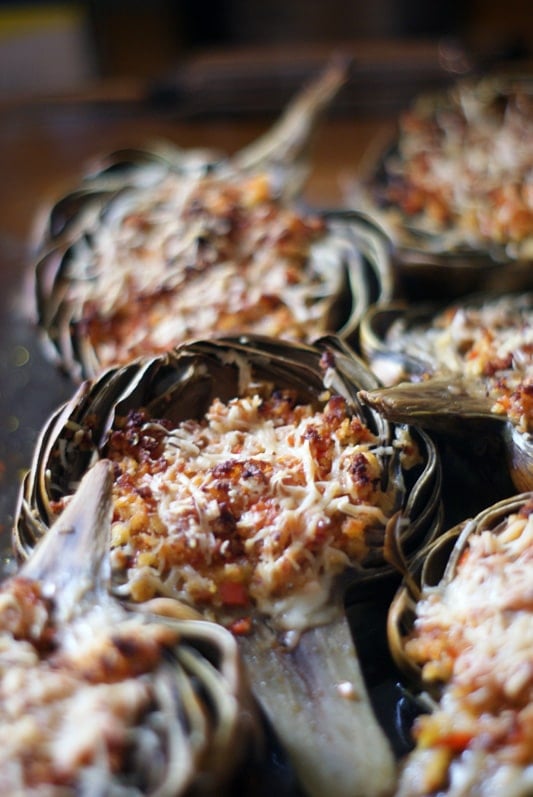 Eat and enjoy! I love having the filling to dip my leaves into and it just gives the whole artichoke awesome flavor!
Don't forget let me know what YOU want to know about cooking!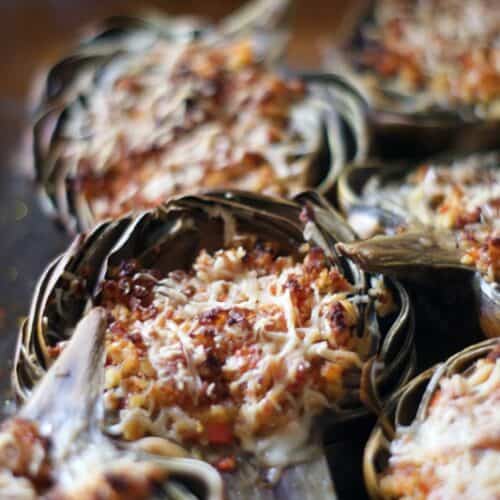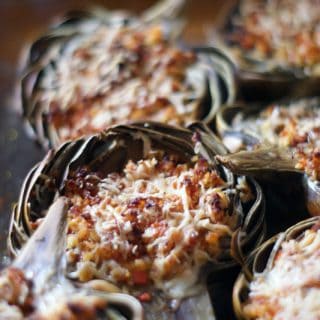 Roasted Stuffed Artichokes
Flavorful Artichokes stuffed with bread, cheese and peppers, roasted until crispy and delicious!
Print
Pin
Rate
Total Time:
1
hour
30
minutes
Ingredients
3- 4

Large Artichokes

2

C

cubed bread

1

C

Parmesan Cheese

grated

3/4

C

chopped red bell pepper

1/2

tsp

garlic powder

1/4

tsp

salt

1/8

tsp

pepper

1/4

C

olive oil

more Parmesan cheese for tops
Instructions
Preheat oven to 350°

Cut eat artichoke in half and place in a bowl of lemon water to prevent browning.

Using a cookie scoop, remove the choke from each half and place back in lemon water

Combine bread and parmesan cheese in bowl of food processor and pulse until bread is crumbly. Alternately, crumble bread by hand and mix with cheese.

Add chopped pepper to food processor and mix until peppers are chopped fine. If doing by hand, chop peppers finely and combine with bread mixture.

Add salt, pepper, and garlic powder to bread mixture. Add enough olive oil to bind it together. Take a spoonful of filling out and squeeze it in your palm; if it stays together it's ready.

Place artichoke halves in a large baking dish with sides. Spoon filling into hollow center, distributing evenly. Sprinkle a bit more parmesan cheese on top if desired and drizzle with olive oil.

Place pan in oven and pour water into the dish until it comes half-way up the sides of the artichokes.

Bake uncovered for 60 minutes or until you can easily pierce a fork into the thickest part of the artichoke heart. Loosely cover with foil for the last 10-15 minutes of cooking if needed to prevent too much browning.
Serving:
1
serving
|
Calories:
434
kcal
|
Carbohydrates:
56
g
|
Protein:
19
g
|
Fat:
16
g
|
Saturated Fat:
4
g
|
Cholesterol:
11
mg
|
Sodium:
914
mg
|
Potassium:
750
mg
|
Fiber:
11
g
|
Sugar:
7
g
|
Vitamin A:
735
IU
|
Vitamin C:
41.4
mg
|
Calcium:
372
mg
|
Iron:
5
mg
Are We Friends On Pinterest?
Follow Me For More Great Recipes @hlikesfood